Media Room
---
Announcements, Coverage, Press Kit and more
aranca in the media as seen in





About Aranca
For over 2000 companies, from the hottest startups to the Fortune 500, Aranca is the preferred and trusted custom research, analytics and advisory partner.
Meet our Leadership team
Meet Our Expert
Every month we introduce you to one of our experts along with their insights on latest news.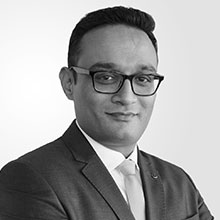 Swetabh is a deal advisory professional with over 12 years of work experience. He has worked on mandates including new economy and traditional sectors. His current role at Aranca encompasses advisory needed throughout deal cycle for fund raising (equity and debt), acquisitions, investments, divestitures, joint ventures and strategic partnerships.
Previously, Swetabh was part of the Valuation & Advisory practice at Aranca. He led a large team of analysts on advisory assignments for various transactions such as strategic decision making projects, dispute resolution and reporting. Previously, he has advised many global clients in India, US and Middle east region on deal advisory. His thought pieces, opinions and blogs have appeared in various platforms such as Financial Express and National Venture Capital Association.
India's Strong political leadership and its development thrust are helping revive business confidence. Also, the introduction of tax reforms and simplification of regulatory landscape will provide much-needed ease of doing business for entrepreneurs. The Indian Government's strong push towards digitization and entrepreneurship would further generate more growth opportunities for businesses.
The new GST framework would integrate multiple tax structures in India and bring uniformity through centralised registration, which in-turn will minimise the cascading effect of taxation and compliance related costs for business. In addition, the GST affords small businesses a higher exemption as compared to VAT, something that will ease the burden of taxation on startups.
Investing in startups being the high-risk high-return proposition that it is, investors should primarily look out for companies with a credible management team and an innovative product that can solve a real problem. Other critical aspects such as well-defined vision, unique value proposition, scalability, and the sustainability of their business model are also vital when identifying an apt investment opportunity.

Featured Reports
Over 400+ analysts across 5 research domains covering over 100 sectors, 90+ countries share insights and opinions on a wide range of topics.

News@Aranca
For media updates on upcoming reports, join our mailing list
subscribe
---
© 2017, Aranca. All rights reserved.
United States | United Kingdom | China | India | Dubai | KSA