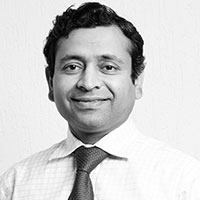 Hemendra Aran
Co-Founder
Hemendra founded Aranca in 2003 with the vision to offer world-class custom research and high quality analytics services to global clients. He has led Aranca's evolution to a 600 employee strong global player in the custom research and analytics domain. With a focus on empowering decision makers with a Custom Intelligence Blueprint, Hemendra champions the Aranca vision to provide clients solutions that enable strategic business decisions.
An alumnus of London Business School (MBA), Haas School of Business, University of California, Berkeley, and Indian Institute of Technology (Madras), Hemendra brings rich and extensive experience of outsourcing best practices after having worked with global corporations including Goldman Sachs, Reebok, Thomson Electronics during his stint with Infosys.
He has authored several books on outsourcing and global financial markets, such as Outsourcing Success: The Management Imperative, and Global Financial Markets Revolution: The Future of Exchanges and Capital Markets. Hemendra regularly comments for business media, and often speaks at top-tier institutes, forums and conferences. He is also passionate about meaningful and soulful cinema, and has founded the media & entertainment production company, Meher Miracles.
About Aranca
For over 2000 companies, from the hottest startups to the Fortune 500, Aranca is the preferred and trusted custom research, analytics and advisory partner.
© 2018, Aranca. All rights reserved.
United States | United Kingdom | China | India | Dubai | KSA