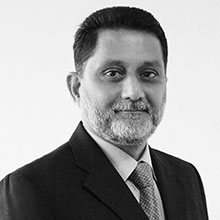 Kannan Sivasubramanian
Chief Executive Officer
Kannan has over 25 years of experience in research, strategy & performance improvement consulting, outsourcing and general management of startups and mid-sized companies.
Over the last ten years at Aranca, Kannan has played a key role in the evolution and growth of the company as a trusted research partner to over 2000 global enterprises and financial institutions. As CEO, Kannan spearheads Aranca's growth strategy, people management and business development initiatives. A passionate mentor, he works closely with the leadership team at Aranca, encouraging them to innovate and challenge status quo across all facets of the company's operations.
Before joining Aranca, Kannan's major professional stints include Cable & Wireless, Avalon Consulting (member of Cordence Worldwide Partnership) and Nirvana Business Solutions, a BPO start-up.
© , Aranca. All rights reserved.
United States | United Kingdom | China | India | Dubai | KSA | Japan