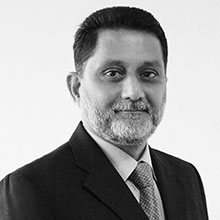 Kannan Sivasubramanian
Executive Vice President
As Aranca's executive vice president, Kannan spearheads its research delivery, operational effectiveness, business development and growth initiatives. Kannan has about two decades of rich experience in strategy and performance improvement consulting, and managing service delivery in the outsourcing domain.
He began his career with Avalon Consulting, where he worked for 11 years and managed over 200 consulting assignments across a gamut of industries, sectors and clients. At Nirvana Business Solutions, a Bangalore-based BPO, Kannan grew the company, as its President, from a fledgling startup to a 400-man organization in a short period of three years. Before joining Aranca, he had established Dedicated Service business line and other strategic initiatives at Cable & Wireless.
About Aranca
For over 2000 companies, from the hottest startups to the Fortune 500, Aranca is the preferred and trusted custom research, analytics and advisory partner.
© 2017, Aranca. All rights reserved.
United States | United Kingdom | China | India | Dubai | KSA