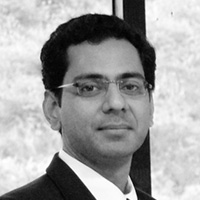 Madhusudan Rajagopalan
Co-Founder & Co-CEO
Madhusudan co-founded Aranca, and has enabled the organization to emerge as a key player in the custom research and analytics space. As Co-CEO, Madhusudan leads Aranca's client-centric strategies across the business functions of Aranca.
Madhusudan is focused on consistently driving operational excellence within Aranca, delivering research solutions to global clients, and improving top and bottom line financial performance. Madhusudan has been instrumental in expanding Aranca's global presence, service portfolio and capabilities to ensure a seamless, operational experience for clients by bringing the right mix of the best data, methodologies and talent and deploying capabilities and experience from across multi-disciplinary practice teams for every client project.
An alumnus of Indian Institute of Management, Bangalore and Indian Institute of Technology, Madras, Madhusudan began his career as a management consultant with Accenture and has served large multinational clients across business sectors in a range of strategy and business performance improvement assignments. His comments and quotes are regularly published by business media channels, and he has written various opinion articles on markets and finance for global publications.
Madhusudan is an avid runner and is a regular at marathon events.
© 2018, Aranca. All rights reserved.
United States | United Kingdom | China | India | Dubai | KSA