Climate Change Investing – Does COVID-19 Warrant Greater Risk Assessment for Investors?
Published on 07 Apr, 2020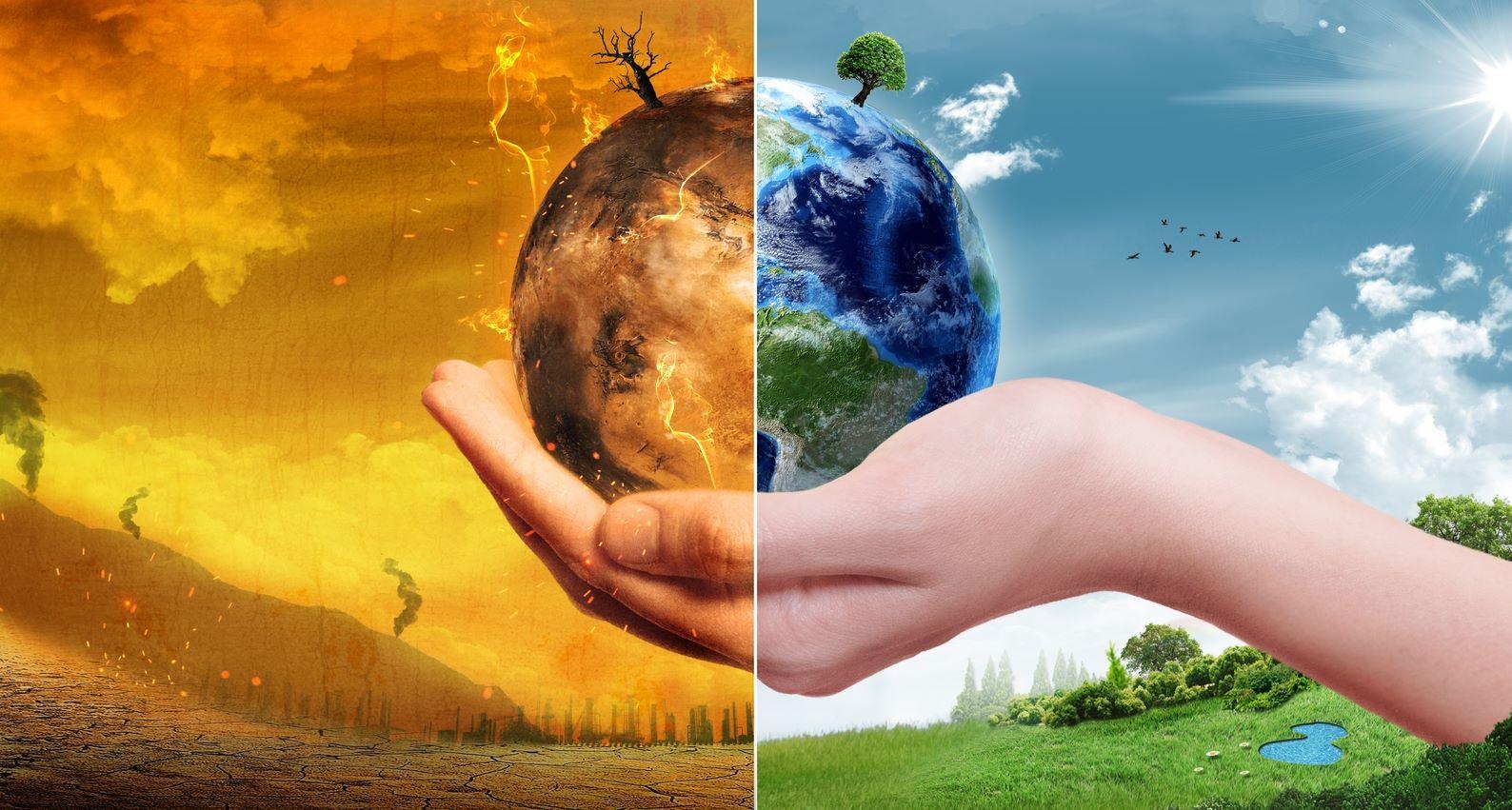 The COVID-19 outbreak is sparking another debate on the side-lines – societal and economic preparedness to face Black Swan events such as these and the catastrophes they lead to. Also, whether a far greater assessment is necessary to evaluate the risks they present. One such ongoing event with the potential for major disastrous consequences is climate change.
The world is battling one of the worst pandemics, with few known precedents. Virus outbreaks such as the Spanish Flu in 1918 and the more recent SARS in 2003 pale into insignificance in terms of economic and social impact.
The current outbreak is yet to show any signs of abatement. New cases and deaths continue to be on an upward trajectory, with the US, Italy and Spain at the forefront. China, once the epicenter, has shown significant progress in controlling the outbreak, as also other Asian countries such as South Korea, Japan and Singapore. However, as the saying goes, 'it may get worse before it gets better'.
| | |
| --- | --- |
| Total confirmed COVID-19 cases | Total confirmed deaths due to COVID-19 (deaths) |
Source: European Centre for Disease Prevention and Control
COVID-19 and climate change connection – The outbreak is sparking another debate on the side-lines – societal and economic preparedness to face Black Swan events such as these and the catastrophes they lead to. Also, whether a far greater assessment is necessary to evaluate the risks they present. One such ongoing event with the potential for major disastrous consequences is climate change. While Greta Thunberg may have made climate change a hashtag item, social awareness is but a small step.
There is a big difference between how governments and companies are reacting to COVID-19 and how they have been dealing with the implications of climate change. The former is a crisis right at our doorsteps with the potential to not only derail the global economy temporarily but also inflict several casualties. Responses, therefore, have been swift and involve trillions of dollars in stimulus packages and possibly even bailouts.
Climate action, on the other hand, is turning out to be a long-drawn-out affair, with country-wide targets of emission controls, preservation of forestlands, and reduction in usage of plastics being set over multiple decades in the future. Here's how major contributors to global climate change stack up and the targets they have set for themselves:
| | |
| --- | --- |
| Share in global GHG emissions in 2017 | Projected per capita GHG emissions in 2030 in tCO2e/cap & change from 2010 levels (RHS) |
Source: 2019 United Nations Environment Programme
From the statistics above, one thing is quite clear. Emerging countries are the top contributors to climate change globally; their per capita emissions are likely to reach the peak in the current decade before declining. The immediate onus, therefore, lies with developed economies to push the Paris Accord agenda, which calls for limiting global warming to under 2.0°C by 2100 over pre-industrial levels.
Based on projected levels, the US and EU are still some distance away from this target. By the end of this decade, the US is projected to reduce per capita emissions by 14%, while the EU by 31%, over their 2010 levels.
Implications of slow march toward necessary climate action – We believe the current pandemic and the social and economic costs associated with it could bring a structural shift in how risks linked with these disasters are assessed. Climate change alone has resulted in at least five major catastrophes in the previous decade that have caused significant loss of property and lives. Over the past three decades, climate change-related disasters have gone up three times, the rate of increase in sea level in the 21st century has been higher than in all of the previous one, and over 20 million people a year are being displaced as a result of these events. The United Nations Environment Programme has estimated that emerging countries are likely to lose as much as $140–300 billion per year by 2030 due to climate change-related disasters.
The Australian bushfire season of 2020 is the most recent that followed one of the hottest summers in the continent. The fires left 28 people dead, 10 million hectares of land impacted, and millions of lives affected. It killed over a billion native animals.
Droughts in East African countries such as Ethiopia, Kenya and Somalia between 2011 and 2019 left 15 million people in need of serious aid of food, water and shelter. Not to mention, these negatively impacted crops and livestock.
Floods over the past 12–18 months in South Asian countries such as India, Nepal and Bangladesh have been the worst in 30 years. These floods, exacerbated by rising sea levels, displaced over 12 million people.
Cyclones Idai and Kenneth ravaged Zimbabwe, Malawi and Mozambique, killing over 1,000 people and rendering millions homeless and without food and basic supplies. A fact to be noted, northern Mozambique that was ravaged by Cyclone Kenneth had not seen a cyclone in over five decades.
El Niño is causing longer and more severe droughts in South American countries such as Guatemala, Honduras, El Salvador and Nicaragua. Amid the resultant crop failure, 3.5 million people have been pushed to seek humanitarian aid.
| | |
| --- | --- |
| Sea Height Variation (mm) | Temperature Anomaly (°C) |
Source: NASA
Role of global institutional investors – Political headwinds to climate action such as bureaucracy, lack of bipartisanship and corruption are unlikely to change anytime soon. We, therefore, believe that the global investor community can play a big role in influencing change, at least at the corporate level. We see significant scrutiny being applied to corporate carbon footprints, ESG investments and roadmaps and the managements' ability to take concrete steps in mitigating the effects of climate change. Investors are likely to reward companies directly contributing to the prevention of adverse climate change.
The following long-term investment themes are expected to gather steam during the present decade. Not only do we expect an increase in ESG-focused investment funds and strategies but also more opportunities as part of the following themes. Investors will likely increase quantitative measures to value fund performances based on ESG metrics, carbon emissions by portfolio companies, water treatment and use of non-hazardous materials.


Current state of ESG-focused funds – Since 2016, the number of funds that have added ESG as an investment criterion has gone up many folds. Interestingly, the Paris Accord was signed just the previous year in December, a coincidence of sorts! During 2019, almost 500 funds added ESG to their prospectus, compared to a little over 50 in 2018 and a handful in 2017 and 2016. As per Morningstar and as of the end of 2019, the total AUM of funds with ESG consideration was a little over $930 bn, with 23 funds over $1.0 bn in individual AUMs. We believe that most of these funds focus on ESG parameters for existing companies around the world, and only a fraction of them invested in pure-play companies with defined climate action strategies and businesses.
Ten Largest ESG Consideration Funds (AUM $ bn)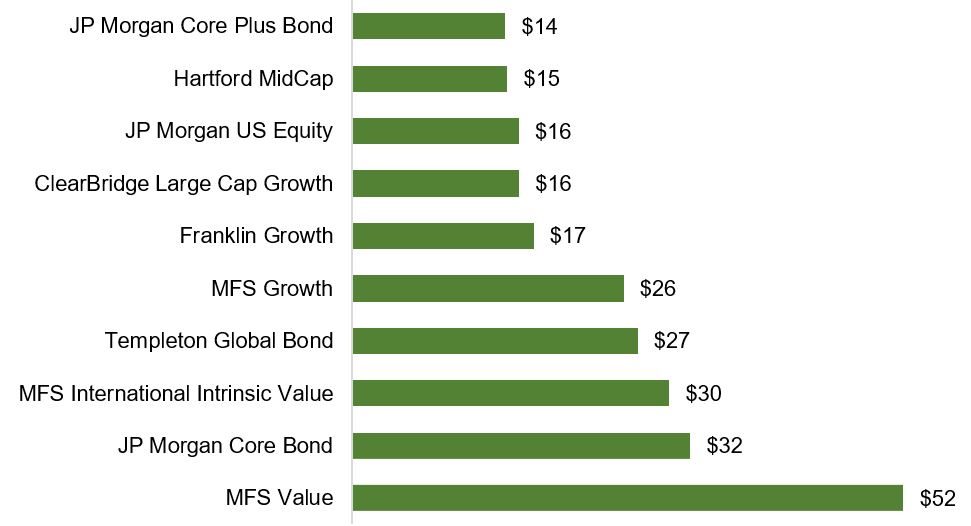 Source: Morningstar
It all comes down to MAP approach (Mitigation, Adoption & Prevention) – When the dust settles on COVID-19, trillions of dollars would have been wiped out from the global economy and stock markets. The lesson for governments around the world and for investors is to be proactive and mitigate the impact of such catastrophes, adopt stringent regulations and policies, and subsequently prevent devastation of such magnitude. The investor community can in no way remain immune to events such as these or to the ones that are likely to come about as a result of adverse climate changes. However, a much greater risk assessment is needed of companies at the forefront of contributing to changing climate conditions globally, while higher value should be placed on those adapting to stem that change. Every dollar of capital investment must be looked at from this perspective.
The effects of global climate change seem slow and long-term, but the natural disasters they cause are increasing in frequency and scale. Tsunamis, floods, forest fires, droughts and epidemics, all have the potential to cause severe damage to economies (including investor wealth) and livelihood. We believe COVID-19 should be an eye-opener in terms of the risks we face due to such disasters.
Beware of temptations – Finally, the COVID-19 outbreak and the following mass lockdowns have led to a significant drop in pollution levels. The economic shutdown has also resulted in a sharp fall in oil prices. These are obvious ingredients for governments, companies and investors to temporarily drop the guard in their climate action initiatives, in an attempt to shore up economic activity. Any short-term change in climate action strategies will only increase the risks of more such economic shocks. Hence, its essential that enterprises do not lose sight of their commitment towards the climate and continue with their efforts to remain sustainable.