Use Cases: Digital Twin in Livestock Farming
Published on 06 Mar, 2020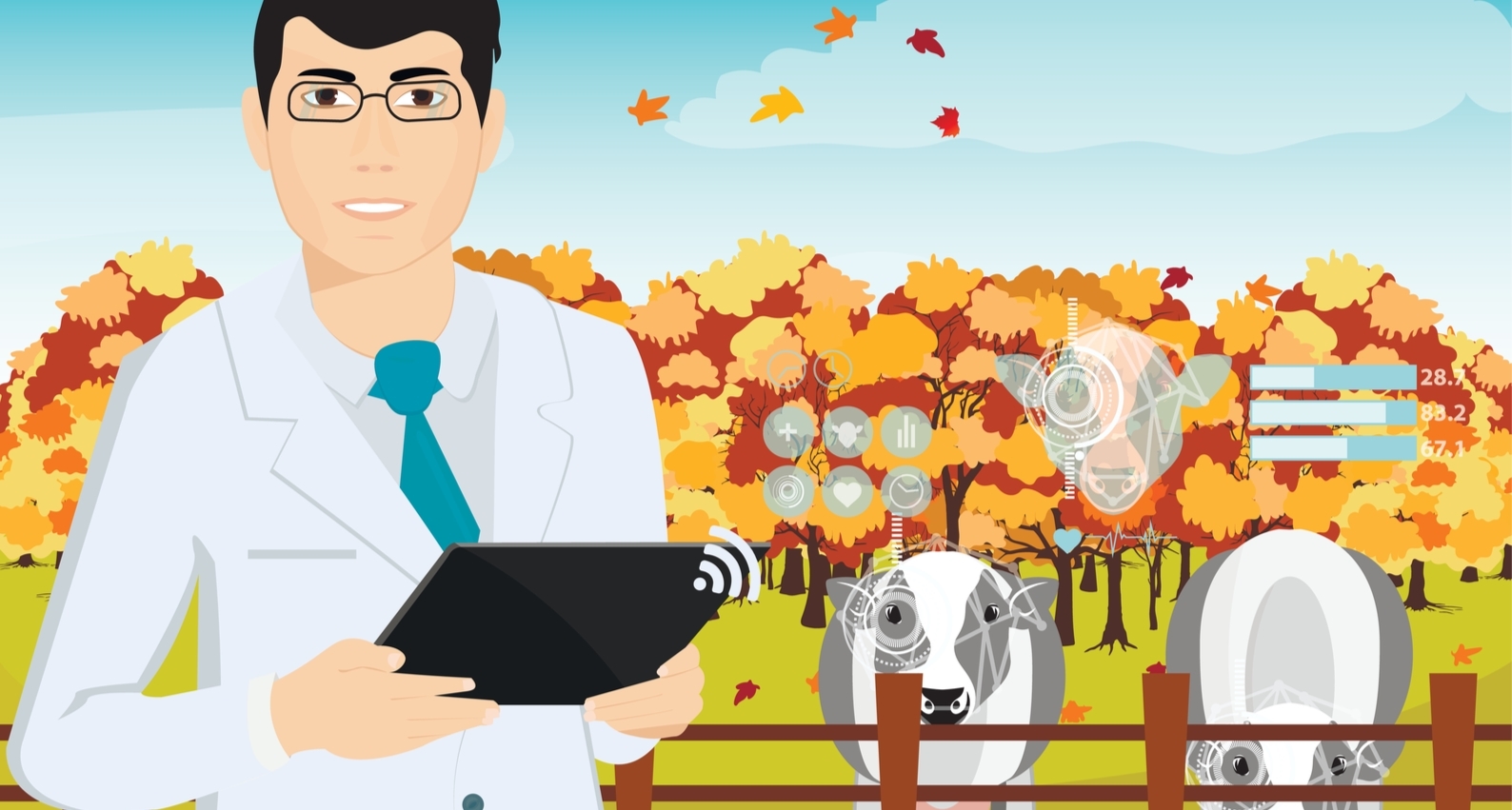 The agriculture industry is confronted with a new set of problems such as shortage of labor, pressure to feed an increasing population, and environmental degradation that are affecting the health of plants and animals and, consequently, agricultural produce. Agtech, entailing application of technology to agricultural operations and processes, is fast emerging as a solution to address these issues. Investment in digitalization in agriculture is lucrative in terms of increasing productivity, process efficiency and animal welfare. One such approach is the digital twin technology, yet to be explored in livestock farming. The use cases mentioned here indicate the technology's application in livestock farming.
A digital twin is a virtual model of any physical asset or system built on human knowledge and real-world data. This model uses advance analytics, usually artificial intelligence (AI)-based, to provide vital information and insights of its physical counterpart. Companies such as GE, ABB and IBM are ready with digital twin platforms and have successfully implemented them in the manufacturing, automobile, energy utility and aerospace industries.
The use of digital twin in Agtech has several benefits. It can improve the productivity and quality of food and prevent shortage of food. Supply-side analysis shows that until now the technology has not been applied in livestock farming. This could be a business opportunity for companies to explore and generate additional revenues.
Use cases: How digital twin can be used in livestock farming?
Meat producing and processing companies have already enabled digitalization, either alone or in partnership with startups.
Irish startup Cainthus uses AI-based computer vision for determining animal health. Cargill, an American origin global agriculture corporation, has partnered with it to track cattle health.
US-based startup Rex has developed the largest database on genetics, performance, and health of livestock by collating facts and figures from various sources.
Connecterra and Quantified AG offer devices for monitoring the health of livestock.
Application of digital twin in livestock farming can help in:
Gaining insights on healthy growing conditions: Use of digital twin can help meat producers, farm managers and breeders to accurately know the healthy growing conditions for their livestock by sensing the following parameters:

Animal-related Parameters: Pregnancy hormones, body and gut temperature, etc.
Feed type: Quality and quantity of intake
Ambient Parameters: Temperature, gas composition (level of oxygen, ammonia, carbon dioxide, ambient hydrogen sulfide presence), humidity, etc.

Detecting onset of a disease: Diseased animals show clinical signs which can be detected using sensors and/or computer vision. Digital twin technology can help in identifying afflicted animals that can then be isolated and treated in time. This technology can help in reducing the morbidity and mortality and prevent the spread of zoonotic diseases such as H1N1, SARS, Ebola and Coronavirus.
Studying the effect of introduction of new feed: Farm managers can simulate the effect of change in feed type or introduction of a new food sample on animals. In these cases, additional information on previous food type and its content would be required as an input to the digital twin.
Studying the effect of habitat on a new breed: Digital twin can help understand the response of any newly developed breed to changes in surrounding conditions, feed, environment, etc.
Implementation scenario
Implementation of digital twin in livestock farming involves:
Data gathering – Usage of data collecting tools such as gas sensor, temperature sensor, humidity sensor, cameras and drones; data can be gathered via sensors attached to animals or placed in their surroundings
Analysis and modelling – Analysis of collected data to develop an accurate model, related physical assets and surroundings that can be updated continuously based on more recent data
Big data – Identification of vital data to ensure necessary information from the vast pool collected is retained and to decide the way to store it.
Data visualization – Representation of data and analysis results for easy understanding; could be in 2D or 3D format
Implementation constraint
The effective implementation of this technology requires seamless integration of various components. There could be certain constraints in its adoption:
Technical Constraints

Market Constraints

The technology is ready. Integration issues during mass implementation can be overcome using integration APIs or by adopting IoT standards developed by organizations such as ETSI.
Network availability, speed and latency – a constraint in remote locations – are expected to be overcome in the next 3–5 years with increasing adoption of connectivity technologies such as 5G, NB-IOT and LTE-M.

No big company offers digital twin solution for livestock industry.
No KPIs have been developed to assess the benefits of this technology in livestock industry.
No business models have been developed for livestock industry to monetize this technology.
Economical Constraints

Legal Constraints

Since the technology has not been implemented in livestock industry, the economics are unknown.
Considering the risks associated with investing in this technology, only companies with diversified businesses are better disposed to invest in it.

No regulatory guidelines have been framed so far pertaining to the ethical use of digital twin for livestock.
If automated decision making is implemented in digital twin system, its use for animals would be subjected to legal considerations.
What next?
Globally, population is exploding, with the current birth rate at 2.5 births per second. Livestock farming is already grappling with issues such as increasing demand for food, changing consumer preferences, and high demand for top quality eatables. To address the situation, livestock companies and farm managers will have to implement advance technology in manufacturing and agriculture. Digital twin is a quality solution and its application in livestock farming is only a matter of time. It will not be too far-fetched to predict 2021 as the year for its implementation. By 2025, it is likely to be accepted by various major livestock raising companies. Therefore, meat producing, processing companies and farm managers should act now to embrace digitalization in their processes. As a first step, these companies can perform techno-economic analysis to gauge the feasibility of this solution or identify appropriate partner to help them in this transition.
How can Aranca help you?
Aranca is an expert in evaluating dynamic industry changes and identifying disruptive technologies. With its digitalization expertise, it has executed several projects in the digital twin domain and has successfully provided deep dive analysis and planning support to some big names in various industries.
Aranca's technical and market research team consists of sectoral experts who have in-depth knowledge of the industry. Our research team can save you valuable time and resources by delivering precise research and offering prudent suggestions based on it. Aranca can further help you during transition and adoption of advance technologies.