Parked Cars - A Hidden Potential Resource
Published on 07 Apr, 2020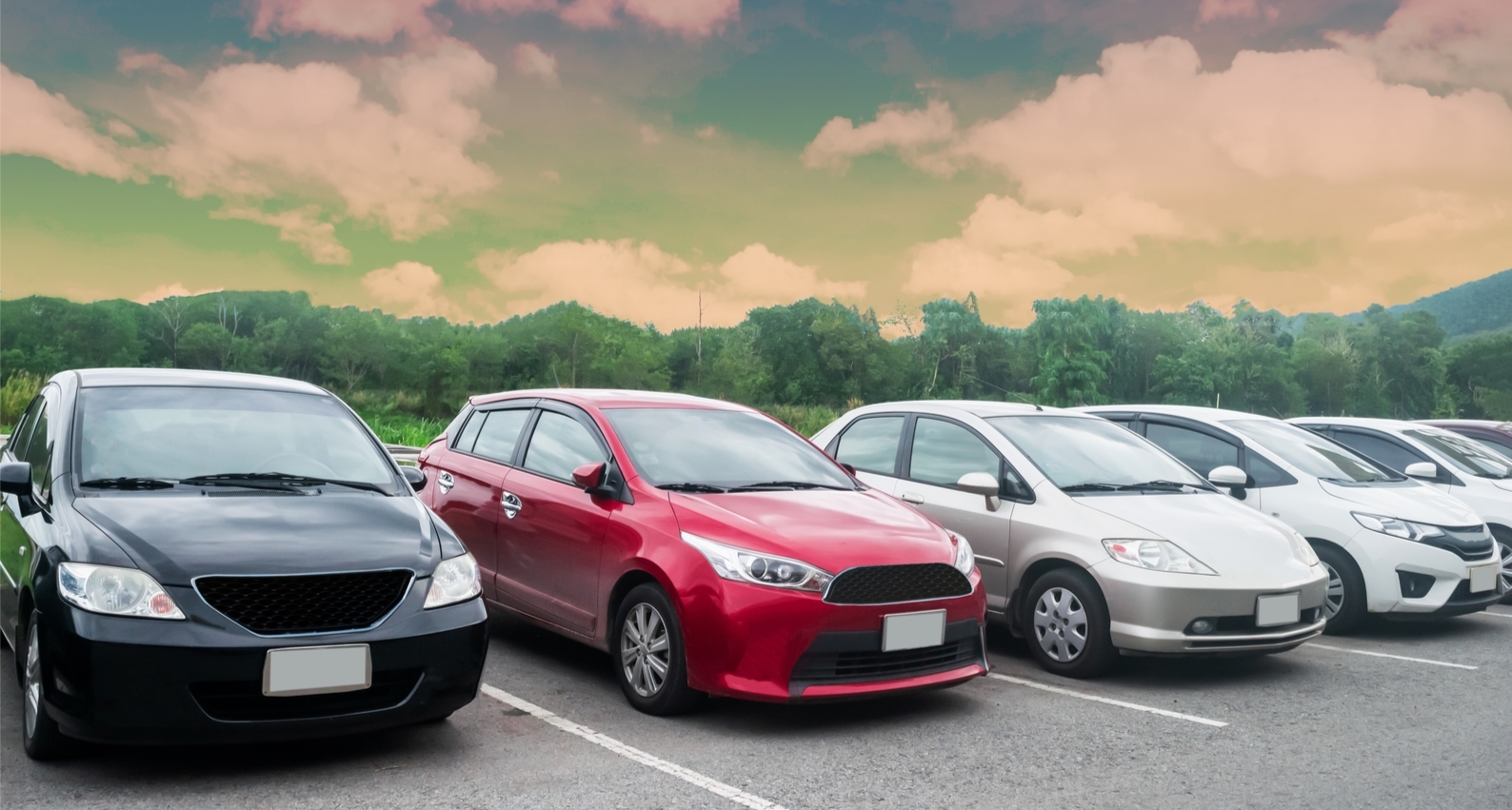 The automobile industry landscape is witnessing a major shift as innovative models, such as electric and autonomous cars, get ready to enter the market. The increase in production will lead to billions of car going on the road by 2040. According to research, private cars are parked 95% of the time and hence under-utilized. Industry players are currently looking for opportunities to use parked cars in a sustainable and effective manner while positively impacting the environment and the society.
The automobile industry is undergoing a transition across the globe. Market reports have indicated that electric vehicles (EVs) will cause disruption in the internal combustion engine (ICE) car segment in the next decade or so. This has made original equipment manufacturers (OEMs) and aftermarket players skeptical of the future market dynamics. Key market players across the supply chain are rethinking their strategies in order to be ready for the expected shift in the landscape.
EVs have already entered the market and their penetration is expected to be aggressive in the coming years as hi-tech features and technology innovations are being supported by government initiatives.
The autonomous car (AC) segment is observing an inflow of funds from VCs and funding agencies that can visualize the potential opportunity. Currently, ACs are at the prototyping stage, and in next five years from now, they will be present in the market, leading to further disruption.
By 2040, almost two billion cars will be on the road globally. However, the concern is not about the types of cars that will have maximum presence or the preferred ownership model but the utility period of these cars. Based on expert analysis, most private cars are parked 95% of the time. This not only exacerbates the limited parking space problem but also causes further environmental and social complications.
It is possible to develop sustainable solutions to utilize parked cars as a resource but needs significant amount of research and innovation. Some automotive market players are already putting in efforts in this direction.
Parked cars can be used for various purposes, such as purifying air in the surrounding, providing entertainment by having displays, by converting into a cook top, and even powering your house and electrical appliances. Some examples of alternate applications are as follows: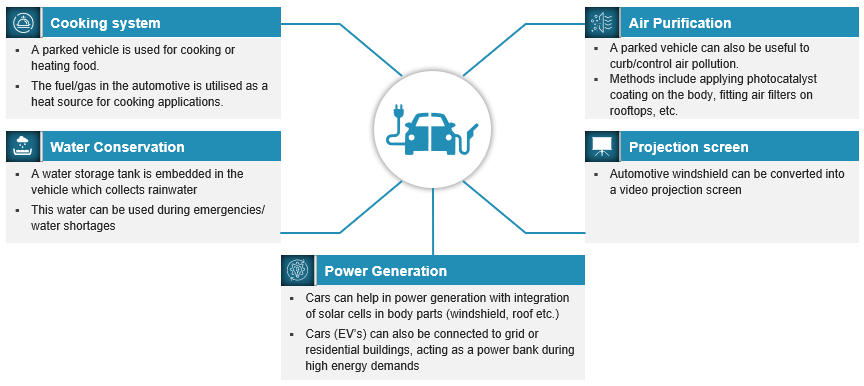 A few companies across the value chain are researching on these options:
Sustainable Concept

Company

Technology Details

Aranca' Impact Indicator

Air Purification

Technology – Multi-layer membrane filtration for purifying ambient air (patented technology & commercialized)
Working – The multi-layer membrane filter can be installed anywhere on the vehicle. It is made of either glass fibers or polypropylene and/or polyester, with mesh size of 0.5–4 mm. The filter can remove various types of particulates (such as CO2, NO2 and dust) from the ambient air. This technology can be retrofitted on existing vehicles.
Advantage – By 2040, around two billion cars are expected to be on road. This technology, if fitted on each car, will purify the air by removing the various particulates, irrespective of whether the car is running or parked.

Technology – Moss-filled 3D-printed tires (concept stage)
Working – This concept tire, developed by Goodyear, is filled with moss inside. The plant grows on the inner surface of the tire, releasing oxygen and absorbing carbon dioxide. The open structure of the tire facilitates circulation of moisture and water from the road and facilitates photosynthesis. Furthermore, the tires are 3D-printed from rubber powder produced from old recycled tires. These tires are lightweight, shock absorbing, long lasting and puncture-free. Also, the tires can support electronic components for connectivity and other benefits. This makes them a complete sustainable solution.
Advantage – The tires are made of recycled tire powder. As estimated by the company, for a city as big as Paris, these tires can produce 3000 tons of oxygen and absorb 4000 tons of carbon dioxide.

Power Generation

Technology – Solar-embedded windshield (patented technology & commercialized recently)
Working – The windshield has two glasses, one each on the inner and outer sides. Both are laminated separately with a hollow space in between where an electric awning is placed. The electric awning, made of flexible solar cells, can be wound and unwound. The windshield can be used in rooftops as well as in windows.
Advantage – If the car stays under the sun for around six hours, the panels collect the solar energy. With this, the car battery can be charged by up to 60%; over a period of 12 months, the car to run up to 1300 KM.

Technology – Solar-embedded car body panel (research stage)
Working – Toyota, Sharp and NEDO have collaborated to develop thin solar panels that can be placed on the car roof and other curved surfaces. The panels, about 0.3 MM thick, can also be used to charge batteries, eliminating the need to go to the docks.
Advantage – Sunlight is used to charge the batteries and the car can run up to 50 KM a day without charging it at the dock.

Display

Technology – Interactive windshield (research stage)
Working – The windshield display technology with virtual touch and emotion recognition uses artificial intelligence.
Advantage – Without any manual intervention of users, the car can entertain the user by recognizing human emotions.

Technology – Interactive windshield (research stage)
Working – The windshield can be converted into a projection screen. A drop-down projector can be used for this purpose, and the car can be converted into a small movie theatre.
Advantage – It provides entertainment anywhere anytime.


Aranca's Impact Indicator is based on various parameters such as technology readiness levels, impact on environment, and value addition to customers.
Of the various applications, air purification and power generation may get more traction as they have a direct impact on the society and environment. Companies will be benefited with power generation concept as the adequate amount of power will be generated to recharge batteries for EVs and to power household appliance, while with air purification concept emissions from ICE cars can be converted into purified air.
Impact on Market:
Air purification and power generation technologies have been commercialized recently. Under air purification, commercialized models are installed on goods delivery vehicles. As these systems can be easily retrofitted, it is a matter of time before they are installed on regular vehicles. Aftermarket component suppliers can leverage this potential to obtain better visibility on the market.
Installation of power generation systems, on the other hand, would depend on the expertise of players across the supply chain to provide panels and associated parts that can be installed easily. Furthermore, glass companies, component manufacturers and aftermarket service providers need to take a detailed look at innovations and strategize accordingly. For instance, innovations in windshield, when mass commercialized, will cannibalize the existing market.
Conclusion
As car utility impacts the automotive industry, it is prudent for companies operating in this domain to evaluate sustainable solutions for utilizing parked cars in practical and efficient ways.
Aranca, with its deep expertise in the automotive domain, can help companies unlock hidden potentials, so that the companies can strategize their R&D activities as well as future roadmap to churn out models and solutions that are socially and environmentally acceptable.