IoT in Healthcare
Published on 20 Dec, 2021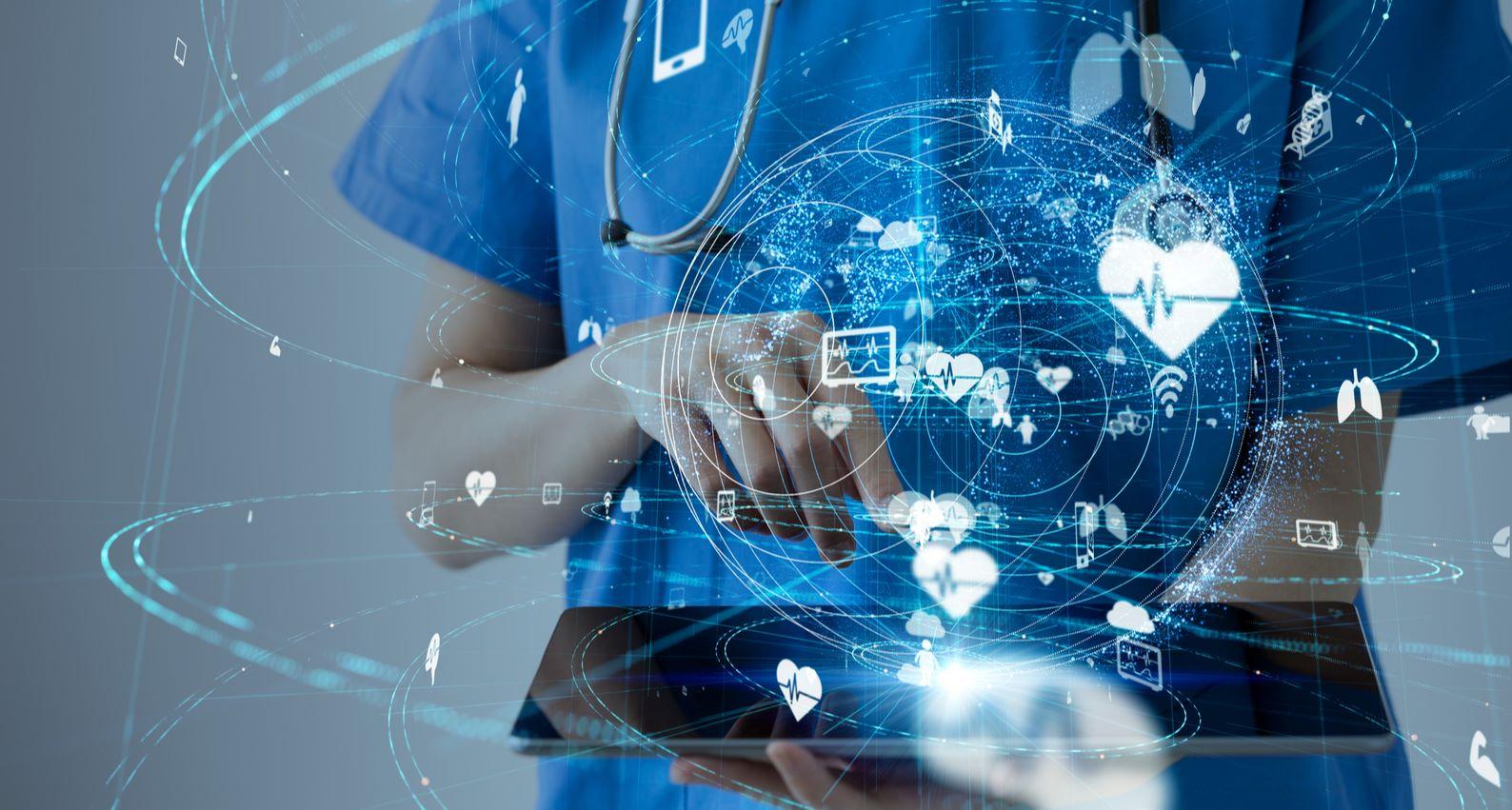 Rapid digitalization has led to the integration of technology in all aspects of our life, including healthcare, as technology has enabled healthcare to become more effective, sophisticated, and easily accessible. The outbreak of COVID-19 intensified the need for adoption of technology in healthcare as telemedicine and remote patient monitoring became important. Furthermore, improving broadband connectivity, advances in wireless technology, and significant cloud penetration have paved the way for emergence of the Internet of Things (IoT) in healthcare.
IoT in healthcare, while not a new phenomenon, is gaining widescale adoption due to its many benefits. Moreover, IoT has led to automation in healthcare facilities as well as the emergence of telemedicine, remote patient monitoring, interactive medicine, and fitness and wellness measurement devices. As a result, IoT in the healthcare sector is expected to reach USD188.2 billion by 2025 from USD72.5 billion in 2020.
With regular care facilities shut down or reserved for COVID-19 patients, individuals with other health issues had to turn to technology-driven methods and remote care. IoT-enabled wearables and telehealth were the need of the hour and helped provide care to patients suffering from critical diseases amid the pandemic. Consequently, IoT-driven healthcare replaced conventional medical check-up during this period.
Some of the IoT-enabled healthcare solutions available in the market are as follows:
Solution
Brief
Advantages
Challenges
Adoption

Telemedicine

Remote delivery of healthcare services using monitoring devices to share personal health information and analyze data via AI

Regular monitoring

No need for physical meetings

More patients can be checked

Lifesaving during emergencies

Lack of next-generation infrastructure in healthcare organizations

Implementation issues and weak security measures

Health insurers not reimbursing at the same level as traditional on-site visits

During pandemic in US, UK

Robotic surgery

Small, internet-connected robots designed to be introduced inside the human body through a small incision to perform complex surgeries

Superior view helps to make better decisions

Minimally invasive

Lower chances of infection

Aesthetics such as smaller scars

More expensive

Limited scope for patient-specific customization

Nascent stages

Medical imaging

Medical imaging equipment enabling non-invasive visualization of internal organs and systems to facilitate diagnosis, monitoring, and in some cases, treatment of certain medical conditions

Reduced wait time for patients

Improved accuracy, reliability, and productivity of electronic devices

Faster, more accurate diagnosis

Lack of higher data security standards

Available in most medical centers

Clinical trials

Automation of clinical trial quality control process through integration of IoT sensors that monitor and record physiological parameters in cloud storage, enabling real-time data access

Faster clinical trials

Insights to help improve operations

Preventative maintenance using AI systems that trigger alarms

Significant financial investment required to scale and manage large volumes of structured and unstructured data
Risk of data privacy; need for better security and vulnerability management

Currently used to monitor patient compliance in clinical trials

IoT disease detection

Early prediction, correct diagnosis, and therapeutic intervention at the right time via machine learning, which analyzes a large amount of information available on IoT devices to streamline diagnostic process

Early prediction and accurate diagnosis

Streamlined diagnostic process

Network delay in healthcare data processing

Commercial solutions available to track and prevent spread of infectious diseases

Hygiene technology

Hand hygiene monitoring systems where medical staff wear badges that sound an alarm if they are near a patient's bed with unwashed hands
UV-enabled robots with human-safe lock systems for autonomous, high-level sterilization

Better hygiene standards compliance

Lower operational costs via optimization of cleaning resources

Traceability of cleaning processes

High error rates of proximity-based solutions in location visited data
High energy consumption of UV-based sterilization systems

IoT-enabled UV robots with human-safe lock systems adopted to provide high-level sterilization in hospitals
IoT Solution Providers
The current generation of consumers is health conscious and tech savvy. They want more control over their physical health, thus driving demand for wearables and sensors. Many companies are offering IoT solutions for predictive device maintenance, wearables, remote patient monitoring, and modernized patient assistance.
Some of the new-age technologies are as follows:
Solution Provider
Technologies
Brief
Evidence of Use
Challenges

Philips

Wearable bio-sensor – BX100

Measurement of respiratory and heart rates, real-time data transmission for remote patient monitoring

Philips receives FDA 510(k) clearance and CE Mark to help manage confirmed and suspected COVID-19 patients in hospitals

Network delay in healthcare data processing

Incorporating sensor technology into existing clinical workflows

iCare PD

Wearable sensor

Wearable sensors with real-time monitoring that can capture symptoms such as tremors and freezing of gait in Parkinson's patients to manage their symptoms, improve care and quality of life

Under development

Garments incorporated with electronic sensors must pass washability test

Data integration from multiple sources, such as accelerometer, gyroscope, and heart rate sensor, required to provide correct results

Kinsa Health

Smartphone-connected thermometers

Monitoring of cases by tracking fever in a network of millions using smart thermometer (The company subtracted typical cold and flu numbers of previous years from the recorded number during the pandemic to estimate exact COVID-19 cases.)

Southern Colorado schools participate in Kinsa FLUency health program to track and help stop spread of illness

Ensuring safety of private data

Distinguishing diseases with similar symptoms

Contus

Embedded IoT sensors

Mobile, web, and cloud-based services for predictive maintenance of medical devices using embedded IoT sensors for tracking and reducing manual errors

Contus offering IoT development services to build smart healthcare ecosystem

Heavy investment costs, such as equipment procurement, labor, communication and cloud service, to implement predictive maintenance system

Doccla

Virtual healthcare facilities

Patients discharged from hospitals to Doccla Virtual Ward, set up in their homes with required monitoring equipment, in order to decrease hospital visits

Doccla, virtual hospital ward, partners with Northampton General NHS Trust to set up virtual healthcare facilities that offer better patient monitoring at half the cost of keeping patients in hospital ward

Virtual care considered only as a complimentary service by patients

Maintaining same clinical quality through virtual care as in-person doctor visits
Consortiums
While technology has made healthcare more efficient and effective, it has also posed challenges such as scalability, interoperability, connectivity, compatibility, and security of devices and networks. Technology players have formed IoT consortiums to address these issues by providing a common framework.
Industry IoT Consortium – The Healthcare Task Group of Industrial Internet Consortium (IIC) comprises small and large technology vendors, vertical market leaders, innovators, universities, researchers, and government organizations. The core objective of IIC is to develop scalable and sustainable models of virtual and technological care that meet the needs of clinicians and consumers. The IIC offers business development accelerator programs that identify customer pain points, improve go-to-market strategies of members, and enhance business outcomes by facilitating member networking, collaboration, and liaisons.
OpenGIS (OGC) – This international consortium of over 500 businesses, research organizations, government agencies, and universities aims to make geospatial (location) information and services accessible. Through its geospatial technology, OGC provides a competitive edge to member organizations in building smart cities and preparing for major health crises.
IBM-High Performance Computing Consortium – An initiative by the federal government, industrial sector, and academic leaders, this consortium offers computational resources, software, services, and deep technical expertise to assist COVID-19 researchers in executing complex research programs.
Outlook
The pandemic has resulted in the adoption of IoT by care facilities, hospitals, and diagnostic centers around the world. Key factors driving the adoption in the healthcare market are growing emphasis on active patient engagement and patient-centric care, rising burden on healthcare facilities with higher incidences of chronic health conditions, and greater usage of mobile computing devices. Growth of high-speed network connectivity has helped healthcare facilities provide IoT-enabled care that is also cost-effective.
The IoT sector is witnessing M&As, partnerships, and large-scale collaborations among healthcare providers and technology players. For example, Medtronic and Surgical Theater have together worked on a surgical navigation system called StealthStation S8. Abbott has also partnered with Insulet to integrate its blood glucose sensing technology with Insulet's Omnipod Horizon automated insulin delivery system, which allows patients to continuously stream glucose data to digitally connected IoT devices. In addition, IoT platforms have triggered innovation in monetization models for healthcare companies, such as remote patient monitoring, clinical trial management, coordination between third-party service providers, health data analytics, and drug development.
Hospitals are implementing IoT in developing sectors, such as telemedicine, healthcare information management, telediagnosis, and patient monitoring, to offer customized and quick solutions. Therefore, patients have access to personalized care with 24x7 monitoring through smart bracelets and AI-synched cloud servers. Furthermore, sanitation and disinfection companies are launching UV-based mobile solutions for automating these processes with efficient safety protocols to prevent human exposure to disease caused by microorganisms. Medical device manufacturers are also working on innovating AI-based IoT devices and machine learning solutions to facilitate better detection and improve treatment capabilities.
Though data security challenges remain a concern, IoT in healthcare is set to witness exponential growth in the post-pandemic era.