India's Ban on Chinese Apps – An Opportunity for Indian Tech Start-ups
Published on 27 Jul, 2020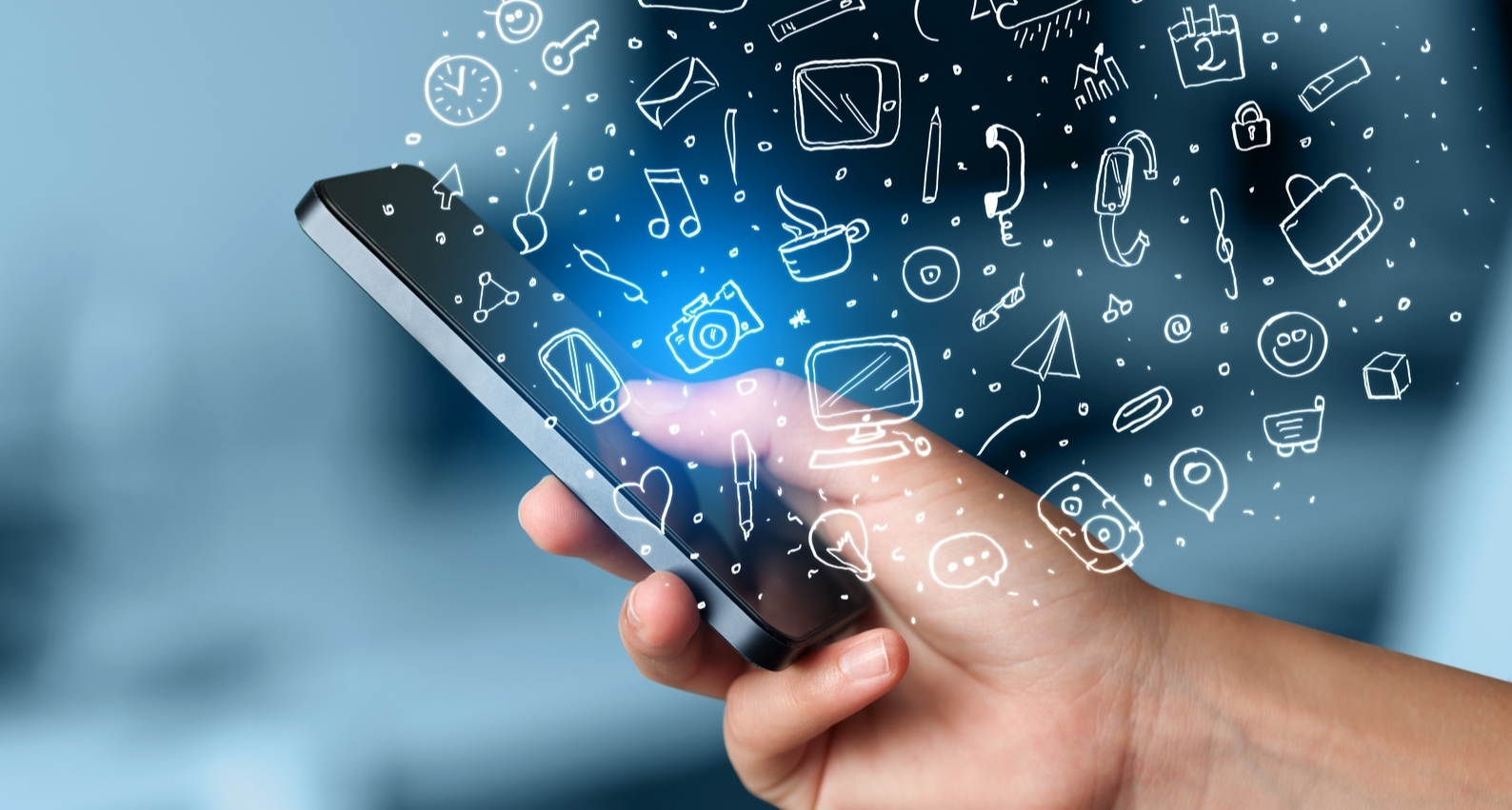 The political strain between India and China in the backdrop of the COVID-19 pandemic and the more recent Galwan Valley skirmish has prompted the Indian government to ban certain vulnerable apps that have a Chinese hand. Indian citizens are also favoring home-grown products in their attempt to boycott Chinese products and to support the government's edict. With the pervasive presence of Chinese apps in almost all segments – from financial services to entertainment and gaming – the current ban opens up vast opportunities for Indian players. Can Indian start-ups rise to this challenge to meet technological demands and emerge as winners?
The COVID-19 pandemic currently ravaging the world allegedly originated from China. The country is facing flak from many quarters for not having dealt with the outbreak more systematically and failing to stop its spread. While the world battles the pandemic, China's activities in foreign lands have started raised further problems for several countries. The geo-political situation between India and China has also turned hostile as the two countries clash on border issues.
Recently, the Indian government announced a ban on 59 Chinese apps. The government note said, "Chinese apps are reportedly engaging in activities prejudicial to the sovereignty and integrity of India, defense of India, and the security of state and public order." Apps such as TikTok and WeChat stand accused of unauthorized collection and transfer of data to servers located outside India. While a ban on such apps was imminent, the recent border clash served as an impetus for this move. However, this could only be the beginning; the Indian government plans to add more apps to the banned list.
Chinese apps are prolific, spanning diverse segments and having a vast consumer base. From financial services to entertainment, gaming, and communication, these apps have penetrated many markets. Therefore, the government ban brings up a great opportunity for Indian start-ups to develop similar or better alternatives and draw erstwhile Chinese app users to their fold.
Some well-known Chinese apps and their current Indian alternatives are tabled here.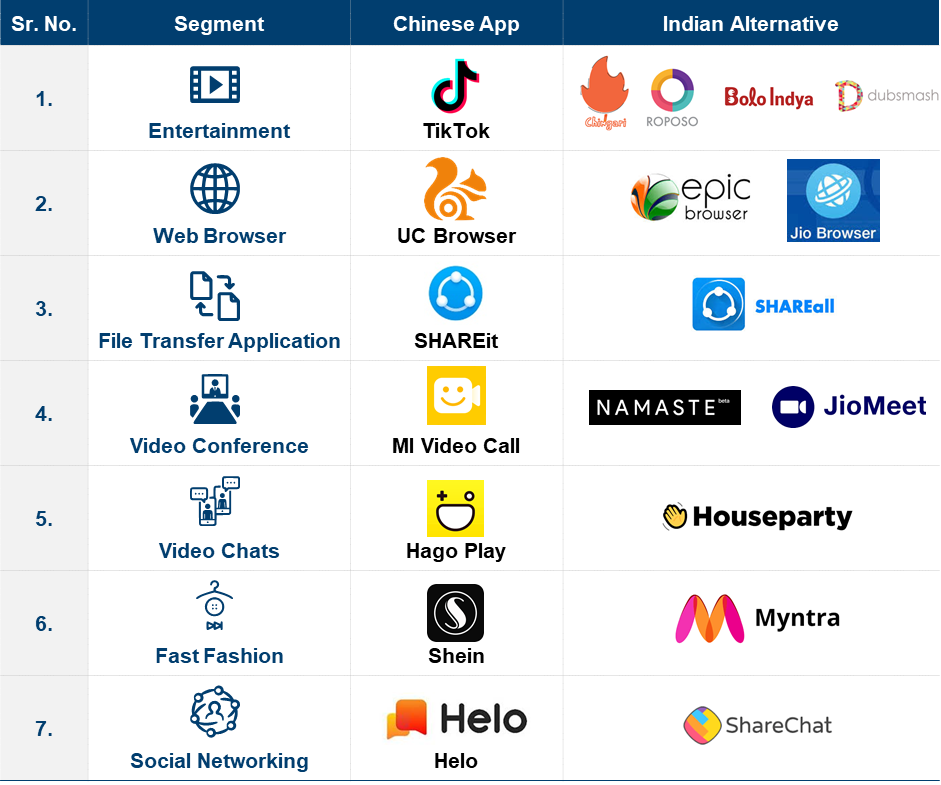 The ban on Tiktok, Vigo Video, and Helo is estimated to cause parent company ByteDance a loss of USD1 billion in revenue. This amount surpasses the revenue loss of the other 56 Chinese apps and can be mainly attributed to the loss of advertisement (ad) revenue.
Revenue from paid apps in India amounted to USD195 million in 2019; this figure is expected to grow to USD305 million by 2023. This anticipated growth indicates a significant opportunity for Indian app developers to penetrate the market and generate revenue directly from app users or through ads showcased on free apps.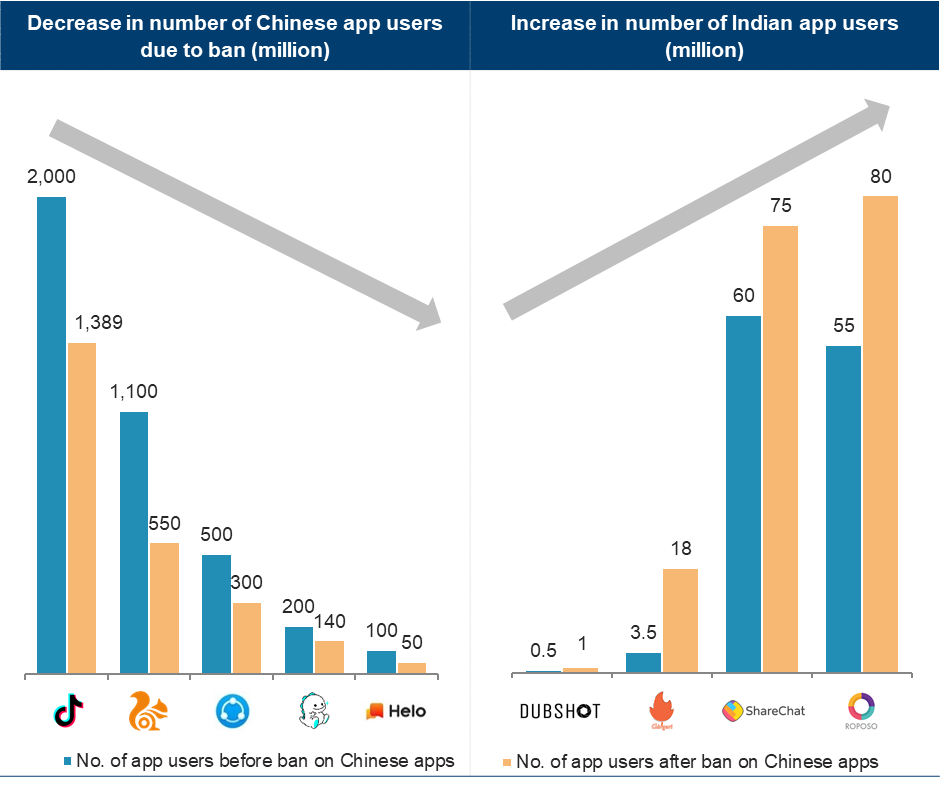 The data in both graphs are based on approximation and availability from secondary sources.
Technologies differentiating Chinese apps
One of the underlying reasons for the huge popularity of Chinese apps is their superior technology. Chinese companies focus on scalability first and defensibility later. Another point in their favor is the 'first mover' advantage. The most popular app, TikTok, was the only option that created an entire segment of entertainment. It allowed individuals to gain 'stardom' with their two minutes of fame.
The main agenda for most Chinese apps is to increase the number of users—the crux of their business model. They are therefore constantly researching and innovating to ensure that they develop the best software to make the app not just user-friendly and bug-free but also energy-efficient (consumes less data and battery life). Some of the innovative technologies that differentiate Chinese apps from others are listed here.
Machine Learning (ML) – Through this technology, developers create algorithms that understand the needs of the individual and assist them to reach their goals when they use the application. Based on users' input of interests, affordability, hobbies, preferences, needs, etc., the app developer can classify users and offer customized content. Such tailored content helps attract and retain many users.
Regional language and content – Chinese apps are available in several languages and even provide region-specific content. This feature makes it easy for non-English users to navigate the apps. The inclusion of regional content hooks users easily and keeps them loyal. In India, these apps have ensured they are available in local state languages, thus collecting many loyalists.
Cloud acceleration and data compression technology – The deployment of cloud acceleration technology helps content producers and publishers rapidly deliver content to end users while optimizing content according to the device capability and Internet connectivity. Meanwhile, data compression reduces the amount of data transmitted or stored, transforming the original data into a compact form by recognizing and utilizing patterns. Both these technologies help make the app mobile-friendly as they save battery life and consume far less data.
Monetary offers during app launch – At times, Chinese apps offer a monetary incentive to users who install and use the app for the first time. This is a great way to attract users who are then allowed to redeem the benefit. However, users need to make multiple transactions to claim the entire benefit. This model ensures that the user downloads the app and retains it.
Instant inclusion of tools – The Chinese apps have integrated different tools to help people get through the coronavirus crisis. These features range from medicine delivery, doctor locator, real-time data, and mask check with the help of QR codes to checks on available public transport, job postings, and lists of hospitals capable of dealing with COVID-19. These features make users aware of the possible options around them if they need help.
Cutting-edge technologies, marketing initiatives, and easy availability helped Chinese apps gain a large share of the market in India, which they have now lost. This is a great opportunity for enterprising Indian start-ups to take up the mantle and give consumers comparable or even superior experiences.
Government initiative to promote Indian start-ups
Soon after the ban of 59 Chinese apps, the Government of India launched the 'Aatmanirbhar Bharat – App Innovation' challenge to encourage Indian start-ups to develop apps under eight categories. These categories included social networking, e-learning, entertainment, news and games, health, and wellness, agritech, fintech, and those apps that support the work-from-home (WFH) culture. The winning app creator in each category would receive prize money for the innovation, which would also help them create a market for their product. Even before the ban on these apps, the government had announced a prize of INR10 million for the development of a secure video-conferencing app.
Currently, Indian start-ups struggle to find financial support. They also have to face the anti-competitive practices of large tech-companies and ensure that the latest technology is deployed in their apps. Additionally, start-ups have to jump through several regulatory and legal loops to begin operations. For these reasons, they lose focus of their main agenda, which is the development of the best software for their app. If finances and competition can be eased by government policies and funding, then these start-ups can focus on the development and deployment of technology.
COVID-19 continues to be a threat to India, forcing citizens to follow social distancing norms and stay at home. This has led to increased screen time as more people turn to smartphones for basic essentials as well as entertainment. If Indian start-ups are able to tackle the Chinese stranglehold and launch better offerings than their Chinese counterparts, they stand to gain an instant, vast, loyal market.