Impact of NB-IoT and LTE-M in Manufacturers and Logistics sectors
Published on 19 Feb, 2020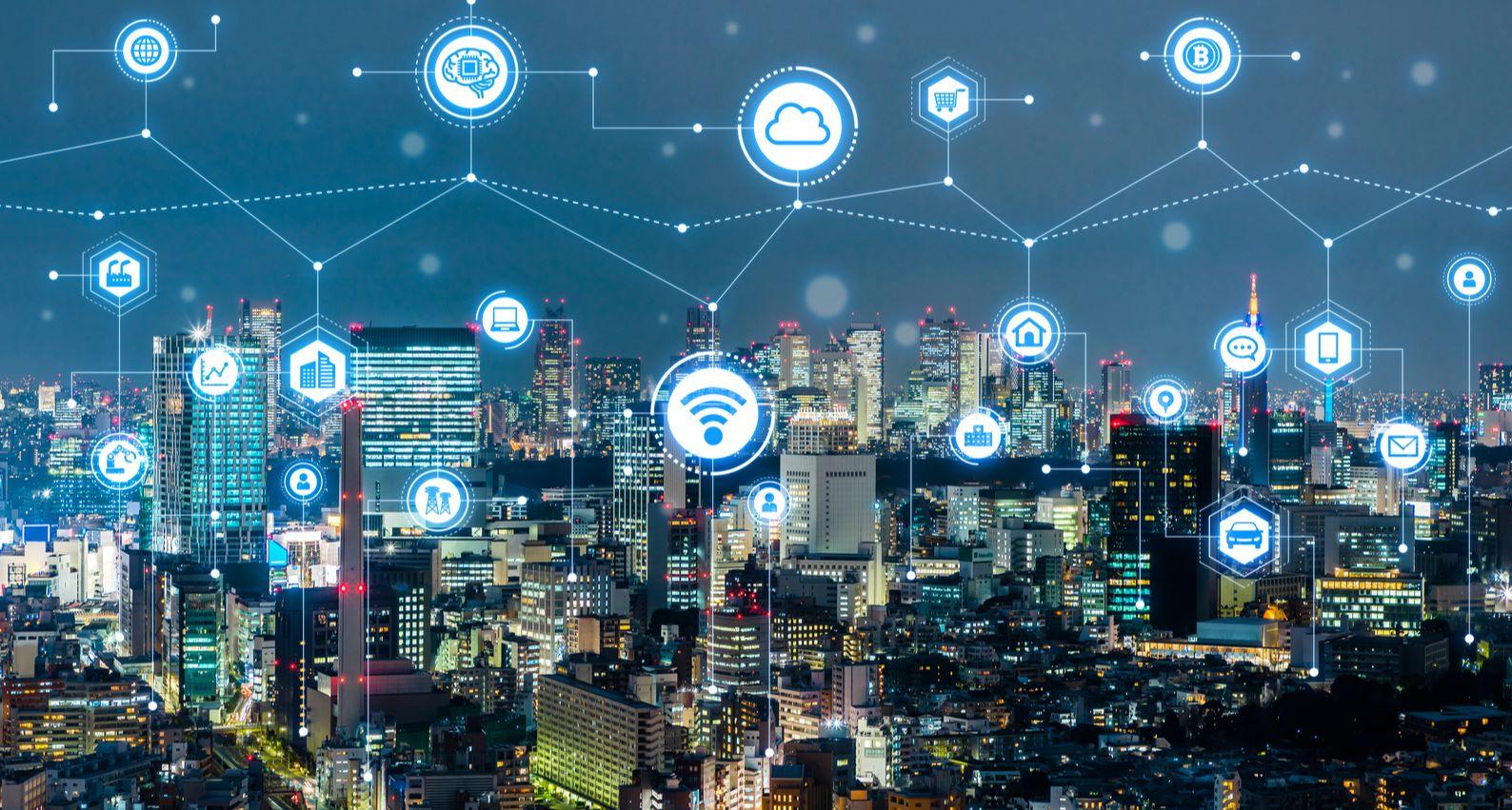 IoT is increasingly being incorporated by businesses, indicating its growing significance. The connectivity facilitated by this system plays a key role in boosting efficiency. Currently, the most popular connectivity technologies are LTE-M and NB-IoT, characterized by low power consumption and wide area of coverage. Here, we mainly discuss their impact on logistics and manufacturing industries, including the role they would play in further growth in the two domains, and the outlook for these technologies.
Introduction
Technological developments are rampant across sectors today. Among them, IoT has gained a lot of significance over the last five years. Telecom companies and consortiums have been working on creating protocols for connecting IoT devices since the start of this decade, with the first set of rules laid in Release-12 of the 3GPP.
The technologies for enabling IoT connectivity of assets could be broadly classified depending on:
License status: Under licensed or un-licensed band
Area covered for connectivity: Narrow or wide
Consumption of power: Low or high
Suitability: For stationary or mobile assets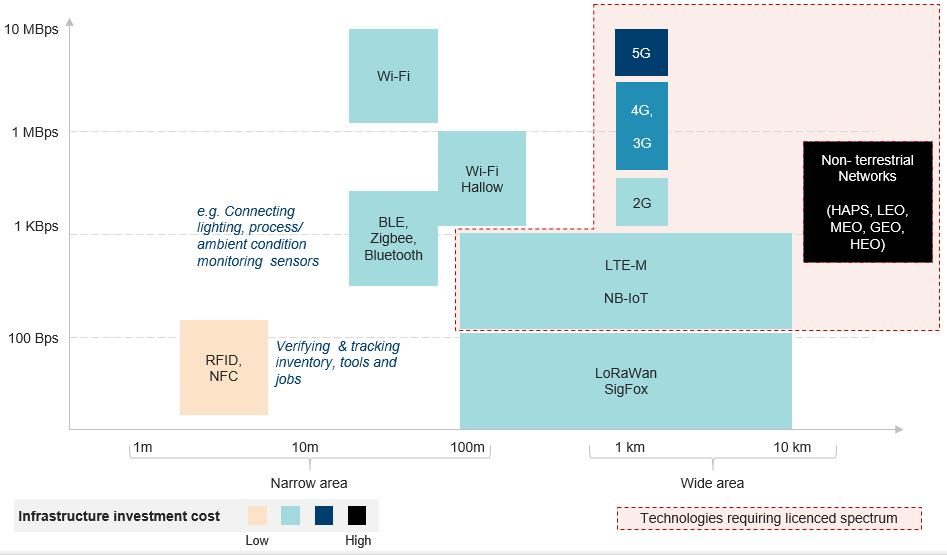 This article describes recent trends in the adoption of LTE-M and NB-IoT and their impact on logistics and manufacturing industries.
LTE-M and NB-IoT
NB-IoT is a 3GPP cellular technology standard-based low power wide area (LPWA) technology introduced in Release 13. It was developed to be used in a wide range of new IoT devices and services to provide efficient communication for mass distributed devices with improved power consumption. It uses the already established mobile networks to connect these "things". Category NB2 will come in 3GPP Release 14 and is expected to improve the peak throughout by a factor of 2.
LTE-M is the simplified industry term for the LTE-MTC LPWA technology standard published by 3GPP in Release 13 specification. It specifically refers to LTE CatM1, which is suitable for IoT. LTE-M is a low-power, wide area technology that supports IoT by reducing the complexity of devices, provides extended coverage, and facilitates the reuse of the LTE installed base.
Source : GSMA
LTE-M and NB-IoT have been compared in the table below:
| Technical Features | NB-IoT | LTE-M1 |
| --- | --- | --- |
| Application | Electric metering, manufacturing automation, smart meters, facility management services, smart parking solutions, connected herds/livestock, smart trash management, smart vending machines, connected industrial appliances such as welding machines or air compressors, connected personal appliances measuring health parameters, agriculture, etc. | Smart cities, connected health, automotive and logistics, fleet management monitoring, personal IoT, fitness wearables, asset tracking, retail, PoS, smart meters, home security, industrial asset management, etc. |
| Bandwidth | 180 KHz | 3GPP Licensed | 1.4 MHz | 3GPP Licensed |
| Uplink Speed | 66 Kbit/s-159Kbit/s | 1Mbps-7Mbps |
| Downlink Speed | 26 Kbit/s-127Kbit/s | 1Mbps-4Mbps |
| Support mobility | Limited (as per release 3GPP 14) | Yes |
| Latency | 1.5s–10s | 10ms–15ms |
| Battery life | +10 years (depending on the use case) | 10 years (depending on the use case) |
| Power Consumption | Best at low data rates | Best at medium rates |
| Cost per Module | $5–10 | $10–15 |
| Frequency Deployment | Flexible | In LTE band |
| Indoor Penetration | Excellent | Good |
| Voice | No | Yes, VoLTE |
Trends in LTE-M and NB-IoT
Migration from 2G/3G to 4G: Telecom service providers are undertaking massive network transformation as they upgrade from 2G/3G mobile to LTE/5G. South Korea, the US, Japan, Australia and China have shut down 2G services and plan to phase out 3G services completely by 2022.

Increased adoption of LTE-M and NB-IoT: LTE-M and NB-IoT are gaining traction across the world. GSMA reports that there are approximately 35 LTE-M networks and 92 NB-IoT networks globally. Countries such as the US, Australia, Brazil, Spain, Germany, Finland, Thailand, Taiwan and the UAE have launched both on their commercial networks.

Countries such as China, Russia, South Africa, Sweden, Saudi Arabia, Italy, Austria and Hungary have currently deployed only NB-IoT but aim to speed up the adoption of LTE-M technology as well in the near future.

LTE-M roaming: IoT devices are not only designed to function locally but also support connectivity across countries.

KPN, Orange, Swisscom and AT&T have activated LTE-M roaming across North America and Europe.

Competition: It has been predicted that the implementation of NB-IoT will surpass that of LoRa by 2022, whereas the adoption of LTE-M would exceed that of SigFox for selected use cases. As both LTE-M and NB-IoT are deployed on licensed spectrum, this increases security and facilitates seamless connectivity with no interference from other technologies.

Commercial operations: Telecom operators are gradually shutting down their commercial 3G operations; a complete shutdown globally is expected by 2025.

5G rollout: 5G has already been rolled out in China, Japan, South Korea, the US, and some European countries, including the UK.

The 3rd Generation Partnership Project (3GPP) Release 14 paves the way for both LTE-M and NB-IoT technologies to meet 5G LPWA requirements and support use cases in the foreseeable future.
Geographical Deployment of NB IoT and LTE-M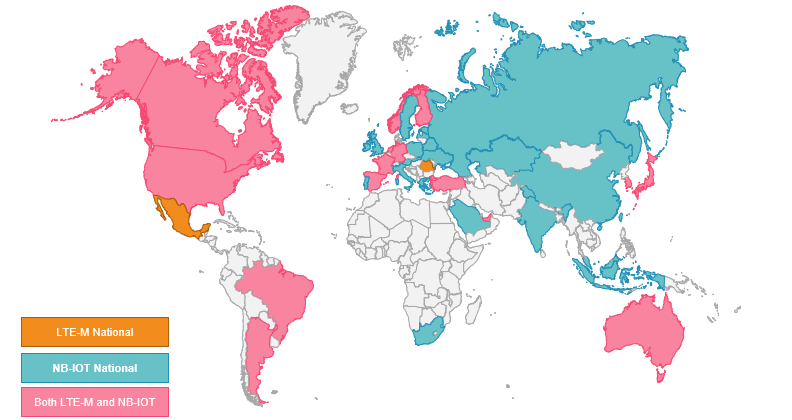 Source : GSMA
What the trends and deployment mean to manufacturers, logistics service providers and suppliers
Bringing all goods online: Most consumers do not connect their goods to the internet, despite having built-in Wi-Fi for connectivity. With LTE-M and NB-IoT, the connectivity can be activated during the appliance manufacturing process so that the product is connected throughout its life cycle, from manufacturing in factory to distribution to supply in retail store to arriving at the consumer's home.

Better coverage: Sometimes devices show up in challenging locations such as remote rural places, forests, farms or underground areas, where connectivity is low. However, NB-IoT and LTE-M can be used to monitor as these technologies allow transmission of small amount of data continuously, leading to significantly better coverage.

This will help logistics companies to access a wider global network without having to ink deals with multiple network operators. Hence, telecom customers with international presence can rely on a single connectivity provider.

Cost factor: Since very small size of data can be transmitted using NB-IoT and LTE-M, the cost of modules and data has come down dramatically.

Secure and minimum interference: Both LTE-M and NB-IoT are deployed on licensed spectrum. Mobile operators build dedicated private VPNs back to the manufacturer's data center via this spectrum. It is also easier to ensure coverage and performance with dedicated spectrum, and this keeps interference from other radio technologies to the minimum.

Asset tracking and remote management: The manufacturer/logistics provider can collect operational data from its on-board sensors; this requires continuous tracking and monitoring of assets with a low-latency threshold.
How manufacturing and logistics can cater to the trend
The rollout of NB-IoT and LTE-M connectivity highlights how this mobile IoT technology is set to revolutionize both manufacturing and logistics sectors. As the number of LPWA connections rises, economies of scale increase, creating a virtuous circle that will drive wider deployments.
These industries need to:
Adopt NB-IoT and LTE-M products: Since telecom operators in many countries have adopted LTE-M and NB-IoT, manufacturers and logistics services providers can integrate these technologies in their products, depending on the requirement of asset mobility, power and the frequency with which an asset connects with the network.

Upgrade products from 3G to 4G: Both NB-IoT and LTE-M are based on 4G; therefore, it is advisable to upgrade manufacturing goods to 4G as most companies are phasing out 2G and 3G.
What next
The convergence of NB-IoT, LTE-M, Edge and Fog computing, blockchain and artificial intelligence (AI) will help enterprises add value, enhance operational performance and drive revenue in less time.
Migration from cloud to Edge and Fog computing: It is uneconomical to process all data at the center. Edge and Fog computing are necessary to support the ever-growing array of IoT devices through NB-IoT and LTE-M.

Avnet and Octonion have collaborated with mobile network operator Orange to launch the Smart Edge Agile IoT device; it will enable manufacturers to leverage AI and security at the edge of network.

Blockchain: The integration of blockchain with IoT technologies facilitates decentralized control and improves transparency across supply chain processes.

Australian IoT company LX Group has announced the launch of a new IoT device that integrates LTE-M, IoT and blockchain technology.

AI and ML: Manufacturers, logistics companies and suppliers can leverage AI and ML analytics from various software companies such as Microsoft, Google, Amazon. They can draw value from the IoT data gathered, improve quality assurance and optimize manufacturing operations.

According to a McKinsey report, ML will reduce supply chain forecasting errors by 50% and lost sales by 65% with better product availability.

Predictive maintenance: Various discrete and process manufacturers are using predictive maintenance to monitor the health of machines, prevent production delays and asset failures. According to PwC, the adoption of ML and analytics by manufacturers to improve predictive maintenance would increase 38% in the next five years.

IoT-based predictive maintenance has been deployed by Volvo Group. It predicts spindle damages and helps in detecting cracks in equipment, gearing and motor defects.

In conclusion, NB-IoT and LTE-M have been commercialized worldwide and their deployment is overlapping in some countries. Roaming, not in place initially, is being commercialized gradually. Therefore, tracking as well as managing assets across countries have become quite easy and less cumbersome for manufactures, logistics providers and suppliers.

More than 75 billion devices are expected to get connected to IoT by 2025. We believe NB-IoT and LTE-M are the best mobile IoT technologies for the future as these deliver secure and cost-effective LPWA with 5G integration capability.