Factory in a Box – A Potential Agile Supply Chain Disruptor
Published on 18 Feb, 2022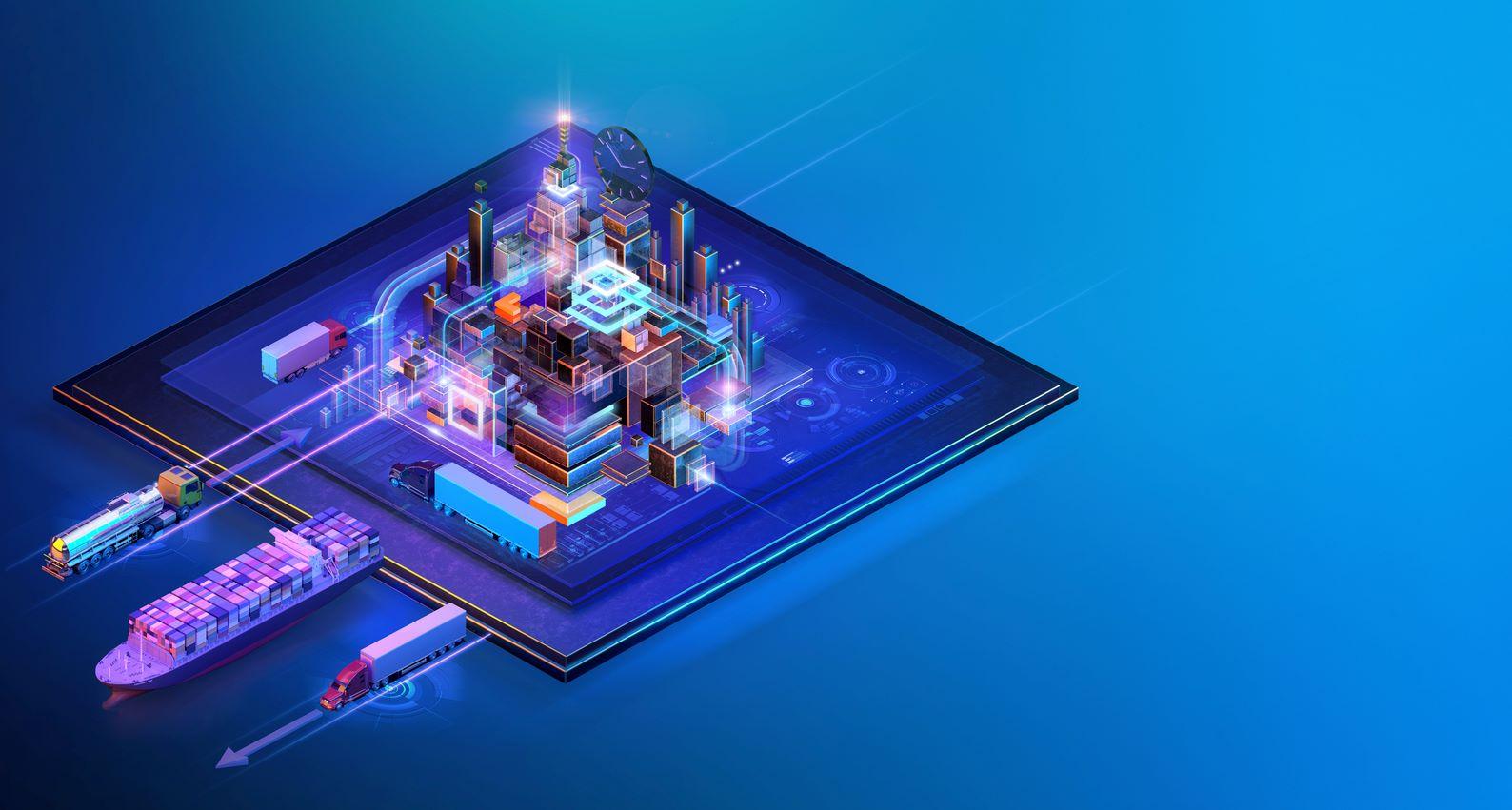 Global supply chains face many challenges, including high demand, shortage of capital and labor, and more recently, pandemic-related restrictions. Traditional manufacturing revolving around factory-based centralized production will not be able to address such challenges to keep up with demand in future. In the era of a smart world, everything we see or use – from the latest technologies to our daily-use gadgets – is becoming smaller. Manufacturing cannot be left behind, paving the way for a revolutionary concept – Factory in a Box (FIAB). FIAB has the potential to facilitate optimal, modular production at varied scale with the help of digitalization solutions, such as robotics and IIOT. This, in turn, will aid in decentralizing the supply chain.
FIAB could be defined as a compact manufacturing system that can be rapidly deployed, remotely managed, and modulated as per consumer requirements. The FIAB concept has been extensively researched over the past two decades. Sweden was the first country to take the initiative, with the objective of scaling up industrial production in compact spaces. Typically, FIAB should serve three key purposes.
Portability/Mobility – Traditional factories comprise enormous manufacturing units that are: (i) spread across large land parcels and (ii) difficult and expensive to relocate. These are thus operated at one location, while the raw materials and output need to be transported to and from the facility, respectively. This is cost-intensive, as factories are typically located far from both raw material sources and target markets. FIAB systems are compact and can be containerized. Thus, they can be transported to both source and destination, resulting in overall cost reduction.
Flexibility/Modularity – Generally observed in the tech sector, different sets of customers have varied requirements in terms of specifications. Conventional manufacturing units operate with fixed, programmed workflows. Hence, these may not be able to cater to such dynamic demand scenarios. In a FIAB system, components are usually detachable and can be quickly reprogrammed to address such requirements.
Agility – With increasing competition in all sectors, commodity industries are operating in a fast-paced environment. Rapid processing and delivery of products with the required specifications may not be achieved by run-of-the-mill setups. FIAB can be curated to achieve this purpose, especially for producing small batches of specialized products, such as drug formulations.
In addition to these objectives, FIAB is destined to achieve two key modern industrialization goals.
Decentralization – Being the key goal of FIAB, decentralization empowers machines to work independent of human interference. This can be achieved by deploying robotics and/or sensors connected to a network, through which FIAB systems will be capable of making automated decisions based on performance data.
Digitalization – Integration of technologies such as AI, robotics, and IIOT will aid FIAB in enhancing process optimization, accuracy, and productivity. Furthermore, digitalized FIAB systems can be operated remotely, serving many benefits, including safely dealing with hazardous materials and reducing supply chain length while ensuring product quality.
Key issues addressed by FIAB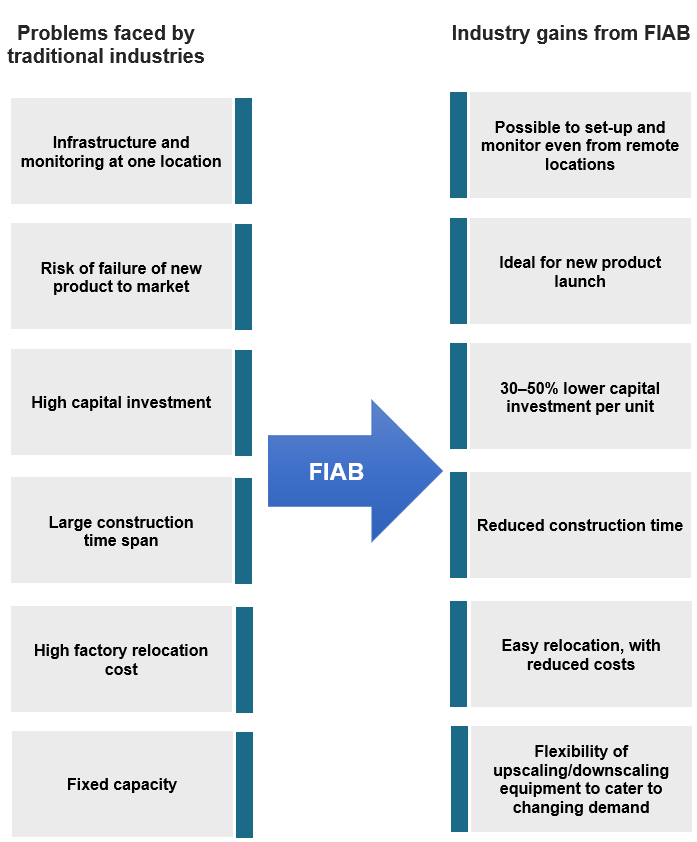 Source: Aranca research
Depending on production requirements, FIAB solutions can be classified into three types:
Mobile and modular solutions – Equipment/machines are set up on trailers and can be easily assembled (plug-and-play model) on the ground for manufacturing the required products and dis-assembled once the scheduled production is completed.
Mobile trailer-based solutions – The entire factory is installed in one or more containers pre-fitted on trailer trucks. Such FIAB systems can be transported across locations, thus eliminating the need of assembling/disassembling production units on ground for manufacturing.

Containerized solutions – Manufacturing can take place in containerized FIAB systems while simultaneously transporting to the desired location. Thus, the target product will be ready at a reduced time overall.
Current FIAB implementation scenario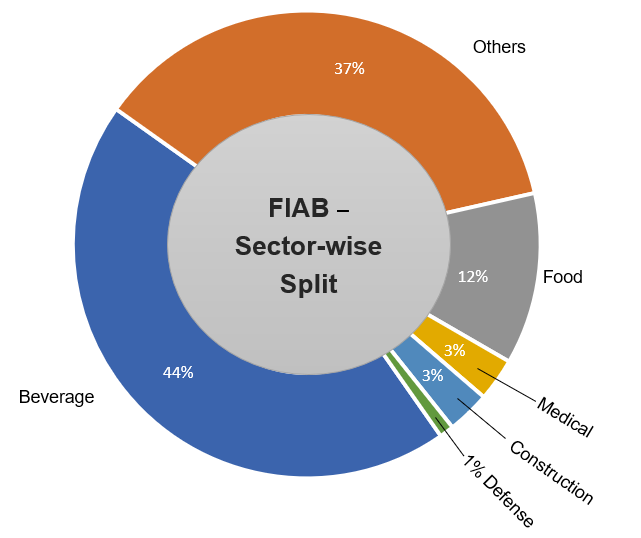 Source: Aranca Research
Note – "Others" includes miscellaneous applications, research studies on general manufacturing, etc.
As shown in the infographic above, the FIAB concept has already been executed in various sectors, with primary focus on improving mobility, agility, modularity, and production without compromising on quality and safety. Majority of FIAB solutions have been identified for the beverage (~44%) and food (~12%) sectors. This is justified as these sectors will primarily rely on FIAB's key benefits, particularly flexibility and agility. For the same reasons, adoption is likely to increase in the medical sector (currently at ~3%) in future.
Over the past few years, many well-established global organizations across sectors have implemented the FIAB concept.
Nokia demonstrated the FIAB 2.0 concept for manufacturing electronics equipment. This concept focuses on increasing agility and flexibility using digitalization solutions, such as cloud computing, robotics, and IoT.
FIAB in defense helps reduce downtime and save critical time in remote crisis zones by delivering the parts on site in a few hours instead of a few weeks from a distant location. Defense agencies such as the U.S. Department of Defence, the U.S. Army's Rapid Equipping Force, and the European Defence Agency have already implemented the FIAB concept for flexible and reliable production of 3D-printed customized components.
Manufacturing Technology Centre (MTC) runs an accelerator program, Smart Manufacturing Accelerator (SMA), which helps businesses in the UK to install FIAB demonstrators and rapidly scale their production capacity.
GE developed a FIAB for biopharmaceutical production. It is a scalable solution that can help companies expedite the production of viral vector-based therapeutics, such as cell therapies and vaccines. Its advantages include rapid time to market, reduced costs, tunable batch production, and flexibility for multiproduct manufacturing.
Unilever has tested the FIAB concept for liquid bouillon manufacturing and plans to develop similar solutions for mayonnaise and ice creams. The company aims to design a suitable FIAB to facilitate the testing of new products and modulate as per consumer demand.
Alvan Blanch and Kreuzmayr developed mobile fruit juice processing facilities that help small farmers reduce the time interval between harvesting and processing, ultimately decreasing loss due to wastage.
Mobile canning and bottling services for alcoholic beverages are very popular in the US and Europe. FIAB units for such applications can help small breweries, wineries, etc., reduce their CAPEX, space, and time.
Framecad has developed a mobile factory solution for a steel frame roll-forming production facility. The solution is easily transportable to any location, and can find applications in construction projects, disaster relief projects, etc.
With all its benefits, FIAB can help in reinventing the current supply chain scenario. FIAB units can be located closer to the market and consumers to achieve just-in-time (JIT) delivery. Hence, it bodes well for local economies as they can flourish by catering to local demand. Furthermore, FIAB can be considered the next level of smart manufacturing and may serve as the pioneer to Industry 4.0.
The pace of FIAB implementation is slow currently and the concept may pick up only gradually over the next few years. Major challenges include: (i) transformation of legacy systems at pace with the latest technologies; (ii) cybersecurity concerns stemming from digitalization, particularly to facilitate remote operations; and (iii) skill gap, especially in developing countries. Nevertheless, with the revamping of traditional manufacturing, FIAB will be the key to a globally decentralized supply chain.