Every surface as an interface
Published on 03 Mar, 2020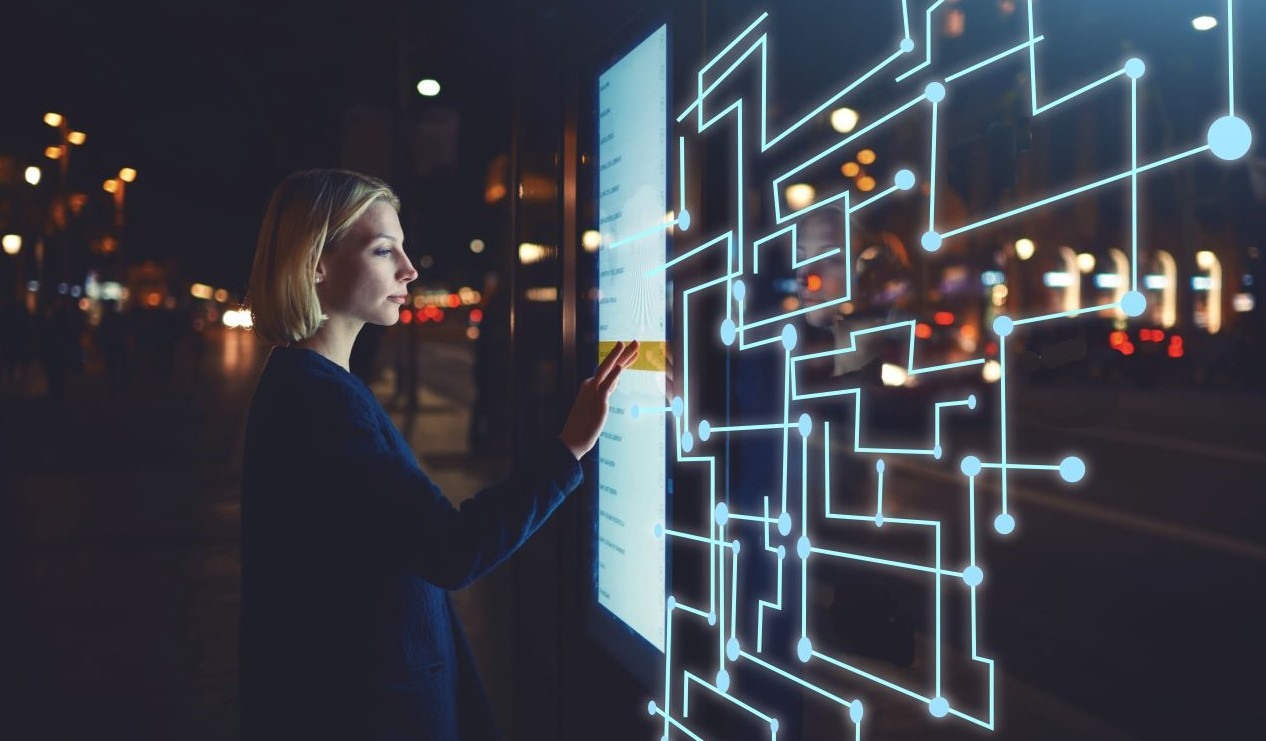 The constantly evolving technological landscape has paved the way for making surfaces digital and sensor-enabled. Amid IoT and focus on global internet connectivity, this seems rather feasible. Devices going online will only reduce the clutter and create space. This technological domain has already piqued the interest of startups that are working on its various aspects. A world where the population of digital natives is growing gradually, surface serving as interface seems to be the future.
Introduction
In today's world, a human being is usually surrounded by walls, couches, tables, wooden panels, floors, glass panes etc. in his home, office, building, school, museum, restaurants or hospitals. These either serve as a partition, separating surface or are there simply for convenience. Imagine, if these surfaces could be converted to a digital interface, it would literally be like having technology at your fingertips. You touch a wall and lights turn on. You tap the arm of a living room sofa to change channels or increase volume of your TV. Your desk is your remote for the AC. Knocking on the wall will play your favorite music. The list is endless. The common string that runs through all these examples is the digital connectivity factor.
Maybe with technological advancements, connectivity will not be limited to the physical space around us. Even our body could be transformed into an expressive input and sensing platform, and to access it, one would only need to tap the skin!
Sounds far-fetched? Impossible?
On the contrary, it is attainable and can be done by functionalizing a surface.
Surface functionalization entails material surfaces (made of plastic, wood, cement, glass, concrete, steel, aluminum, etc.) re-arranging their morphology or composition, which enhances their functionality in response to changes in the ambient environment.
Need for Surface Functionalization
Embedding sensors and MPUs in devices is a mature technology. The following reasons advocate the benefits of surface functionalization:
Cost-effective
IoT has created an interconnected world, armed with sensors. However, to make our surroundings (homes, buildings, offices, automobiles, hospitals, etc.) functional, these sensors will need to be integrated in all devices. This means deployment would be expensive, intrusive and inflexible. Comparatively, to make surfaces functional we need to add a coat of conductive paint/ink/material/film or attach a device (sensor) to the surface, which is economical and affordable. Therefore, it is much more cost-efficient
Design Perspective:
Since its launch, the touch screen has captivated the market, rendering buttons or keys redundant. The capability of sensing can be extended to all kinds of material surfaces at home or outside, including automobiles. Switches, knobs, buttons can be replaced by gesture control and touch sensing. This would in fact enhance the aesthetic appeal. Sensor devices can be placed inconspicuously, while walls can be sprayed with conductive ink, which would keep the design minimalistic and open up space. For example, if we functionalize a car door, window panel or seats, we would be doing away with knobs and buttons; this would make the car look sleek and increase space as well.
Automation:
To sense multiple events, one needs to either upgrade to a "smart" appliance, or attach an aftermarket sensor to an existing object to completely automate home, office, commercial buildings, automobiles, etc. These approaches are cumbersome and expensive. Functionalization of surfaces can make a place automated and open up concrete possibilities for several applications such as lighting control, interactive couch, wearable music controller, interactive handbags, smart flooring, activity recognition, appliance detection, interactive walls, typing surfaces, interactive games, digital whiteboard, playing music, changing the color of a car's interior, and self-cleaning.
Technologies Being Developed by Start-ups
Surfaces can be functionalized using various technological approaches. Several startups/entities are working in this domain: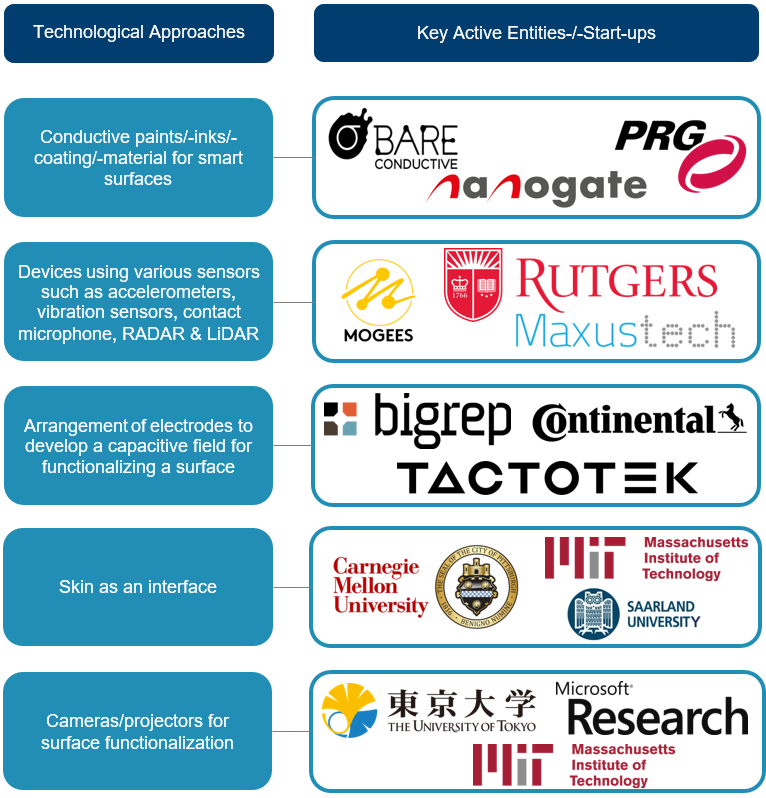 Future
While research on surface functionalization has been on since long, the technology has generated interest among startups only now. We believe surface functionalization will have a significant impact by 2024 and the future for technical advancements in smart surfaces is bright.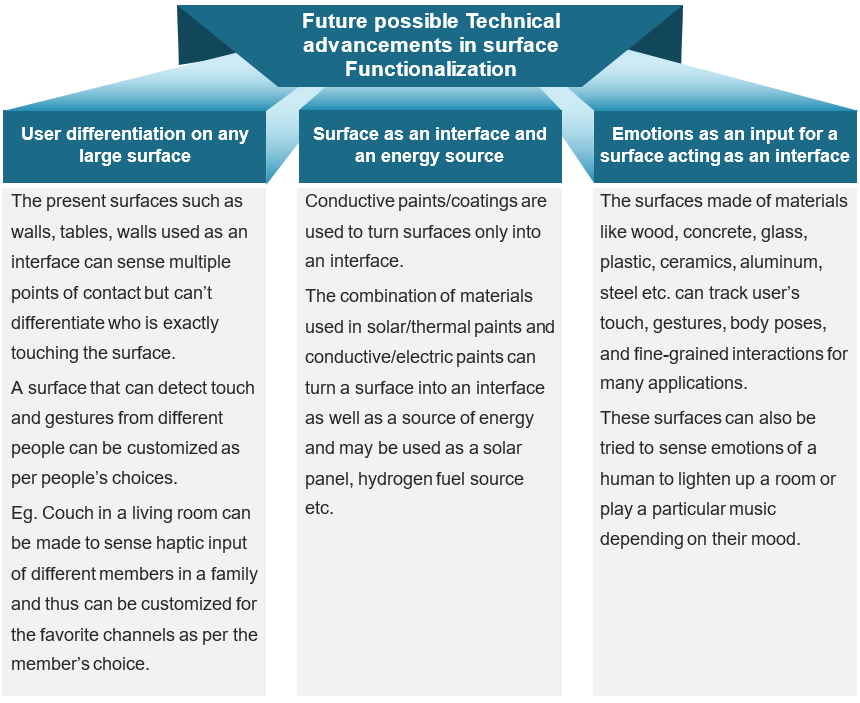 IoT market is expected to reach $318 billion by 2023 and surface functionalization could play a key role in enabling facilitating this growth. We believe the following industries/-entities can stand to benefit from this technology and should look for opportunities in surface functionalization:
Supply side: Glass, paint, polymer, textile, cement, steel, semiconductor, electronics, IT and telecom.
Demand side: Automotive, white good manufacturers, aerospace, missile, power, biomedical, healthcare, machine tools and construction
Given the rapid pace of digitalization, we are not far from a completely automated world where technology is embedded in every aspect of life.