Are Decentralized Clinical Trials the Future?
Published on 25 Nov, 2021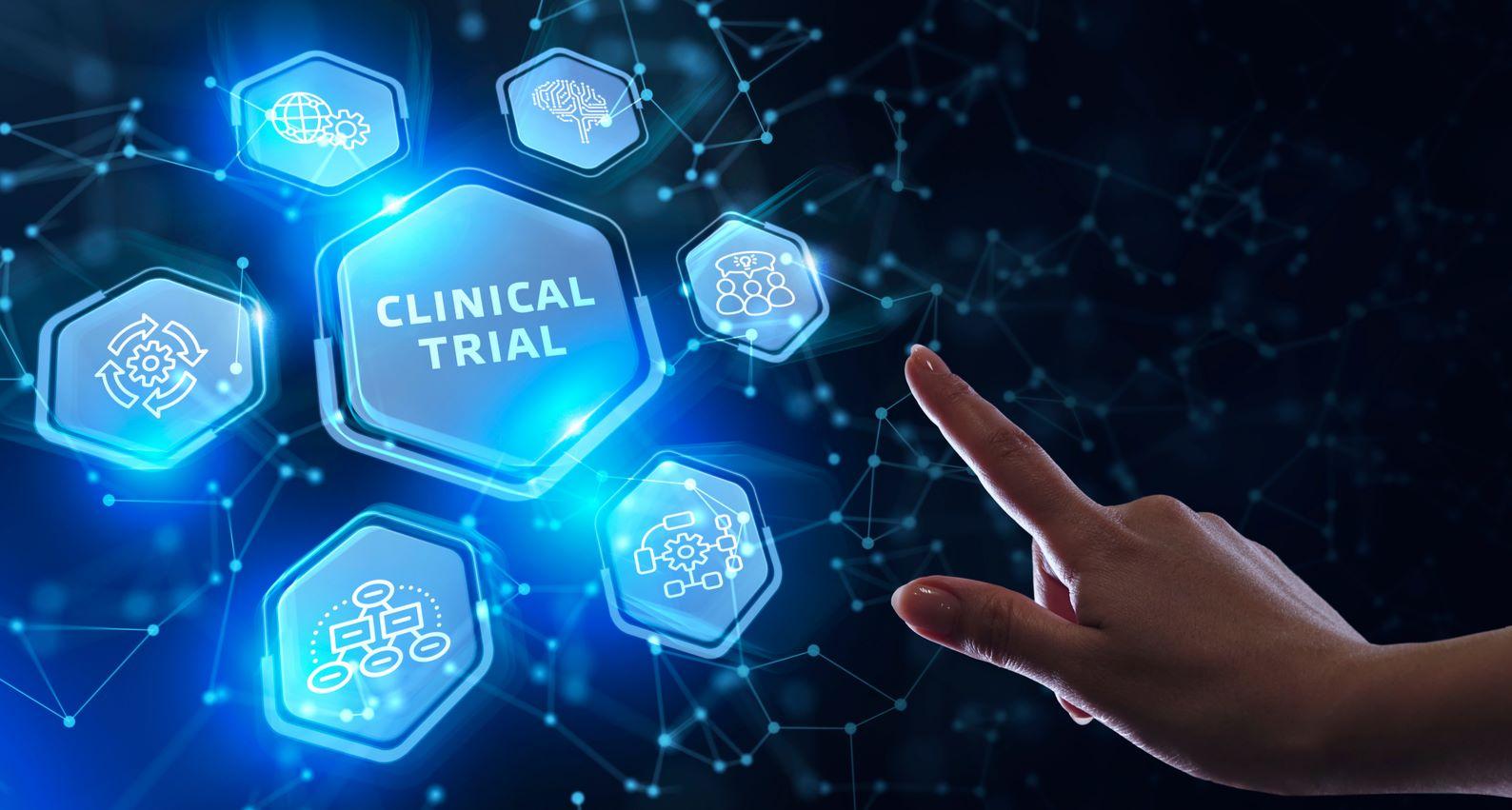 Decentralized clinical trials, also known as virtual, home, or remote trials, can be conducted at patients' homes. The outbreak of the global pandemic catalyzed the adoption of this model. This shift of clinical-trial activities toward patients has been enabled due to evolving technologies and services. Tools such as tele-healthcare, remote patient monitoring, and wearables allow investigators to monitor trial participants without actual visits. While decentralized clinical trials entail certain challenges, they could well become the future of drug trials.
Patient centricity has become highly popular in every industry today and clinical trials are no different. Decentralized clinical trials have been around for a few years but gained importance during COVID-19 lockdowns. The concept takes the entire trial, along with medical professionals and the required equipment to patients' homes. Nearly 80% of the clinical studies are not completed timely, some even delayed for six months or more. Moreover, 85% of the clinical trials are unable to retain enough patients. The average dropout rate across clinical trials is about 30%, and over two-thirds of the sites are unable to meet original patient enrolment for a particular trial. Decentralized trials address dropout rates by reducing the travel burden on participants.
However, adoption of decentralized clinical trials is difficult. Every clinical trial has its own unique format based on its data collection point requirement and no set process acts as a holistic solution for different trials.
Considerations before initiating decentralized trials are as follows:
Process optimization – It is imperative to validate every technology and data collection procedure before the trial is initiated. While this may sound unrealistic for complex or large trials, it will later prove cost-effective and save time.

Listing requirements – Creating a list of technologies and services needed for the trial is an essential requirement. It allows the Contract Research Organization (CRO) and sponsors to ensure that quality parameters are met before outsourcing.

Patient-centric trial – Understanding the patients' requirements and comfort level can help develop a more patient-centric trial. The idea is to connect with patients before beginning the trial to gain clarity regarding their expectations. Regulatory compliance requirements associated with clinical trials necessitate an inquiry into the availability of required services at patients' homes or their localities and subsequent resolution of service gaps before initiating the trial.

Reimbursement strategy – The reimbursement strategy chosen must be efficient and include logistic and other costs of healthcare professionals (HCP).

Tracking system – A robust tracking system should be maintained to monitor the inflow and outflow of logistics as well as map all patient in-house visits of HCPs.
An organization must understand the factors crucial to a successful decentralized clinical trial plan. The following areas influence the successful completion of clinical trials:
Clinical Data Management Solutions: Clinical trial data collected is complex and huge. Sophisticated data management tools such as electronic data capture (EDC) and clinical trial management system (CTMS) are widely used to capture multiple data sets. This includes case record forms, clinical outcome assessments forms, health records, lab records, imaging file records, patient details, etc., making software selection rather complicated. The software should be able to organize investigator/patient-initiated data dump and facilitate analysis thereof for deriving meaningful insights. There is no one perfect solution available as several factors (such as cost and familiarity) influence the choice of software solutions. Medidata Rave, Oracle, Medrio, and Bioclinica are some of the popular tools available.
Marketed Solutions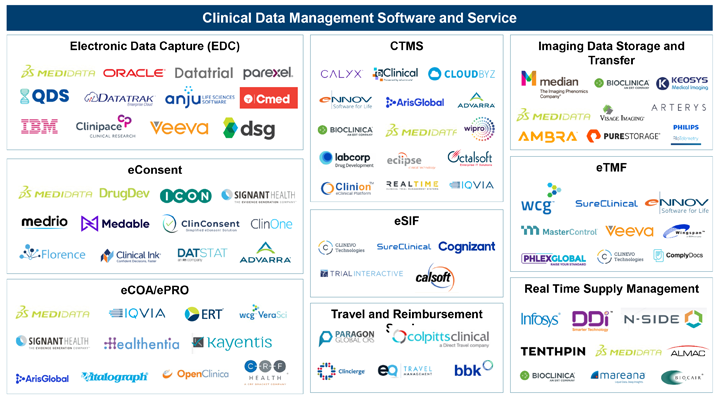 Direct-to-Patient Logistics: Direct-to-Patient (DtP) logistics are the backbone of decentralized trial, ensuring availability of various materials needed for administering treatment to patients at home. Services offered under DtP logistics include, but are not limited to, delivering various trial-related products and collecting patient lab samples and unused drugs/items from their homes. The average trial cost per patient for any therapeutic area is nearly 38.3K USD (except blood and oncology, where it shoots up to about 205K USD), and the average dropout rate of around 30% translates into significant capital losses. DtP companies claim significant positive impact on trial ROI through enhanced patient experience resulting in fewer dropouts.

Digital Health Technology for Patient Monitoring: Digital health technologies make monitoring of clinical trial subjects more effective and efficient, leading to better patient engagement and trial efficiency. However, adoption of these technologies adds a cost burden of approximately 1,000 USD per patient. Hence, it is important to validate each device before the trial starts.

Selecting a digital health technology is a complex task. the following factors should be considered:

FDA (510(k) equivalence) or EMA (CE mark)
Battery life and connectivity medium
Reusability of device
Type of data captured through the device and compatibility with clinical trial management system software
Companies providing these solutions to have a help center to resolve device-related investigator/patient queries

Home Nursing and Telehealth: Home nursing and telehealth reduce the burden on patients and sponsors in decentralized clinical trials. It improves patient compliance and satisfaction and aids study teams by ensuring data quality in accordance with the trial's requirement. Home nursing and telehealth allows patients to book their appointments at their convenience. The requirement of experienced caregivers does tend to add to the cost of the trial.
Certain challenges in conducting decentralized clinical trials are as follows:
Change in consideration of risk
Comprehensive vs streamlined data collection
Jurisdictional laws possible barriers (e.g., telemedicine licensing, privacy, etc.)
Research capacity at local level (e.g., training for local HCPs)
Increased variability in safety and efficacy of data
Appropriateness of DCT for all types of investigations (e.g., correlative science)
Conclusion
While decentralized clinical trials are gaining momentum, there is no set format to implement it. In fact, to make it successful, it is necessary to take a hybrid approach, especially when rolled out across multiple jurisdictions where laws, technological uptake, and population acceptance level vary. Sponsors must also be ready to balance out the differences in procedures as well as data variability. Moreover, participants should be informed about the relative differences where decentralized components are optional (any unique confidentiality risks associated with a digital health device or home health service).
Several factors need customization as per the trial requirements, making the involvement of all stakeholders (e.g., participants, investigators, regulators, etc.) early in the planning process vital to mitigate downstream complexity and ensure successful implementation of decentralized clinical trials.