US Pet Food Industry on the Rise
Published on 14 Jun, 2022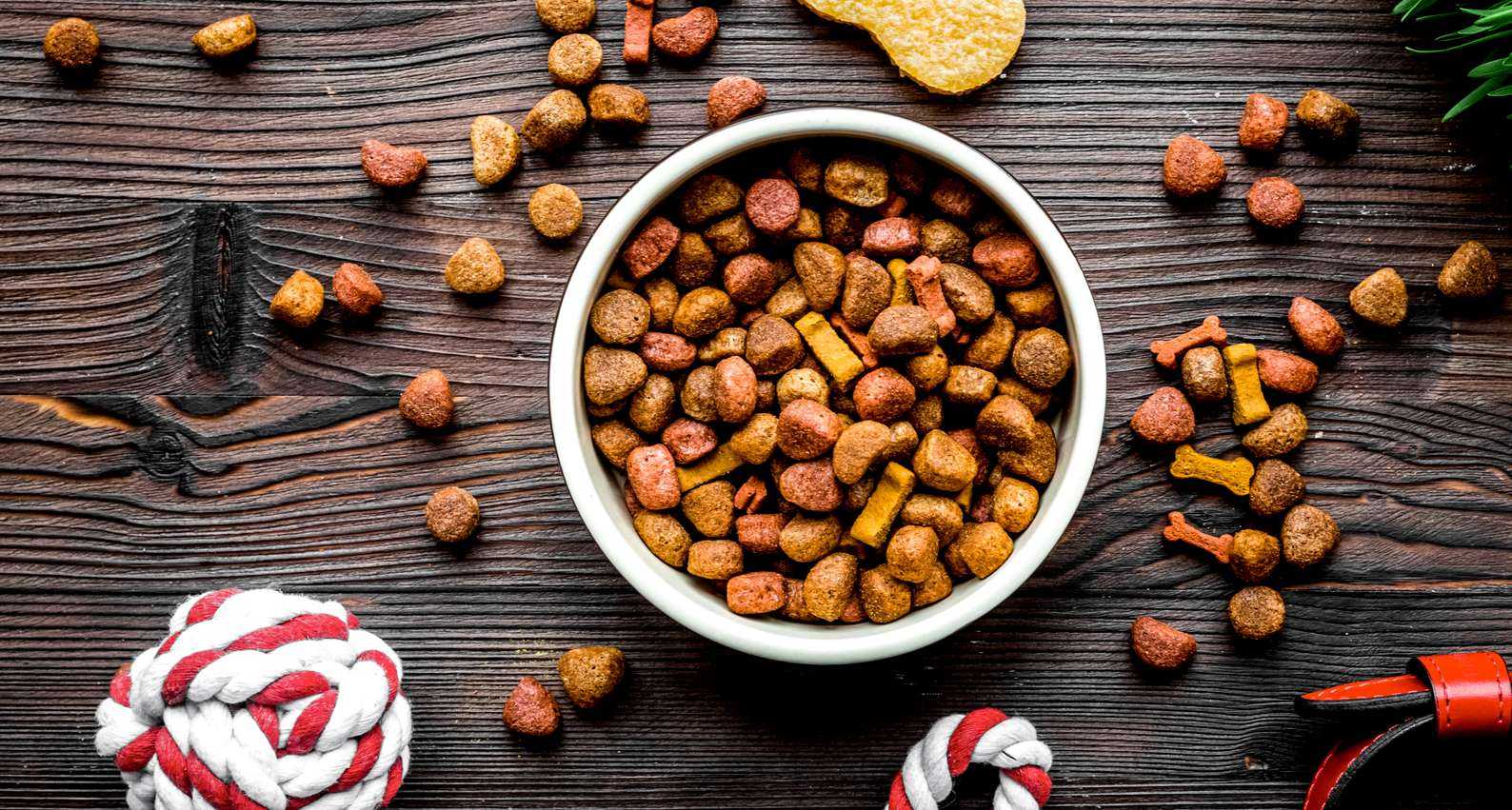 Pet ownership increased during lockdown when people were confined to their homes. Pet humanization has led to owners treating pets as part of their family. Owners are increasingly concerned about their pets' health and nutrition and are looking for high quality and nutrient-rich food products. Pet food manufactures have been quick to tap into this rising demand to develop organic, natural, and high nutrition products. According to the American Pet Products Association, pet food sales increased 19.3% year-on-year to USD123.6 billion in 2021. Large pet food and treat manufacturers are expanding their production lines to meet growing demand. The pet food industry has shown resilience during the recent economic downturn and is expected to grow further.

With the rollout of vaccination in 2021, the economy was anticipated to return to normal levels. However, the Omicron variant led to re-implementation of social distancing measures and hybrid work environment. Despite the adversities caused by rise in inflation, supply chain disruption, staff shortage, and market volatility, some of the products and services industries, such as the pet food industry, benefited from the lockdown and mobility restriction.
Globally, pet ownership continued to grow in the second year of COVID, albeit at a slower pace. There was a growing desire to adopt companion pets during lockdown as it helped keep issues such as depression, anxiety, and loneliness at bay. However, owing to supply chain disruption and resultant challenges in production and logistics, supply could not meet rising demand for pet food.
As per the World Economic Forum, pet owners believed pets made them feel less lonely during the pandemic and gave them a sense of purpose. There was a 250% surge in global searches by prospective pet owners between April and May 2020 compared to the year-ago period.
Pet humanization drives the pet food industry. Furthermore, rising interest in pet health and nutrition has increased spending on sustainable, organic, and premium products. High income households prefer branded and high-nutrition food products.
North America is the largest pet food market (USD37 billion in 2020), followed by Western Europe and Asia. In the US, pet adoption is influenced by lifestyle, high standard of living, and prevalence of nuclear families.
As per the American Pet Products Association (APPA), the pet food industry recorded USD123.6 billion in revenue in 2021, its highest level so far. The 2021–2022 APPA National Pet Owners Survey shows 90.5 million households in America own a pet, equivalent to almost 70% of homes. Of this percentage, dog ownership (69.0 million) was the highest, followed by cat (45.3 million), freshwater fish (11.8 million), bird (9.9 million), small animal (6.2 million), reptile (5.7 million), and saltwater fish (2.9 million) adoption.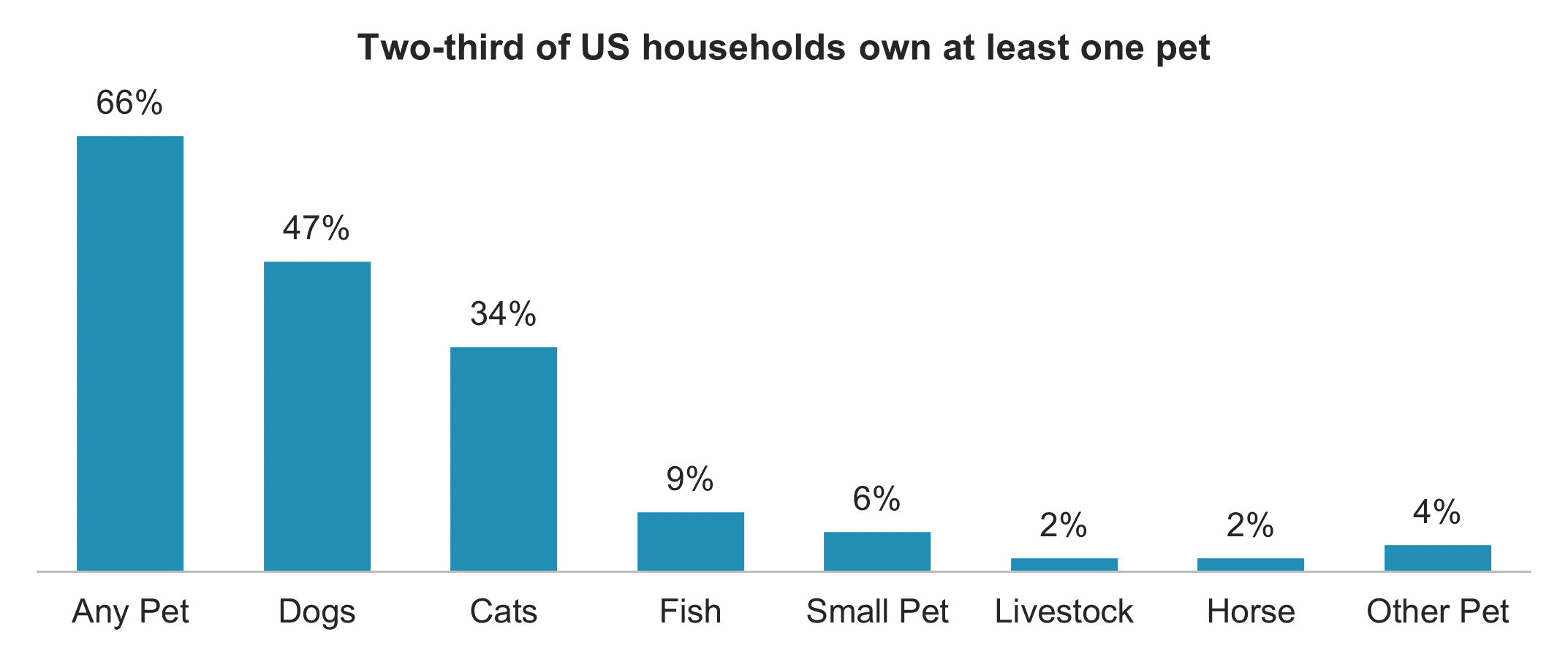 The pet food business is a recurring revenue stream, and loyal customers do not change their pets' diet frequently. The market for pet food is recession-resistant, as evidenced by the surge in the sale of pet products amid the pandemic.

Pet owners largely spend on pet food and treats (USD50.0 billion); supplies, live animals, and OTC medicine (USD29.8 billion); veterinary care and product sales (USD34.3 billion); and other services (USD9.5 billion). Other services include lodging, grooming, insurance, training, pet sitting and walking, and various services apart from veterinary care.
Major players in the pet food industry include Mars Petcare, Nestle Purina Pet Care, J.M. Smucker, Hill's Pet Nutrition, General Mills, and Diamond Pet Foods.
Revenue and brand details: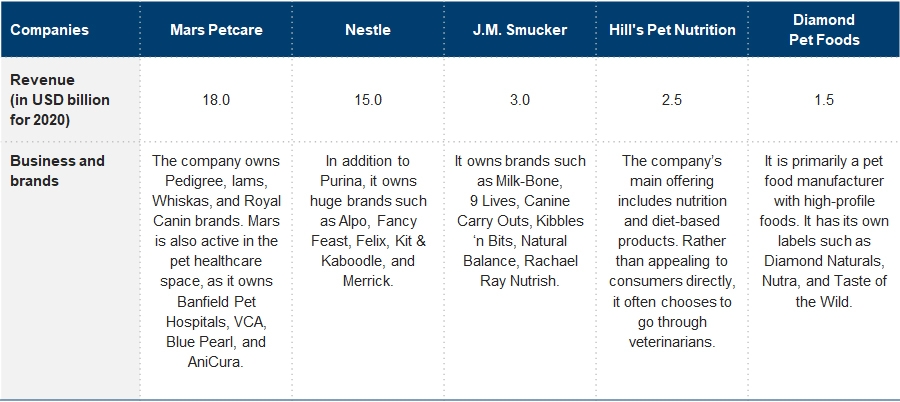 Pet ownership surges amid recession
The US pet industry is highly dynamic in nature, with pet ownership posting record highs during the pandemic. According to Morgan Stanley Research, the US pet industry has reached a turning point and is estimated to advance at a CAGR of 8% as opposed to 3% growth recorded in the last decade. Changes in consumer behavior, demographics, and household formation could lead to the industry growing threefold from USD118 billion in 2019 to USD275 billion by 2030.
Typically, recession alters consumer buying behavior as income hits a rough patch. Eating habits change as consumers prefer eating at home rather than dining out. As a result, the packaged food market and grocery stores tend to do well during recession.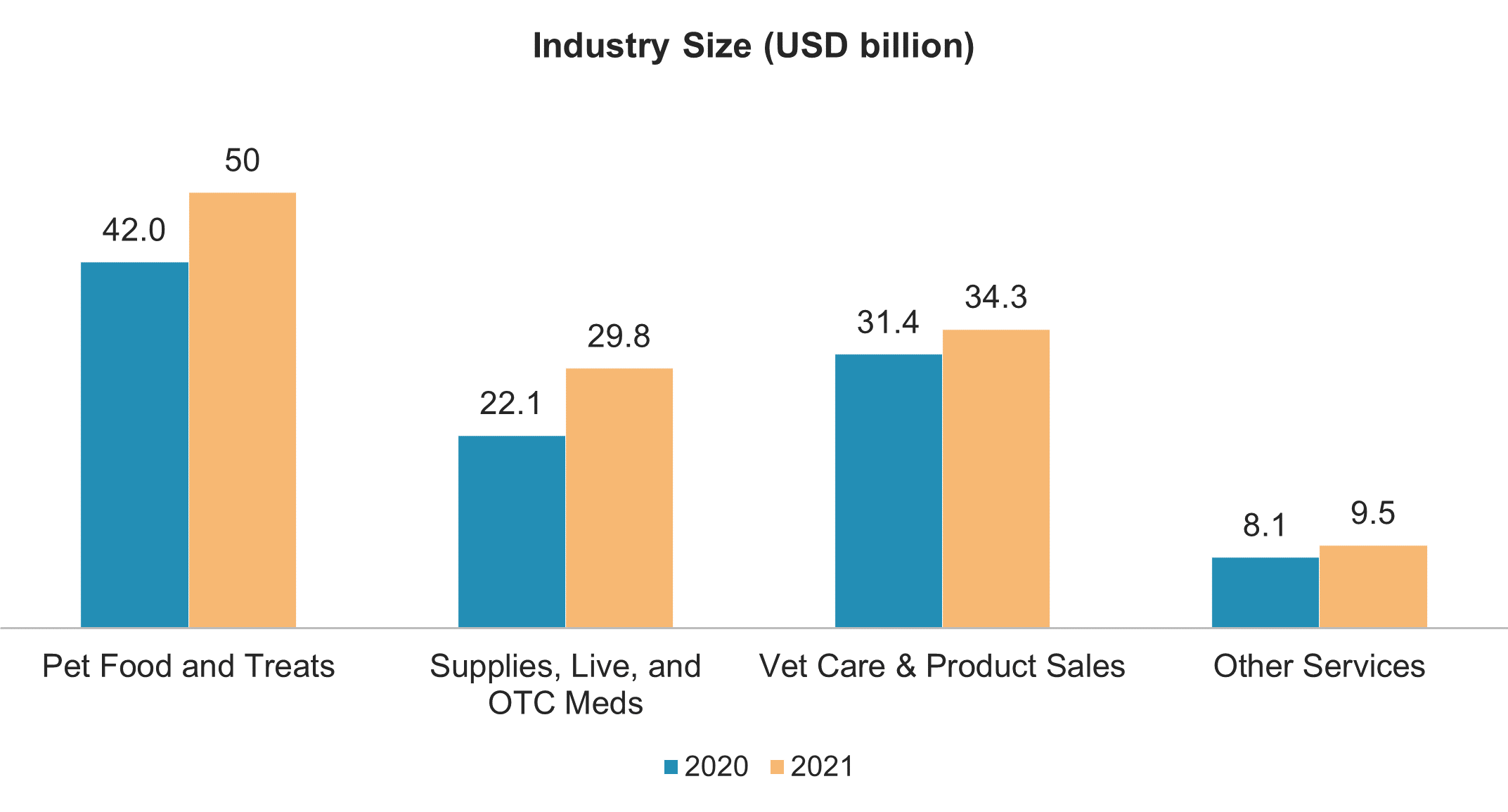 Sale of pet food treats surged 19.0% from 2020 to 2021, recording the highest level of growth. This growth was due to a change in consumption patterns and spike in pet food demand. The pet food sector was severely impacted by supply chain disruption and yet outperformed within the industry, clearly indicating a rise in consumption amid recession. New pet ownership and ecommerce have driven and would continue to drive the industry; the two factors have also helped the industry become resilient despite the recession.

M&A in pet food industry
During the pandemic, the nature of M&A activities in the pet food industry changed drastically as an increasing number of pet food brands started venturing into the ecommerce space. Remote working and social distancing became the new normal during the crisis. A shift in buying channels was seen among pet owners as internet sales rose dramatically.
In 2020, the pet food industry witnessed around 27 M&A between suppliers and manufacturers.
In 2021, there were 44 M&A transactions in the pet food industry
According to Debbie Phillips-Donaldson, editor-in-chief of Petfood Industry, the pet food sector had attracted new investors, including human food companies and various private equity firms, before COVID. However, with the outbreak of the pandemic, M&A activities witnessed a slump in 2020. Nonetheless, the sluggishness was short-lived and the year 2021 saw an increase in pet ownership as well as spend on pet food, products, and services.
Factors such as:
The ecommerce boom in the pet food market
Rise in pet ownership
Change in buying behavior
Emergence of new pet stores, vets, retail, and pop-ups are expected to provide an impetus to the industry
Acquisitions in this space are considered a lucrative opportunity for companies in the pet industry.
General Mills' acquisition of pet food giant Blue Buffalo in 2018 turned out to be a profitable venture.
In the quarter ended November 2021, pet food contributed 11.8% to the company's total revenue.
Pet food sales surged to USD593.4 million during the quarter from USD460.0 million in the same period last year
With the acquisition, General Mills was able to hold sway over retailers, and it also helped in expanding Blue Buffalo into new segments
Given the increased pet adoption being witnessed in the US, the company would be able to capture market share by targeting new customers across the sector
Growing adoption of pets has generated business opportunities for the industry, as owners are becoming more and more concerned about their pets' diet and food consumption. Pet food brands are addressing consumer demand for sustainable pet food healthy and premium quality food as well as minimally processed food with fewer artificial preservatives.
Pet food manufacturers are automating the production process to improve safety and efficiency. Use of innovative manufacturing technology, such as automating formulation, batching, drying, coating, and liquid delivery, is helping companies achieve efficiency in cost and ensure product quality. In addition to pet food stocks, investors should consider ancillary industries such as the market for pet medication, veterinary products, pet insurance, pet grooming, and wellness products. Growth trends due to increasing demand among millennials make the pet food market attractive. Although the market witnessed a boost during the pandemic, owing to the pet humanization trend, the industry would continue to grow and present numerous investment opportunities. The US Pet Food Industry is a lucrative sector to watch out for as the demand for pet ownership is on the rise and the pet owners are placing high importance on their pet's health and nutrition.