The Future of Flexible Workspaces
Published on 27 Aug, 2020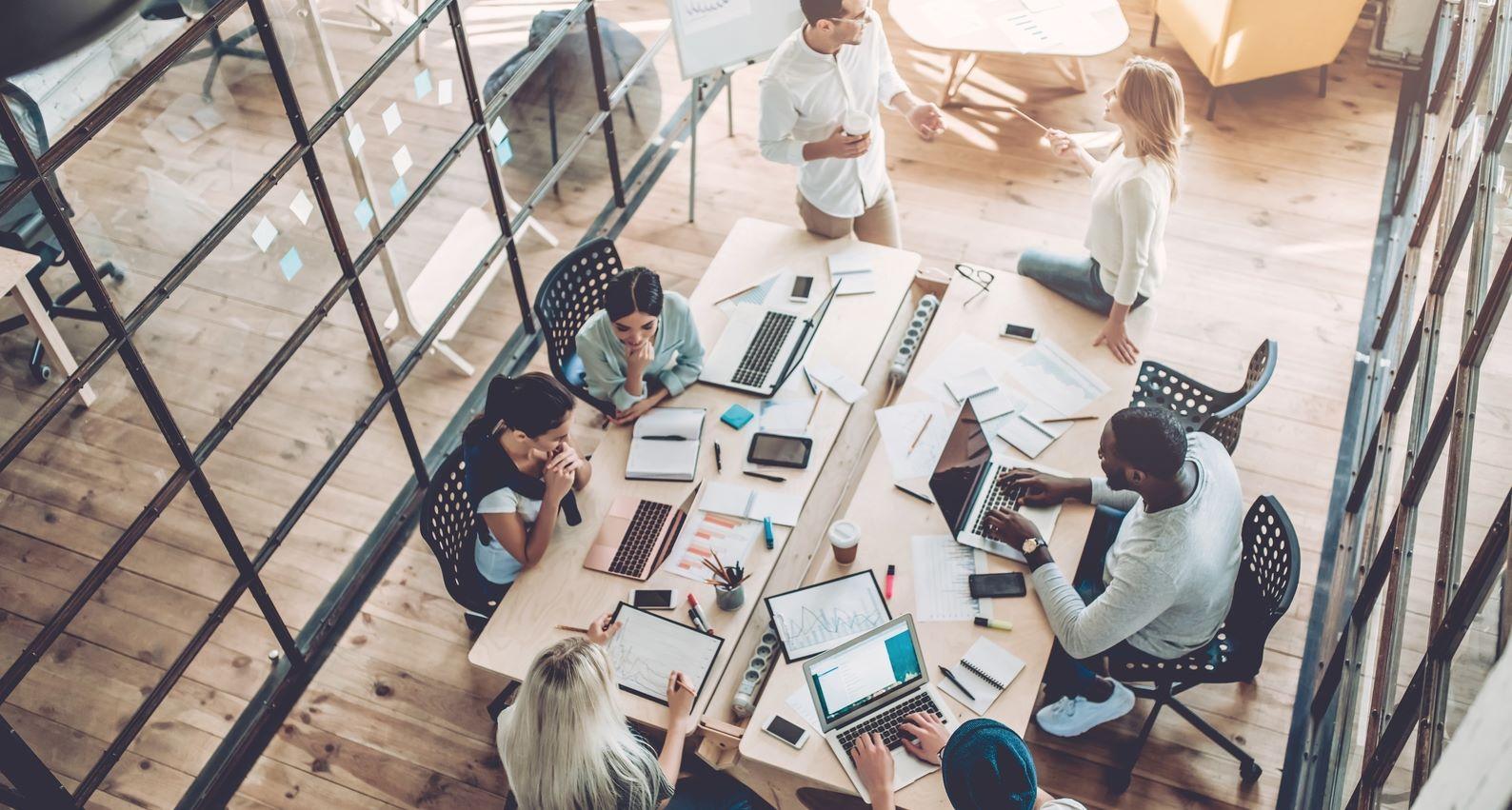 The COVID-19 pandemic not only bloomed into a widespread humanitarian crisis but also crippled the global economy. To survive, companies will need to sustain their operations over the short to medium term. If they withstand the current crisis, the flexible workspace sector could then rebound and have positive long-term prospects. A sector that came up to execute agile real-estate strategies has been now pushed to the forefront with the outbreak. Organizations are likely to look at the flexible workspace market to diversify and add resilience to their occupational portfolios. Thus, flexible workspaces could account for a greater share of workspaces than ever before.
The Future of Flexible Workspaces
The functionalities required of commercial working spaces have been evolving over the past few years and has prompted the emergence of flexible workspaces. Also known as "flexispaces" or "shared office spaces", the concept is altering office dynamics. A flexible workspace provides everything that a traditional office does – from desks and chairs to phones, meeting rooms, and Internet connections – but arranged in a versatile manner. The layout and design focus on the needs of the modern workforce and can easily adapt to the demands of a user at any given time. These spaces are ready to support workers as their requirements change. Flexible workspaces are thus working their way into corporate consciousness.
Current Scenario: Flexible Workspaces
Flexibility is a canopy term describing a role that breaks the '9-to-5, 5-days-a-week' structure. As global work culture evolved, it spurred growth in the flexible workplace industry. Although growth in 2020 would be slow due to the pandemic and the consequent work-from-home (WFH) culture, it is expected to catch up rapidly from 2021 at an annual rate of 21.3%, as per a 2020 Global Coworking Growth Study. In the US, the sector grew at an average 23% annually since 2010. In 2018 alone, it made up for about two-thirds of the country's office market occupancy gains. The outbreak, which partially affected growth in Q1 2020, escalated into a global pandemic and massively disrupted the US office spaces market in Q2 2020. Gross leasing volumes in this market plunged by an unprecedented 53.4% in Q2 2020, after a 20.8% drop in Q1 2020; however, some rebound is expected in the next couple of quarters. The US office spaces market recorded a 14-million sq. ft occupancy loss (the steepest drop since Q2 2009) in Q2 2020, bringing the year-to-date net absorption rate to a negative 8.4 million sq. ft.
Number of Coworking Spaces by Continent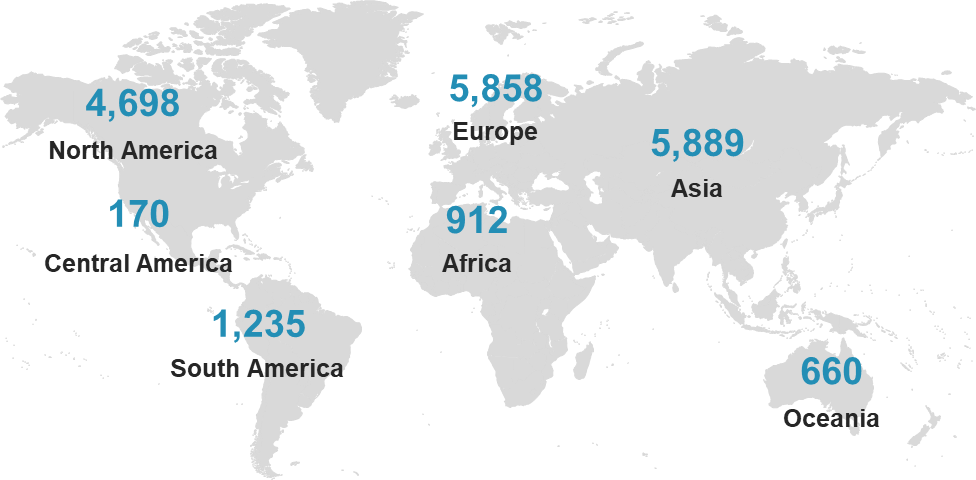 Source: Coworking Resources
In terms of size, North America offers the largest spaces worldwide, with an average 9,799 sq. ft per unit, followed by Asia at 8,101 sq. ft; smaller spaces are more common in Europe and South America.
The US leads the shared workspaces market with over 3,700 such places countrywide as of March 2020, followed by India (2,197 spaces) and the UK (1,044 spaces). In terms of yearly growth in 2020, out of the largest markets, Germany and India are the two fastest growing, followed by the US and Canada.
Top 10 Countries by Number of Coworking Spaces


Source: Coworking Resources
Top Companies in US Offering Shared Workspace:
Impact Hub: Amongst the world's largest accelerators and communities for positive change, Impact Hub has more than 100 communities comprising 16,500 entrepreneurs in over 55 countries across 5 continents. Through locally rooted Impact Hubs, partners, and allied networks, the company attempts to create ecosystems to drive entrepreneurial innovation and collaboration focusing on the Global Sustainable Development Goals.
WeWork: This company has 341 locations in 65 cities worldwide, with almost 50 locations present in New York itself. In Manhattan, WeWork is fast becoming the largest private office tenant. It offers a "We Membership," which includes hot desks, dedicated desks, and private offices.
Your Alley: With two workspaces in New York and one each in Washington D.C. and Cambridge, MA, this brand is smaller than Impact Hub and WeWork, but is rapidly adding spaces to its portfolio in different locations.
Knotel: Knotel has key offices in New York and San Francisco, but is also expanding aggressively in London and Berlin. With 45 locations and over 1 million sq. meters of workspace, it is rapidly turning into one of WeWork's key competitors.
Challenges in Post-COVID-19 World
The concept of flexible workspaces gained popularity over the past decade; however, it now faces apprehension about growth since the COVID-19 outbreak. The pandemic changed working styles across industries and has directly impacted the use of flexible office spaces. Entire workforces are operating from home, with companies forced to adapt to new work norms quickly.
Cal Lee, Global Head of Workthere, says: "The flexible workspaces market is clearly exposed in the short term to any market impacts such as what we are witnessing with COVID-19. It is at risk from companies that are not renewing contracts as they go into survival mode and we expect these figures to rise as more members seek help, putting further pressure on providers."
Some issues currently challenging players offering flexible workspaces are:
Non-renewal of agreements
Subdued demand for spaces due to downsizing/layoffs as companies move into cash-preservation mode
Tenants seeking rent relief or waivers
Providers offering deferred rent payment or discounts for 1–2 months, extending license agreements, allowing members to downsize the space they use
Implementing stringent cleaning routines requiring significant collaboration between building owners, tenants, employees, and governments to address the challenges that lie ahead
Like many other industries, participants in the flexible workspace industry are also struggling to keep their business afloat in the face of the pandemic as well as a looming recession. This industry also faced layoffs and had to terminate or restructure several leases.
Future of Flexible Workspaces in US
The short-term effects on the market are already apparent. According to the latest Workthere survey (August 2020), the occupancy rate of flexible workspaces in North America is likely to be 49% by the end of August versus the pre-pandemic level of 80%. Also, the home-office concept took root in many workforces over the past few months.
Reality Check: Can Companies Operate with Entirely Remote Workforce?
For most companies, dealing with a workforce entirely based out of homes seems a less-than-feasible solution. Not everyone is technologically and spatially positioned in a home environment to allow comfortable, efficient working. So, what are companies likely do now?
With such extreme change in dynamics, companies may seek spaces where employees can meet, train, and otherwise collaborate in person. Companies have realized that, while parts of the workforce can be productive when working remotely, it is quite challenging to complete certain tasks, especially when working in a team. As per a report by Buffer, the top challenges for remote employees and organizations are collaboration and communication (20%), loneliness (20%), not being able to unplug (18%), distractions at home (12%), and others (30%). Thus, a business requires a social connect to perform effectively, efficiently in the long term, along with parameters like data security and connectivity. Flexible workspaces could increasingly serve as an alternative not only to conventional offices, but also to home working environments. This could not only maintain employee productivity but also add value to operations.
Key trends expected in the mid to long term:
Industry consolidation usually does not happen in a rather "new" or decade-old industry; however, with the US staring at a recession, small players are expected to shut shop and be taken over by bigger players or even new entrants with deep pockets.
Companies are expected to move towards renting flexible office spaces and cut down on using traditional, rented office space. Thus, flexible office spaces have a positive growth outlook.
As per JLL's report on Flex Space and Coworking 2.0, transactions in this industry would span a single floor, or even less, in the short term. This is backed by the fact that organizations are signing shorter leases and require less space as a part of their workforce is already in WFH mode.
Office spaces are expected to evolve from a traditional setup to a modern design that enables interactions, but minimizes contact. This is likely to result in higher square footage required per person and higher overall space. However, this need may be offset by the decline in the number of employees required to commute to office regularly.
Overall, the flexible workspace sector is well-positioned to recover in the medium term, with good long-term prospects, if it overcomes the current pain pangs. The sector came up to execute agile real estate strategies; the current pandemic has only accelerated its acceptance worldwide. This is because many companies are likely to turn to flexible workspaces to diversify and buoy their occupational portfolios. Flexible workspaces would thus shortly account for a larger share of total global workspaces than ever before.