Micro mobility in the fast lane – addressing the first and last mile commute
Published on 28 Feb, 2020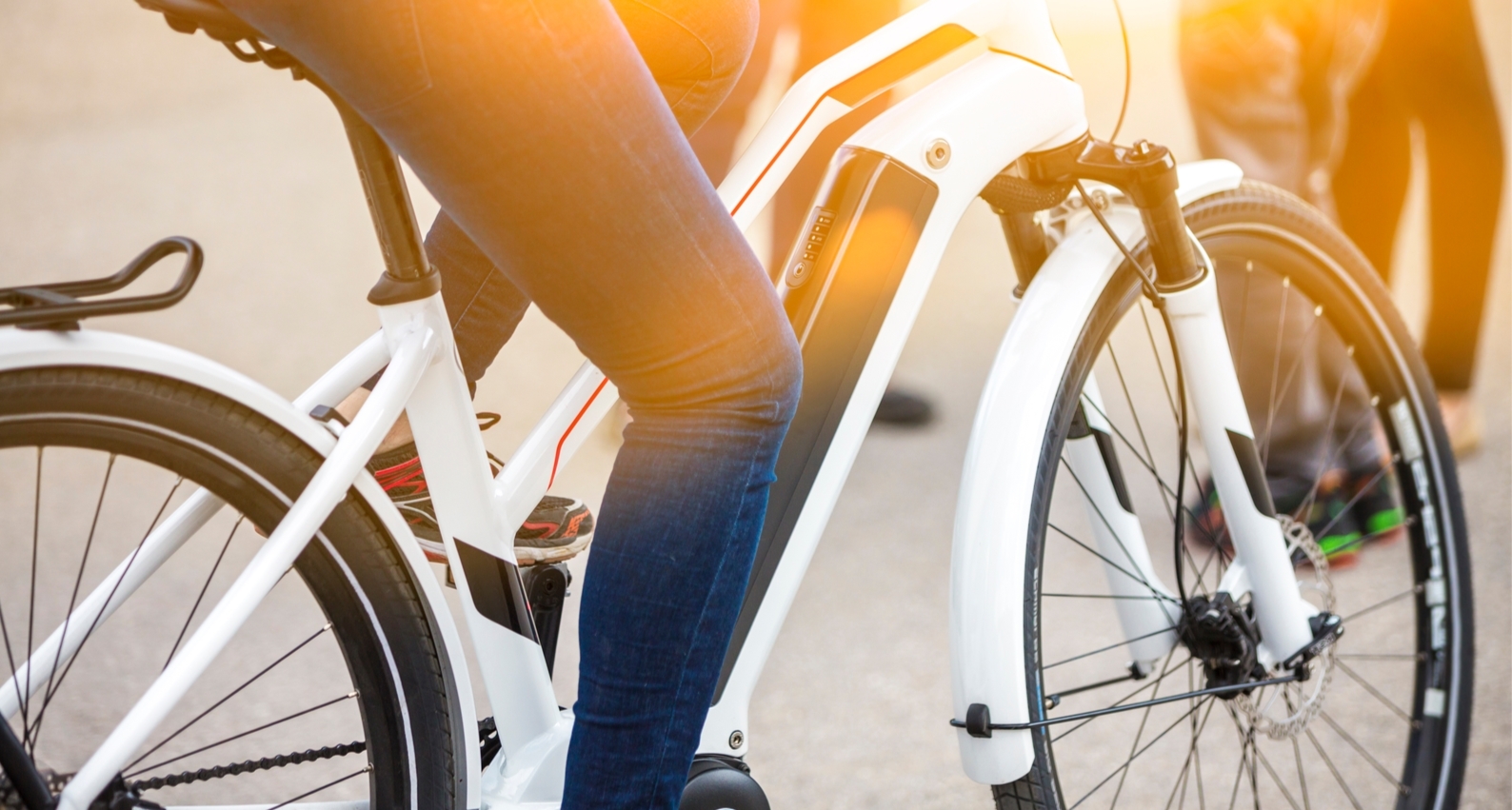 The rising concern on environmental degradation has led to various solutions to reduce our carbon footprints. This business model, which involves shared use fleets of small e- vehicles has recently attracted a lot of attention, due to investments flooding it. The conducive environment has allowed this model to flourish and the futuristic outlook of its market is also positive.
Introduction to the micro mobility landscape
Shared Micro mobility is the concept that has shared-use fleets of small, fully or partially human-powered vehicles such as bikes, e-bikes, and e-scooters.
Micro mobility is currently experiencing a rampant growth. Its increasing popularity and rapid adoption is due to the need for renewal energy as well as the inclination of Gen Z and Millennials towards resource sharing. This business model has bought a widespread change in the transportation landscape.
Buoyed by increased adoption, the micro mobility concept has attracted the attention of PE/VC investors. It is estimated that micro mobility companies have globally raised US$8.3bn in the last 5 years ending 2019.
Efficient, cost effective and environment friendly
Micro mobility has the potential to deliver significant benefits to the consumers, such as efficient and cost-effective travel, reduced traffic congestion, and decreased emissions.
Studies suggests bikes are faster and cheaper: The New York City Department of Transportation's mobility report suggests that the Citi Bike riders in New York travel ~30% faster than people in taxis. For example, a travel trip of 1.5 miles took 15.7 minutes in a taxi while it just took 10.8 minutes on a bike. The taxi trip cost more than US$ 10.6, where as a bike rides cost around US$ 1.57. Hence, the bike rider is lighter on the pocket and easier on the planet!
Time consumed and money spent comparison


Source: The New York City Department of Transportation's mobility report
Environment friendly: According to Lime bikes, every mile travelled produce ~350 grams of carbon. Therefore, if people were to switch from driving cars to riding a bike for short trips, between 2.4-5.0 billion gallons of gas could be saved each year. That's the equivalent to 45 million tons of less CO2 in the atmosphere.
A research suggests that one kilowatt hour of energy allows a normal car to complete three laps of a football field or ~1.29km, an electric vehicle can complete 17 laps or 6.6km and an e-scooter can complete 333 laps or 133km of distance.
It is estimated that around 60% of the journeys made by a US citizen is between 0-5 miles. We believe this high proportion of short distance trips makes micro mobility one of the most favorable option to commute.
Micro mobility resonates well for customer travelling between 0-5 miles
Micro mobility resonates well for customer travelling between 0-5 miles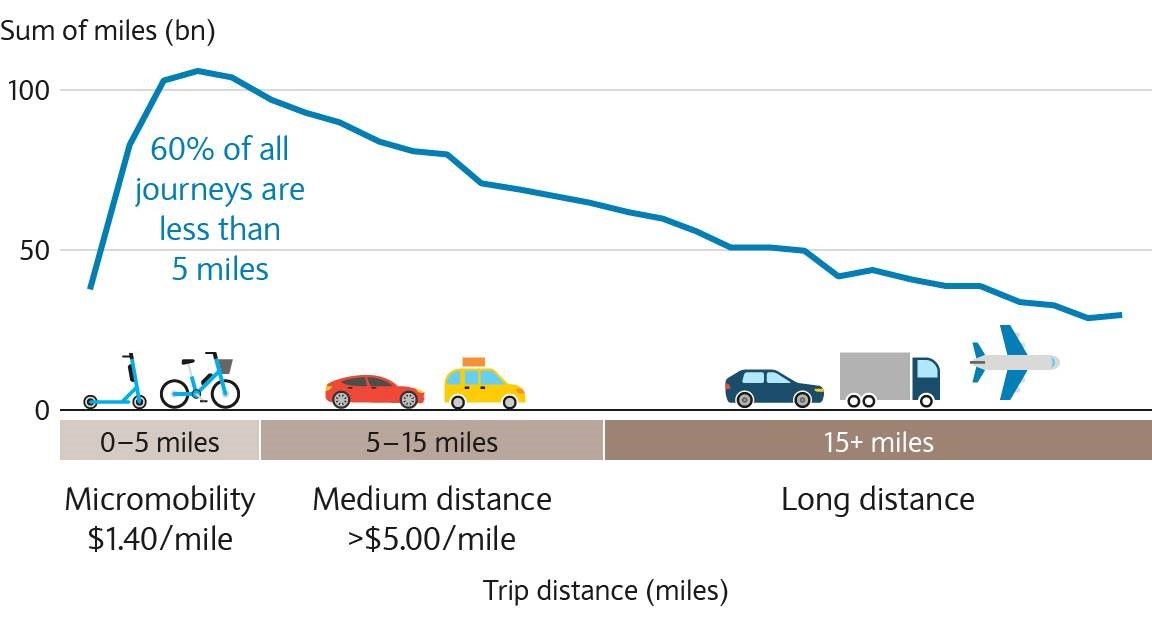 Source: Barclays, US National Household Travel Survey
The above premise is supported by the fact that in 2018, people took 84 million trips on Shared micro mobility in the United States, more than double the number of trips taken in 2017.
Trips taken on shared bikes and scooters across the U.S


Source: National Association of City Transportation Officials
Note: Total trips taken in Mn in 2018
Market potential for micro mobility
Mckinsey suggest that the market potential for micro mobility could comprise between 8-15% of trips under 5 miles and grow to US$ 200bn to US$ 300bn (low and high estimates) in the U.S. by 2030.
The passenger trips of less than 5 mile accounts for as much as 60% of passenger miles traveled in the U.S., however accounting for number of constraints such as adoption, weather, ability (age and fitness) to ride it is expected to conservatively capture only 8-10% of the trips.
Benefits of micro mobility
Easing up traffic and parking problems
Micro mobility is expected to ease land demand and consequently open land supply. In a competitive market, this would lead to moderation in the land prices, and decrease in housing prices. Currently local governments across the world have started banning select vehicles from city centers.
The new and greener way of transportation
More and more Gen Z and Millennials are becoming conscious about their carbon footprints on the plant. Shared micro mobility presents an opportunity to cut down carbon emissions by replacing the first and last mile transport in the urban areas.
Expansion of the Market
Micro mobility market has witnessed a stellar expansion over the past two years. With three e-scooter players establishing business in 1H of 2018 and growing inorganic interest from ride sharing titans, Uber and Lyft. While regulations pose a roadblock to the adoption of micro mobility, the continued expansion of the industry is irrefutable.
Micro mobility market attracting capital investment
Micro mobility has attracted continuous attention as PE/VC investors garnering more than US$8.3bn investment in the last five years ending 2019. While the astronomical growth in the funding activity has slowed down in 2019, we believe there is huge investment opportunity in early stage micro mobility companies as regulatory visibility improves.
Capital raised by micro mobility companies in US$bn


Source: Pitchbook, S&P Capital IQ, Aranca Research
The rise in micro-mobility has been driven by significant funding in the early entrant players Hellobike, Lime, Ofo, Bird, and Mobike, as well as a number of acquisitions/investments from larger players such as Meituan, Uber and Lyft.
Select micro-mobility companies, by capital raised

| Company Name | Capital Raised in mn | Location | Company Description |
| --- | --- | --- | --- |
| Hellobike | US$1,640 | China | Operates a bike sharing platform designed to create an intelligent urban traffic system |
| Ofo | US$1,620 | China | Developed a bike sharing platform designed to offer an efficient ride in the fast-paced city |
| Mobike | US$832 | China | Provides a bike sharing platform in China designed to allow users to locate nearby bikes |
| Lime | US$777 | United States | Developed a bike sharing platform designed to change the way people travel within blocks |
| Gogoro | US$480 | Taiwan | Developed an electric scooter that utilizes rechargeable smart batteries |
| Bird | US$268 | US | Provides citizens with access to shared personal electric vehicles that can be picked up and dropped off anywhere |
Source: Pitchbook, S&P Capital IQ, Aranca Research
Final thoughts
While operational challenges such as travel speed, road safety issues, sensitivity to weather, parking related nuisance etc. will weigh on the sector growth, we believe accelerating adoption, continuous evolution of the sector in terms of design and business model is expected to attract strong growth and incremental investment.
This concept is slowly disrupting the local transportation industry. Due to its manty benefits, growing customer base and efficiency, this sub – segment is growing in leaps and bounds.