Metaverse – The Future of Internet
Published on 25 Jan, 2022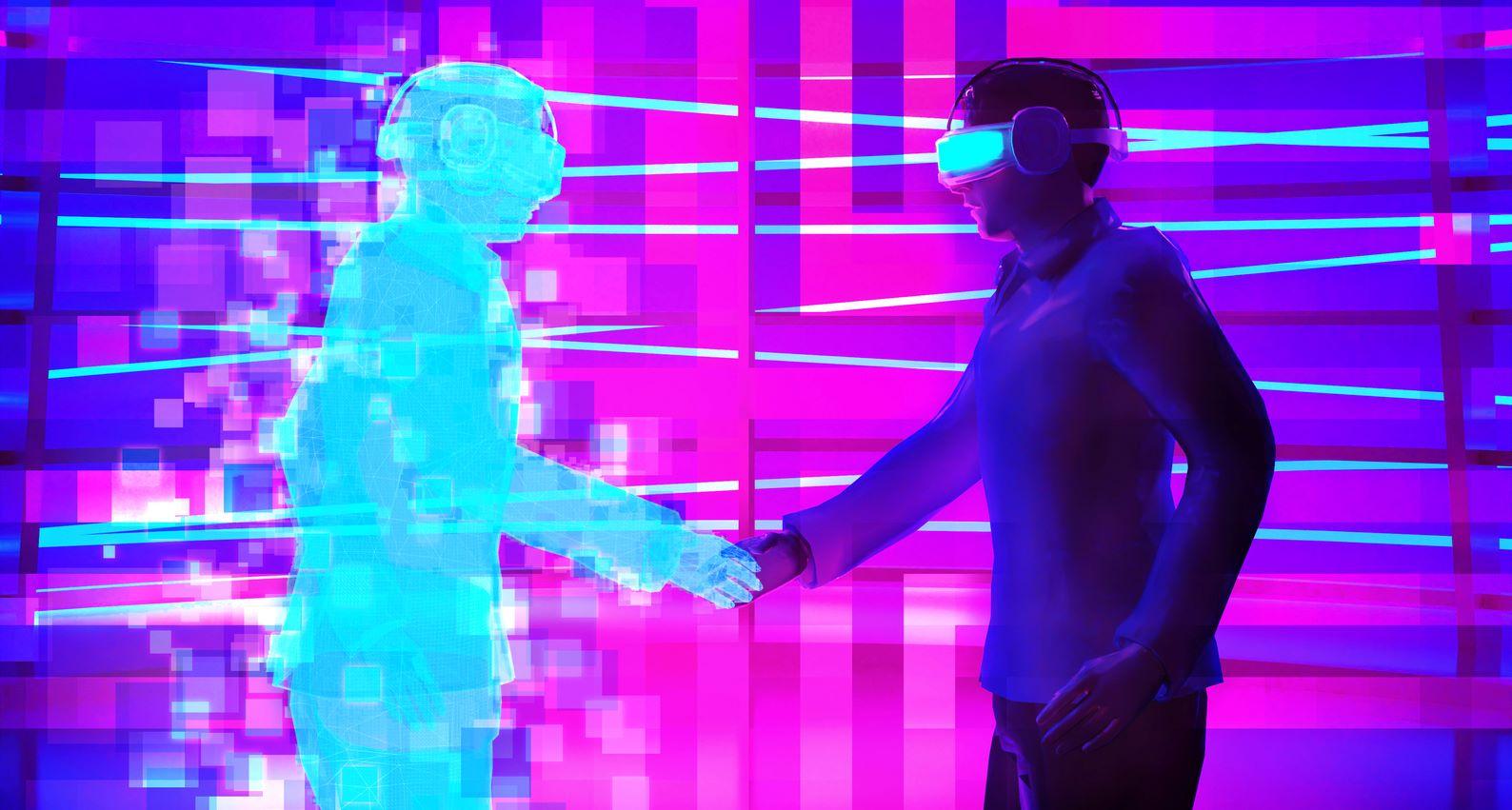 Currently, metaverse is the one of the most exciting technologies in the tech space. Giants such as Meta and Microsoft have already started developing their own version of it. To a large extent, 'the metaverse' is what the internet meant in the 1970s. Although some may have an idea of what it is and which companies are investing in the idea, many are unaware of this concept.
What is Metaverse?
A metaverse is the result of the evolution of social connection and interaction. It is a digital world that combines VR, AR, IoT, 3D holographic projections, video, and other means of digital communication. People can traverse in this universe using digital avatars and connect/interact with each other. As the metaverse develops, it would provide a hyper-real alternative universe for users to coexist.
Tech enthusiasts and experts envision metaverse users to play, work, and stay in touch with people for everything from conferences and concerts to virtual trips around the world. The metaverse must, however, become a collective project that goes beyond a single company. It should be created by all companies and be open to everyone.
The metaverse has an initial infrastructure in place. The current technology can host hundreds of users in a single instance of a server, but future versions could handle thousands and even millions of users. The metaverse also involves motion tracking, which can suggest where a person is looking or where their hands are. This new technology is highly futuristic and will have many new applications and features.
Figure 1: How Metaverse Works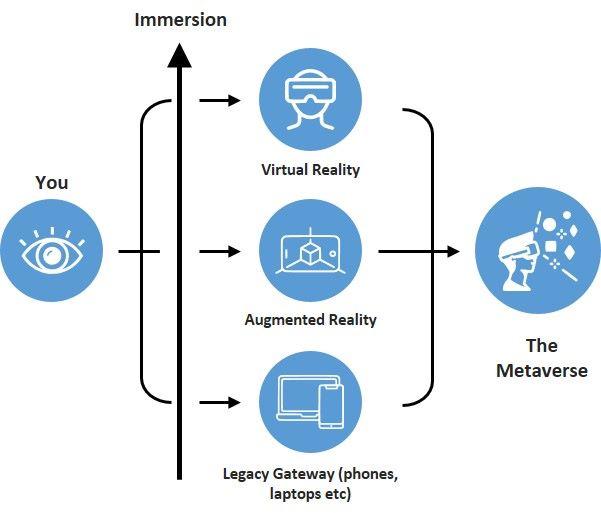 Unlike many VR apps, the metaverse is not a single software platform that can be built with the usual agile development model. Rather, it is a complex online virtual environment that relies on seven distinct layers/verticals.
Decentralization: This involves use of AI, blockchain, edge computing, and other decentralization tools.

Infrastructure: This includes connectivity technologies including Wi-Fi, 5G, and hi-tech materials such as GPU and cloud.

Human interface: This consists of AR/VR glasses and headsets, haptics, and other technologies that will allow users to experience the metaverse.

Creator economy: This refers to a collection of digital assets, ecommerce establishments, and design tools.

Spatial computing: This involves 3D visualization, hybrid gears, and modeling frameworks.

Experiences: This involves VR counterparts of digital apps for events, work, gaming, shopping, etc.

Discovery: This includes ads, social media, ratings, reviews - the content engine driving engagement.

Companies building metaverse
More than 150 companies are operating across the seven verticals and collaborating to build a metaverse. However, Meta (formerly Facebook) has stated the metaverse will not be owned by a single company. Multiple corporations, independent developers, and grassroot creators will team up to build it. Bloomberg Intelligence estimates the metaverse market size at USD800 billion by 2024. A few companies have already begun investing strategically in this direction with the aim of developing a metaverse.
Meta Platforms Inc. (FB):
Meta Platforms is developing technologies that will allow people to connect and explore the metaverse. It plans to invest USD10 billion in Facebook Reality Labs, its R&D arm tasked with creating AR and VR hardware, software, and content. It will invest another USD150 million in AR/VR training and resources to help developers, creators, and learners build new skills and expertise, access technologies, and unlock opportunities. Meta has most of the seven infrastructural elements required to build the metaverse.
The company is collaborating with luxury sunglass brand Ray-Ban to develop smart sunglasses with built-in headphones and cameras, which will allow users to listen to music, make calls, and take photos and videos. Facebook Reality Labs has developed haptic gloves that use air pockets to enable users to "feel" virtual objects, a technology not developed by any company so far.
Meta expects to have the required capital to build digital technologies and tools for the metaverse, courtesy of its social media platforms: Facebook, Instagram, WhatsApp, and Messenger. Such large capital injections will allow Meta to work on bringing the metaverse to life while keeping investors satisfied.
Microsoft Corporation (MSFT):
As companies seek to develop a metaverse, Microsoft may already have many of the necessary tools and capabilities. Most of the company's existing technologies and platforms are in line with its vision of the metaverse.
Microsoft plans to align its cloud and business productivity services with the metaverse and cater to a variety of use cases. It is developing a mixed reality platform, Microsoft Mesh, and cloud services, Microsoft Azure.
Microsoft Mesh is being integrated with Microsoft Teams, which will allow users to collaborate virtually while working remotely. Microsoft Azure will provide the essential tools that would enable users to create digital simulations of real-world objects to drive innovation and design cost-effective planning.
Microsoft is already a key investor in Roundhill Ball Metaverse ETF (META), a fund focused on companies involved in creating the metaverse. The case studies for Microsoft's metaverse are diverse and range from remote work and productivity software to profits in gaming platforms in the near term to entertainment capabilities from its VR platforms in the long term.
In January 2022, Microsoft announced its plan to acquire video game giant Activision Blizzard in a USD68.7 billion all-cash deal, which would be its largest acquisition to date. The acquisition is expected to provide the building blocks for the metaverse, making Microsoft a leader in the tech sector.
Epic Games:
Epic Games, the American video game company behind the popular immersive game Fortnite, is perfectly positioned to build the metaverse. The company is witnessing rapid adoption of its metaverse tools by enterprises and consumers. Epic Games raised USD1 billion dollar in funding in 2021 to drive the development of its metaverse platform. Epic Games has become a front-runner in creating the metaverse owing to the vast number of millions of users who log into Fortnite every month.
Apple (AAPL):
Apple has not made public announcements regarding its plan to develop the metaverse. However, analysts and industry experts suggest Apple is building a metaverse for its mixed reality headsets. Apple and Meta could have very different approaches to the digital world. Apple is not expected to follow the path everyone is taking but create a new one instead. Its VR/AR headset will be focused on "bursts of gaming, communication, and content consumption."
Niantic:
Niantic developed Pokémon Go in 2016 in collaboration with Nintendo and The Pokémon Company. This game was among the first immersive experiences, blurring the lines between real and virtual. Niantic is building a metaverse that is in line with what rivals such as Snap and Meta are pursuing. From the beginning, Niantic has had all the makings of a metaverse company. It recently raised USD300 million to build its own metaverse, an alternative to the original notion of the metaverse as a "dystopian nightmare."
Nvidia Corporation (NVDA):
Nvidia provides a crucial hardware component without which metaverse applications cannot operate GPUs. Hence, the company is expected to play a critical role in this industry. Nvidia offers semiconductors with lightning fast responses as required by the metaverse. It is already benefiting from increased investment in this space, boosting demand for its semiconductors. Further development will improve the bottom line, profiting stockholders in the form of dividends and higher share price.
Nvidia plans to develop Omniverse, a platform aimed at sharing, development, and productivity services designed to help provide metaverse experiences, a potential growth driver for the company.
Roblox Corporation (RBLX):
Roblox is an online game platform and game creation system developed by RBLX. The company is taking a different approach to metaverse development. While some players are developing their own hardware and services, RBLX is giving businesses the opportunity to create virtual experiences tailored to their needs. The company could gain a competitive advantage and become a market leader in this area.
Roblox is one of the most successful players in the metaverse market. Almost 50% Americans below 16 years played Roblox in 2020 and the company's user base continues to grow rapidly. The Roblox platform has over 40 million games, 9.5 million developers and, as of the third quarter, 47.3 million average daily active users.
Unity Software Inc. (U):
If the metaverse is like a Ready-Player-One-style galaxy of virtual places, games, and experiences, no company might be as well positioned to deliver it as Unity. The company is uniquely positioned to capture revenue streams from building the digital infrastructure of the metaverse and participating in the NFT economy. Metaverse development will generate new revenue streams for the company to develop digital infrastructure beyond the gaming vertical. Unity recently acquired Peter Jackson's VFX studio, Weta Digital, for over USD1.62 billion. Following the acquisition, Unity seems well placed to capture new revenue streams in the metaverse.
Conclusion
The idea of a metaverse is truly exciting, as the technology has no limits. It showcases human brilliance and our ever-exceeding capability to create. The metaverse is already here in some form or the other and we are living in it subconsciously. If you have used VR headsets to play video games or been on a virtual tour of a university you are applying for or even bought a pair of sunglasses from Lenskart after trying it online, then you have experienced the metaverse on a small scale. However, the metaverse is focused on integrating these technologies and experiences into one platform. Considering recent investments by technology companies, we will soon be living in a world where the metaverse is a reality, allowing users to indulge in a digital virtual experience and thus shaping the digital future.