Long-Term Trends Likely to Emerge in TMT Sector as an Aftermath of COVID-19
Published on 21 May, 2020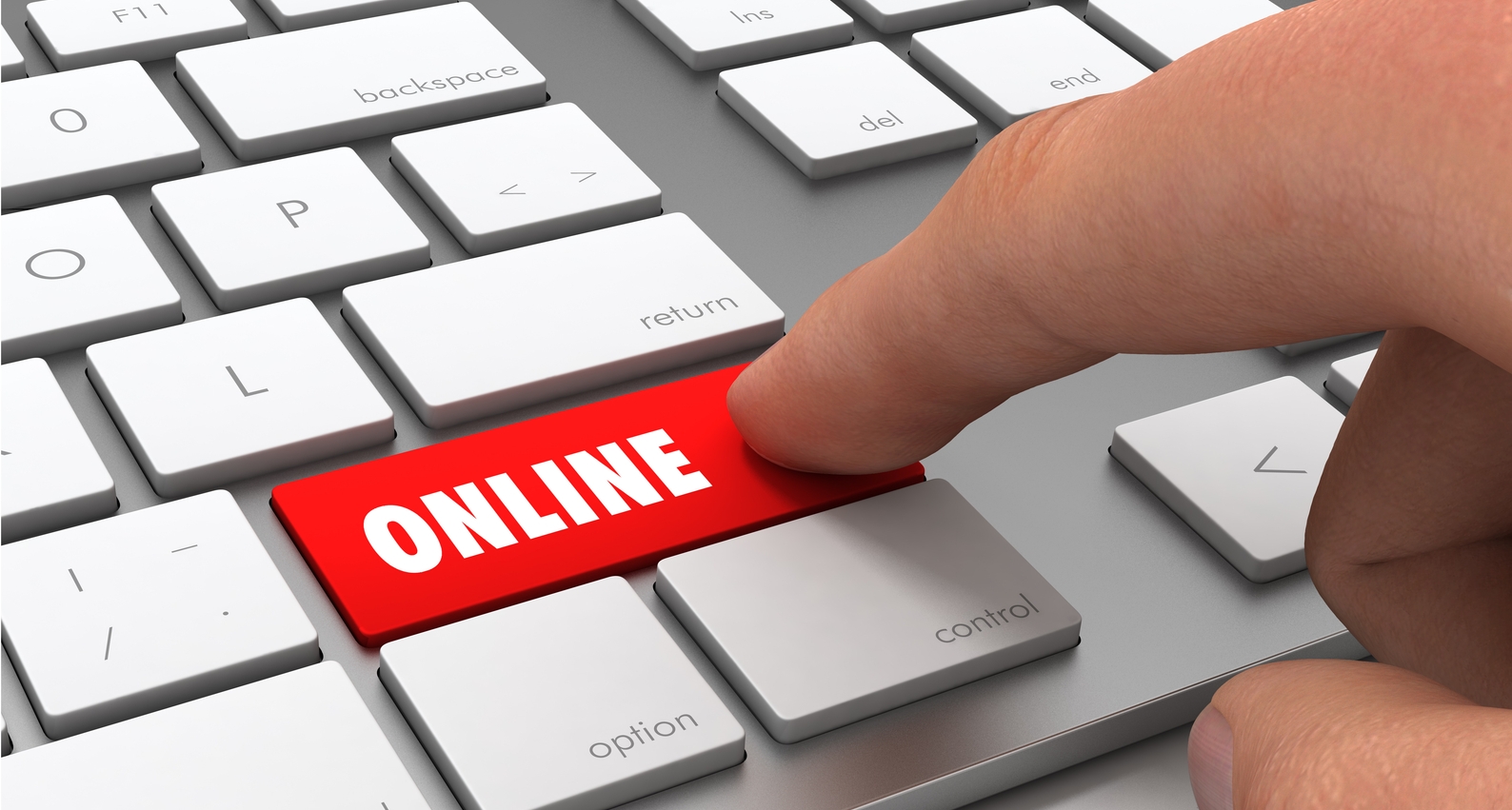 COVID-19 has led to increased usage of internet as well as technology, media, and telecom (TMT). As the virus continues to force nations to remain under lockdown, these trends will be long-term and may become part of the "new normal." While the developed countries already had a large base of online users, they still saw a surge in numbers. The emerging nations are continuing to see a rise and yet have unexplored potential that could lead to further growth.
COVID-19 has affected 216 countries so far with more than 4.2 million reported cases and 0.3 million confirmed deaths. The need for social distancing has led to lockdown in countries until the situation improves. Currently a third of the world's population is confined within their homes. Moreover, theaters and shopping malls have closed while social and religious gatherings are prohibited. Due to this forced isolation, people are resorting to engaging themselves virtually and spending more time online. While a sizable number of people are watching more shows and films on streaming devices, others have taken to social media or messenger services. As per an April Global Statshot Report by Hootsuite on survey of internet users between 16 and 64 years in countries that have observed strict lockdown, 57% of internet users watched more shows and films on streaming devices, 47% spent longer time on social media, and 46% were engaged with messenger services.
Activity wise percentage of internet users* reporting spending more time in recent weeks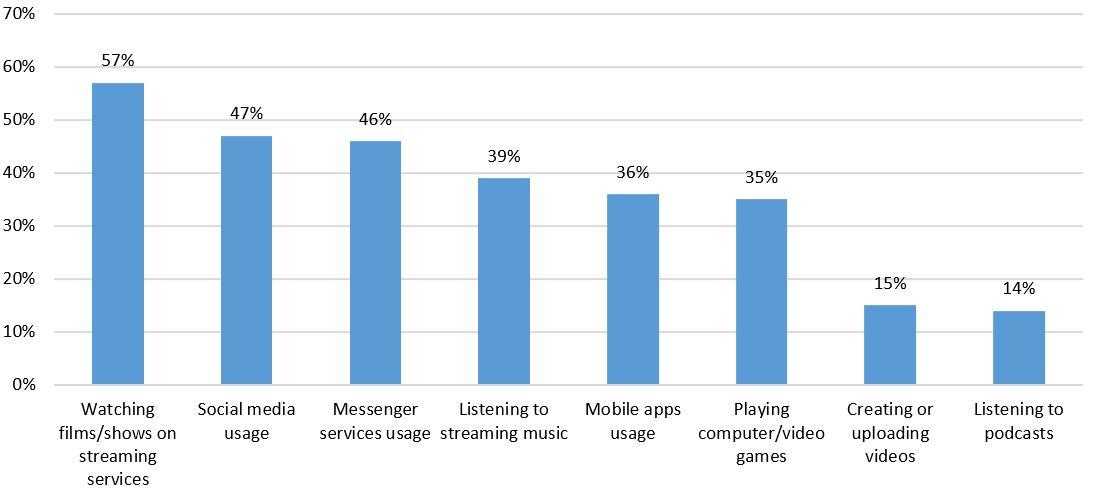 Source: "April Global Statshot Report" by Hootsuite; * aged 16– 64 in select countries
This shift in consumer behavior could well become a habit, as research indicates that it takes roughly a couple of months for a new behavior to become an "automatic habit." Accordingly, recurring consumer behavior like playing games, buying grocery, or streaming videos online could become a habit if there is a prolonged lockdown. Most countries have been on lockdown for over a month. India has implemented the world's largest lockdown and extended it twice, taking the cumulative period to almost two months, and many countries could follow suit. The Hootsuite report further shows that 20% of internet users will continue with the new behavior of watching more shows & films on streaming even after the lockdown is lifted, followed by 15% who would spend longer time on social media and 16% on messenger services.
Percentage of internet users who expect to continue with new behavior even after COVID-19 ends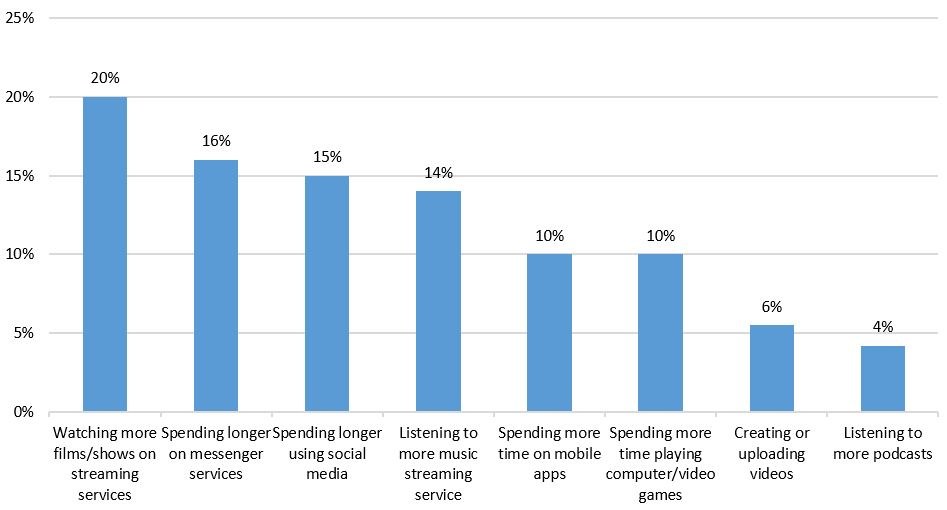 Source: "April Global Statshot Report" by Hootsuite; * aged 16– 64 in select countries
Social distancing has prompted a lot of companies worldwide to implement work from home (WFH) policy for the safety of their employees. A Gartner survey of 229 HR leaders revealed that 50% of organizations had 61–80% of their workforce working from home during the pandemic. About 15% of organizations had more than 81% of their employees reporting from home. Until a vaccine is developed, many companies globally may adopt a gradual back-to-office strategy during the year, while others may continue to allow their employees to WFH for a longer period. Companies such as Google, Facebook, Amazon, Microsoft, Slack, and Zillow have already allowed their employees to WFH until as early as September to as late as December 2020. The Gartner survey further stated that the 30% of workforce that exercised WFH options before the pandemic may rise to 41% now. Over the course of the year, as several companies continue to monitor the benefits of WFH, especially from a productivity perspective, there may be an inclination toward adopting WFH policy indefinitely.
Taking into consideration the behavioral shifts, the following five long-term trends could benefit TMT companies:
Streaming media companies to witness increased penetration in emerging countries: Subscription video on demand (SVoD) coverage in emerging nations, which was at 1.3% in 2014, was expected to increase to 6.4% of households by 2019, according to Allied Market Research. This is substantially lower in comparison to developed countries. For instance, the penetration rate in the US exceeded 70% during the pandemic. With many developing countries staring at a prolonged lockdown situation and people spending excessive time on streaming media, SVoD companies are expanding their footprint in these markets to attract new customers. For example, Disney entered Indian markets through Hotstar, the most popular streaming service in the country. Localized content and discounted rates, supported by growth in broadband infrastructure and improvement in network performance, will likely increase the average daily traffic. Furthermore, a subscription-based model will develop stickiness to such services in terms of many new subscribers.
Ecommerce to push retail sales, especially grocery, from offline to online: The pandemic has forced a number of people to become first-time online buyers worldwide, such as baby boomers who used online shopping service to buy groceries. As of April 2020, as per the Hootsuite report, ecommerce web traffic to supermarkets grew at a remarkable 251% in the week to April 15, 2020, compared to that in the first six weeks of 2020. Online grocery penetration is still in the low- to mid-single digits in most countries. The global penetration rate for online grocery was 5.1% in 2018 as per Kantar. As against that, countries such as Brazil and India recorded a paltry 0.1% penetration rate during the same period. The pandemic has fueled the adoption of online sales, and with increasing customer acceptance, there are substantial growth opportunities.
Gaming companies to benefit from growing demand for digital games: Gaming has become a popular activity with a large internet base, following the lockdown. According to Hootsuite report, over a third of internet users aged between 16 and 64 have spent more time on video games in recent weeks. This percentage rose to 43% for male internet users in the 16–24 age group. Spending on digital games also stood at US$ 10 billion globally versus US$ 1.5 billion for a premium console and US$ 0.57 billion for a premium PC in March 2020, as per Statista. Countries such as India have a tremendous potential for growth of digital gaming. In a country where people spend more time on their mobiles, it is not surprising that India's contribution to mobile game app downloads were the highest worldwide in 2019 at 13%. Extended lockdown, coupled with low entry barriers and a growing user base, offers a great opportunity for gaming companies to leverage.
IT software and services could see increased demand: Many have been compelled to WFH owing to COVID-19, resulting in greater usage of collaboration tools and software or cloud-based services. According to a GlobalWebIndex April 2020 survey on work behavior in the US and UK, 59% of workers felt that collaboration tools are essential for working productively from home. Data security was also highlighted as an important factor to consider in the survey. In terms of WFH preparedness, other than the IT/tech/software sector, most other sectors were not equipped to operate with a fully remote workforce. The survey further showed that 48% of workers in the industrial space, 33% in hospitality/tourism/travel, and 25% in education felt their companies were not equipped to work with a fully remote workforce. In developing countries, the situation is even more critical as lockdown may be extended. For instance, as per a recent EY survey titled "HR resilience planning – COVID-19 impact and preparedness," 72% of organizations expect the impact to last beyond six months, and 70% consider the fall in productivity to be the biggest concern. The survey also revealed that less than 50% of organizations are prepared to manage this unprecedented crisis. While near-term prospects look bright for IT software and services companies, demand could accelerate further if companies opt for WFH as the new normal in the post COVID-19 era.
Telecom companies to benefit from speedy rollout of 5G: Social distancing has led to people spending more time on online activities such as streaming movies, video chatting, gaming, or meetings that put a strain on the network, resulting in lower download speed. Based on an April 2020 update on tracking COVID-19's impact on global internet performance released by Ookla, global download speed for fixed line and mobile decreased 2% and 3%, respectively, in the week ended April 27, 2020. Internet speed was sluggish, particularly in countries where mobile internet users were substantially higher than fixed line users. For example, India, which has a huge mobile broadband user base, witnessed a significant decline (12%) in mobile download speed during the same week. 5G can eliminate the congestion and latency issues by delivering faster mobile networks compared to earlier generations. Moreover, telecom companies, such as Verizon, believe that sustained network usage will prevail in the foreseeable future. Hence, customers could perceive 5G as a necessity rather than a luxury, and its faster rollout and adoption would benefit telecom companies.
The longer the lockdown lasts the more evident such trends will become. Some trends such as online grocery shopping or subscribing to video on demand will be visible sooner rather than later. While others may take a little longer as certain important factors, for example, data security and measuring productivity for working remotely and availability of 5G-enabled smartphones for better network connectivity, are addressed. Nonetheless, initial signs of shift in consumer behavior are already visible.