KSA Telecom Sector: Taking a Giant Leap!
Published on 20 Aug, 2020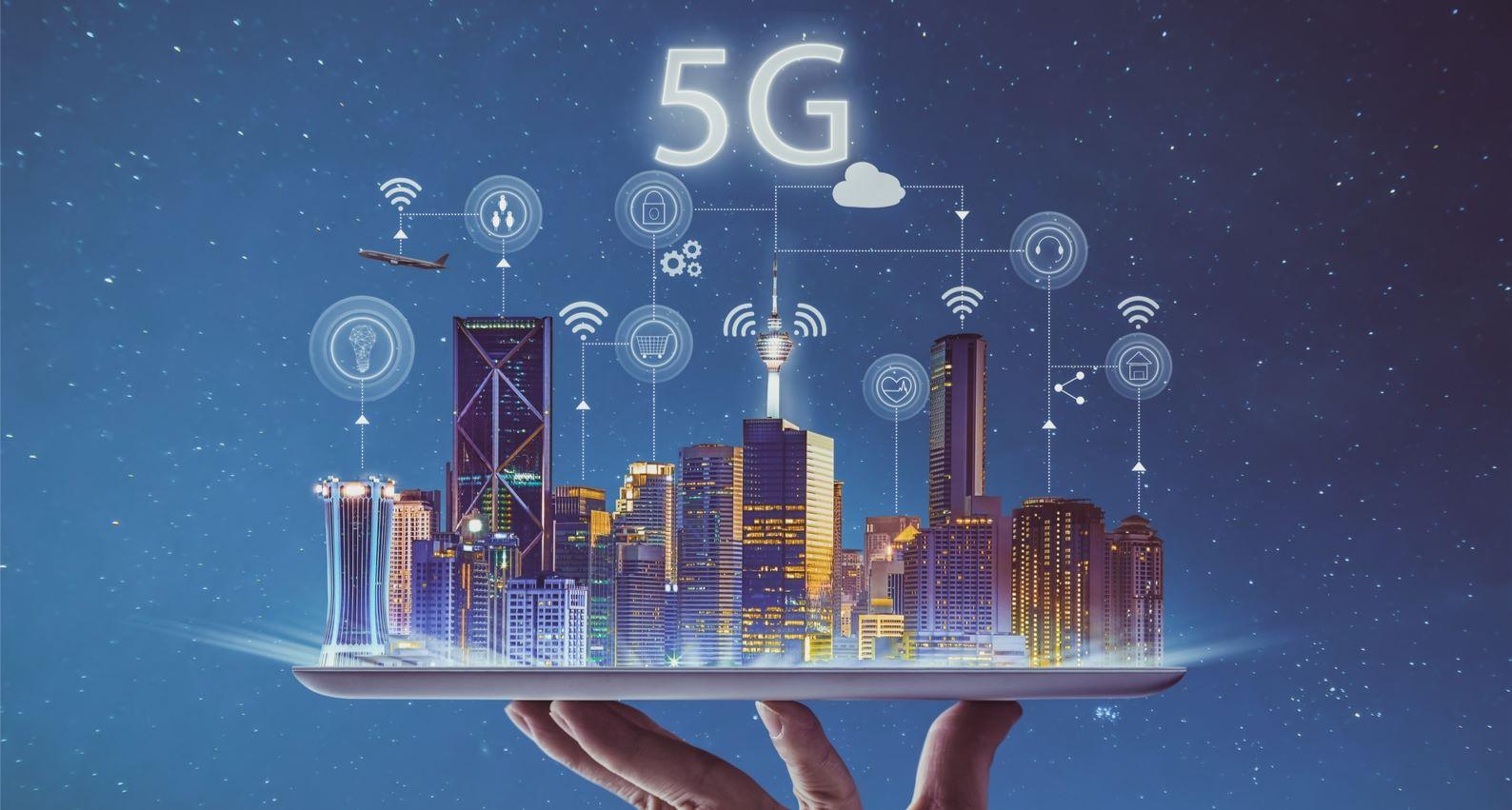 The telecom industry in KSA has taken a giant leap forward in the past few years. The industry has shown incredible progress in terms of infrastructure development and deployment of advanced technologies. Currently, KSA is among the few countries in the world to adopt 5G services and is rapidly expanding its coverage across the Kingdom, thus presenting an attractive opportunity for key players in the sector.
Evolution of the telecom industry in KSA
Telephone services were introduced in KSA as early as 1934. Since then, it has had many landmark moments such as the launch of the first fiber optic network in 1984, commencement of mobile phone services in 1995, and liberalization of the telecom market in 2003, which allowed private players to enter into the sector. The evolution of the sector is ongoing and with the arrival of 5G many new avenues have opened up for the operators.
Key players in the KSA telecom market: The main telecom operators in KSA are – Saudi Telecom Company (STC), Etihad Etisalat Company (Mobily), and Mobile Telecommunication Company Saudi Arabia (Zain KSA) – holding unified licenses. Additionally, few individual internet service providers, mobile virtual network operators (MVNOs), and fixed-line service providers are also present. STC is the leading player, with approximately 50% share by mobile subscribers, followed by Mobily and Zain KSA.
Rapid growth in the FTTH market: Post liberalization, there was an increase in the number of service providers and support from the government and the telecom regulator to new players led to an increase in competition, development of infrastructure, and deeper penetration. As of December 2019, the number of mobile subscribers in the Kingdom stood at approximately 43.8 million, with penetration of 129%. In the past few years, KSA witnessed significant improvement in the fiber to the home (FTTH) network penetration. FTTH penetration increased to 41.8% in February 2020 from 33.7% as against 2018.

| | |
| --- | --- |
| Mobile Penetration | FTTH Penetration |
Source: CITC
Mobile penetration, which is already above 100%, is expected to grow further with increasing usage of smartphones having multiple SIMs. In 2018 and 2019, the number of subscribers grew faster than the population growth of the country. This upward trend came after a decline in 2017 owing to the cancellation of inactive subscriptions due to the SIM authentication program. Recently, CITC implemented an open access model in the FTTH network, which is expected to increase the use of the fiber-optic infrastructure and help in achieving KSA's ambitious target of 3.5mn connections by the end of 2020 from more than 900,000 in February 2020. Although the Kingdom is far behind leading FTTH markets, recent developments indicate strong growth and huge potential in the near future.
Favorable demography supports demand for telecom: KSA's demography is supportive to increase the demand for telecom services. KSA's tech-savvy young population (69% below the age of 40) is increasingly using smartphones and the internet. In terms of internet access, KSA stands at 93%, well above the global average of 53%.
Early adoption of 5G technology benefits KSA: KSA is among the few countries to launch 5G services, with two of the three operators started 5G services in 2019. As of June 2020, total number of 5G towers deployed reached 7,000 across ~30 cities in the Kingdom. With a solid infrastructure in place and rising demand for 5G-supported devices and applications, KSA is among the fastest markets to adopt 5G technology.

KSA's 5G journey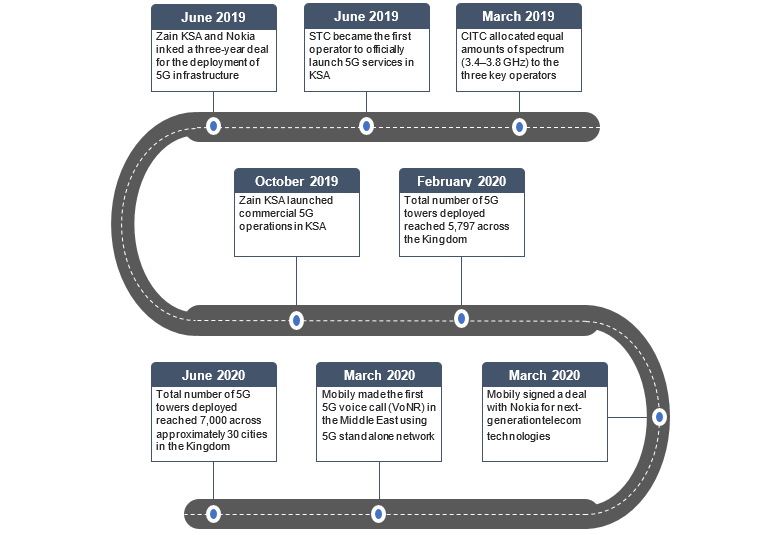 All the three telecom operators are currently focusing on developing a strong 5G network and exploring new technologies and applications for 5G services. They are also reaching out to global technology firms such as Huawei, Nokia, and Ericsson to access advanced technologies, which would enable them to provide a full range of services across IoT verticals.
With a strong start in the deployment of 5G, KSA's telecom operators are in a good position to grab potential business opportunities and expand their portfolio into unconventional services, in addition to conventional telecom services.
Solid government support boosts global position
CITC has played a crucial role in the development of the ICT industry in KSA. Its efforts with the support of the government has reflected in the significant progress made by KSA in the field of ICT. In October 2019, KSA advanced by 16 positions to rank 38th globally in ICT adoption as per the Global Competitiveness Index.
CITC has also supported increasing competition and transparency in the telecom sector:
Allowing more private telecom companies to operate with universal licenses
Encouraging operators to sign open access agreements for FTTH infrastructure
Settling royalty dues
Allowing more MVNOs
ICT sector development in line with Vision 2030: Through Vision 2030, KSA's government plans to increase fiber optic connectivity to 64% households by 2020 from 26% households. The government also targets the expansion of coverage and capacity across the cities, improving the quality, and exceeding the household coverage in densely populated cities (90%) and other urban zones (66%). Furthermore, the development of cloud infrastructure and enabling the growth of IoT technology are on the cards in Vision 2030.
ICT infrastructure at the core of the smart cities project: Under Vision 2030, KSA is building Neom mega-city project, which is estimated to cost USD 500 billion. ICT is integral for smart cities, as it connects different components of the infrastructure. Telecom operators can leverage their existing expertise in providing ICT services to fulfill the potential demand. Recently, STC, in collaboration with Huawei, signed an SAR 1bn contract to deliver an "advanced 5G and IoT network" to support the development of Neom mega-city.
The KSA government's efforts and execution of plans have been well in sync with its long-term vision so far, which has enabled the Kingdom to achieve some of its targets before the planned timeline. If the momentum continues in the future, advancements in the ICT sector would play a key role in developing a less oil-reliant economy.
Telecom sector relatively resistant in the COVID-19 pandemic
Precautionary measures hit certain segments: The telecom sector was impacted due to the outbreak of COVID-19. Suspension of the Umrah pilgrimage, restricting Hajj to a limited number of visitors, and suspension of international flights had a negative impact on telecom operators' revenue from roaming services, visitor packages, and sales of handsets.
But COVID-19 pandemic also opened new opportunities: Data demand increased owing to the increase in the number of people working from home and online education initiatives by educational institutes. Enterprise solution businesses also witnessed a positive impact due to increased demand. Mobile and fixed-line internet traffic grew by 33% M/M in March compared with that in February.
Overall, the telecom sector was relatively resilient to the impact of the COVID-19 pandemic compared with other sectors, with total revenue (of three major operators) growing 6% Y/Y in H1-20. Going forward, when the situation reverts to normal, sector revenue is expected to grow faster, driven by an increase in investments in digitization by enterprises and rise in the number of foreign visitors.
Oil has been the key driver of KSA's economy until recently. In the past few years, the Kingdom has shifted its focus from oil, and it has started diversifying the economy with huge investments in non-oil sectors. The pace at which KSA has embraced new communication technologies, applications, and devices is impressive. The government's futuristic approach and acceptance from the people has helped the Kingdom emerge as an unexpected frontrunner in ICT globally.