Gaming: A Long-Term Investment Play?
Published on 28 Apr, 2020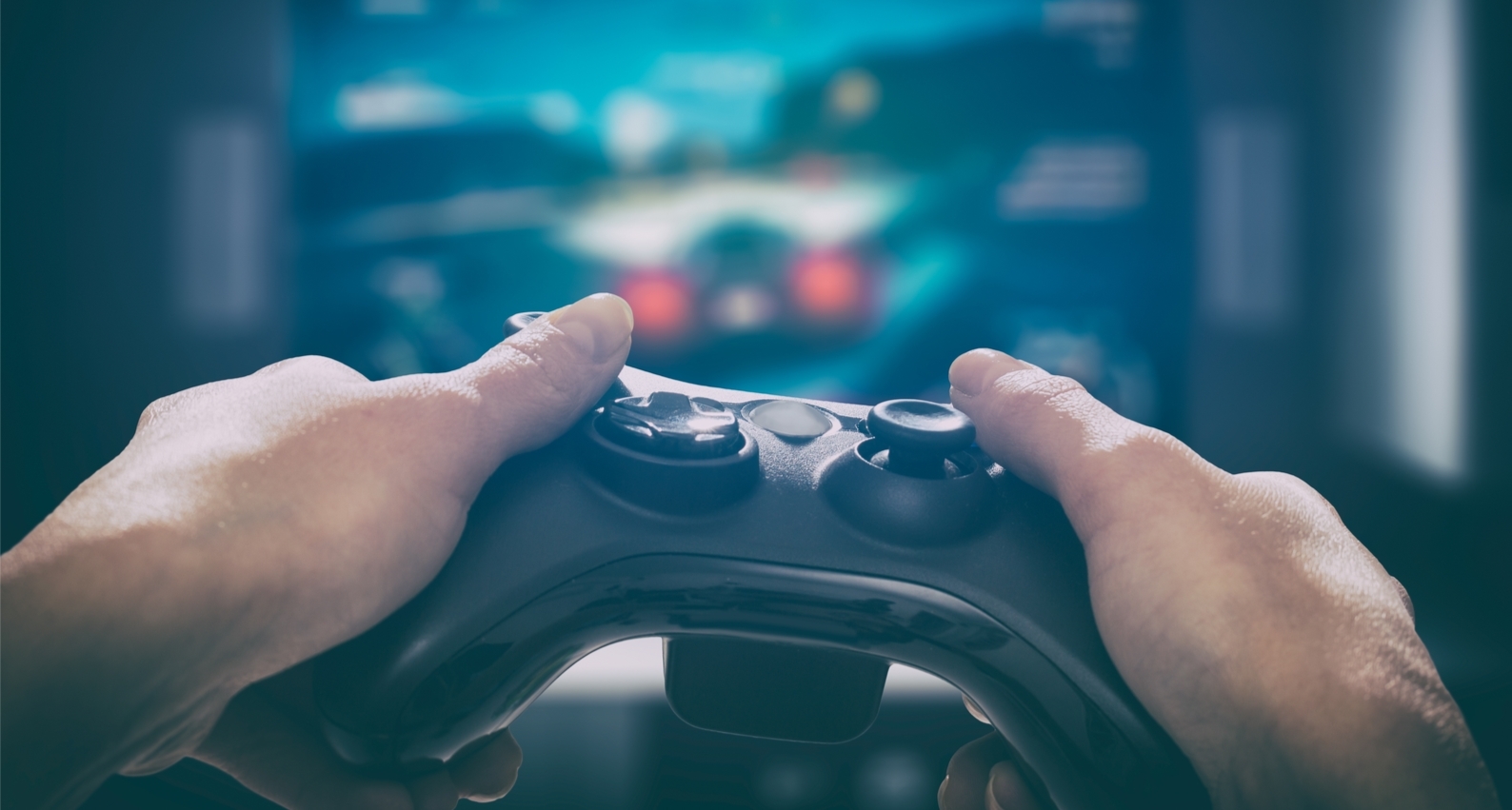 More than a third of the global population is now confined to homes, compelled to follow social distancing to limit the spread of the deadly coronavirus. The unprecedented scale of the pandemic has, however, blessed the gaming industry, which is buzzing with a sudden surge in sales of video games and gaming consoles as people seek ways to deal with the lockdown. The 'new normal' is here to stay for a long time and would definitely benefit the gaming industry, making it a profitable investment in the long term.
Video game sales in some countries boomed (over 200%) during the first week of lockdown in March 2020. Stocks associated with this industry – those of gaming companies to GPU chipmakers – have rebounded strongly due to this market mayhem. Stocks of companies like Nintendo and Nvidia recovered by more than 40% from their lows in March 2020.
Lockdown favors gaming industry
Countries worldwide are going through difficult times due to the COVID-19 pandemic. As the outbreak continues to wreak havoc, severely affected countries have directed citizens to adhere to various forms of lockdown in order to maintain social distancing. Some countries have taken a drastic, but inevitable, step and ordered a complete lockdown, thus forcing people to remain indoors.
The global lockdown has brought to a standstill economic activities; several business and industries have been badly hit. Ironically, the lockdown has brought advantage for the gaming industry as video games and gaming consoles fly off the shelves, figuratively.
Due to the quarantine situation everywhere, citizens are locked indoors, which increases the consumption of media (especially streaming content) and video gaming as means of entertainment. As per an article by Gamesindustry.biz on the recent data from Games Sales Data (GSD), sales of consoles and games have steeply risen during the lockdown phase across countries.
In countries that entered lockdown in March 2020, sales of digital games have skyrocketed. Italy, which entered lockdown the earliest (on March 9), saw a 175% week-on-week surge in digital game sales in the first week. Spain entered lockdown on March 14 and saw digital downloads shoot up by 143% during the week; France, which entered lockdown on March 17, followed suit, seeing a spike of more than 180% during the March 16–22 week.
Countries that implemented a partial lockdown in March also experienced an increase in digital game sales. The UK saw digital game sales rise by 67% during March 16–22, followed by Germany, which saw game downloads increase by 60%, and Australia with 27%. The overall digital game market surged by 53% week-on-week.
Exhibit 1: Surge in video game sales


Note: Data for first lockdown week in March and growth represented as week-on-week
Source: Gamesindustry.biz – an article published on Gamesindustry.biz
Surprisingly, physical game sales during the period also went up, especially in countries implementing social distancing and entering a partial lockdown state. In Australia, physical game sales surged by 279% week-on-week. The UK witnessed similar numbers, with physical sales rising 218%, while France saw a 70% increase in such sales. Italy and Spain, the countries most affected by the outbreak and in complete lockdown, saw physical sales fall by 9% and 5%, respectively.
Gaming stocks buzz with strong recovery
As sales of video games go off the charts due to the lockdown, gaming companies are clearly direct beneficiaries here. While the pandemic caused major indices like the S&P 500 to fall sharply, stocks of gaming companies not only recovered, but also rose by 2–25% YTD. Stocks of gaming companies, such as Electronic Arts (EA), Nintendo (NTDOY), Activision Blizzard (ATVI), Take-Two Interactive (TTWO), Ubisoft Entertainment (UBSFY), and Zynga (ZNGA), recovered fairly quickly from the panic selling mode.
Exhibit 2: Performance of gaming stocks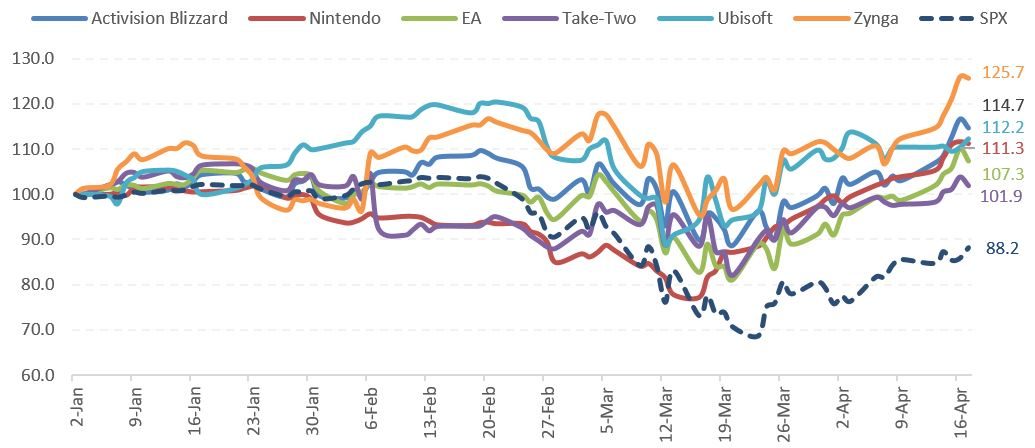 Note: Rebased at 100 (Performance from 2nd Jan 2020 to 17th April 2020)
Source: Yahoo Finance
Gaming stocks recovered fast from their lows in mid-March. Nintendo recovered 44% from its lowest point registered in the third week of March; Electronic Arts and Zynga followed suit, going up by 32% each. The S&P 500 recovered by 28% from its lowest point on March 23. Considering the returns from January to now, these gaming stocks have registered positive returns, while the S&P 500 is down by 12%. Zynga is up by 26%, followed by Activision Blizzard (15%), Ubisoft (12%), and Nintendo (11%).
Chipmakers also sail well in current scenario
In line with digital game sales, those of consoles are also on an upward trend. As per an article by Gamesindustry.biz, Australia experienced the highest increase in console sales (up 286% week-on-week), followed by the UK (up 250%), in the first week of lockdown. European nations followed suit, experiencing considerable uptrend during the period.
Exhibit 3: Surge in gaming console sales


Note: Growth represented as week-on-week
Source: Gamesindustry.biz – an article published on Gamesindustry.biz
Chipmakers are experiencing a unique demand scenario in the current situation, which is unlike a traditional surge in demand. The global lockdown is clearly pushing up the demand for memory and graphics chips from PC manufacturers, data-center operators as well as gaming console manufacturers. Microsoft and Sony hinted at releasing their next-generation gaming consoles, which affected console sales at the start of the year as gamers waited for the latest products. However, the anticipated releases did not materialize as the lockdown hit production worldwide in March. The situation forced people to chase down consoles currently available on the market, such as Playstation 4, Ninentendo Switch, and Xbox One.
GPU vendors such as NVIDIA (NVDA), Advanced Micro Devices, Inc. (AMD), and Intel Corp (INTC) are beneficiaries here; their stock performances hint at strong recovery during the current market mayhem.
Exhibit 4: Performance of key GPU vendors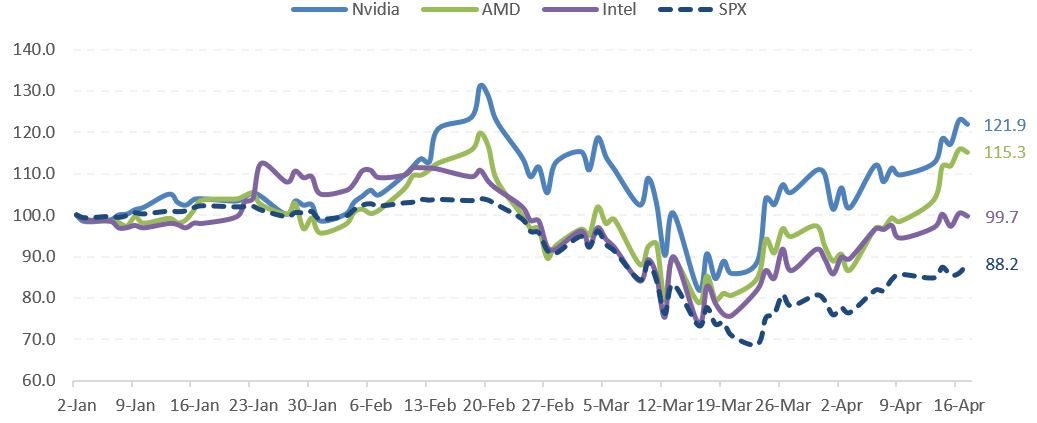 Source: Yahoo Finance
Nvidia, with its continued dominance as the global GPU vendor, led the rally with a 49% recovery from its lowest point in the third week of March, followed by AMD with a 46% increase, and Intel with 35%. Considering the returns from January until date, Nvidia's stock has displayed positive returns with a 22% increase, followed by AMD (up 15%); meanwhile, the S&P 500 index is down 12% during the period. This clearly indicates that the pandemic has not affected these companies at all, but has in fact benefitted the industry, with more new gamers entering the field nearly every day.
The 'new normal' phase seems promising for gaming
As the world continues to battle the rise in coronavirus cases, lockdowns and social distancing appear to be the only effective means to slow the spread of the virus. Quarantine situations across countries will continue to fuel the demand for video games as more employees and students remain housebound or work or learn from the confines of their home in the 'new normal' phase. If employers consider 'work from home' a viable alternative for future operations as well (also from a cost-saving perspective), the new normal may become our way of life.
In continuation to this consideration, many would definitely turn to GPU-powered laptops and desktops to be future-ready. An increase in console sales suggests the entry of many newcomers into the gaming world, which would further spur the demand for video games. This would certainly help gaming companies, GPU vendors, chipmakers, and also the semiconductor industry, in the long run.
The pandemic, which is not yet under control, has changed the world because of its scale, especially in western economies. Instances of a resurgence in cases in Asian economies – such as China, Japan, and Singapore, which had earlier seen a fall in cases – are generating concerns about a second wave breaking out, once these economies reopen at the end of the current lockdown. As such, social distancing and more time spent indoors may become the norm for a long time (possibly stretching into the next year) as against the earlier expectations of a quick end to the current situation. Under these changing circumstances, sectors such as gaming would continue to benefit from the growth in demand.