Energy Crisis Unfolding in Europe
Published on 24 Jan, 2022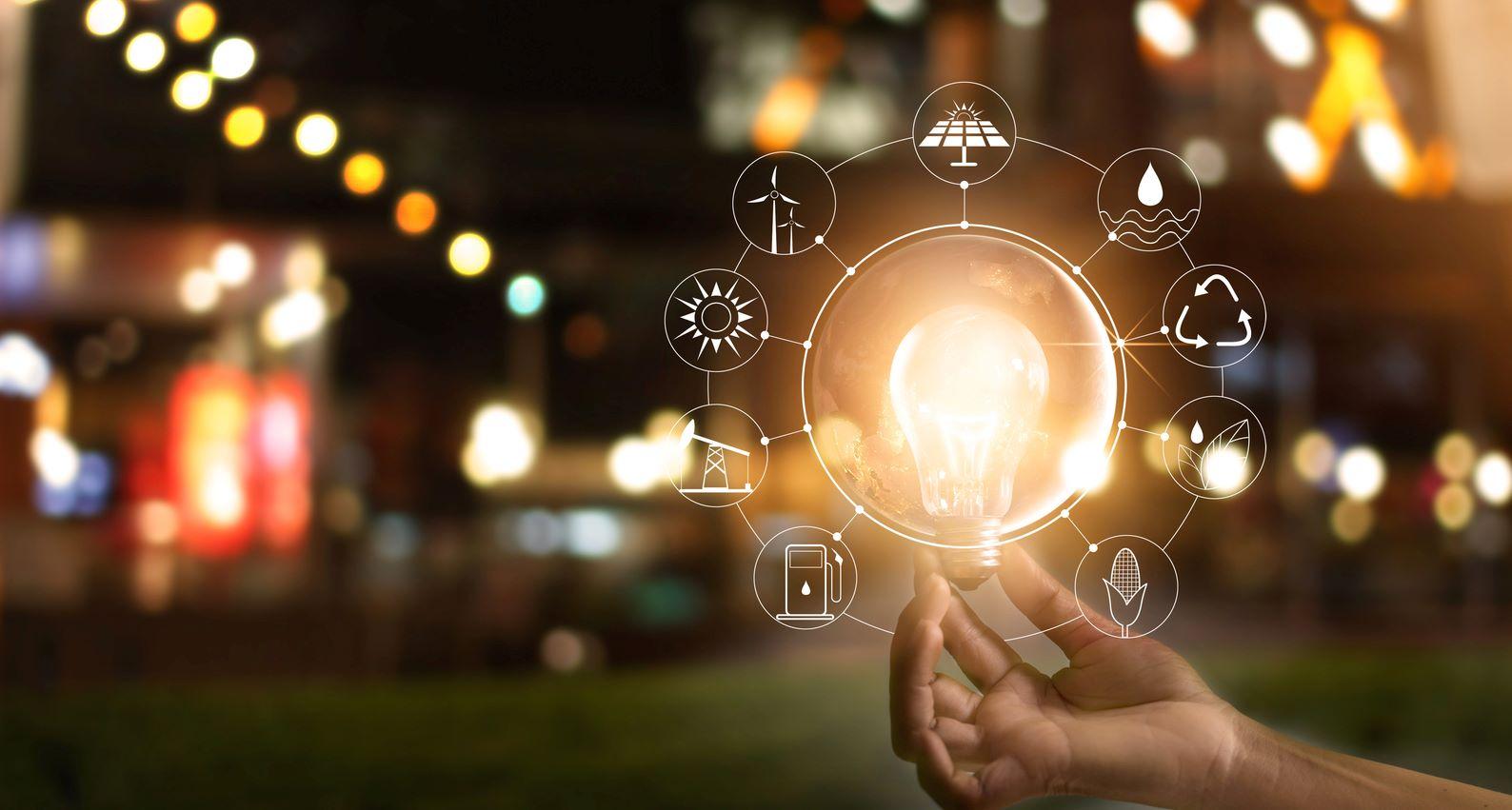 These are unprecedented times for the energy market in Europe. While the energy sector is taking steps to decarbonize, renewable resources are increasingly contributing to the generation mix as the demand for electricity grows. The financial burden on industries, including the metal and fertilizer sectors, is mounting, with energy costs breaking new records daily. In January 2022, 30% of the France's nuclear capacity is estimated to go offline, further increasing its reliance on gas, coal, and even oil to keep the lights on. Mild winter have saved the EU so far in December. However, in case of supply disruptions or extreme cold, securing energy supply may threaten economic recovery and may force factories to shut down to protect people from freezing in the dark.
Europe is on the verge of an unprecedented energy crunch. The gas price at the Dutch TTF hub, known as the benchmark of gas price for Europe, soared to 165 euros per megawatt-hour in December 2021, which is a new record high. Brent crude currently stands at $84 per barrel, close to its five-year high, while spot natural gas prices are up more than 500% YoY. This has hindered the EU's plan to transition toward green energy and switch back to the highly polluting gas-to-coal. Shortage of natural gas, decline in wind power output, cold weather, and nuclear outage have driven electricity prices across Europe. France, which usually exports power, now seeks imports and has restarted its fuel burning generators. In Greece, the average monthly wholesale prices stood at €203.83/MWh as of December 2021, the highest in Europe. The average monthly wholesale prices in France and Germany stood at €178.06/MWh and €159.38/MWh, respectively.
Average electricity wholeseale prices (in euros per MWh)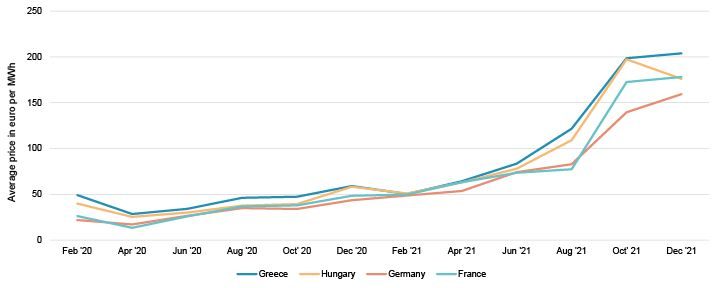 Source: Statista
What caused the sudden surge in prices?
Recovery in global demand

In 2020, the pandemic drove energy demand and prices to a historic drop as the world came to a standstill. However, as economies started to open in 2021, countries are finding it difficult to fulfill the sudden surge in the demand for energy. That was partly because of the changes in energy use during the worst phases of pandemic disruption. According to the International Energy Agency (IEA), the global gas demand is said to recover 3.2% in 2021, erasing the losses in 2020 and pushing demand 1.3% above the 2019 level.

Over reliance on imports

The EU has always been over reliant on imports to match the ever-rising demand in the continent. Europe's energy dependency rate stood at 60.7%. As of 2019, 27% of the crude oil and 41% of the natural gas was imported from Russia. Through the Nord Stream pipeline, the EU receives natural gas directly from Russia. However, Russia recently reduced the number of shipments, citing seasonal change to divert more natural gas into storage caverns to prepare for steep domestic demand during the winter. The law states that domestic demand should be fulfilled before exporting natural gas. This led to a surge in prices amid shortage concerns.

EU energy import dependency


Source: Eurostat




Insufficient renewable sources

In 2020, renewable energy contributed about 22.1% of the total energy consumed in the EU. Although the number is ever increasing, renewable power in the bloc is insufficient at present. At night, solar power generation stops, and lower wind speed leads to wind power failure. Europe's main carbon neutrality program impelled member states toward short-term pricing and away from long-term purchase agreements, making the crisis more costly. Transition to renewable energy is important, but it is not yet proven to be sufficiently scalable to meet rapidly rising demand.

Production of primary energy by fuel type, EU


Source: Eurostat



Current Scenario

In the coldest months of the year, Europe faces an energy crisis. Germany stated that Russia's Nord Stream 2 pipeline will not be approved in the first half of 2022, a move that is likely to keep supplies limited in the summer when Europe needs gas to fill storage sites.
In October 2021, a spike in the prices of natural gas in the United Kingdom compelled some industrial companies to cut production and seek state aid. Considering the neighboring countries would want to protect supplies for households, it could mean energy usage allowance being reduced. Nuclear power generates most of France's electricity (more than 70% of its total electricity) and is a major exporter of electricity to neighboring countries and the UK. In France, two nuclear power plants were stopped in early December, raising the total number of nuclear plants out of operation to four, which accounts for 13% of the current power availability in France.
Total energy production and consumption for 2020 (in million tons)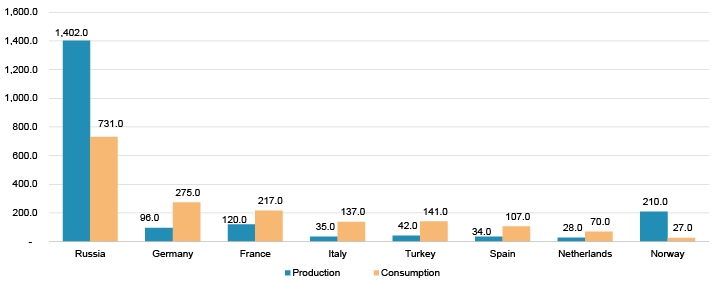 Source: Enerdata: Global Energy Statistical Yearbook 2021
Mild winter saved the EU, but threat persistent

As the temperature starts to drop in Europe, energy prices are repeatedly breaking records and expected to worsen. Europe's second biggest economy, France, is particularly at risk. For the country's grid operator, the possibility of chill in January and February 2022 is a major concern. The availability of nuclear stations is also low following the pandemic due to delay in the maintenance of some reactors. However, mild weather thus far has reduced the panic in the European market, with Zurich and Frankfurt being even warmer at 13 degrees Celsius compared with their standard level temperature. The effects of crisis would reverberate in Germany, Spain, Italy, and Britain as France is a key exporter of electricity to these countries. Due to a blistering rally in natural gas prices, the situation is already severe this winter. Fuel stores used to generate electricity and heat homes are rapidly depleting and gas stores could drop to zero if the freezing weather boosts demand.
The long-awaited start of the Nord Stream 2 pipeline to Germany from Russia would alleviate the continent's energy crunch. The project has been completed, but considering the regulatory hurdles, it is unclear when the flow will start. If the pipeline bringing natural gas to Europe from Russia, bypassing Ukraine and Poland, is fully operational soon, most supply issues could be resolved. Gas is cheaper during summer and companies are taking advantage of it to store it in large volumes and be well prepared before winter. But the ongoing price crisis has disrupted the custom, and the current reserves are historically low this time of the year, a threatening sign for the coming months. While Europe as a continent relies heavily on Russian gas, forecast of a colder winter would weaken Europe's energy sector and national security, leaving Russia undeterred.
EU resorting to conventional energy to stave off energy crisis
As we move into 2022, the energy crisis is only getting worse. In what looks like a desperate attempt, the EU has proposed to label nuclear gas as "green." A draft for the taxonomy, which is a labelling system for economic activities deemed "green" was issued in the closing hours of New Year's Eve. According to the draft, nuclear power plant investments could be labelled green if it is a "transitional" fuel and receives permit before 2045. Gas power plants could also be labelled green if they replace a more polluting fossil fuel source such as a coal power station, receive a construction permit before the end of 2030, and emit less than 270g of CO2 equivalent per kilowatt hour. France supports the proposal, as nuclear energy is its main source of energy. However, Austria, Denmark, Luxembourg and Spain continue to oppose the inclusion of natural gas and nuclear in the EU's sustainable finance taxonomy. To prevent the inclusion, at least 20 EU member states (representing at least 65% of the population) need to collectively reject the proposal, which appears unlikely. Passing of this proposal will help transition from fossil fuel sources to renewable sources, thus ensuring Europe's energy security in the long term.