Effect of the COVID-19 outbreak on the global theatrical release business and OTT platforms
Published on 09 Apr, 2020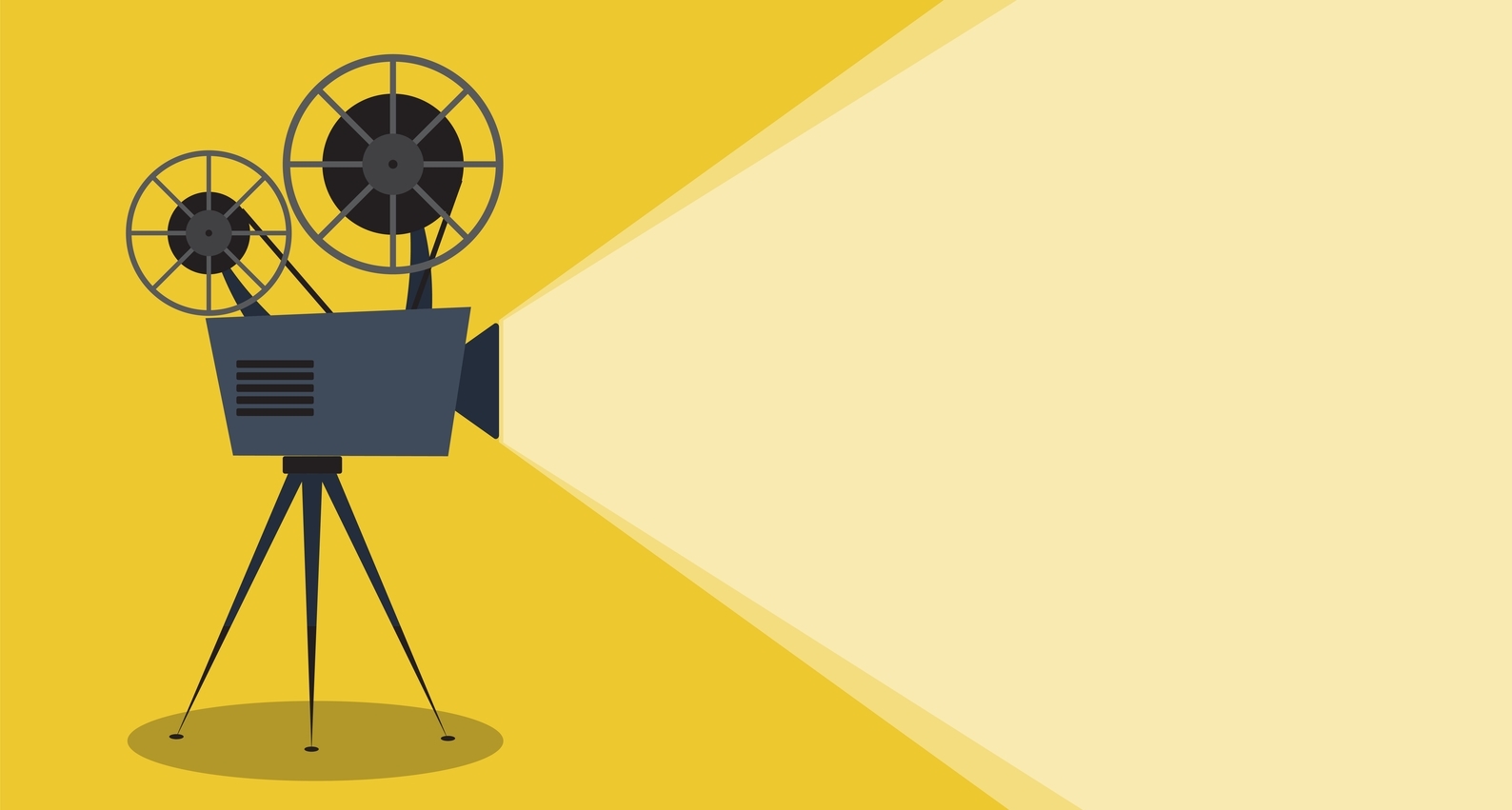 The global economy, initially unaffected by the outbreak of the COVID-19 virus in China in December 2019, could not surmount the successive fallout of the pandemic, that began spreading to other countries by early February 2020 and warranting a near-global lockdown. Although manufacturing, transportation and logistics have weathered the lion's share of the associated economic impact, the effect on the global film production and distribution business is believed to extend to as far as mid-2021.
The 'Oriental' effect
According to a PwC report, ticket sales in the Chinese market are expected to rise from USD 9.9 billion in 2018 to USD 15.5 billion by 2023, making the country an important growth engine for the global theatrical release industry. Moreover, there is an increase in Chinese releases with box office performances on par with major Hollywood releases, such as 2017's Wolf Warrior 2 that amassed an impressive USD 870 million worldwide and topped the list of highest grossing non-English language films—the list is now densely populated by other Chinese-origin releases such as 2019's Ne Zha and Wandering Earth. The top eight Chinese language releases grossed an average box office receipt of USD 600 million, a coveted milestone for high-profile global releases. However, what makes this even more impressive is that the expenditure on none of these projects exceeded USD 100 million; plus, their theatrical releases were almost exclusively within China.
This aggressive, self-sustaining motion picture market was among the first to be impacted by the COVID-19 pandemic, that is now spreading across Europe and the Americas. Preliminary reports had indicated a complete closure of approximately 70,000 theatres in mainland China that has resulted in forgone box office revenues of USD 1.91 billion in the first two months since the start of the outbreak. Other debilitating measures include the government halting all local film production and Chinese distributors pulling out of the 2020 edition of CinemaCon, the largest global gathering of film distributors.

Source: Hollywood Reporter
Impact on the global box office in 2020 and beyond
The long-term ramifications of the outbreak continue to evade industry analysts, primarily due to the lack of clarity on a timeline for its containment, especially in the absence of an effective vaccine. With large gatherings in confined spaces common in the entertainment industry, forecasters will now have to factor in lower footfalls in movie theatres even after government-mandated quarantines and associated restrictions are lifted. As the market value of film theatre chains dwindle globally, major film studios have put all theatrical releases with a timeline as far away as June 2020 on hold. A notable tentpole that has fallen prey to rescheduling is MGM's No Time to Die, with its release window being pushed from April 2020 to November the same year. While exercising caution has been received well by the industry, it is expected to aggravate revenue cannibalization, a crucial issue currently plaguing profitability of high-profile tentpoles and mid-range projects.
Stock performance of major US movie theatre chains since the outbreak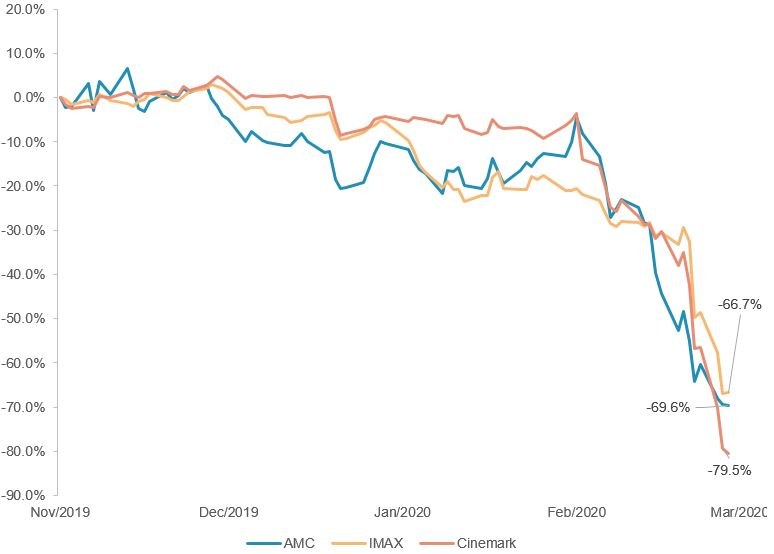 Source: Bloomberg
Theatrical release patterns
The annual motion picture release cycle starts with the January to March window, a period synonymous with the release of films with risky box office prospects and low performance forecasts. This is followed by the stronger April–June spring cycle and the July–September summer cycle, known as 'golden-goose' periods and lucrative holiday cycles like Halloween in late October and the climactic Christmas window.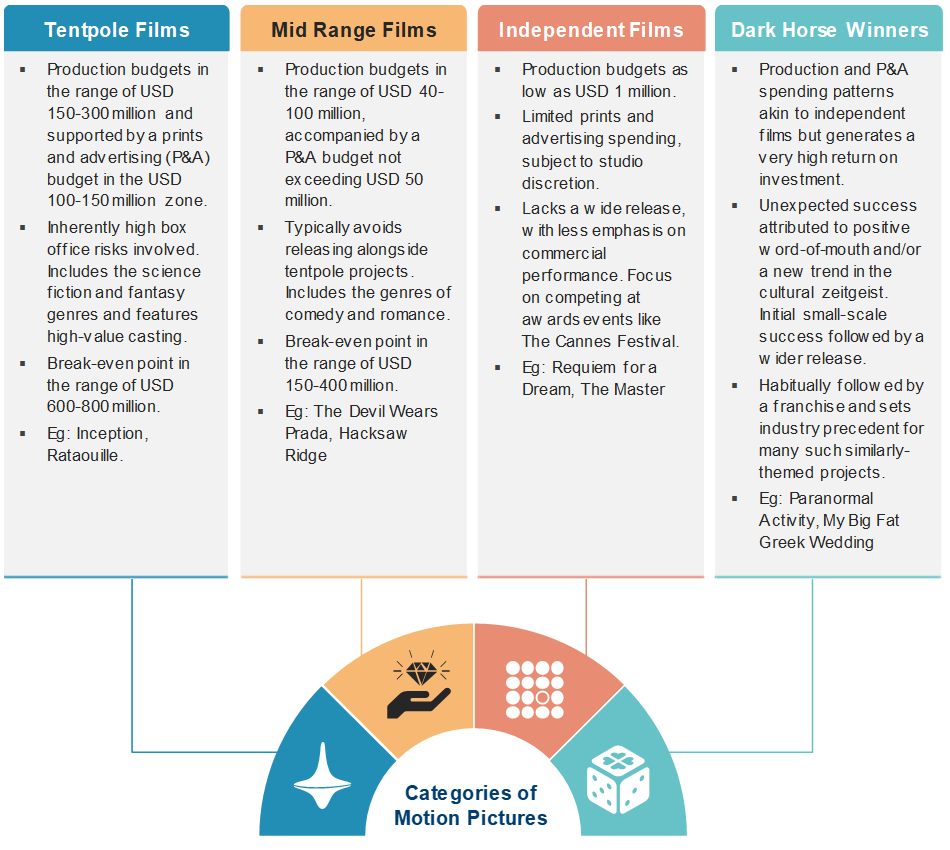 As tentpoles from major rival production houses tend to compete against each other in stronger release windows, studios space their release slates by at least one to two weeks, thereby preventing blockbuster fatigue-footfalls usually decrease when blockbusters overcrowd theatres, thereby resulting in weak ticket sales for the successive period.
Another strategy that studios adopt is to couple their tentpole releases with a mid-range movie in an adjacent release window. This serves two purposes: offsetting the inherent risk associated with a big-ticket release with strong sales from a small-scale outperformer; and providing the audience with a well-spaced refreshing set of choices. An important example is 20th Century Fox's coupling of its 2009 Christmas releases Avatar and Alvin and the Chipmunks: The Squeakquel. The former, a high-risk venture costing more than USD 400 million and predicted to be a significant commercial disappointment, trounced industry expectations to notch sales of USD 2.9 billion, while the latter performed well enough to warrant two sequels.
The 'avalanche' effect
The existent delicate timing in the global theatrical industry is now set to be disrupted by the uncertain 'holding pattern' currently being observed by major Hollywood film studios. With the previously planned seven to fourteen-day window for each largescale release now practically absent, tentpole releases may have to fight it out in listless random release windows in 2020 and 2021, with all of them thereby failing to break even while setting off a successive chain reaction of rescheduled releases. A plausible example would be Disney's China-centric Mulan and the 25th James Bond movie, each tied to nearly USD 350 million of production and marketing funds and releasing in the same post-Halloween period in November 2020, with the former being the remake of a highly successful 1998 animated feature, and the latter retaining a sizeable degree of pre-release buzz, due to it being the last entry in the franchise starring Daniel Craig.
The winners
In the existing scenario, another major media avenue that will see its customer retention and profitability strengths being put to test is the over-the-top (OTT) platform segment, a domain that has steadily gained traction in the last decade. Industry insiders have reasons to believe that the current business climate would pave the way for a larger slate of premium content from these well-funded conglomerates.
Recently, the Martin Scorsese crime epic The Irishman, a passion project costing nearly USD 160 million, was given a limited theatrical release and a simultaneous all-territory digital release. This strategy to eliminate the dependence on theatrical revenues was due to the risks of budget overruns and the lack of a family audience base for its adult genre. Substituting wide theatrical releases with exclusive release on OTT platforms such as Amazon Prime and Disney+ is expected to gain momentum as a trend from 2020 onwards. This would be driven by the large number of displaced film releases and by the need to hedge against high levels of spending by OTT players on content production. In 2019 alone, the total budget for original content among major US media and entertainment companies amounted to nearly USD 121 billion, with the top five company-wise budgets accounting for nearly 72.5% of the funds earmarked for the sector.
Estimated 2019 content spending by entertainment majors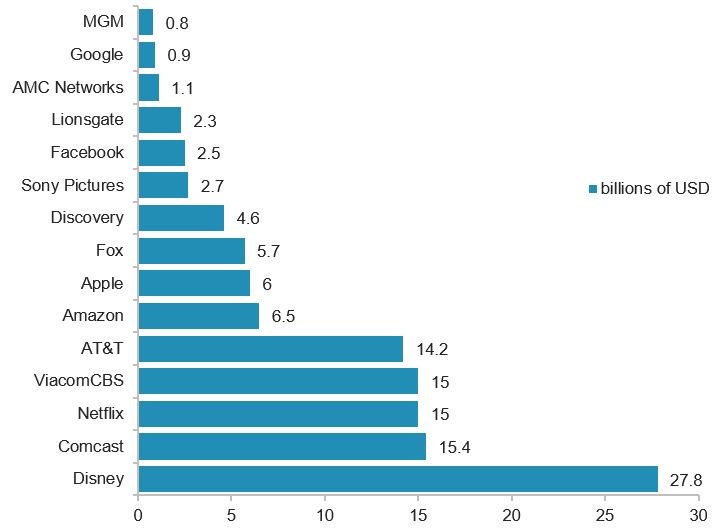 Source: Variety
Though signing expensive content deals comes with the associated risk of inheriting potential flops, it also helps streaming players acquire premium studio-produced content with lesser reliance on overbudgeted indigenous content that lack mainstream studio oversight, is debt-funded and is largely raised from junk bonds, as in the case of Netflix.
Despite utilizing a USD 15 billion budget for original content in 2019, Netflix was still prone to subscriber losses as late as the third quarter of the same year. This was attributed in part to a rise in the cost to acquire a new subscriber, that soared from USD 308 in 2012 to USD 581 by mid-2019. However, its library still contains a large share of externally licensed content (63% as of July 2019) for which it continues to pay royalties. A notable example is the prestigious sitcom Friends, that cost the streaming giant USD 100 million in annual license fees until early 2020, when it is expected to move to HBO Max in a lucrative USD 500 million deal.
Similar cases of losing high-profile external content exist across all streaming platforms that are expected to weather a crunch in terms of TV and film content in 2020 and beyond, owing to the expiry of content licensing periods. While a novelty factor for pre-existing television and film content exists, spiraling content budgets of major OTT players are not in line with the shares of subscribers tapping into new original viewing material. This is illustrated in the example of Netflix, that is projected to lose nearly 4 million subscribers in 2020, even as debt levels touched USD 14.8 billion the previous year.
Therefore, by acquiring exclusive rights to competent productions from front-runner production houses at a reasonable premium, OTT platforms can combat subscriber losses with an expanding content library, while reducing pressure on profits margins and spending-induced debt levels.
On a fair note, given that 2020 is expected to herald the seamless integration of OTT platforms with the global box office, the current slump appears to be a temporary blip on the radar of the global theatrical industry. While the impact of the global lockdown on the survival of these two media avenues is currently unforeseeable, it is very well expected to serve as a playbook for the future of mass entertainment.