Capturing the Opportunity of Carbon Capture & Storage Technology in Petrochemicals
Published on 20 Sep, 2022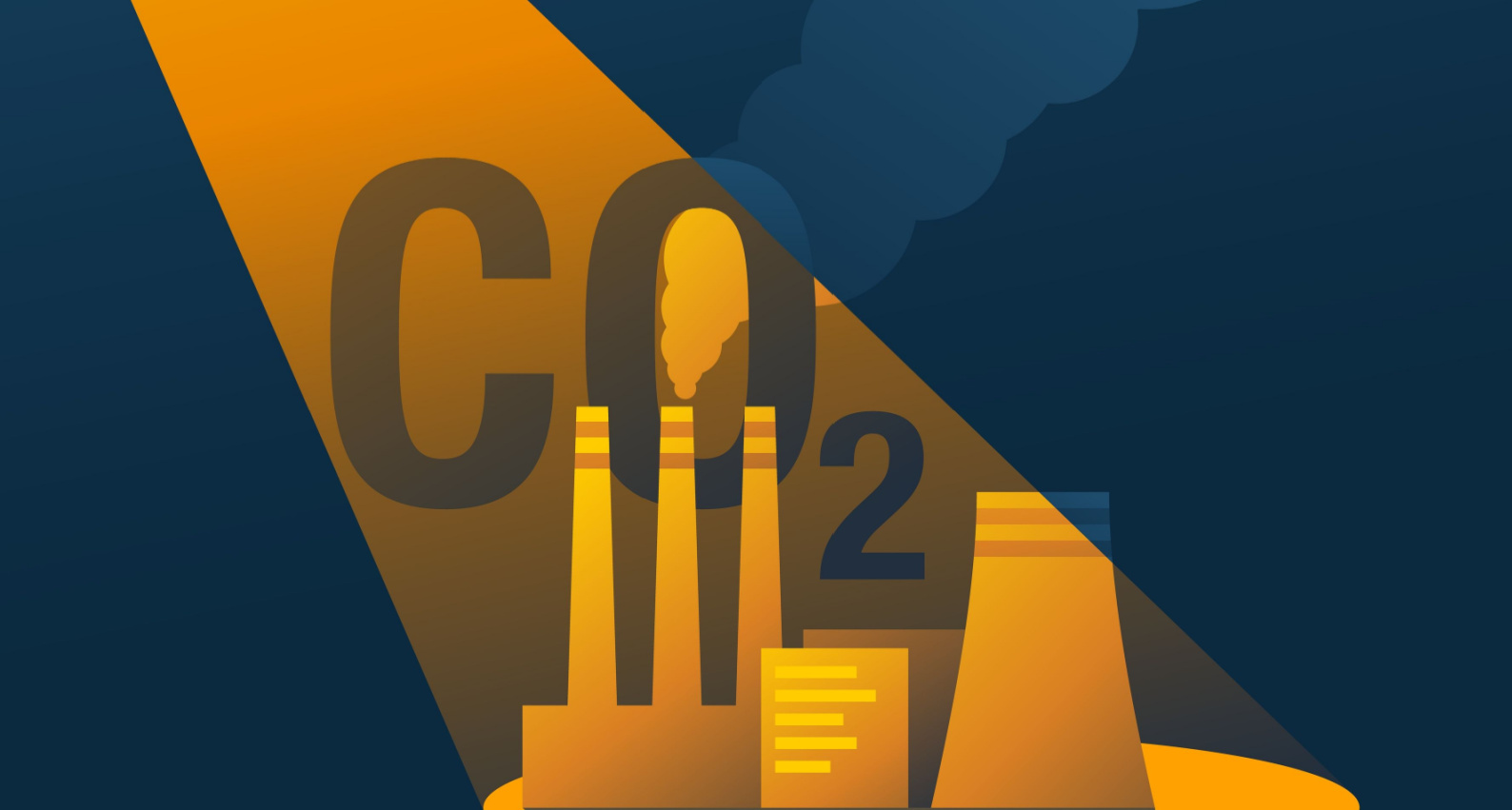 The growing need for environmental sustainability has impelled petrochemical companies worldwide to look for ways to reduce carbon emissions and reach net zero emissions by 2050. Industry leaders globally have been collaborating on exploring carbon capture and storage (CCS) technology as a means to significantly reduce carbon emissions from their petrochemical plants. As this technology is in a nascent stage, companies that make an early entry in developing and investing in CCS and related infrastructure would provide good investment opportunities, considering they would largely benefit as CCS technology gets adopted across the petrochemical industry.
Petrochemical Industry – A Major CO2 Emitter
Petrochemicals are versatile chemical compounds produced from petroleum or natural gas to manufacture plastics, polymers, resins, paints, and other essential daily-use products. They are also used in electric vehicles, renewable energy, and medical sciences, among other applications. They are also instrumental in the promotion of novel technologies to increase efficiency and improve product performance while keeping the cost low.
However, the petrochemical industry has a hazardous impact on the environment during the manufacturing process and disposal of end-use products, and majorly contributes to air pollution. The growing awareness and concerns about climate change and sustainability have pushed governments and regulatory bodies all over the world to monitor business operations closely in this regard. The focus now is to achieve targets of net zero emission by 2050 and limit the rise in global temperatures to 1.5°C as decided in the 2015 Paris Agreement. The chemical and petrochemical sector is the third largest contributor to CO2 emissions, ranking behind the iron & steel and cement industries. The petrochemical sector relies extensively on oil & gas as feedstock, and its production is a major source of CO2 emissions. As per the International Energy Agency (IEA), primary chemical production resulted in 920 MT of direct CO2 emissions in 2020, which have been growing at an average rate of 2.1% since 2015. The direct emissions are expected to reach 950 MT in 2025 and reduce to 840 MT by 2030, as companies focus on staying within the 2050 net zero target, despite a 25% increase in demand for primary chemicals.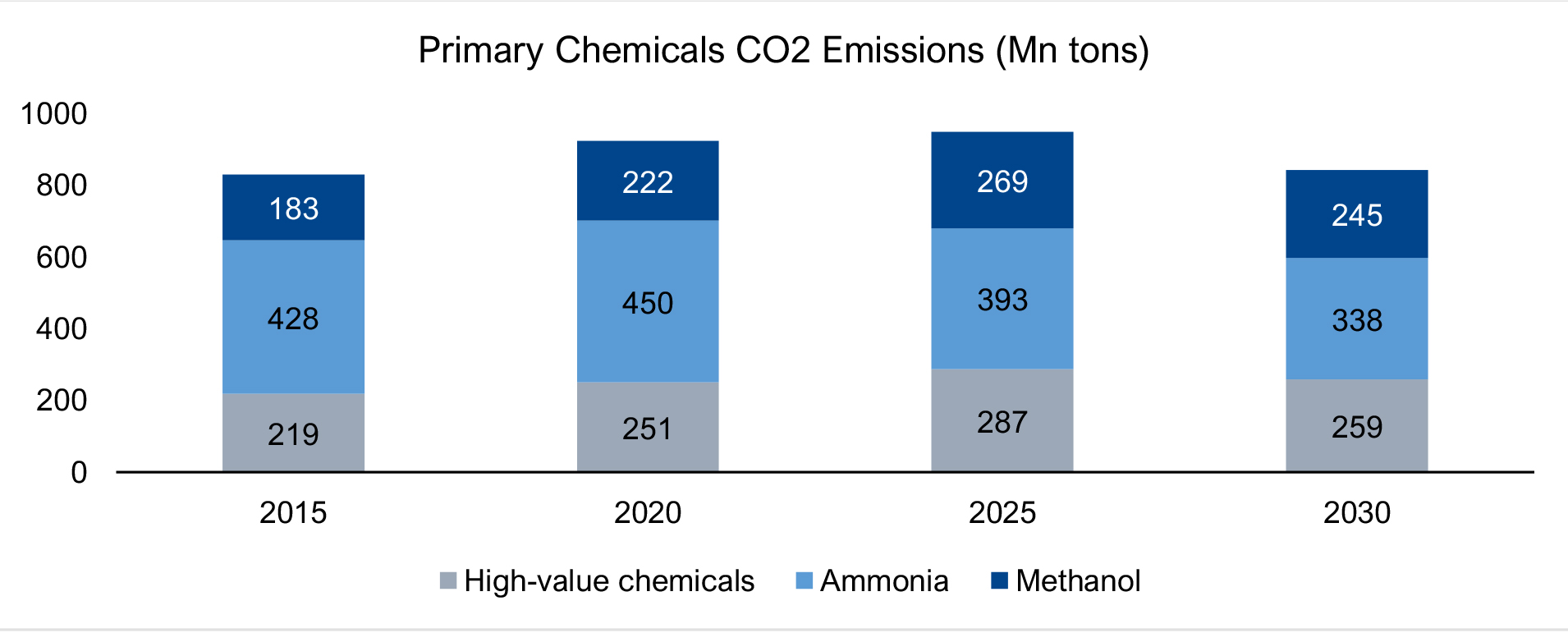 Source: IEA
CCS Technology – A Catalyst to Minimize Carbon Emissions
Petrochemical companies across the globe are striving to achieve CO2 reduction goals by 2030 by decreasing coal usage and improving energy efficiency. The carbon capture and storage (CCS) technology is evolving as a propitious solution to this problem, where CO2 emitted from manufacturing plants is captured and stored instead of being released into the atmosphere. The captured carbon can then be used in a productive manner. As per the Independent Commodity Intelligence Services (ICIS), no more conventional crackers would be built in North America; all new ethane-based crackers would include mechanics such as CCS, electric furnaces powered by renewable energy, and ethane dehydrogenation. As per Bloomberg NEF estimates, manufacturing petrochemicals with almost zero carbon emissions requires the petrochemicals industry to incur additional capex of ~USD759 billion by 2050 and requires the usage of technologies such as electrification and CCS to reduce emissions.
ExxonMobil proposed a Houston hub for CCS in April 2021 with an aim to capture up to 50mn MT of CO2 by 2030 and 100 MT by 2040 and urged participation from the industry and government to raise USD 100 billion to develop the required infrastructure. Following this move, 14 global companies – including Calpine, Chevron, Dow, ExxonMobil, INEOS, Linde, LyondellBasell, Marathon Petroleum, NRG Energy, Phillips 66, Valero, Shell, Air Liquide, and BASF – collaborated on the Houston CCS hub project.
Decarbonization project plans are also being implemented in China, where ExxonMobil, Shell, CNOOC, and Guangdong Provincial Development and Reform Commission have signed an MoU to assess the possibilities of a worldwide CCS project to reduce greenhouse gas emissions at Dayawan Petrochemical Industrial Park. ExxonMobil is in the process of investing USD3 billion through 2025 in its new business, ExxonMobil Low Carbon Solutions, that would initially focus on CCS technology around the world and move on to newer technologies as it reaches commercialization.
In October 2021, Dow announced plans to build the world's first net zero carbon emitting ethylene cracker at its Alberta site by retrofitting existing assets to adhere to net zero emissions. This would decarbonize 20% of the company's global ethylene capacity. Dow intends to decarbonize its assets globally site by site by incurring annual capex of ~USD1 billion as part of its commitment to carbon neutrality.
Global petrochemical leaders have been partnering and collaborating with engineering and tech firms to develop plant infrastructure that help them achieve their carbon neutrality targets. This includes BASF's joint project with Air Liquide (November 21) to develop the world's largest cross-border CCS value chain, INEOUS's partnership with the Acorn CCS project (July 21) to develop Scotland's first CCS system by 2027, and Braskem's partnership with the University of Illinois (December 20) to evaluate a potential pathway for capturing and storing emitted CO2. SABIC built the world's largest carbon capture and utilization in 2015. Moreover, in its current roadmap to carbon neutrality, SABIC affirms its consideration of carbon capture utilization and storage technology.
Producers, including Dow Chemical and ExxonMobil, have been pitching to set a price on carbon emissions. This could incentivize petrochemical manufacturers and accelerate investments in CCS and related decarbonization infrastructure. However, companies' technology choices depending on capital investment required, alongside enforced regulation, would be instrumental in determining the success of such novel plants.
CCS – An Investment Opportunity
Although CCS technology has been in existence for more than a decade now, it is not yet widely implemented due to the high initial cost of building these plants and the challenges associated with the transportation of the captured carbon. However, demand for carbon capture is currently growing, fueled by the need for sustainability. Companies, ranging from oil & gas giants to startups, are experimenting with innovative technologies to capture, store, and use carbon from emissions.
We believe the CCS market is promising and has a significant upside potential as the adoption of the technology is still in a very nascent stage. We have listed the categories of companies that support the much-need CCS transformation as an investment opportunity below.
Companies that have their own proprietary CCS technology, e.g., Carbfix, Quest, CarbonFree, Carbon Engineering, Climeworks, CO2 Solutions, Aker Carbon Capture, and Global Thermostat
Engineering companies that can upgrade existing petrochemical plants to CCS-enabled ones, e.g., Fluor Corporation, Jacob's Engineering, and Technip Energies

Petrochemical companies committed to substantial investments in CCS technology to meet emission targets and business goals, e.g., BASF, Dow, LyondellBasell, INEOS, Braskem, and SABIC
Additionally, investors can capitalize on CCS technology through carbon capture ETFs.
We believe the adoption of CCS technology and consequentially investment in companies involved in the technology would gradually scale up over the next 3–5 years. This would take place gradually as companies implement the required changes in their plant infrastructure to align with their 2030 interim goals of carbon emission reduction.