Are European Airlines on the Path to Recovery Post the COVID-19 Pandemic?
Published on 10 Jul, 2020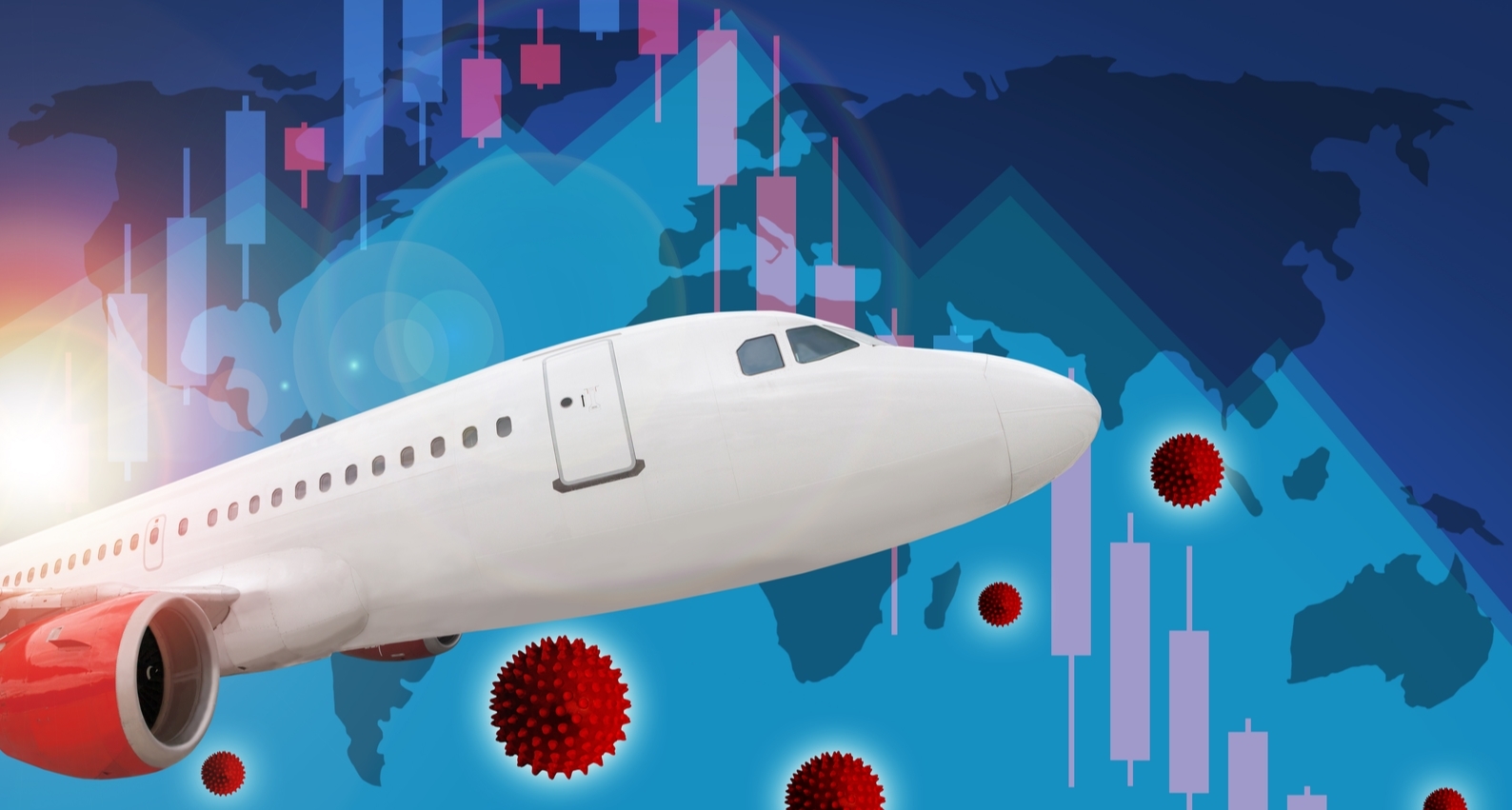 The global airline industry was considerably affected due to COVID-19, owing to complete shutdown on travel. However, as the ferocity of the pandemic gradually mitigates in European countries, air travel has resumed. Various technological innovations have been proposed to help airlines and airports eliminate the spread of infection. Governments are also taking initiatives to help revive the industry. Will the European airlines be able to emerge from this crisis unscathed?
The airline industry was one of the worst affected sectors due to COVID-19. The pandemic impacted the industry worldwide, as business activity and tourism demand collapsed, resulting in increased fixed operating costs. Airlines globally are expected to lose over USD84 billion in FY20, the highest ever, while losses for FY21 are estimated at USD16 billion, according to International Air Transport Association (IATA). The European airline industry also faced the brunt of the pandemic, as major European countries like Italy, Germany, and the UK implemented strict lockdown measures in March. Recently, Level Europe, a subsidiary of International Airline Group (IAG) Holdings, filed for insolvency and blamed the pandemic for its losses.
European Airlines face the brunt in their quarterly earnings (In Euro)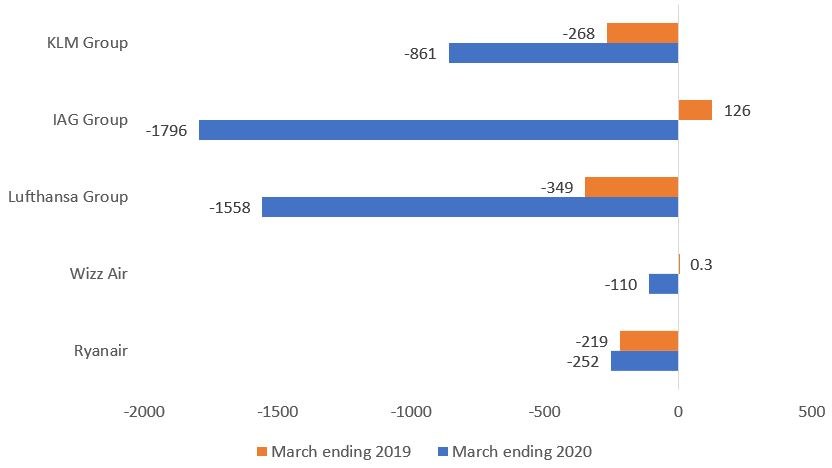 Source: Company websites
Currently, a few countries within Europe have opened their economies, leading to an increase in business activity and tourism. However, quarantine measures and social distancing could act as roadblocks to recovery in air traffic. A recent IATA survey in Europe showed that 78% of people in France, 76% in Germany and 83% in the UK will not travel if quarantine is in place.
World Tourism Organization (UNWTO) issues travel guidelines aiming for faster recovery
The World Tourism Organization (UNWTO) released a set of guidelines to help the industry recover rapidly and become more sustainable after the pandemic. The guidelines emphasize the need to restore confidence, act decisively, and adopt digital transformation to boost global tourism.
Some processes and initiatives that could become the new normal include the following:
"Touchless" travel: This initiative could minimize contact between airport staff and passengers. Technological solutions that can aid passengers in activities like bag-drop, check-in, security, and boarding checks without touching screens or documents could be introduced. Innovative practices like biometric scans and facial recognition would become routine, enabling a convenient and faster travel experience. This initiative will also limit any possible contact with surfaces and contaminated objects. Touchless, contactless, and self-service technologies at every step of the passenger's journey would facilitate a seamless passenger flow, thereby cutting queues while maintaining a social distancing-friendly travel experience. Touchless data-entry technologies, including gesture control, touchless document scanning, and voice commands, are already being tested.
Sanitation: Industry experts suggest that passenger luggage should go through fogging or a UV disinfection process to become "sani-tagged" before being loaded. Each bag and tray should be disinfected on entering the machine through fogging, UV-ray disinfection, or other techniques. In addition to the sanitization of bags, some airports have started testing a full-body disinfection booth that disinfects a person from head to toe.
Baggage check-in solutions: Despite improvements made in recent years, baggage handling continues to be a key challenge faced by airports in their pursuit of a safe, easy, and streamlined business model. Passengers can expect to see an increased use of self-service baggage solutions such as baggage drop, wherever available, to minimize physical interactions. Remote check-in solutions are expected to be implemented widely, enabling travellers to check-in and drop off their bags for any airline at different locations.
Governments measures to revive ailing airlines and air travel
Realizing that failure of the airline industry could impact the entire economy, various governments within Europe have launched several relief packages to keep the industry afloat. Some of them are listed below:
Germany has allowed all airlines to defer payments of air travel taxes.
Italy introduced EUR500 million COVID-19 fund that is limited to airlines having a licence issued by Italy, despite being in breach of EU rules. Sweden also excluded all airlines based outside its territory from its EUR455m loan guarantee scheme.
A massive sum of EUR9 billion government aid has been approved without conditions to help Air France, SAS, Condor and Finnair. The commission agreed to a diluted package of commitments in exchange for a record EUR9 billion in state aid to Lufthansa. It is expected to offer additional help; for example, the commission pledged EUR2–4 billion aid from the Netherlands for KLM.
Berlin agreed to a EUR9 billion deal to save Lufthansa, which will make the German government the single largest shareholder of the airline.
The Austrian government decided to aid Austrian Airlines and struggling national carriers with a bailout of EUR450 million.
The EU has also given approvals for leisure or business travel from 14 countries beyond its borders: Algeria, Canada, Japan, Morocco, Rwanda, South Korea, Tunisia, Australia, Georgia, Montenegro, New Zealand, Serbia, Thailand, and Uruguay.
From July 6, 2020, the UK would allow Britons to travel overseas and plan holidays to 90 countries. In addition to this, passengers will not be required to quarantine for 14 days on return. Ban on non-essential travel to all EU countries, as well as Australia, New Zealand, and British Overseas Territories such as Bermuda and Gibraltar, is expected to be lifted by the UK's Foreign Office. The announcement confirmed by government officials will end discussions on the UK's "travel corridor" policy and "air bridge" agreements that were pursued by Grant Shapps, Transport Secretary. However, travel to the US and South America is still prohibited until December 2020.
Conclusion
As per the data from Flightradar, the near-term aviation trends are positive with the re-opening of the global economy. Data reveals a jump in flight bookings, particularly for leisure travel, to destinations such as Spain, Greece, and Portugal for the months of July and August. Strong recovery has also been observed among travellers visiting their friends and relatives. In addition to government measures, various airlines are resorting to cost-cutting measures to stay afloat. They are luring travellers by offering return travel guarantee amid evolving COVID-19 rules and regulations around travel. A combination of these measures along with safety reassurance to passengers and staff by both airlines and airports should lead to a faster revival of European airlines.