The Chemicals Industry: Resilient During the COVID – 19 Pandemic
Published on 04 May, 2020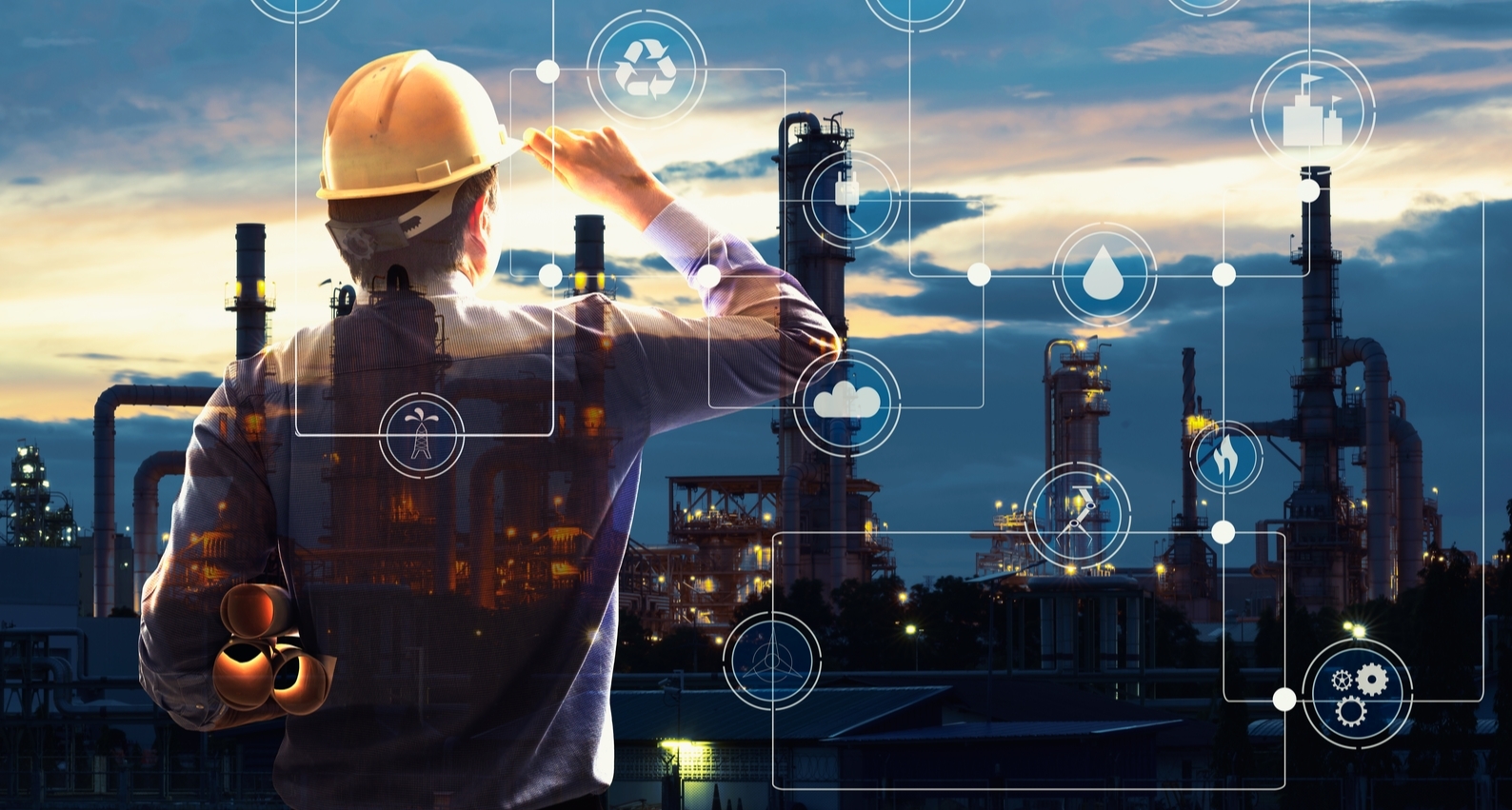 The COVID-19 outbreak has significantly impacted the global economy thereby altering the growth trajectories of most key sectors. However, the chemicals sector seems to have remained largely unscathed and is in fact poised to benefit from new opportunities that this pandemic has presented.
Overview of COVID-19 Impact on the Chemicals Industry
The coronavirus crisis, which initially emerged in China in November 2019, has snowballed into a global pandemic, with the virus infecting over 3.0 million and causing over 200,000 causalities. Lockdowns, which remain the only way to slow the spread, are leading to disruptions in businesses and demand, pushing major economies to the edge.
The Chemical Activity Barometer (CAB), a leading economic indicator created by the American Chemistry Council (ACC), declined for the second straight month in March 2020, registering an 8.9% fall from its peak. A fall of 3% or more and continuing decline for three consecutive months are generally believed to be leading indicators of impending recession. Decline in global chemicals production was, however, already noticeable in February 2020, when North America, Europe, and Asia Pacific registered a year-on-year degrowth of 1.5−3%.
Table 1: Global Chemicals Production by Segment (% Change)
Previous Month
Jan 20/Dec 19

Current Month
Feb 20/Jan 20

Year/Year
Feb 20/Feb 19

Year-to-Date
YTD 20/YTD 19

Global Total

-0.8

-2.4

-1.5

-0.2

Agricultural Chemicals

0.1

-1.3

-3.7

-3.3

Consumer Products

-1.1

-1.5

-2.0

-1.1

Basic Chemicals

-0.3

-1.5

-0.4

0.8

Inorganic Chemicals

-0.5

-2.2

-4.5

-3.0

Organic Chemicals

0.1

-0.7

-0.3

0.4

Plastic Resins

0.4

-0.8

1.4

2.5

Synthetic Rubber

-4.7

-7.3

-1.0

1.8

Manufactured Fibers

-3.3

-5.1

-1.4

2.1

Specialty Chemicals

-2.4

-5.0

-3.0

-1.3

Coatings

-4.9

-9.4

-4.6

-2.6

Other Specialty Chemicals

0.4

-1.8

0.1

0.1
Source: American Chemistry Council
Note: Seasonally adjusted, three-month moving average
Production of industrial coatings, inorganic chemicals, and agricultural chemicals has been the worst hit, primarily on account of shutdowns witnessed across China during early 2020. This loss of production is also reflected in low global capacity utilization, which, for the first time since August 2009, slipped below 80% to nearly 79%.
While the pandemic continues to rile global markets, China seems to be slowly emerging from its shutdown. Lockdowns across key production centers have been lifted and employees are returning to work. These developments have kindled hope of recovery across the chemicals industry globally. However, demand-supply dynamics in a post-COVID-19 world might undergo fundamental changes across most end-use sectors and thereby alter market fundamentals across different segments of chemicals.
Basic Chemicals/Petrochemicals
China dominates the global petrochemicals market, accounting for over 40% of total global production. Its share in the global supply of basic petrochemicals such as benzene (33%), propylene (33%), and paraxylene (60%) has almost doubled since 2010. Therefore, any impact on supply dynamics in China would have widespread repercussions on global petrochemicals markets.
At the beginning of the outbreak, petrochemicals production in China did take a hit. However, production was never significantly impacted for long owing to the quick rebound in economic activity, which caused a negligible impact on supply. Furthermore, as export markets are currently grinding to a halt, China is already witnessing a huge pile-up of petrochemicals inventory. Moreover, as cracker expansions are expected to proceed as planned, supply would continue to increase, thereby creating a surplus that would lead to a plunge in the prices of petrochemicals.
The global supply of petrochemicals is therefore not expected to be impacted by the COVID-19 pandemic.
| | |
| --- | --- |
| Chart 1: China's Polyolefin Capacity | Chart 2: China's BD Capacity Outlook |

Chart 3: China's Fiber Feedstock Capacity

Source: News Articles, ChemOrbis, Chemweek, Aranca Analysis

However, the petrochemicals market is experiencing a rapid deterioration on the demand side. Most of the industry's key end-use sectors have been highly impacted by the reduction in demand in domestic as well as international markets.
Table 2: Impact on End-Use Sectors Over 2020−21

Source: Aranca Analysis
Chart 4: Key Applications for Petrochemicals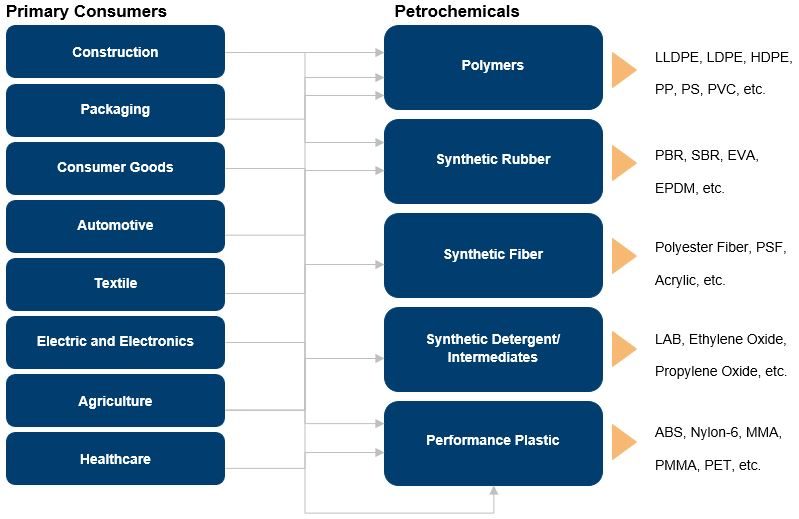 Source: Aranca Analysis
The slowdown in demand is expected to be more pronounced for applications related to the automotive, textiles, and construction sectors. Demand for packaging is closely linked with economic growth and the level of industrial activity. However, part of this decline is being offset by customers stockpiling packaging products, which is causing a temporary spike in demand. At the same time, segments such as packaging for food and pharmaceutical industries and applications such as medical devices continue to witness robust demand.
In the base-case scenario, if the outbreak is contained within two quarters, demand for petrochemicals is likely to rebound, albeit gradually. Applications across the packaging and healthcare sectors are expected to be the biggest beneficiaries of this rebound. On the other hand, demand erosion across the automotive and construction sectors is likely to continue, consequently lowering the demand for petrochemicals.
Table 3: COVID-19 Impact on Basic Chemicals/Petrochemicals
| Impact on Demand | Impact on Supply | Overall Impact of COVID-19 |
| --- | --- | --- |
| High | Low | Moderate |
| Low demand from key applications, such as the automotive and construction sectors, to continue | No threat of disruption; supply expected to increase over 2020−21 | No major impact on the industry |

Specialty Chemicals/Intermediates
Supply chains of specialty chemicals are closely intertwined, and production majorly depends on Asian manufacturers. During the past decade, increasing regulatory oversights had forced many western chemicals manufacturers to outsource production to Asian countries. However, given the disruption caused to their supply chains on account of the coronavirus outbreak, there has been a conscious effort to reorganize manufacturing strategies and shift production back home or to a lesser risk-prone geography. These forced changes have curtailed the expansion plans of many specialty chemicals manufacturers, which would consequently disrupt the supply landscape. Some sub-segments of specialty chemicals, such as coatings and pharma intermediates, were already experiencing the impact of regulatory measures in markets such as China. The ongoing pandemic is expected to further accentuate the pressures, which would reflect in low production growth across these segments in 2020.
On the demand side, the specialty chemicals segment is not expected to be much impacted by the COVID-19 outbreak. Given that specialty chemicals are leveraged in applications across a range of end-use sectors, demand slowdown across some end markets is expected to be off-set by an increase in demand from other markets. Applications in sectors such as food and feed, home and personal care products, and packaging are likely to increase, mainly driven by increased consumer spending on these products during the pandemic.
Table 4: COVID-19 Impact on End-Use Sectors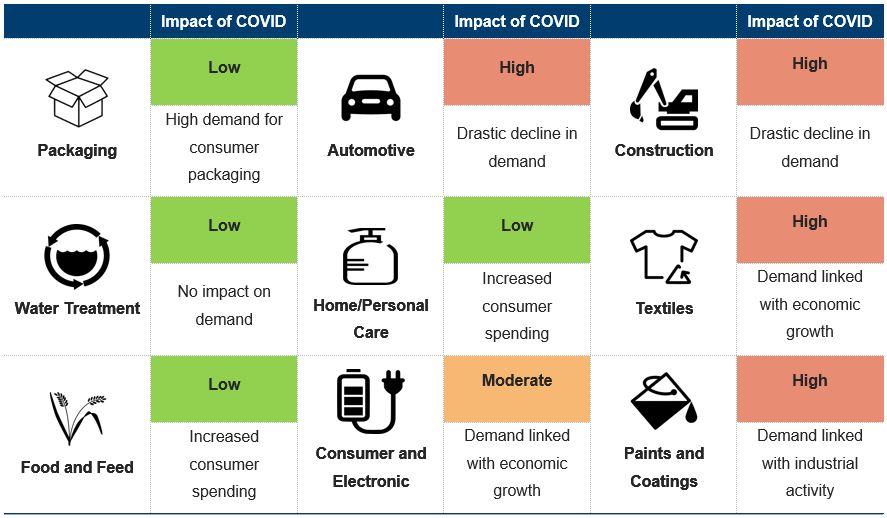 Source: Aranca Analysis
Furthermore, compared with basic chemicals/petrochemicals, demand for specialty chemicals is geographically well-diversified, which reduces the impact of the COVID-19 outbreak on the segment. Therefore, a slowdown in demand from some developed markets across Europe and the US is expected to be balanced by continued demand from emerging markets in Asia.
Table 5: COVID-19 Impact on Specialty Chemicals/Intermediates
| Impact on Demand | Impact on Supply | Overall Impact of COVID-19 |
| --- | --- | --- |
| Moderate | Moderate | Low |
| Low demand from some applications likely to be off-set by increase in demand from others | Supply chains expected to be re-organized with production shifting from China, thereby impacting supply volumes in the medium term | No major impact on the industry; production continues as usual with insulated demand |

Agri-Chemicals
Up to the last quarter of 2019, the global USD 60 billion agri-chemicals market had been growing steadily at around 3−4% year-on-year, mainly driven by increased demand in key markets such as India and Brazil coupled with implementation of reforms related to product mix in China. Furthermore, increased exports from Eastern Europe, mainly Russia and Ukraine, had been driving growth of the agrochemicals market in Latin America and EMEA. At the macroeconomic level, factors such as population growth as well as rising urbanization, growing demand for food and protein production, and decreasing per capita arable land had led to greater emphasis on agricultural output improvements through increased efficacy of crop protection products.
Typically, an active chemical ingredient is produced by the contract manufacturer and the end product is formulated closer to the point of consumption. In anticipation of the 2020 crop season, much of the agri-chemicals had already been formulated and shipped, thereby creating an inventory buffer that would shield the market from any supply-side disruptions in Q2. On the supply side, many agri-chemicals producers were highly dependent on production outsourced to Asia. Over the past decade, China and India have emerged as key destinations for production of advanced intermediates and herbicides.
Due to this dependence on India and China, concerns of agri-chemicals manufacturers in Europe and US are increasing in the current COVID-19 pandemic scenario. While there is no immediate risk of supply disruption, agri-chemicals companies in western markets expect an impact in Q3 and Q4 if the pandemic is not contained by then. Global lockdowns have also severely impaired logistics networks, thereby limiting the ability of agri-chemicals manufacturers to respond to any supply disruptions. Given the essential nature of agricultural activities, governments worldwide are prioritizing aid to the sector. Phased relaxation from trade curbs and lockdowns is likely to aid agri-chemicals manufacturers in building inventory for the next phase of demand.
Hence, while the coronavirus outbreak does not pose an immediate threat of disruption to this segment, market participants are maintaining a cautious stance and closely monitoring developments.
Table 6: COVID-19 Impact on Agri-Chemicals
| Impact on Demand | Impact on Supply | Overall Impact of COVID-19 |
| --- | --- | --- |
| Low | Low | Low |
| Agricultural activity across key markets remains robust, thereby maintaining steady demand | Supply chains expected to be re-organized with production shifting away from China, thereby impacting supply volumes in the medium term | No major impact on the industry; production continues as usual with insulated demand |

In summary, while demand concerns might re-emerge if the crisis prolongs, for now, the chemicals industry remains insulated from any significant slowdown. Over the medium term, the industry will witness transformations, as manufacturers seek to reorganize their supply chains and customers work toward reducing their dependence on China. However, this reorganization is not expected to have any significant impact on the supply side.
Overall, the industry seems to have weathered the COVID-19 outbreak relatively better than most other industries and is set to benefit from the rebound – as and when it occurs.