Social Distancing: Trigger to the new age Robotic Revolution?
Published on 24 Apr, 2020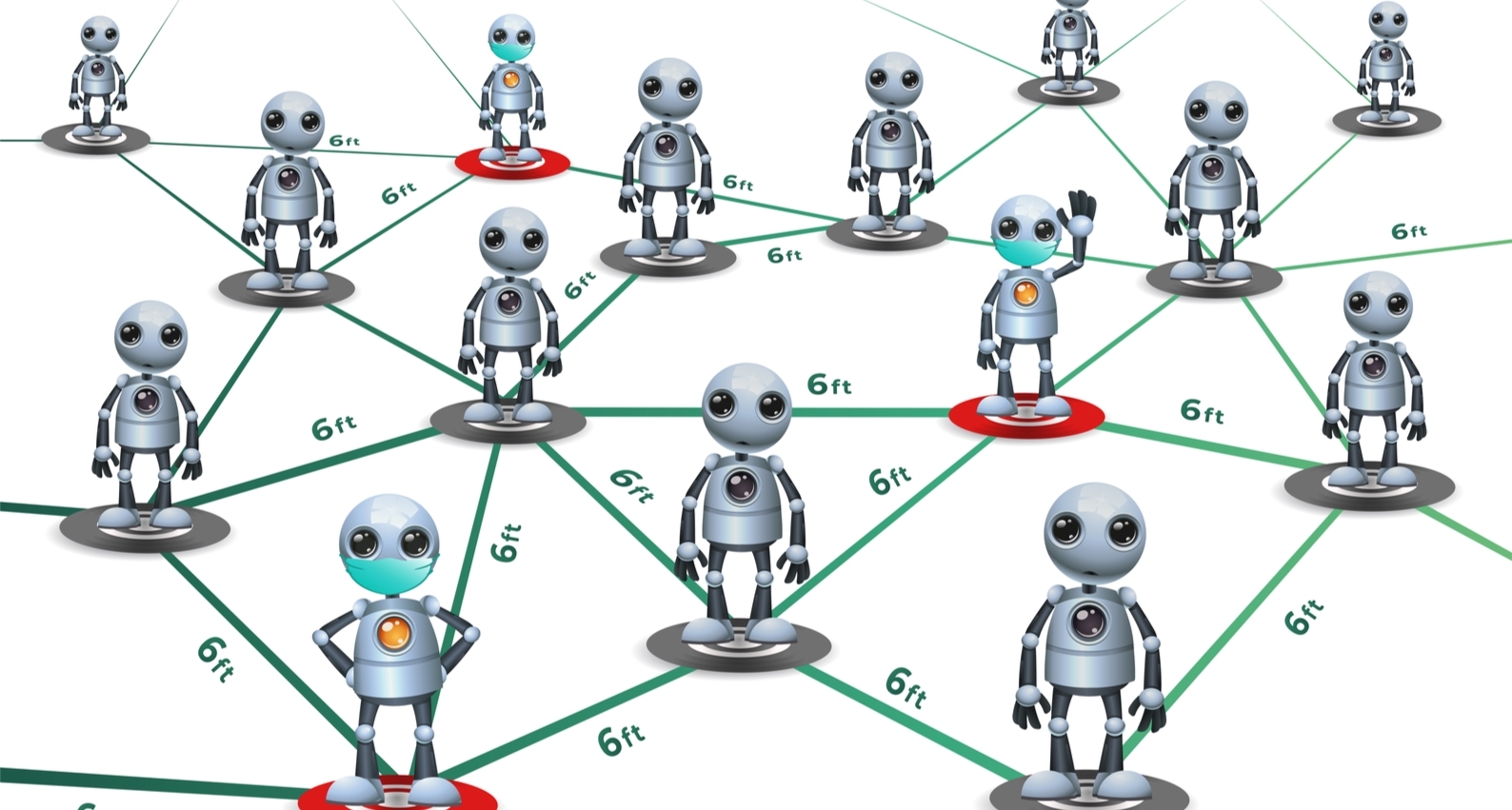 The COVID-19 pandemic has turned out to be like an apocalyptic movie, complete with the threat of large-scale, global annihilation from the viral spread. It has nearly extinguished economic activity and confined scores of people to their homes. In this scenario, robotics/automation could come to our rescue, saving human lives by enabling continued social distancing. Can robots save the global economy from collapse and help improve productivity? Will robots become the new normal?
We believe robots could be the new world norm – while the world practices social distancing, robots could take over the planet (at least operations that can be automated).
COVID -19 has profoundly affected economies and societies worldwide. It has changed the way we function and brought in a massive cultural change – social distancing – the new normal. Behavioral changes adopted for survival during crises often persist, even after the threat fades. This global outbreak is transforming our lifestyle, a day at a time.
Robots could be the catalyst to this transformation. While social distancing is effective in slowing the spread of the outbreak and saving human lives, it has slammed down on labor-intensive industries. Businesses have lost much revenue due to the economic shock from the lockdown enforced in almost every country. The crisis has made human resources expensive to retain. In this scenario, firms can explore the option of deploying robots to manage costs and the bottom line.
The outbreak has hit the functioning of businesses worldwide. Several segments have thus fast-tracked their adoption of robots for tasks such as grocery delivery, patrolling of malls, and disinfecting of hospitals.
Aranca believes many industries will turn to robots for all tasks that do not need human intervention.
Here are some key segments that Aranca believes would benefit from deploying robots.
Diagnostics and treatments: The ongoing pandemic has overwhelmed the global healthcare system with the exponential rise in cases. The number of healthcare professionals battling the outbreak is far less than the number of patients contracting the infection.

As per a World Health Organization (WHO) estimate, there is less than 1 physician per 1,000 people worldwide. This number is even more disproportionate in highly populous nations such as India and China.

Currently, cases are doubling every six days, a rate that is unsustainable for the healthcare arena, given the limited number of doctors and medical staff available. The shortage of trained staff as well as their safety are grave concerns to be addressed at the earliest.

Robots can be of massive help in this space. They can be deployed for screening, diagnostics, and administration of treatment, which would reduce the burden on healthcare workers. For instance, tests have proved that a robot can conduct diagnostics without human intervention; it could efficiently conduct approximately 4,000 tests a day. Robots can also monitor patients' health, administer the required medication and treatment, thus reducing the risk of contamination that medical caregivers face.

Sterilization and sanitization: As per CDC estimates, even before the Coronavirus pandemic, the US reported over 99,000 deaths each year attributed to hospital-acquired infections.

Automation for disinfecting spaces is a great opportunity for robots. Health workers can remotely, safely control robots from a distance; the robots emit an ultraviolet light over an area to sanitize it, thus eliminating the need for close human intervention. Robots can also be deployed to disinfect larger spaces such as cities, streets, and homes.

Surveillance/security: Security robots are becoming a common sight at airports, malls, and offices. The use of robots for security and surveillance will further intensify with upcoming applications in espionage prevention, explosives detection, patrolling, and rescue operations. Robots in security can aid personnel by patrolling and providing mobile CCTVs. The corporate budget for commercial security spending is increasing and there is huge potential for robots in the security space. Aranca thus expects opportunities for robotics in the security space to rapidly scale up.

Continuous production: Factories and businesses are currently at a standstill due to the worldwide lockdown. The supply chain in sectors such as FMCG and pharmaceuticals sectors has been badly hit. A survey undertaken by the American Chamber of Commerce, Shanghai revealed that nearly 50% of the companies surveyed in the province said getting workers to run production lines was their biggest challenge yet. Automation in this instance can ensure continuity and productivity, even if an entire country is in lockdown and there is a lack of personnel to run repetitive operations.

Eldercare: As per the World Population Prospects 2019 (United Nations, 2019), 1 in 6 people worldwide will be age 65 or more by 2050, up from 1 in 11 in 2019. This increase in the geriatric population, specifically in developed countries, is expected to drive the global eldercare robotics market.

The shift in demographics is tilting the scales in favor of robotics to provide eldercare. Robots can set medication reminders, conduct remote monitoring (robot nurse), be companions, etc. The possibilities in the eldercare space are many.

As per World Health Organization- About 95% of COVID-19 deaths were of people older than 60 years; more than 50% of all deaths were of those aged 80 plus. These gruesome statistics suggest that the elderly require additional protection and care. Given the rising number of elders in most developed countries, robots maybe the best choice to serve this aging group. As of now, many elders living alone are facing challenges in the lockdown. Robots could be a great help at such times.

Currently, Japan is funding the development of elder care robots to fill a projected shortfall of over three hundred thousand specialized workers by 2025.

Groceries: Retail giants like Walmart and Amazon have already deployed automation to accelerate profitability and cut costs. Other stores will soon follow this trend. Additionally, ahead of the pandemic outbreak, As per ABI Research- it is estimated that around 4 million commercial robots will be deployed across 50,000 warehouses by 2025 due to the accelerating demands for delivery services from e-commerce channels.

COVID-19 leaves behind a psychological remnant – people are now wary of proximity to others, especially at spots that were formerly popular hangouts, such as shopping spaces. Automation and robotics robots can calm this stress, thus accelerating the adoption of robots in this space.

Amazon recently unveiled the Amazon GO convenience store, a robot-run supermarket deploying just three human workers. Walmart has similarly deployed robots at over 1,000 stores. These robots perform functions ranging from scrubbing floors to stocking shelves. As per a CNN Business report, Walmart has already deployed thousands of robots across 5,000 stores in the US. Along with in-store robots, these companies are also deploying drones for faster delivery of goods. Deploying robots across the retail value chain will reward companies with a sustained competitive advantage over those not using robotics.
The turbulent start to the year could be an indication of the massive change in interactions for social and business purposes. As the pandemic leaves behind a psychological impact, we may fear being in the proximity of others. Robots could thus well become a part of our lives and the 'new normal'.