Organic Food - A Growing Trend Amid the Pandemic
Published on 06 Oct, 2020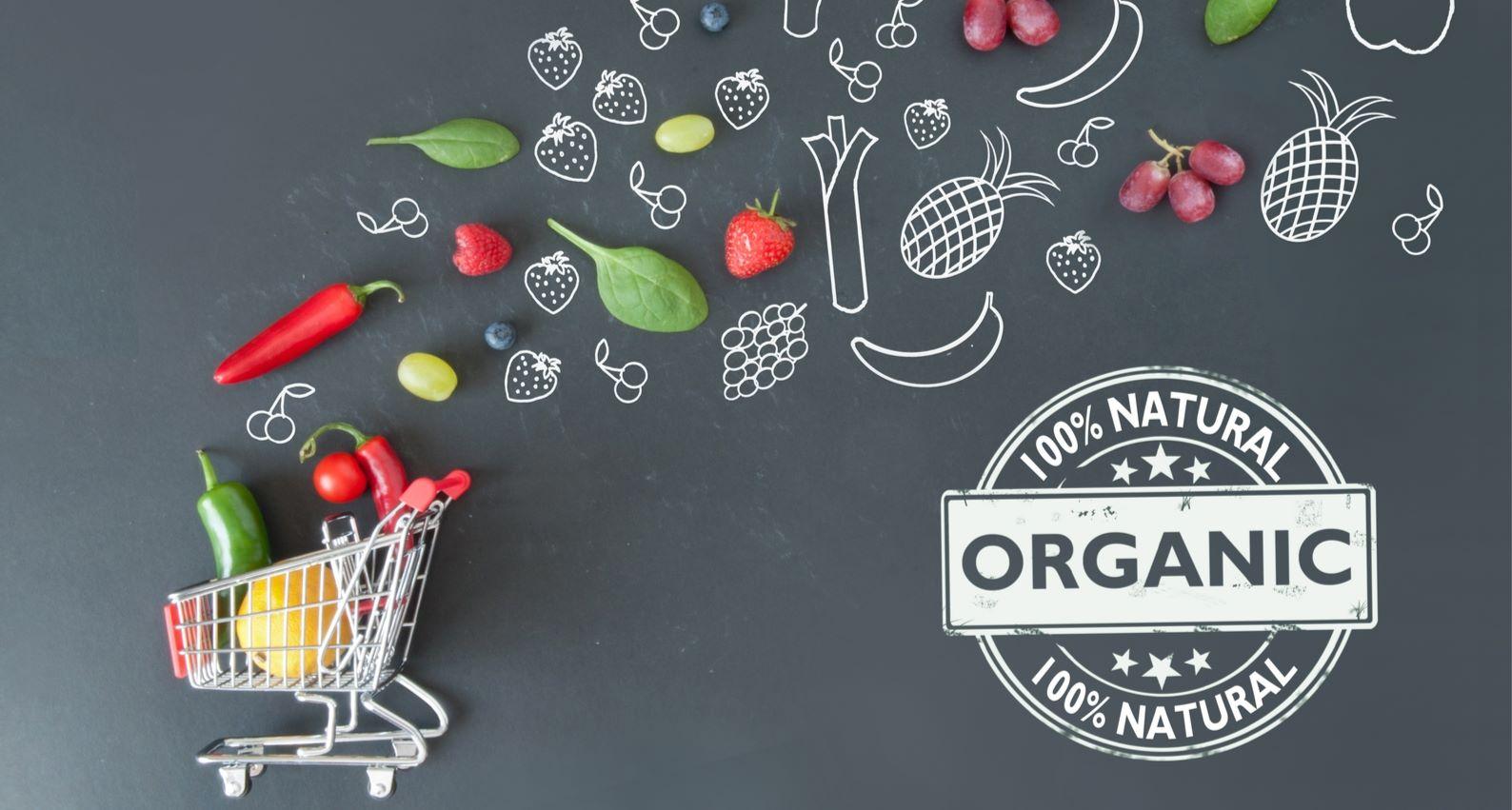 Health, fitness, and organic have been buzzwords on the global food scene for some years now. The recent pandemic has further accorded prominence to the concept of healthy living via food choices. This trend has spurred an increase in the demand for health supplements, fitness programs, and organic food. Data shows that demand for organic foods, which was already on a steady rise over the past few years, has suddenly spiked in the backdrop of the pandemic. So, is this a short-term trend or a long-term effect that would outlast the pandemic?
Market Characteristics
The demand for organic food has surged over the past few years. With people's increasing interest in healthy lifestyles, sustainable products, and natural ingredients, the sales of organic products, especially in the food category, have increased vastly. Although conventionally produced foods yet hold the lion's share of the market, the trend is slowly changing to accommodate more products that buck the trend.
Global Organic Retail Sales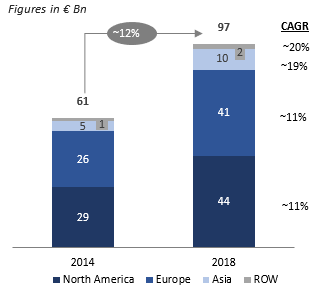 Source: FiBL Survey 2020 | ROW = Oceania, Africa, and Latam Regions
As per the recent FiBL survey results, the demand for organic food from emerging nations is higher than that from developed nations. Growth has been particularly high in Asian markets. Several countries in Asia were hit by multiple food scandals – such as the finding of melamine traces in dairy and infant formula, rotten meat, and sewage oil in food – which prompted many consumers to become more conscious of their eating habits.
Organic Packaged F&B Consumption Forecast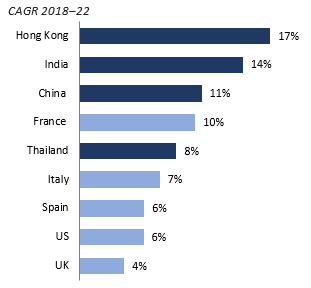 Source: Global Organic Trade
Apart from those mentioned, factors such as increasing retail distribution, rising consumer awareness of organic production methods, and news of popular food companies entering the segment have contributed to the high demand emerging from developing nations. Developed countries are also putting up a steady demand for organic foods. In 2018, retail organic product sales in Europe were valued at EUR40.7 billion. In fact, the EU is the world's second-largest single market for organic products, after the US. The sheer surge in the number of processors and importers in developed nations indicates a healthy adoption of organic food by consumers. Europe alone has over 400,000 organic food producers and 71,000 processors. In terms of per capita expenditure on organic food, developed countries are much ahead of the others, with Danish and Swiss consumers spending EUR312 annually, about six times more than the average European.
Factors Boosting Demand for Organic Food
The new-age consumer is more conscious of what they consume. Health, nutrition, and superfoods are highly popular terms among the fitness-conscious crowd.
The characteristics that appeal to this demographic are pushing up the demand for organic foods. Some of these characteristics are as follows.
Organic food avoids additives that have been previously linked to health problems such as heart disease, osteoporosis, asthma, food allergies, or hyperactivity.
Organic standards prohibit the use of genetically modified (GM) organisms or crops as food.
Tests of conventional foods have frequently shown increasingly high levels of pesticides. Meanwhile, organic food is farmed with natural resources, without using chemical fertilizers or pesticides.
Organic farming is an environment-friendly, sustainable option.
No animals are harmed while growing or processing organic food.
Organic food is believed to be more nutritious and healthier than conventionally grown food.
Due to the many benefits its offers, organic food is fast becoming a regular feature in many kitchens worldwide. This trend received a further boost when the global pandemic hit countries.
COVID-19 and Organic Food Market
It has been historically proven that epidemics/pandemics become the tipping points for consumers to seek a healthy lifestyle and thus better food options versus regular products. Informed customers in a post-COVID-19 era are reading up food labels to find the most nutritious options. As 'farm fresh', 'environment-friendly' options are deemed more wholesome, organic food products are flying off the shelves.
Several food retailers witnessed a surge in the demand for organic foods and clocked unprecedented volume sales during the initial months of the pandemic. Whole Foods Market, world's largest natural foods retailer, had to curb its online order taking due to the overwhelming demand. In the UK, Abel and Cole, a popular organic foods retailer, registered a 25% increase in its sales orders. In France, some organic foods retailers reported sales growth of over 40% since COVID-19 hit their shores.
In India, organic food retailers had a stellar performance as consumers clearly opted for healthier food. Pan-India retailer, Naturally Yours, witnessed a 70–80% growth in the demand for organic foods. Other retailers – such as Suryan Organic, I Say Organic, Healthy Buddha, Nourish Organics and Natureland Organics – also registered strong growth in their sales.
In the US, organic produce clocked a 50% increase in sales within the first quarter of this year. Demand for various organic food products surged, including that for organic packaged and frozen foods. This boost was seen after 2019, which was already being called the "banner year" for organic food due to high sales volumes.
Challenges in Organic Foods Market

Shorter shelf life – Ironically, the very lack of chemicals that make the produce completely organic also works against it. Chemicals and preservatives help keep food fresh during transit and while on the shelf. However, organic produce spoils fast as decay is a natural process for all food as soon as it is harvested. Therefore, organic products generally have a shorter shelf life than conventionally grown or sourced foods. At times, retail merchandisers take on huge losses by having to trim their stock of organic produce and avoiding huge inventories. The transportation and distribution of organic food products is also difficult as it requires the involvement of multiple teams at different levels of the value chain.
Price competitiveness – Organic farmers usually run small businesses; it is difficult for them to achieve economies of scale in transportation, distribution, and cold chain efforts. Additionally, organic farming is a time-intensive process with obstacles such as higher operating costs, a labor-intensive process, and devastating pest attacks playing villain to their heroic efforts. Due to these challenges, organic farming takes up barely 70 million hectares out of an estimated 4.8 billion hectares of global cultivable. These factors drive up the price of the end-product, thereby reducing any negotiating power of buyers.
Fake products – The organic food industry also battles fake products. With the help of incorrect labelling, non-organic foods are often touted as organic. Manufacturers and distributors have now implemented measures to reduce the risk of fake organic claims, but it is a long battle and needs regulatory intervention at various stages.
Will Organic Foods Rule the Market?
The onset of the pandemic drove a change in consumer behavior, tilting its towards the 'health halo' effect that organic foods carry. Technically, the term 'health halo' implies an overestimation of the benefits of an item based on a single claim. In the backdrop of epidemics or pandemics, consumer buying behavior skews towards accessing the most nutritious, wholesome foods available at the time.
Though organic food is a sustainable option, it is not necessarily the most nutritious choice. The many organic food brands that have mushroomed recently may cleverly use words to portray their product as a repository of health benefits. The fact remains that the key benefit of all organic food is the lack of chemicals – it may or may not be the most nutritious option. Meanwhile, the trend of eating organic ('healthy' by implication) is still gaining traction due to its natural ingredients and the fresh-from-the-farm tag.
In the current period, the extraordinary spike in demand for organic food could be well credited to the pandemic but it is highly likely that, post this surge, the demand will stabilize and this segment will regain its normal growth rate.