Digital Therapeutics: Transforming Medical Treatment Experience
Published on 18 Jan, 2021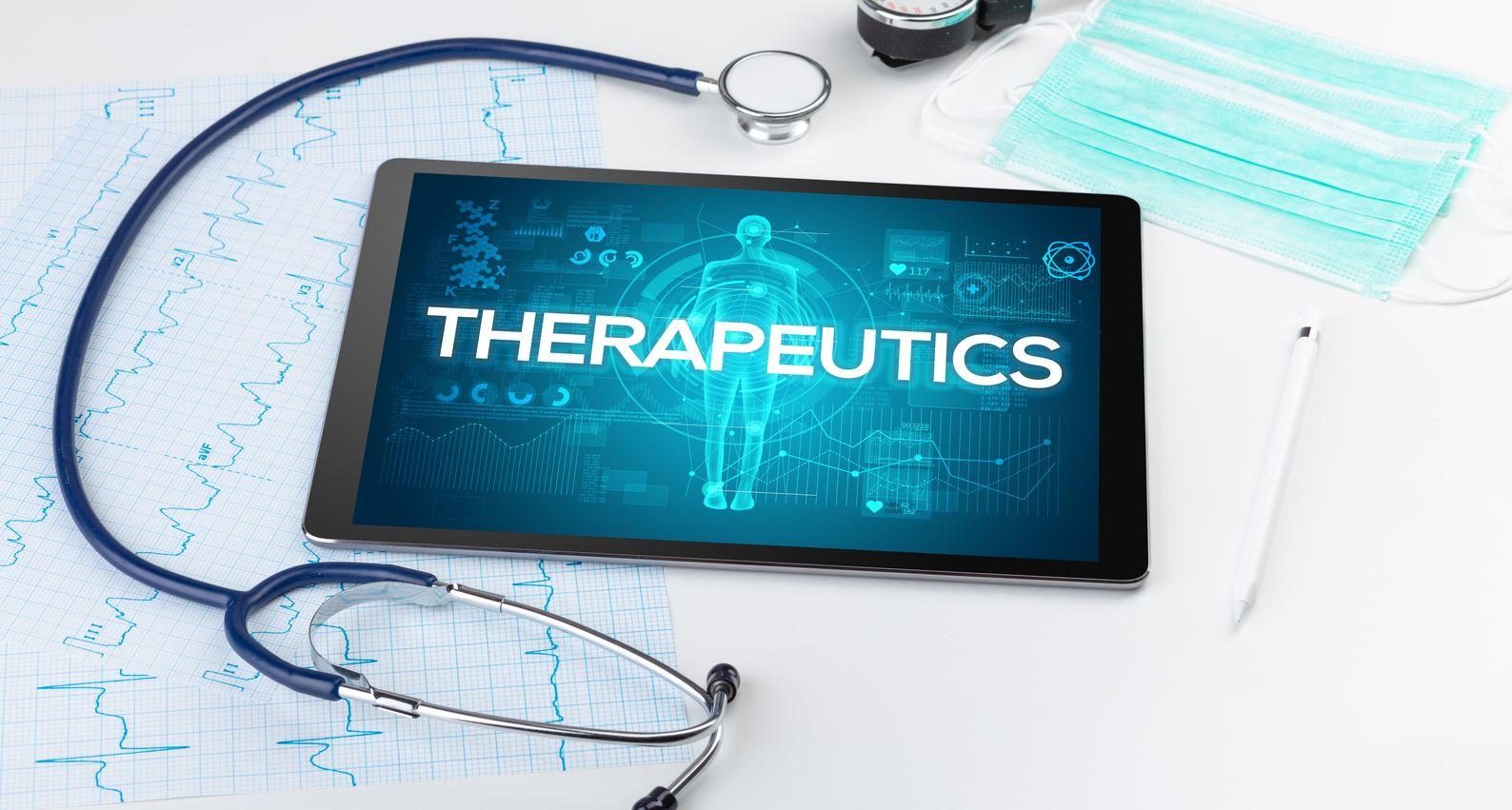 Digital therapeutics (DTx), an emerging segment of the digital health industry, comprise software- and evidence-based therapeutic interventions; these interventions can prevent, manage, and treat medical disorders such as chronic diseases. DTx enhance drug efficacy using advanced technologies such as artificial intelligence, thereby enabling the transformation of medical treatment experience. The way forward for industry stakeholders is to facilitate the adoption of DTx. The solution providers must identify the current gaps in medical treatment, pharma companies should find the right technology partners with experience in DTx, and insurance companies must provide coverage for DTx products.
Introduction
The digital health wave is characterized by various revolutionary technologies such as telehealth platforms and m-health applications. These technologies are being applied in a range of areas, including diagnosis, real-time patient monitoring, and treatment. The increasing health consciousness, changing lifestyles, increasing burden of non-communicable diseases NCDs, and impact of COVID-19 have driven the adoption of these technologies. An emerging segment of digital health that is capable of transforming the medical treatment experience is Digital Therapeutics (DTx).
DTx use software for the prevention, management, and treatment of medical disorders, especially chronic diseases. DTx products are used independently or in conjunction with medications, devices, or other therapies. For example, Nightware is a digital therapeutic device intended for patients suffering from nightmare disorder or for those having nightmares from post-traumatic stress disorder. The device is integrated with Apple Watch whose sensor technology monitors the patient's heart rate and body movement during sleep. The device analyzes the heartbeat data. On detecting nightmare, the device sends vibrations through Apple Watch which helps the patient improve the sleep pattern. This device is used in conjunction with prescribed medications; it is available only by prescription and is intended for use at home. Unlike other digital health tools, DTx products require clinical evidence, real-world outcomes monitoring, and approval from regulatory bodies. The global DTx market was valued at USD 2.7Bn in 2019 and is expected to register a CAGR of 20% during 2019–26.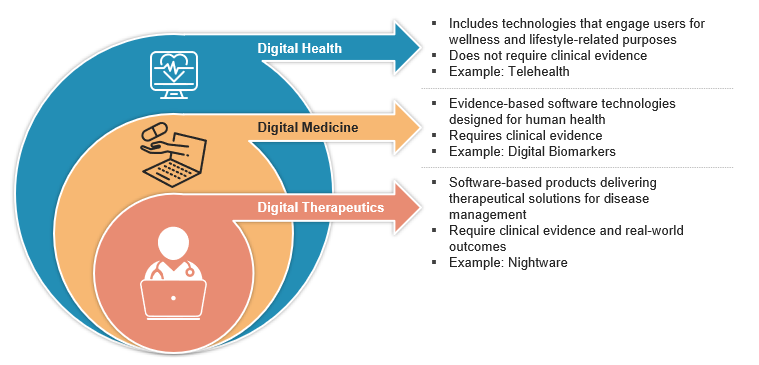 Moving Toward Personalized Care
Pharmaceutical and MedTech companies are devoting considerable efforts to develop promising digital solutions to improve the current therapies and introduce new ones to ultimately bring value to patients. The combination of AI and sensor technologies has the potential to augment existing therapies and thus to transform personalized patient care. This creates opportunities across different therapy areas including diabetes, obesity, cardiovascular, respiratory, smoking cessation, and central nervous system (CNS), among others, enabling the transformation of traditional medicine-based treatment.
Some of the companies that have developed or are developing DTx products are mentioned below.
| Company Name | Therapy Area | Product Name | Description |
| --- | --- | --- | --- |
| Akili Interactive | CNS | Endeavor | Uses the adaptive sensory stimulus software for attention-deficit/hyperactivity disorder treatment, delivered through an engaging video game experience |
| Big Health | CNS | Sleepio | Provides digital sleep improvement programs featuring cognitive behavioral therapy techniques |
| Dario Health | Diabetes | Dario Engage | A digital platform to monitor and manage diabetes populations |
| Propeller Health | Respiratory | Propeller | Helps patients suffering from asthma and chronic obstructive pulmonary disease monitor the usage of medications and provides insights on disease management |
| WellDoc | Diabetes | BlueStar | A digital health tool enabling individuals with type 2 diabetes to improve self-management and health outcomes through real-time actionable insights |

Pharmaceutical companies are building such capabilities by collaborating with IT companies; this facilitates the development of a new business model beyond traditional medical treatment. For instance, Voluntis and Bristol-Myers Squibb have collaborated to develop DTx solutions for cancer patients. DTx also significantly benefit healthcare providers. DTx solutions provide clinically proven therapies and enhanced clinical decision-making capabilities based on real-time data; moreover, DTx help to monitor patients' health outcomes. Overall, DTx provide better access to healthcare and significantly reduce the cost. Meanwhile, the tech companies can use this as an opportunity for gathering large volumes of data, which could be used to conduct population-based studies and improve the healthcare infrastructure. Apple and Amazon are exploring healthcare in detail.
Digital health companies have helped the US Food and Drug Administration (FDA) to understand the positive impact of advanced technologies on healthcare. In 2017, the FDA published a Digital Health Innovation Action Plan, declaring that it is planning to remodify the regulatory policies and processes to meet the needs of digital health technology. Subsequently, in the same year, it approved the first software-based therapy for addiction developed by Pear Therapeutics and Sandoz, a division of Novartis. Later, the FDA launched a pre-certification pilot to address the regulatory challenges for software-based medical devices.
Way Forward
The road ahead for pharmaceutical companies, healthcare providers, and other industry stakeholders such as insurance companies is to facilitate the adoption of DTx. Major areas of focus should include:
Proving the efficacy of DTx solutions for the treatment of chronic diseases which is heavily dependent on the collection of real-world data
Ensuring DTx products are economically sustainable in the long run than traditional medicinal treatment
Inclusion of DTx products for reimbursement as it would boost the adoption of DTx
Additionally, for the successful adoption of DTx, DTx solution providers should identify the indications where traditional treatment methods have been ineffective (low drug efficacy or side effects). The ability of digital therapies to manage diseases independently or in conjunction with medications increases drug efficacy, besides reducing costs; this results in better patient outcomes. To enable DTx-driven transformation, pharma companies should identify the right technology partner. The partner must have technical experience in delivering DTx products and must understand patients' journey and the regulatory processes. The companies must form a collective vision to optimize health outcomes and deliver health goals while maximizing profits.