Are Electronics and Automotive Manufacturing companies shifting their base from China to Vietnam?
Published on 04 Mar, 2020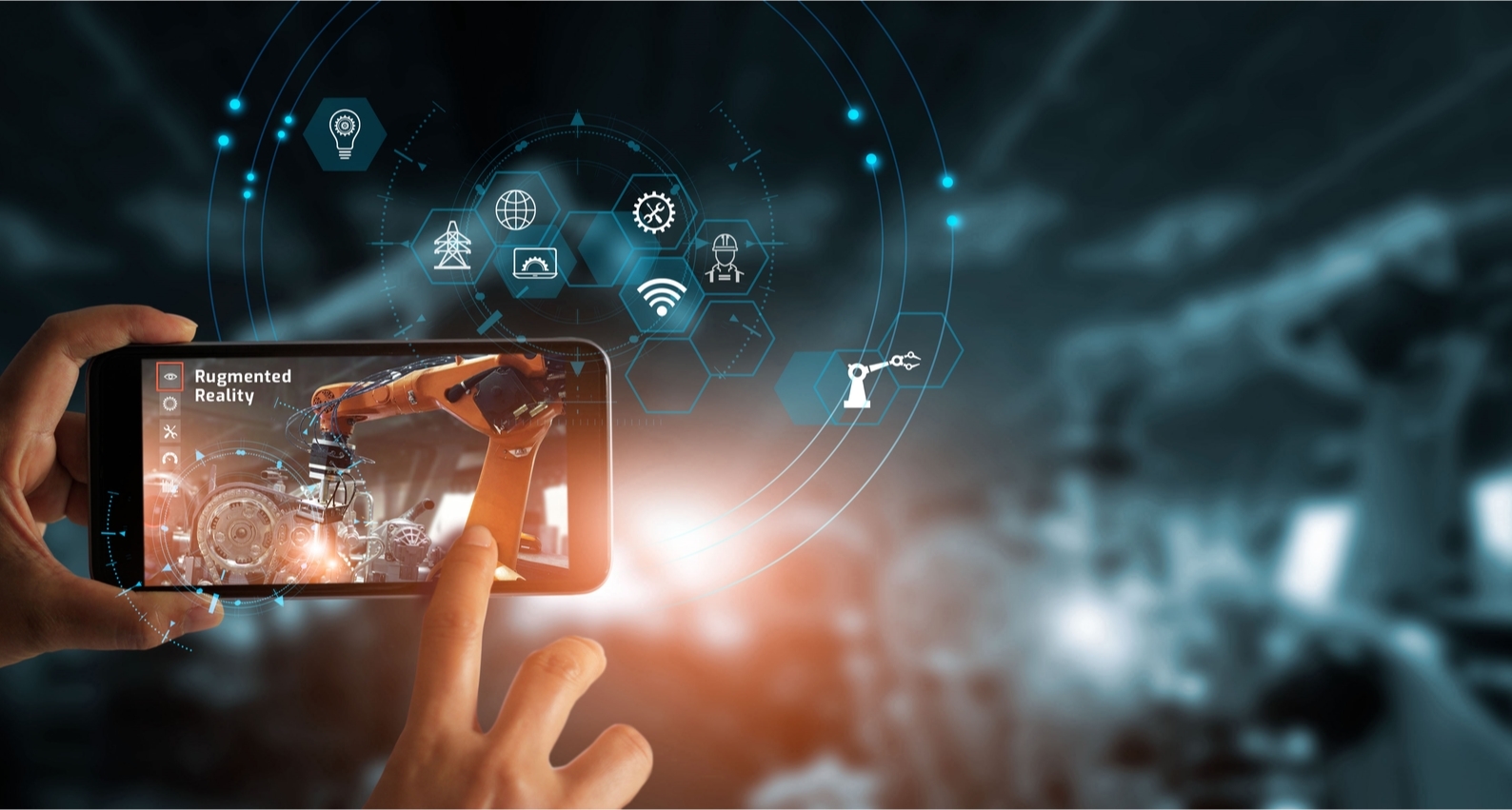 Vietnam has emerged as a favorable alternative production destination for the electronics and automotive industries. This is due to several factors: the country's robust economic growth (+6.8% YoY in 2019, driven by increasing FDI), increase in imports (+10.5%) and exports (+7.3%), multiple free trade agreements, rise in industrial production, low raw material costs, and high availability of raw materials and suppliers.
Until now, China has been the production hub for electronics and automotive due to abundant availability of raw material and technological innovations. Other contributing factors are easy accessibility to skilled labor and business-friendly laws implemented by the government.
Due to tensions created by the US-China trade war and increasing cost of labor, this scenario is changing. Many manufacturing companies have been forced to relocate their production hubs to other low-cost Asian countries such as India, Vietnam and Malaysia. The current outbreak of coronavirus has also hit the Chinese manufacturing industry.
In 2019, more than 50 multinational companies decided to relocate their manufacturing operations (partially or fully) to Southeast Asia from China. The reasons varied from avoiding US tariffs to benefiting from low production costs to maintaining proximity with key markets. Many China-based manufacturers realized how this shift could be detrimental to them and opened transfer assembly lines in these countries. Hence, while core manufacturing operations are still concentrated in China, as some customers vouch for the superior technical skills of the Chinese, the assembly of parts is taking place in a sister facility outside.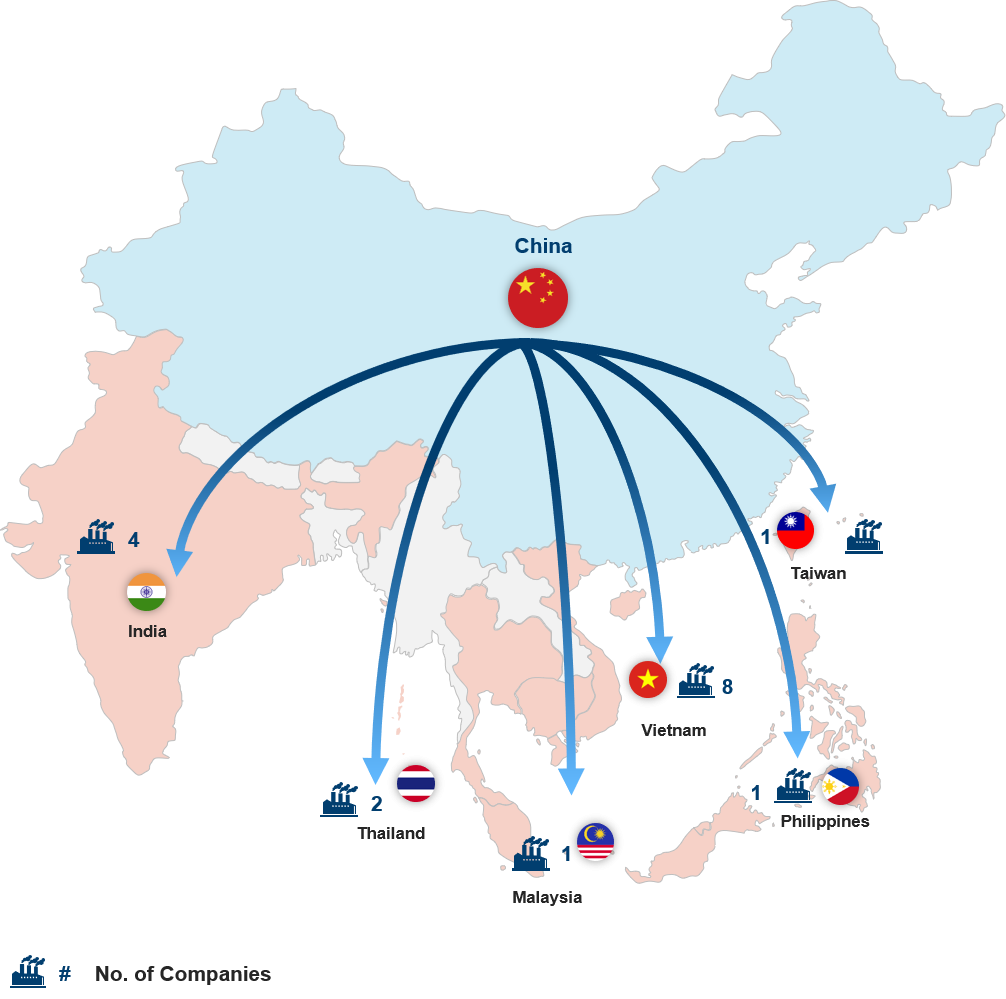 Key Manufacturers and Alternate Southeast Asian Production Hubs
Vietnam

Intel Corp. shifted the production and assembly of platform controller hubs to Vietnam.
Intel's most advanced parts, the central processing units, are manufactured in the US and Israel. The manufacturing of secondary parts as well as assembly is primarily in China or Vietnam.

LG Electronics shifted its smartphone production to Vietnam.

Alphabet-owned Google is moving the production of its smartphone brand Pixel for the US market to Vietnam. Eventually, it may move the production of most of its hardware for the US market also to Vietnam.

Japan's Nintendo is planning to shift a portion of its video game console production from China to Vietnam.

TCL is in the process of shifting its TV production to Vietnam.
Mitsubishi has opened its assembly plant in the southern province of Bình Dương, Vietnam. ZF (automotive manufacturer based in Germany) has also opened its plant in Vietnam.

A sportswear supplier to Nike and Lululemon Athletica, Eclat has exited China due to unfavorable conditions, and set up shop in Vietnam.

Taiwan's Pegatron (Apple partner) partnered with Apple's two other iPhone assemblers in Vietnam, Wistron and Hon Hai Precision Industry. Focus is on developing manufacturing capabilities as well as expanding capacity in Vietnam.
| | India |
| --- | --- |
| | Samsung has closed its last mobile phone factory in China, citing rising labor costs and economic slowdown. It has started production of mobiles in India and aims to double the capacity from 68 million units a year to 120 million units a year by FY2020. |
| | Foxconn is shifting the mass production of iPhones from China to India as the labor cost in China is three times higher compared to that in India. |
| | Suzuki is considering sourcing vehicle components from outside China. |
| | Apple has previously produced low-cost iPhone models in India. Last year, it was reportedly considering shifting production of its more premium models to the country in order to avoid tariffs on imported smartphones from China. |
| | Thailand |
| --- | --- |
| | Electronics company Sony shifted its smartphone production from Beijing, China, to Thailand. |
| | Chinese tire maker Sailun Tire is shifting its manufacturing line to Thailand. |
| | Malaysia |
| --- | --- |
| | The company behind the Roomba robot vacuum cleaner is planning to shift initial line of manufacturing to Malaysia. |
| | Philippines |
| --- | --- |
| | Honda Motor's major car parts supplier Ftech is set to move its brake pedal production from virus-hit Wuhan, China, to the Philippines. |
| | Taiwan |
| --- | --- |
| | Minnesota-based Fastenal is shifting fastener production from China to Taiwan. |
Vietnam: The Biggest Winner
Increase in Imports from Vietnam
US imports from China fell by 16%, or $87 billion, during 2019, driven by the increase in US tariffs that significantly disrupted trade between the two countries. However, overall imports to the US only dwindled by $42.6 billion, or 1.7%, as other countries quickly seized the business opportunity that Chinese companies lost.
Vietnam has been the biggest winner with many US companies shifting to a reliable supply chain alternative for manufacturing. Imports to the US from Vietnam surged by 36%, or $17.5 billion, to more than $61 billion in 2019, followed by Taiwan (19%), France (10%), India (6%), the UK (4%), South Korea (4%), Italy (4%), Mexico (3%), Japan (1%) and Germany (1%).
Increase in FDI
Foreign direct investment (FDI) in Vietnam increased by 7.2% to $38 billion in 2019 YoY, with investments in processing and manufacturing accounting for almost half of this. Of the more than 100 countries investing in Vietnam, South Korea is the leader (invested $7.9 billion in 2019), followed by Hong Kong ($7.8 billion).
Malaysia is another gainer of the protracted trade war—China's investment in Malaysia's manufacturing sector increased four times over the last five years.
China topped the list of economies looking to invest in Thailand for the first time. Applications from China, valued at ฿262 billion ($8.5 billion), accounted for more than 50% of all FDI applications in the country, according to Thailand's Board of Investment.
Manufacturers Acquiring Stake in Vietnam-based Companies
Several companies are investing and acquiring stake in companies based in Vietnam to increase their production base as well as avail the benefits of low tariff. For example, Japanese electrical equipment maker Meidensha Corp. acquired 41% equity stake in Vietstar Industry Corp., one of Vietnam's top switchboard producers; with this, it has set up its product manufacturing base in the country for markets globally.
Favorable Government Regulations and Trade Practices
The European Parliament's International Trade Committee approved the EU-Vietnam Free Trade and Investment Protection Agreement in early 2020. This bears testament to the fact that not just the US, but the EU is also strengthening and scaling its trade partnerships with Vietnam as an alternative to China. In absolute terms, Vietnamese exports of services and manufacturing goods to the EU would increase by €15 billion, while EU exports to Vietnam are expected to grow by €8.3 billion by 2035. Additionally, the free trade agreement (FTA) is expected to generate 116,200 jobs in the EU by 2035.
Implementation of favorable policies by the government have contributed to Vietnam and India's growth as manufacturing hubs compared to other countries such as China, Singapore and Malaysia. Moreover, Vietnam has signed a number of bilateral and multilateral international agreements, including FTA. In July 2019, for instance, the EU signed a landmark free trade deal with Vietnam, the EU-Vietnam Free Trade Agreement (EVFTA).
High Availability of Labor and Low Wage Rates
Manufacturing labor rates in Vietnam are approximately 50% less compared to China, making it a cost-effective destination for electronics and automotive manufacturing. In January 2020, minimum monthly wages increased by 5.5%, after rising 5.3% in 2019, and currently range between $130 and $190. Vietnam has ~57.5 million workers across several industries, including manufacturing, agriculture, textile and fishing. Agriculture and fishing have a higher pool of labor, followed by manufacturing and construction. Most manufacturing laborers are located in Southeast Vietnam (Ho Chi Minh City), Red River Delta and Mekong region.
Availability of Infrastructure and Other Facilities
Japan's Mitsubishi Corporation and Nomura Real Estate have jointly invested in a housing development project developed by Vietnam's biggest business conglomerate Vingroup.
Besides lower cost, Vietnam's geographic location, facilitating connectivity with other countries, makes it a suitable manufacturing hub. In the north, it is connected to China, which ensures seamless supply of raw material. It is also connected to North America through the South China Sea and Pacific Ocean. Vietnam does particularly well in liner shipping connectivity—it ranks 19th in the world. The country has 44 seaports dotting its 3,260 km (2,030 mi) coastline, including the key ports of Hai Phong (North), Da Nang (Central), and Saigon (South).
Geographic location, low labor cost, availability of suppliers and raw material, favorable government regulations and free trade agreements have helped Vietnam to emerge as the perfect alternative manufacturing hub to China.