5G–MEC: Where Is the Opportunity and Who Will Rule This Space?
Published on 04 Jul, 2022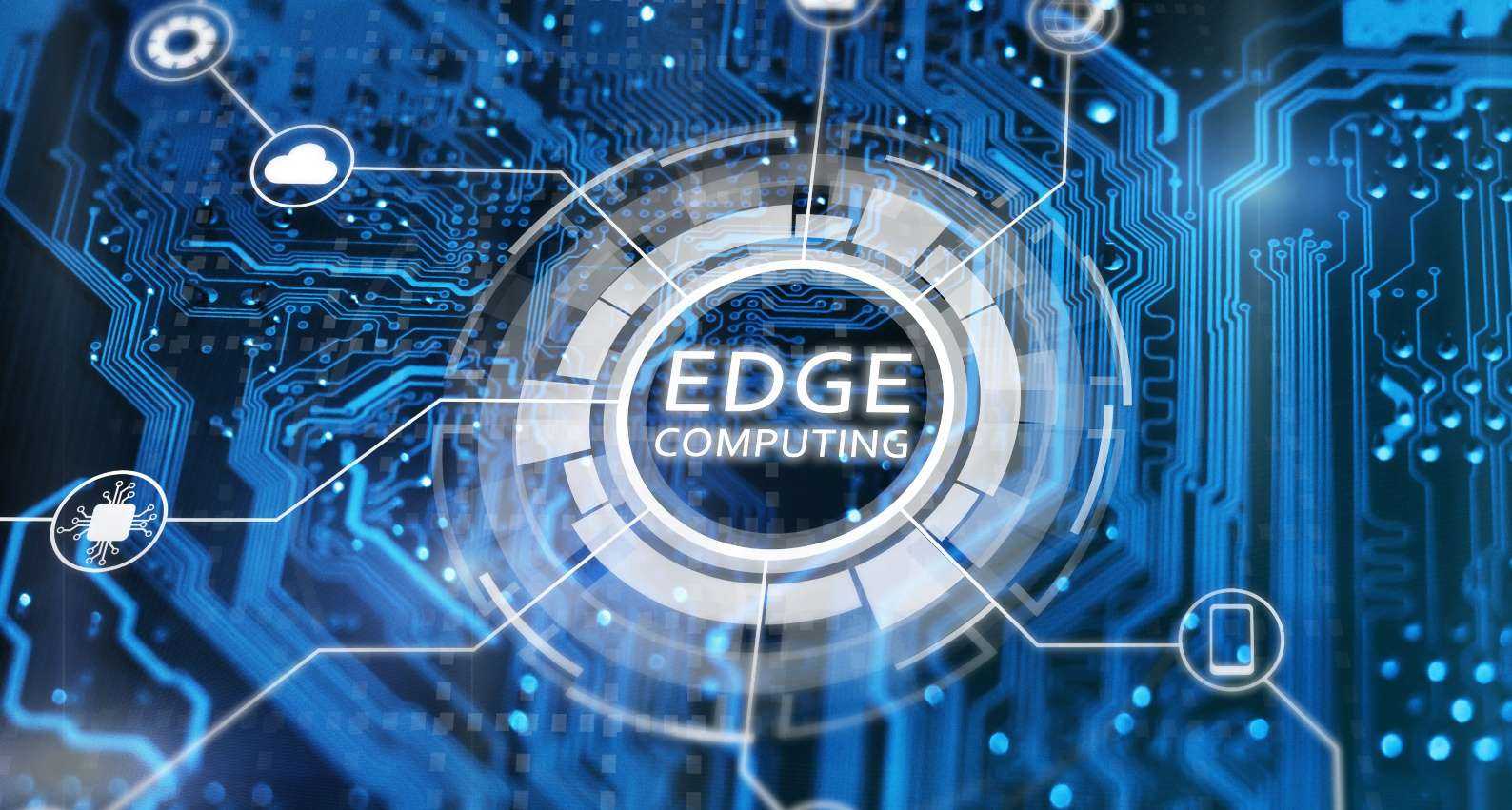 Integration of cloud-native 5G networks with multi-access edge computing (MEC) is expected to significantly benefit telcos and hyperscalers, with the latter steadily making inroads into the telecommunications industry. With growth in enterprise-wide adoption of 5G–MEC use cases, competition among telcos and hyperscalers is expected to intensify. A sound business strategy will depend on identifying the high-opportunity use cases and leveraging one's strengths to develop an effective go-to-market strategy. This article highlights some of the key aspects that telcos and hyperscalers will need to consider within this space.
Why 5G–MEC, Which Entities Are Involved, and Where Is the Spending Happening?
Deployment of cloud-native 5G networks is gaining traction globally. Compared to 4G networks, 5G networks are more versatile and flexible, can support considerable device density, offer millisecond response time, and create dedicated network slices that can be optimized for a wide range of enterprise use cases. Being cloud-native enhances operational efficiency while reducing time to market for 5G-based services. The software-hardware decoupling also enables faster and more automated upgrades. This technological evolution has enabled hyperscalers such as AWS, Microsoft, and Google to make inroads into the telecommunications ecosystem, setting up the stage for a complex, competitive environment with telcos (implications of this will be discussed later in this article).
As 5G deployment gathers pace, it has become evident that multi-access edge computing (MEC) will play a critical role in enabling the ultra-reliable low latency communications (URLLC) 5G use cases. MEC comprises multiple devices with computing and storage capabilities deployed close to end users at the network's edge. This architecture reduces latency, provides contextual information and real-time awareness of the local environment, allows cloud offloading, and reduces traffic congestion. However, it must be noted that it is neither technically nor financially feasible to replace cloud with MEC completely as they complement each another.
Global enterprise spending on MEC will mirror 5G spending and will be driven by investments in on-premises machine learning and low-latency connectivity. The spending is expected to increase from USD8–10 billion currently to USD22–24 billion over the next five years, at a CAGR of around 20%. Specific use cases are expected to dominate enterprise MEC spending, as illustrated below. However, considering the complex deployment scenarios and evolving regulatory landscape, commercialization of these use cases will proceed at varying paces.
Global Enterprise Spending on MEC and High-Opportunity Use Cases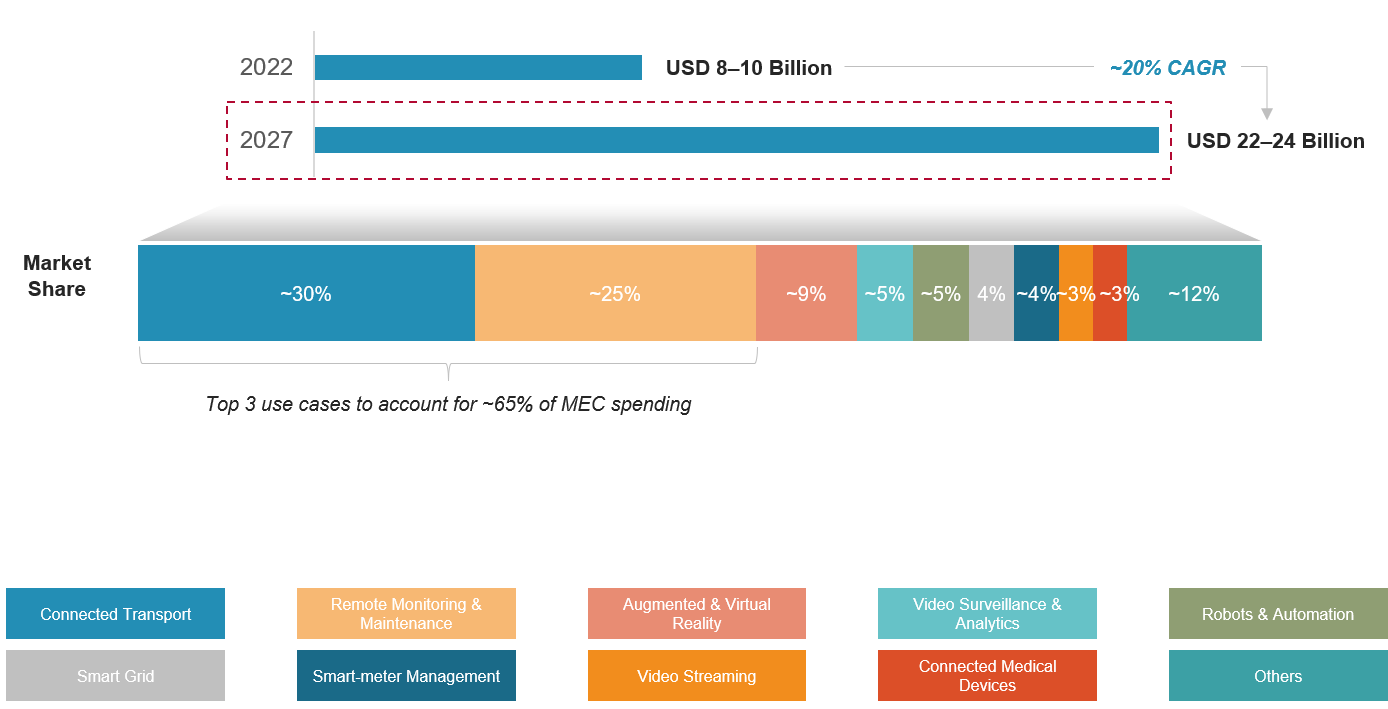 Source - BCG, Aranca Analysis

Timeline for MEC Use Case Deployment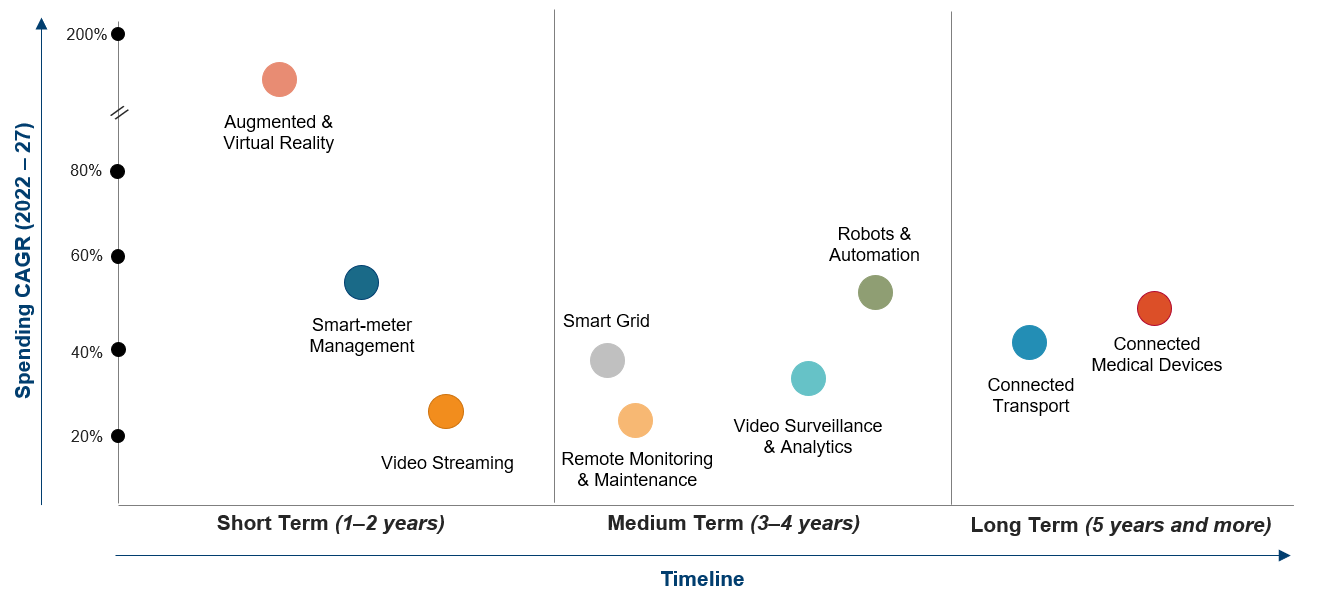 Source - Aranca Analysis
High-Potential 5G–MEC Use Cases

The top three use cases – connected transport, remote monitoring and maintenance, and augmented and virtual reality (AR/VR) – are expected to account for ~65% of MEC spending by 2027. Most emerging 5G–MEC transport/automotive use cases involve cellular-vehicle-to-everything (C-V2X) technology and are mainly related to ensuring occupant and pedestrian safety, advanced driving assistance, and occupant convenience. Remote monitoring and maintenance will comprise Industry 4.0 applications such as anomaly detection and alert management, and machine health indexing. Within the AR/VR space, 5G–MEC would enable remote troubleshooting, remote quality assurance inspection, guided assembly, and training and knowledge transfer.
Commercialization of these use cases is likely to be staggered. Some of the initial use cases will involve industry verticals/applications governed by "light-touch regulations." Enterprises could leverage the benefits of deploying such use case deployments to build a business case for investments in advanced use cases such as remote monitoring and maintenance. Simultaneously, solution vendors could benefit from the learnings/insights gained from these initial deployments. Complex use cases such as connected transport related to highly complicated and dynamic operating environments and heavily regulated industry verticals are expected to be commercialized over the long term once challenges pertaining to industry standards, interoperability, and safety are overcome.
Who Will Win: Telcos or Hyperscalers?
Telcos are keen on moving beyond connectivity offerings by expanding into the platform and application space, while hyperscalers are keen on capitalizing on their cloud computing expertise. Rakuten Mobile's acquisitions of Altiostar and Innoeye, and Microsoft's acquisitions of Affirmed and Metaswitch highlight the growing 5G–MEC ambitions of telcos and hyperscalers.
The ecosystem dynamics are complicated since telcos and hyperscalers have their respective strengths. Telcos' existing site infrastructure can be used to house edge servers (these can also belong to hyperscalers) and associated equipment (e.g., racks and cabinets) needed to make MEC work. Telcos are also experienced in managing vast networks. On the other hand, hyperscalers have access to capital, are innovative and agile, possess expertise in cloud and software, and have deep ties with the application developer communities. As telcos and hyperscalers' capabilities are complementary, they could consider partnering and playing to their strengths; this would enable them to deliver the best possible value to the end user. Moreover, 5G's service-based core architecture, with interworking based on RESTful APIs, facilitates telco–hyperscaler collaboration and co-creation of 5G services on a common MEC platform. The growing number of such partnerships (e.g., Verizon's partnership with AWS, Google, and Microsoft; AT&T's partnership with Microsoft, IBM, and Google) is a testament to the business case behind such partnerships.
However, a competitive spirit should be retained while collaborating. Enterprise customers wish to avoid vendor concentration; hence, they prefer to have a range of choices, compare prices and features, and then choose packages meeting their needs.