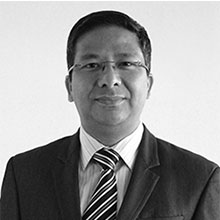 Prabir Chetia
Head - Growth Advisory
Prabir has about 15 years professional experience in the Growth Advisory domain. Prior to Aranca, he was with Tata Consultancy Services (TCS) as Head of Delivery in their Eco Sustainability Services Practice. He was also one of the founding members of NatureFirst, an entrepreneurial venture focusing on delivering the impact of Naturenomics™ by creating effective synergies between economic and ecological sustainability.
Earlier in his career he has held strategic roles at Agilisys, BaaN and Deloitte. Prabir holds a Master's Degree in Business Administration (MBA) and a Bachelor's Degree in Electrical Engineering. He is an avid sportsman, plays tennis and is a also a long distance runner.
© , Aranca. All rights reserved.
United States | United Kingdom | China | India | Dubai | KSA | Japan