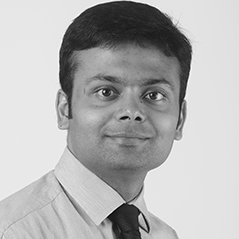 Manish Goyal, CFA, ACA
Associate Director – Valuation Advisory
Manish has over ten years of experience in business and intellectual property valuation, project finance and transaction advisory services across diverse industry sectors, particularly technology and healthcare. Manish has been with Aranca since 2008 and has since then successfully executed and led 700+ independent appraisal engagements involving fundraising, mergers and acquisitions, IP licensing and financial reporting. He has also worked on several fund raising mandates with Aranca's Investment Banking and Private Equity clients. Manish often writes about startup valuations and his articles have been published on several reputed national and international media platforms including TechCrunch and Firstpost.
Manish currently manages the team focused on intellectual property valuation and deal advisory for middle market investment banks and PE funds. He divides his time between Aranca's Palo Alto and Mumbai office. Manish brings operational expertise to Aranca's business development team and assists in managing client and partner relationships on the US West Coast. Before Aranca, Manish worked with S.S. Kothari & Co. (a leading Audit firm in India) where he independently handled audit engagements of listed corporations, due diligence projects, and management consulting engagements.
Manish is a CFA® Charterholder as well as an affiliate member of the Institute of Chartered Accountants of India.
© 2019, Aranca. All rights reserved.
United States | United Kingdom | China | India | Dubai | KSA