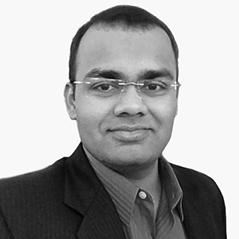 Ashish Rane
Senior Manager – Valuation Advisory
Ashish has over 6 years of experience in business valuation, transaction advisory services and corporate finance across multiple industry sectors. Ashish joined Aranca in 2015 and has managed several valuation and advisory assignments including financial reporting and M&A analysis.
Most recently, Ashish worked as a Senior Associate in the Transaction Advisory and Services team at Grant Thornton (New York), where he led multiple valuation and corporate finance engagements and was also tasked with client management and business development initiatives. Prior to that, Ashish worked as a Senior Associate at PricewaterhouseCoopers (New York) and was an active member of the Transaction Advisory team assisting on valuation advisory and corporate finance projects.
Ashish holds an MBA from New York's Stern School of Business and a Baccalaureate degree in Business and Management Information Systems from Pennsylvania State University.
© 2019, Aranca. All rights reserved.
United States | United Kingdom | China | India | Dubai | KSA