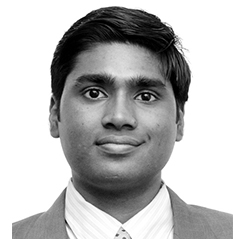 Arun Mantena, CFA, CPVA
Associate Director – Valuation Advisory
Arun has over ten years of professional experience in business valuation, financial modeling, consulting, IP Valuation, corporate finance and transaction advisory services across new age economy and traditional sectors. Since 2010, Arun has served for Aranca's Valuation & Advisory Services in various capacities and currently serves as Associate Director. Arun has led and executed numerous valuations and advisory assignments involving fund raise, litigation, complex securities valuation, M&A, IP valuation, financial feasibility, dissolution, spin-off, IPO, complex tax restructuring, financial reporting, etc.
Arun's primary responsibilities with regard to valuation projects include understanding project specifications, developing solution framework, preparing and reviewing complex financial models and comprehensive appraisal reports, and managing client relationships.
Prior to joining Aranca, Arun worked as an agri-business consultant to co-design and develop integrated agroparks in India and around the world. Arun has exposure to the IT sector as well, having worked with leading IT services company Tata Consultancy Services. His Scholastic credentials include MBA, Finance from S.P. Jain School of Global Management, Singapore-Dubai (ranked among the Top 10 in the world: Forbes best international 1 year MBA (2015-16) and Top 100 in the world: The Economist full-time MBA rankings 2015) and Bachelor of Engineering in Electronics and Communication Engineering from Manipal Institute of Technology, Manipal University. Arun is Chartered Financial Analyst (CFA) charter holder (cleared all three levels at first attempt) and also holds a Certified Patent Valuation Analyst (CPVA) designation.
© 2019, Aranca. All rights reserved.
United States | United Kingdom | China | India | Dubai | KSA