Evolution of the Bio-based Chemicals Market: Growth and Commercialization Strategies
Published on 26 Oct, 2020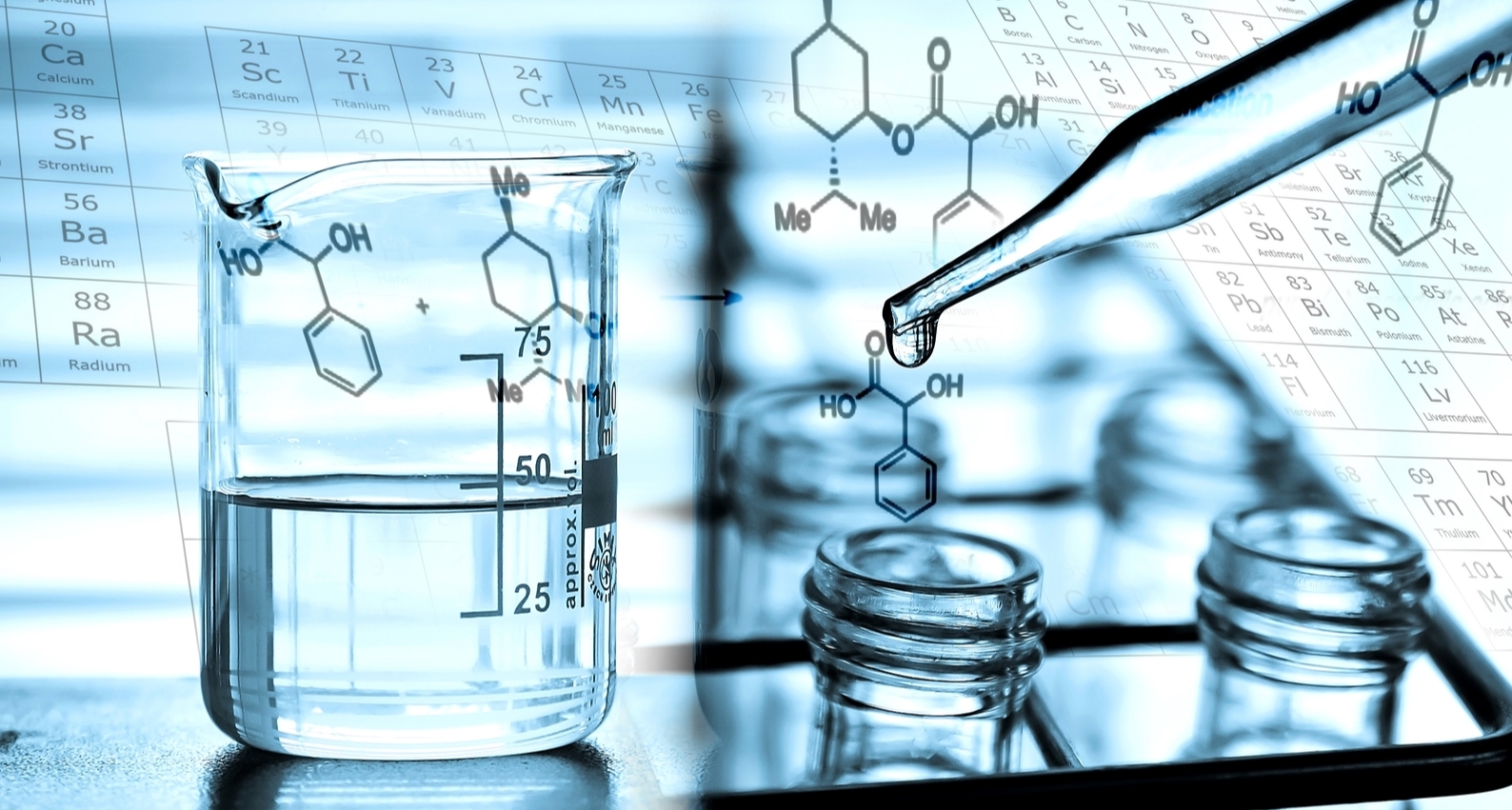 The bio-based chemicals and polymers market is growing exponentially owing to the increasing need for environmentally sustainable solutions. Key players have introduced innovative products and processes and are also collaborating with back-end players in the value chain to further fuel the growth of this market. Backed by government incentives and the growing awareness of the need to control climate change, the bio-based chemicals and polymers market is expected to flourish in the coming decade.
Governments worldwide have been promoting environment-friendly practices; this has increased the need for the production and supply of bio-based chemicals and polymers. In response to this need, many petrochemical and bio-based chemicals manufacturers have expanded their portfolios by including new sustainable/bio-based products. Other notable factors such as fluctuating crude oil prices, increasing preference for sustainable products, need to control atmospheric greenhouse gases (GHG) emissions, and decreased use of fossil fuels have also contributed to the rise in demand for bio-based chemicals.
The bio-chemicals and polymers industry held less than 10% share of the global chemicals and polymer market during 2019−20. Prominent in-demand examples of bio-based offerings (key building blocks) include fermentation products such as ethanol, lysine, citric acid, sorbitol, glycerol, and fatty acids. These building blocks are converted into polymers/plastics as well as different fine and specialty chemicals suitable for various functions and attributes.
Cost of many bio-based products exceeds that of traditional petrochemical products which limits its adoption. However, significant initiatives are being taken by chemical manufacturers and bio-based feedstock producers owing to the development of new value chains of bio-based feedstock. The share of the bio-based chemicals industry is expected to increase to approximately 25% of the total bio-based chemicals and polymers market by 2025, backed by the use of improved technologies and methods.
Diverse value chains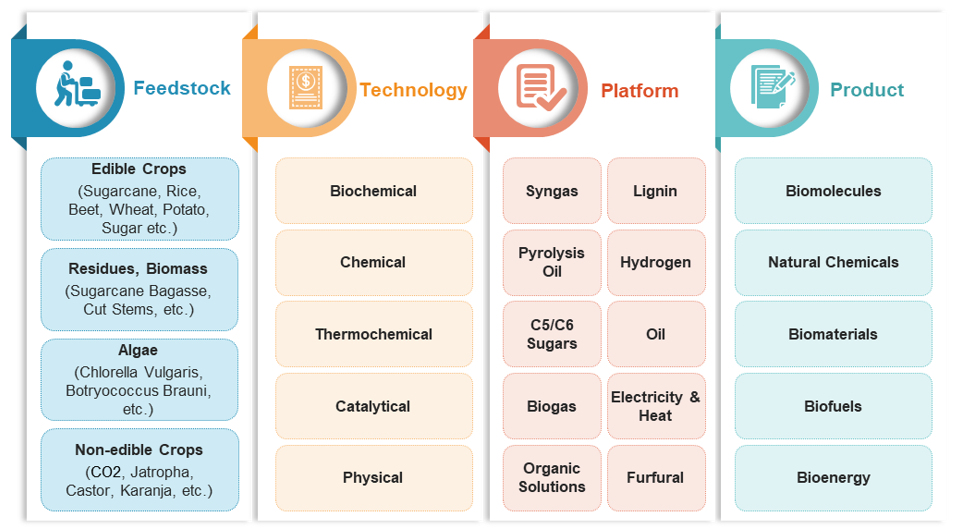 Source: IEA Bioenergy, MDPI, Biomass Research and Development Institute, Company Reports, Aranca Analysis
Chemicals manufacturers have initiated the redesigning of materials, processes, and products to create renewable, restorative, and regenerative chemistry. These innovative responsible solutions are designed on the principles of biotechnology. Feedstock, technology, platform, and product companies across a value chain now offer cost-competitive products that considerably help in reducing the impact on the environment.
Increasing availability of feedstock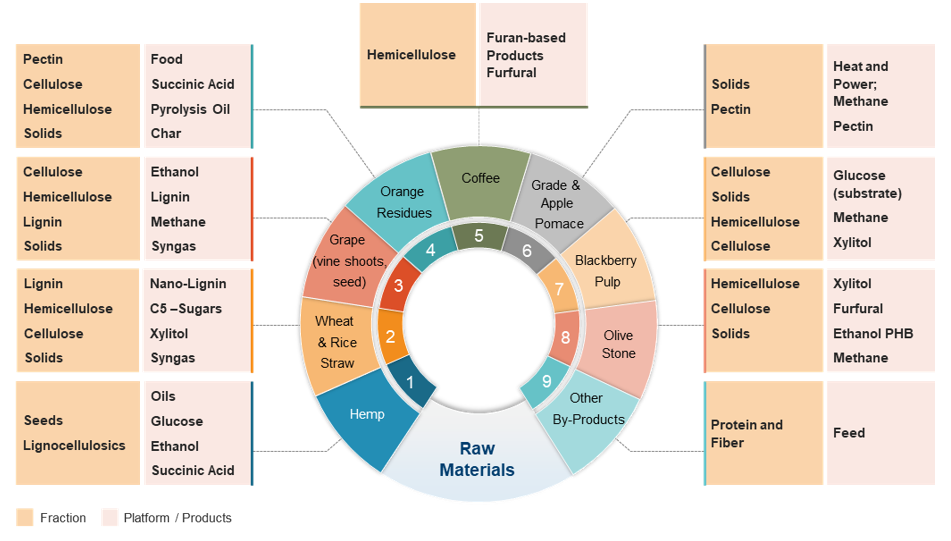 Source: IEA Bioenergy, MDPI, Biomass Research and Development Institutes, Company Reports, Aranca Analysis
Bio-active compounds are produced from both plant- and microorganism-based sources. However, biorefineries primarily use feedstock such as sugar crops (e.g., beet and cane), lignocellulosic crops (e.g., managed forest, short rotation coppice, switchgrass), starch crops (e.g., wheat and maize), perennial grasses and legumes (e.g., ryegrass and alfalfa), aquatic biomass (e.g., algae and seaweed), lignocellulosic residues (e.g., forest residues, stover, and straw), oil crops (e.g., palm and oilseed rape), and organic residues (e.g., industrial, commercial, and postconsumer waste).
Advanced biorefinery platforms for chemicals production
Advanced technologies and novel systems are being applied in bioprocessing to manufacture bio-based chemicals, biofuels, and value-added bio-products from renewable sources; this helps scale up production and commercialization. These technologies enable higher yields, returns, quality, enhanced performance, greater durability, and greater precision at lower prices.
Global overview of the most relevant biorefinery platforms for chemicals production: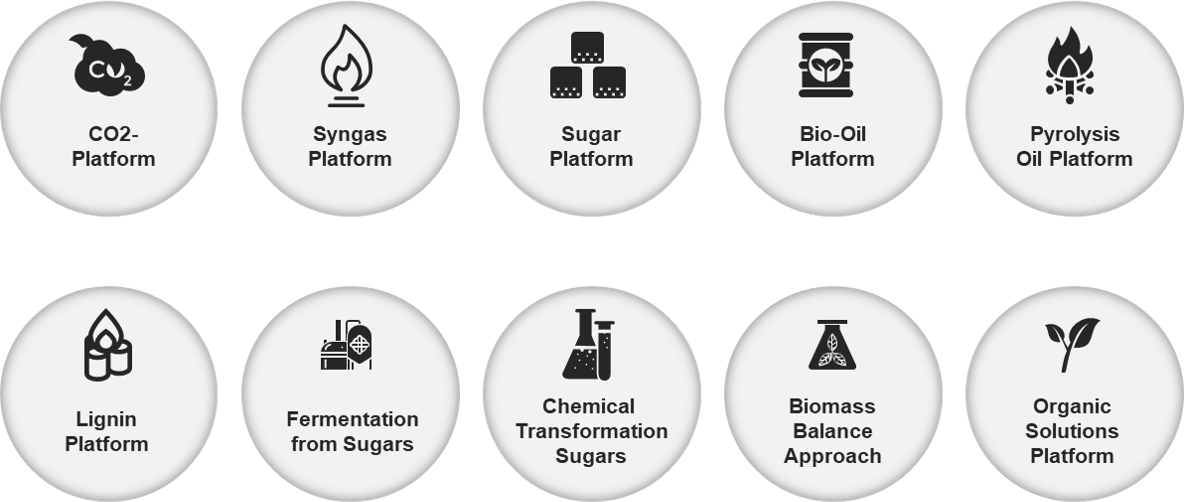 Source: IEA Bioenergy, MDPI, Biomass Research and Development Institute, Company Reports, Aranca Analysis
Commercial and near-market products
Global overview of the different chemicals produced at commercial level as well in pipeline stage:
Available on Commercial Scale

Chemical

Capacity (KT)

Key Suppliers

C1

Methane

-

PlanET Biogas, Clarke Energy, Engie, EnviTec Biogas amongst others

Methanol

43

OCI (BioMCN), Sodra, Carbon Recycling International, W2C

Syngas

760

Clarke Energy, ETIP Bioenergy

C2

Ethylene

200

Braskem

Ethanol

80,800

Tereos and others

Ethylene Oxide

40

Croda, Biokim

Ethylene Glycol (MEG)

175

India Glycols, Haldor Topsoe, UPM, Avantium, ENI/Versalis

Acetic Acid

24.5

SEKAB, Wacker, Godovari Biorefineries, ZeaChem

C3

Propane

40

Neste/SHV

Propylene Glycol (1,2- Propanediol)

120

ADM, Oleon, Avantium

Acetone

-

Green Biologics, Celtic Renewables

1,3-Propanediol

77

DuPont/Tate & Lyle, Glory Biomaterial, Shenghong Group

Glycerol

1,500

Thai Glycerine, ADM, Kao Corporation, and others

Epichlorohydrin

540

Kerry Group, Jiangsu Yangnong Chemical, Advance Biochemical Thailand

Lactic Acid

>600

Corbion, NatureWorks, Galactic, Henan Jindan Lactic Acid Technology, BBCA

C4

Succinic Acid

34

Myriant Corporation, Succinity (BASF /Corbion), Reverdia (Roquette)

Iso-Butanol

-

Butamax, Gevo

1,4-Butanediol

-

Genomatica, Novamont, Dupont/Tate & Lyle, Godovari Biorefineries

C5

1,5- Pentanediamine

50

Cathay Industrial Biotech, CJ CheilJedang

Xylitol

190

Danisco/Lenzing, Fortress

Furfural

360

TransFurans Chemicals, Pennakem, Silvateam amongst others

Itaconic Acid

90

Qingdao Kehai, Zhejiang Guoguang, Jinan Huaming Biochemistry

Levulinic Acid

-

Avantium, GFBiochemicals, Circa Group

Methyl vinyl Glycolate

-

Haldor Topsoe

C6

Lysine

1,100

Global Biotech, Evonik/RusBiotech, BBCA, Ajinomoto

Sorbitol

1,800

Roquette, Cargill, ADM, Ingredion

Isosorbide

20

Roquette

Citric Acid

2,000

Cargill, DSM, BBCA, Ensign, TTCA, RZBC

Others

C7 - Pentamethylene Diisocyanate (PDI)

-

Covestro (70% biobased content), Mitsubishi Chemical

C9 - Pelargonic Acid

25

Matrica (Novamont/Versalis JV)

C9 – Azelaic Acid

25

Matrica (Novamont/Versalis JV), Emery Oleochemicals

C10 – Sebacic Acid

200

A.o. Arkema (Casda Biomaterials)

C11 – UDDA (Undecanedioic Acid)

24

Arkema

C12 – 12-Aminododecanoic Acid

25

Evonik
Development and Pipeline Stage
Chemical (C1)

Key Suppliers

C1

Formaldehyde

BASF

Formic Acid

Avantium

C2

Glycolic Acid

Metabolic Explorer (Metex)

Oxalic Acid

Avantium

C3

Propylene

Braskem/Toyota Tsusho, Mitsubishi Chemical, Mitsui Chemicals

n-Propanol

Braskem

Isopropanol

Genomatica, Mitsui Chemicals

Acrylic Acid

Cargill/Novozymes, ADM/LC Chemicals, Perstorp, Arkema

3-Hydroxy Propionic Acid

Cargill/Novozymes

Malonic Acid

Sirrus, Lygos

C4

n-Butanol

Green Biologics, Celtic Renewables

Iso-Butene

Global Bioenergies

2, 3-Butanediol

Global Bio-Chem Technology Group, Tokyo Chemical Industry, LanzaTech

Ethyl Acetate

Sekab (JRC), ZeaChem, Greenyug

Butyric Acid

Metex, Kemin, Blue Marble Biomaterials

C5

Isoprene/Farnesene

Goodyear/ Genencor, GlycosBio, Amyris

Methyl Methacrylate

Lucite/Mitsubishi Chemicals, Evonik, Arkema

Ethyl Lactate

Corbion, Vertec BioSolvents

C6

Caprolactam

Genomatica/Aquafil

Aniline

Covestro

Adipic Acid

Genomatica

Cyrene

Circa Group

FDCA

Avantium, ADM/Dupont, Corbion, Stora-Enso, Annikki

Others

p-Xylene

Annellotech, Origin Materials, BioBTX, Tesoro

Terephthalic Acid

UOP, Annellotech

DDDA (Dodecane-dioic Acid)

Cathay Industrial Biotech
Source: IEA Bioenergy, MDPI, Biomass Research and Development Institute, Company Reports, Aranca Analysis
Initiatives by key players
Key producers have undertaken several initiatives to drive the market for sustainable products.
Launch of bio-based products (2019−20)
Dow
Launched PRIMAL™, a bio-based acrylic emulsion produced from carbon obtained from plants; formulated bio-based paints that are USDA-certified
BASF
Launched Betatene, a naturally sourced beta-carotene derived from algae for applications in dietary supplements and functional F&B products
DSM
Partnered with SABIC and UPM Biofuels to create biobased Dyneema, a high-performance fiber product, to reduce carbon footprints
Arkema
Launched high-performance Rilsan® polyamide 11, derived from castor oil
Recent partnerships
Significant initial investment is required for the manufacturing of biopolymer products, which poses a major challenge. Key market players are trying to combat this challenge by establishing joint ventures with agricultural companies to develop symbiotic relationships for further growth.
In September 2020, Cargill and Virent, Inc. collaborated to study the use of Cargill's corn dextrose as feedstock in Virent's BioForming process to create low-carbon biofuels and biochemicals.
In May 2020, Cargill and P&G partnered to transform lactic acid into bio-based acrylic acid for use in applications such as superabsorbent polymers (SAPs) in hygiene products and as thickeners in household paints.
In January 2020, ADM and LG Chem partnered to explore routes for the creation of biobased acrylic acid for SAPs used in a range of hygiene products such as diapers.
Recent investments
In August 2020, Cargill invested USD15 million in a new bio-industrial plant in India that has the capacity to annually manufacture 35,000 tons of bypass fats and specialty waxes.
In April 2020, Sumitomo Chemical invested USD30 million in Conagen, a US biotechnology company, to develop innovative high-functional products and processes through synthetic biology.
In January 2020, UPM invested in a biorefinery at Leuna, Germany, which has the capacity to produce 220,000 metric tons of bio-based chemicals from wood per year.
Conclusion
Chemicals manufacturers are researching alternative bio-feedstock to lower the cost of manufacturing. They are collaborating to fund and support the development of bio-based chemicals.
To fuel the adoption of bio-based products, governments worldwide are strongly supporting related R&D and the commercialization of innovative bio-based products. Governments are extending grants and loans for the construction of bio-refineries, strong bio-based market programs, and tax incentives to pioneer commercial production.
Chemical manufacturers are making efforts to develop and commercialize bio-based solutions covering all chemical sectors; they are open to attempt cooperation models with consumers to make products economically and environmentally sustainable. Suppliers such as BASF and DOW are working on overcoming technical challenges and building partnerships; this could lead to significant growth of the global bio-based chemicals market by 2030.
In today's hyper-competitive market, procurement, R&D, and innovation teams continuously focus on developing innovative products to meet customers' expectations of high performance, cost-effectiveness, and environmentally compliant materials. However, supply-side uncertainties hinder innovation. Using a systematic and methodological approach, Aranca can help you understand the supply market and supply chain risks arising from the use of new raw materials.