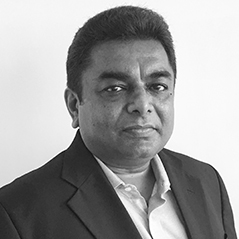 Shreekar Karambelkar
Head of IT Infrastructure
Shreekar has over two decades of vast experience in building and managing scalable and secure IT infrastructure for enterprises. His expertise in architecting and implementing Business Continuity and Disaster Recovery management plans, user focused IT security framework and processes in highly regulated financial businesses has also earned him many industry recognition and awards
He also, specializes in designing, deploying and managing leading edge, multi-platform IT infrastructure to enable smooth customer transaction experiences, while ensuring compliance with ISO standards. Before Aranca, he led the IT Infrastructure & Security mandate for Equifax Credit Information Services and Techprocess..
About Aranca
For over 2000 companies, from the hottest startups to the Fortune 500, Aranca is the preferred and trusted custom research, analytics and advisory partner.
© 2018, Aranca. All rights reserved.
United States | United Kingdom | China | India | Dubai | KSA