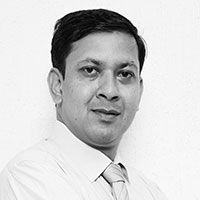 Prakash Kailasam
Head - Technology | IP Research & Intelligence
Prakash has more than 13 years of experience in intellectual property research and advisory. He heads the patent and technology research practice at Aranca. Prakash has extensive experience in working with patent counsels, innovation heads and R&D directors in setting up teams for patent research, technology scouting, licensing, competitive intelligence etc.
Before Aranca, he had set up the India operations for WIPS, a leading IP solutions provider in Asia. Earlier, he had a long stint at Evalueserve and performed multiple roles there—starting from an analyst in a fledgling practice, to the role of Associate Vice President.
Apart from his rich operational experience, he also has extensive experience in business development. He was a part of Evalueserve's sales team in the UK for about 2 years to help develop the UK market for patent research. Prakash holds a graduate degree in Pharmaceuticals from the Indian Institute of Technology, Banaras Hindu University.
© , Aranca. All rights reserved.
United States | United Kingdom | China | India | Dubai | KSA | Japan