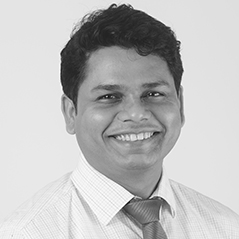 Jitendra Pabrekar, CFA
Associate Director – Valuation Advisory
Jitendra is an Associate Director with Valuation and Advisory Services division of Aranca and works from Mumbai office. Jitendra has a decade of experience in transaction and strategic advisory, business valuation and corporate finance.
Jitendra has worked with clients across the globe, primarily in USA, Middle East and Asia pacific. He has worked with the companies of all sizes in traditional sectors as well as new-age economy sectors. Jitendra has worked with many companies since their inception, serving their needs for valuation and financial advisory throughout the journey. He has specialized in dealing with complex financial structures and valuation support for litigation.
Jitendra is responsible for Knowledge Management at the division and like to share his thought on valuation and business strategies on social media. Jitendra holds Chartered Financial Analyst (CFA) designation from CFA institute, USA. He has earned Masters in Management Studies from Mumbai University.
© 2019, Aranca. All rights reserved.
United States | United Kingdom | China | India | Dubai | KSA