Aranca Releases Global Analyst Survey 2011 Report Titled Will 2012 Redefine 'Investable Markets?'
Published on 28 Dec, 2011
Aranca's survey presents analyst reflections on global market performance in 2011. In addition, the survey reveals and their views and concerns on current economic conditions, valuations and market performance and what they think will happen in 2012
New York: December 28, 2011 - Aranca, a leading global provider of end-to-end investment research, business research, valuation services and intellectual property research, has released a survey report on recently concluded Global Analyst Survey 2011 titled "Will 2012 Redefine 'Investable Markets'?"
Aranca surveyed analysts in leading financial institutions around the world in mid-November to gauge their outlook for 2012 in the backdrop of three major issues: the rising prices of gold; the Eurozone debt crisis with Greece's default predicted as imminent, and the weak US economy reeling under stubbornly high unemployment numbers and constrained consumer spending.
All these factors negatively impacted equity valuations across markets, pummeled commodities and created an acute risk aversion among investors. Except Gold, every other asset class studies gave negative returns in 2011.
Investors likely to bet on equities; US, Brazil Markets in 2012
The survey asked respondents to identify the top influencers of market movements for 2012, their key concerns on factors that could derail the recovery and the potential bright spots for the year ahead.
A majority of survey respondents seem to expect a revival for equity markets next year and see the US market moving more favorably. Analysts identified a likely movement of 'Smart Money' to the US, Brazil and German markets over France, Japan, China and India.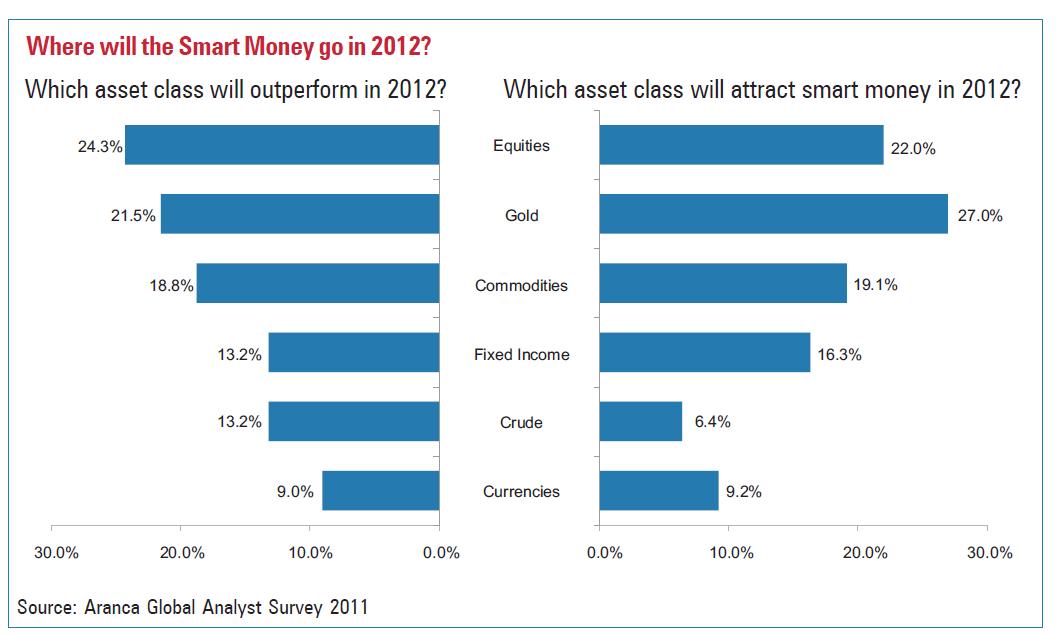 Madhusudan Rajagopalan, Director, Aranca India Operations commented, "2011 was certainly challenging for investors and fund managers. As a research firm, we wanted to understand how 2012 would be, and what factors might contribute to a recovery. Our Global Analyst Survey 2011, based on responses from analysts across the globe, has pointers to what could happen in 2012."
To request a copy of the Survey Report, please visit: http://www.aranca.com/GA-Survey
For further information, please email us at surveys@aranca.com or visit www.aranca.com
Read more