Will India's Auto Industry Pay the Price for Clean Air?
Published on 13 Jun, 2016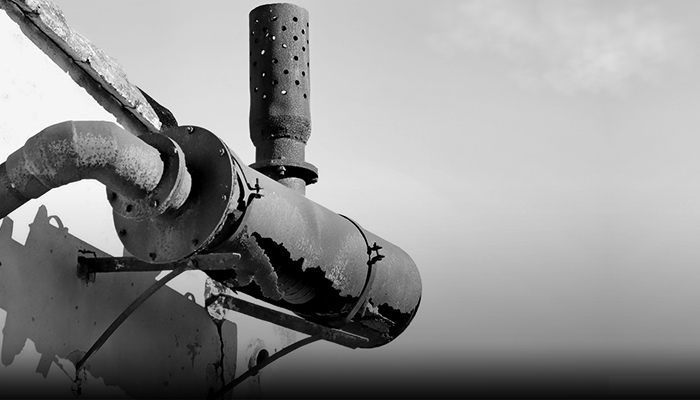 13 of the 20 most polluted cities in the world are in India.

In a quest to reduce air pollution, the Indian Supreme Court banned registrations for cars with diesel engines that exceeded 2,000cc capacity, a ban imposed within the nation's capital until March 31, 2016.

This ban has now been extended indefinitely, and will likely be enforced in other states as well.

While a noble and necessary reform, could this policy cause more harm than good in India?
Jolted into action after a World Health Organization (WHO) report stated that 13 of top 20 polluted cities in the world are in India, the National Green Tribunal (NGT) has put a policy into motion that'll help control pollution levels in the nation's capital.
The NGT extended similar bans across six cities in the state of Kerala during May 2016 as well. The Kerala High Court stayed the decision for two months however, holding off until July of 2016.
The NGT is now considering a similar ban in 11 more Indian cities — which may include hubs like Mumbai, Kolkata, Bengaluru, Chennai, and Hyderabad.
Indian states will soon have to submit a detailed report that includes data on total population, ambient air quality, the number of vehicles (with detailed classifications) as well as their pick of the two most polluted cities and districts in the state.
A subsequent decision on banning diesel vehicles in these states is expected during the NGT's next hearing between July 11th and 12th, 2016.
While these bans could be instrumental in reducing pollution levels, there's a fair chance they'll also stunt overall growth in the nation's automotive industry.
Is the Ban on Diesel Vehicles Crucial to Reducing Pollution Levels?
According to Society of Indian Automobile Manufacturers (SIAM), diesel vehicles with capacities in excess of 2,000cc are not a key cause of pollution. They believe the contribution to pollution from such vehicles is relatively minor.
A study conducted by IIT Kanpur during 4Q15 revealed that only 20% of Delhi's emissions were caused by automobiles, a figure that's aggravated by older vehicles. Emissions by new passenger vehicles was less than 2.0%, BS VI diesel vehicles contributed just 0.5%, and the diesel vehicles with engines in excess of 2,000c added a mere 0.13%.
Automakers argue that the ban targeted at 2,000cc diesel engines is unjust, questioning why this isn't simply a blanket ban on diesel engines in general. The ban primarily impacts brands such as Toyota (Innova, Crysta, and Fortuner) and Mahindra (variants of XUV 500 and Scorpio) for the moment.
During May of 2016, the Delhi government informed the NGT that pollution levels in the city remained elevated despite taking diesel vehicles older than 10 years off the roads, banning new diesel vehicles >2,000c since December 2015, and implementing phase II of the odd-even car rationing scheme.
A ban on new registrations of BS IV diesel vehicles would encourage people to continue using BS III cars, which do not meet current emission control norms, and is contrary to the overall objective of the ban.
Will the Ban Impact Growth and Investment in the Automobile Sector?
The automobile sector in India is a big employer.
The ban in Delhi has already pared about 5,000 jobs, with production losses of over 11,000 vehicles between December 2015 and April 2016.
The automobile industry contributes over 47% of the country's manufacturing GDP and 8% of foreign direct investment under the Make in India campaign. The Indian Department of Heavy Industry (which is in favor of relaxing the ban) has stated that the sector has attracted US$ 5.1bn in investments under the Make in India campaign, and such a ban could adversely impact investments and further the growth in the booming sector.
India has emerged as a hub for global car manufacturers.
A ban on diesel vehicles could however, force key auto manufacturers such as Mercedes-Benz and Toyota Kirloskar Motor to re-consider their investment plans in India. Mercedes-Benz has already put future investments (into India) on hold after the ban, putting India's position as an attractive investment destination in jeopardy.
Toyota has criticized the reforms, stating that they're "against the principles of natural justice" and "unfair", as the ban was imposed without consulting automotive manufacturers.
Since the ban pertains to only those diesel engines with capacities in excess of 2,000cc, Toyota believes that it's bearing the brunt of this ban, having limited sales of its key products —the Innova Crysta and Fortuner. The Innova Crysta has seen huge success elsewhere in the world, with ~20,000 bookings post its launch in May 2016.
The trajectory of Toyota's domestic vehicle sales has clearly witnessed a decline during January – April 2016 as compared with the same period in 2015.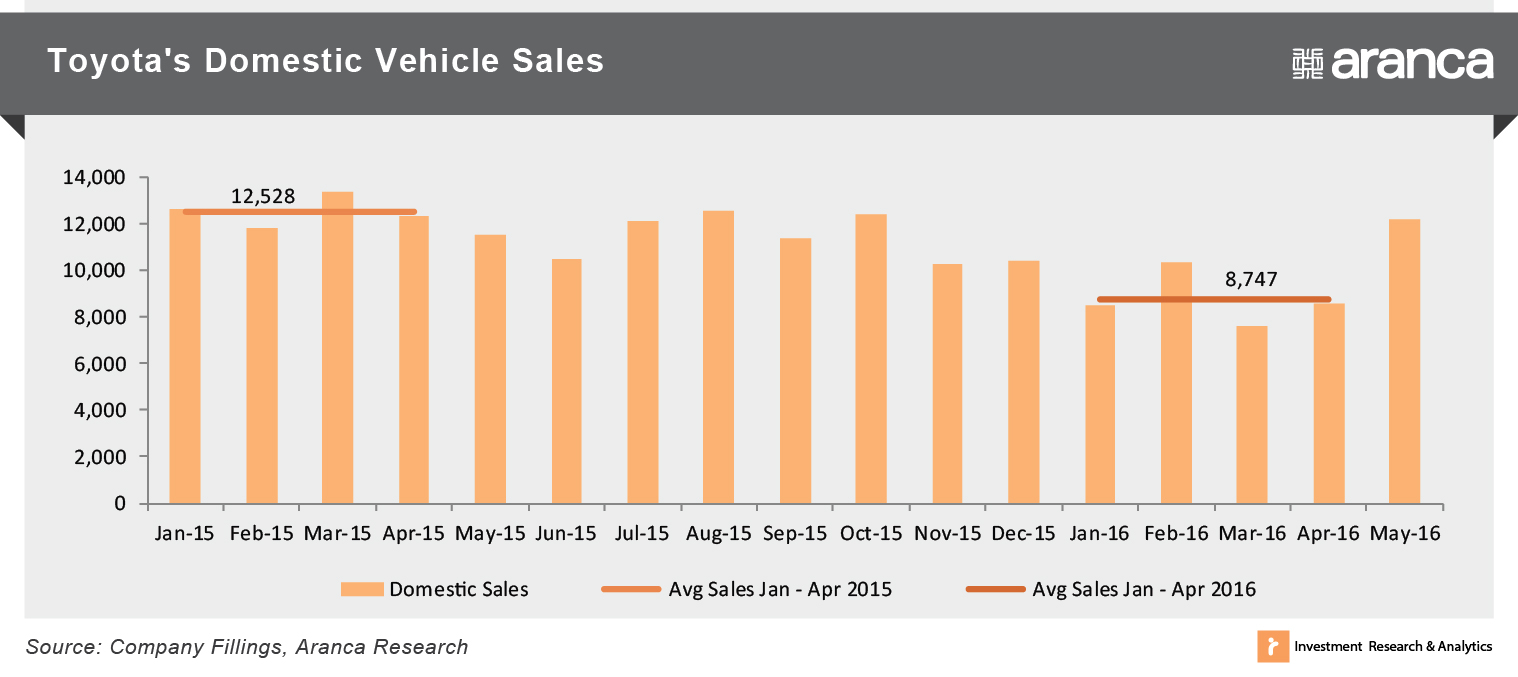 Toyota Vehicle Sales
Will Implementation from BS IV to BS VI be a Formidable Challenge?
India announced plans in January of 2016 to implement BS VI (from the current BS IV) by April of 2020, expediting its earlier target of 2022-23.
BS VI norms are more stringent on diesel engines as compared to petrol engines.
A BS VI diesel engine will result in reduction of 68% and 82% in nitrogen oxide and particulate matter respectively as compared to BS IV norms, while a petrol engine requires a 25% drop in carbon footprint as compared with the BS IV norms.
By skipping BS V, India plans to upgrade to BS VI from BS IV in just 4 years, whereas Europe and other developed countries took about 10 years for a similar upgrade.
Banning Beefy Diesel Engines — Good, Bad, Ugly?
While the ban on >2,000cc diesel vehicles is only enforced in the national capital for the moment, it has given diesel vehicle manufacturers across India the jitters.
Automakers have already invested in technology and are scaling up production of diesel vehicles, having anticipated future benefits in an upcoming market.
This ban however, has created significant concern about India's policies toward investments and growth, raising fears of strict and stifling governmental regulations.
Rather than taking hasty decisions, the government ought to consult automakers and find a win-win solution — limiting pollution while also keeping automakers' best interests in mind.
Academic studies suggest that the real cause for pollution is elsewhere (primarily industries) causing over 80% of emissions. The government should also look into this facet, rather than simply penalize a particular segment.
While hastening the process for implementing BS VI norms (particularly stringent towards diesel engines), will the government also impose stringent tests for pollution control, ensuring there's no scope for violations or fraud ?
Will the eventual environmental benefits outweigh the initial hit that the Indian automotive industry stands to take?
It's important to analyze the underlying motivation for such regulatory policies.
After all, the road to hell is paved with good intentions.