Apple 1Q Results: A Lucrative Lull for Long-term Investors?
Published on 27 Jan, 2016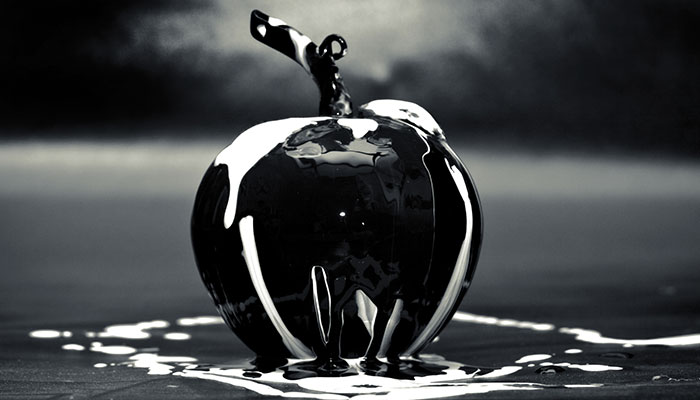 Apple's 1Q2016 report card is out.
Its average performance in the wake of the emerging economic weakness in China — one of its largest markets — is quite expected.
However, what is unexpected is that its management has softened its stand toward future expectations—a below par revenue guidance for 2Q with a decline of almost 10% y-o-y.
What Happened
A consensus-beating EPS of $3.28 (Street at $3.23) and an in-line revenue performance of $75.9 bn (Street at $76.6 and guidance at $75.5-77.5 bn) in 1Q should hardly be the cause to set alarm bells ringing. That said, a mere 0.4% y/y growth in iPhone shipments at 74.8 mn is indicative of things to come, at least in the near future. Sales of the iPhone are expected to decline in 2Q according to the management and for the first time since the product's launch in 2007.
What to Make of It
Apple's big bets on China have paid off handsomely in the recent past, with the region now accounting for nearly a quarter of its revenue — more than the whole of Europe.
Clearly the company is expected to feel the heat of a slowdown in the world's second largest economy. Given that the iPhone 6s and the Apple Watch have also fallen short of meeting high expectations, the company has certainly hit a bump in its road to fruition.
We believe the company will continue to innovate and promote its Apple Watch whose performance, in our view, is dependent on the iPhone user base and should pick up with some lag. In the interim, headlines from China would play a role in shaping the company's performances in the coming quarters.
Our team in China had some interesting thoughts about the goings on on-the-ground.
Clearly the features of iPhone 6s and 6s Plus weren't enough to impact an upgrade, especially when an upgrade from iPhone 5 to iPhone 6 happened barely a year ago. Further, the large user base in China hasn't warmed up to the Apple Watch — something our China analysts simply put down to consumer tastes, which is low on high-end technology consumption. Lastly, the recent market crash has also played its part. A majority of the public ownership of China's stock market are retail investors, who have seen a size able chunk of their portfolios evaporate in this collapse. There is a high likelihood of big ticket buys (iPhones clearly qualify as one) getting postponed.
What has also not worked in Apple's favor is the strong surge in the dollar versus other global currencies, making its products more expensive in those markets. A $100 worth of Apple's non-US revenue 15 months ago is worth nearly 15% less today. While investors would not penalize Apple for cross currency headwinds, headline numbers do look weak. For example, a 2% y/y growth in revenue this quarter would be 8% y/y in constant currency terms.
What to Look Forward to
It would be interesting to see how Apple copes with the pressure. Product innovation has always been the company's hallmark; and now is as good a time to answer critics as ever.
Another version of the iPhone is expected in 2016, and how Apple sets the tone for its launch would be important. In comparison to its flagship phone product, we believe other initiatives such as the Apple Watch, Apple Music, or even bytes around Project Titan (its ambitious electric car project set for launch in 2019) would take some sort of a back seat.
As for the stock itself, we believe a lot of the expected weakness in growth rates and headwinds in sales of the iPhone are already priced in. The stock currently trades almost 30% cheaper than S&P 500 and clearly discounts a lot of what will get discussed post 1Q results.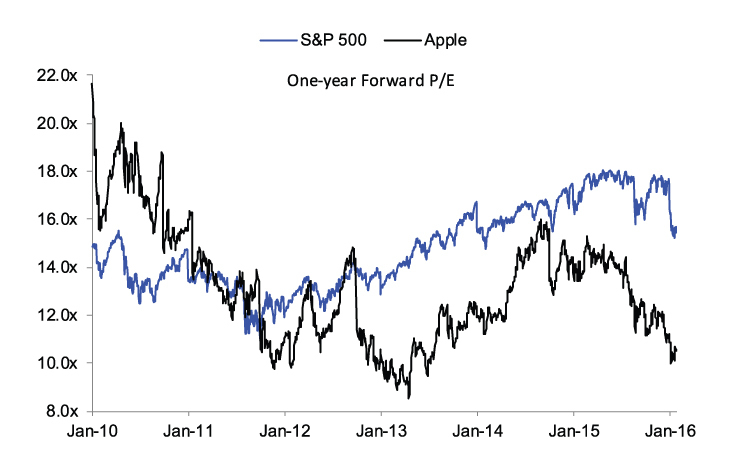 Apple 1Q Results
With a cash pile of over $200 bn, the company can consider maintaining its stock buy-back initiative that can further cushion the share price. Therefore, unless China spirals down into unchartered territory of significantly lower growth rates, long-term investors should fancy this blip to enter or accumulate.