Could Private Labels Dominate Seasoned Brands in India's Growing FMCG Market?
Published on 31 Aug, 2016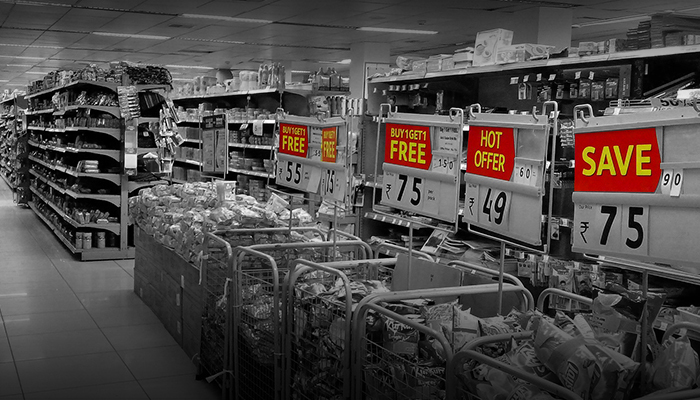 Competition is heating up in India's FMCG market with retailers peddling their own private labels.

Should big brands be wary?
Better margins and economies of scale are driving India's big retailers such as DMart, Big Bazaar, HyperCity, and Nature's Basket to stock shelves with their own labels.
Private labels by retailers— also called store brands —are products created by a retailer, for the retailer; usually procured from contract manufacturers.
Cost-centric consumers are more than happy to swap name brands for private labels on their shopping list, seeing them as a means to economize spending without compromising on quality. Urban areas with a high penetration of supermarkets/hypermarkets have seen steady growth in private labels across FMCG categories such as staple foods, groceries, beverages, and household care goods.
Retailers also seem to be amping brand awareness for their private labels, showcasing them more prominently than name brand products on shelves and in sales. That shouldn't be surprising; their margins are quite high (sometimes as high as 60%) in categories such as sugar and grocery items despite the aggressively competitive pricing. Fewer distribution overheads, lesser number of intermediaries and negligible marketing costs mean private labels can easily afford to sell products up to 15% less than their branded counterparts without a hitch.
Perhaps the biggest reason why private labels are capturing market share is also the simplest — they're cheaper, but not cheap.
Consumer perception is changing, and private label products aren't the sub-standard alternatives they used to be. They're making huge strides in quality and competitive pricing, closing the gap between several established players to become an average customer's preferred choice.
Private labels are a relatively new dynamic in India right now, having captured just 10–12% of the organized retail pie thus far. With organized retail expected to grow from USD 40 Bn to USD 200 Bn over the next 5–7 years, there's plenty of scope for private labels to grow. Urbanization and favorable economic climes are sure to boost consumption in one of the world's biggest consumer markets.
Given their momentum and current market sentiment, private labels are all set to go head-to-head with well-established FMCG brands.
Already firmly entrenched in groceries, they are slowly expanding to other food and beverage items such as pickle, jams, chutneys and the likes.
With private labels already expanding in the supermarket segment — an already congested and competitive space — they could also focus on selling in the tradition retail space, a dominant purchase hub in India. If private labels can gain a foothold in these markets, cementing their stance with efficient supply chains and diverse/tailored product lines, they would stand a good chance to gain a larger share of the end market pie.
Everybody loves a good deal.
If the emergence of several private labels in an already diverse (and competitive!) market like India is anything to go by, consumers seem to be getting the best deals they can. As retailers gun for bigger market shares and better customer retention, India's largest FMCG brands could be in for more competition than they'd bargained for.