What 2017 Looks Like for Indian Start-up Valuations
Published on 16 Feb, 2017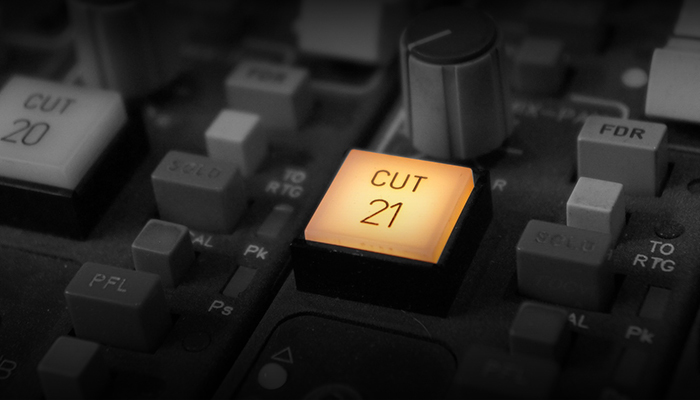 India's start-up ecosystem savored 2015.

Several dominant consumer driven tech-startups (such as e-commerce portals, food-tech sites, online marketplaces, and aggregators) enjoyed soaring valuations.

2016 was another story however.

Although plenty of bright ideas and big dreams were founded and funded between 2012 and 2015, just a handful of those sparks really caught flame, and fewer still survived beyond a few flickers.

As caution (and common sense) began to question the business and revenue models that India's biggest tech-startups were banking on, investors shifted focus from scalability to profitability.

Size didn't matter anymore, stamina did.

2017 looks like a year of reckoning for India's tech-startups.
2015 — The Year of Revelry
The three years leading up to 2015 were a heyday for startups in India.
The ecosystem was at a very nascent stage, with limited investment opportunities. As large pools of both domestic and international investors vied for a stake in India's massive market potential, their zeal to bag the first and the best resulted in a deluge of preferred valuations — especially in the consumer tech segment —spurring sky-high valuations.
Several tech-startups were launched with a "me-too" business model that aped western successes stories, and they were swiftly funded at lucrative valuations.
Taking note of the vibrant ecosystem, several global players — with deep pockets — entered the fray, and the competition intensified.
India's best went head-to-head with the World's finest as Flipkart took on Amazon, Uber ran against Ola, and InMobi fenced Facebook.
In a market where your customer's loyalty is about as steadfast as your discounts are deep, undercutting the competition through cut-throat price wars in order to swell user-base/GMVs meant Indian tech startups were burning through capital faster than ever before.
The ploy worked though, drawing in droves of customers, sale after sale.
Supporting this trend were unimaginable peak valuations of prominent young Indian startups.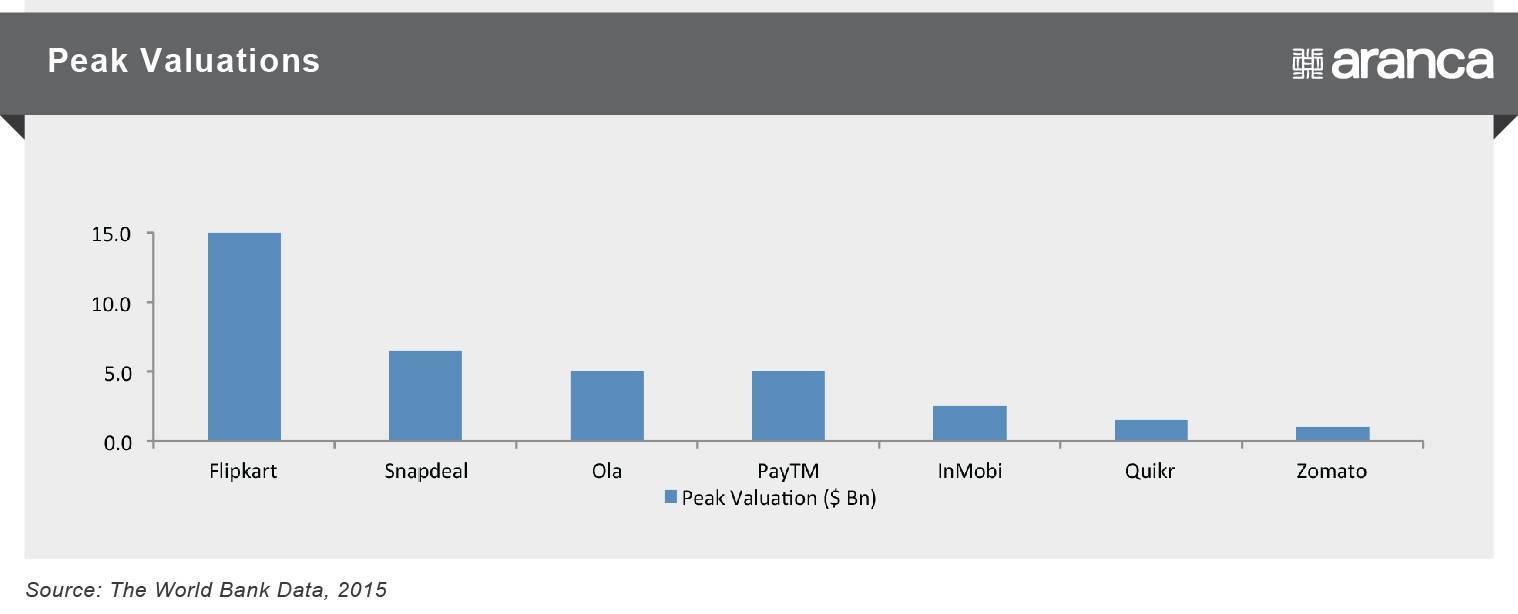 Investors viewed this with delirious optimism, and more bought into such opportunities, even at unrealistic valuations.

Funding activity and VC deals in India boomed amid rising valuations leading up to 2015.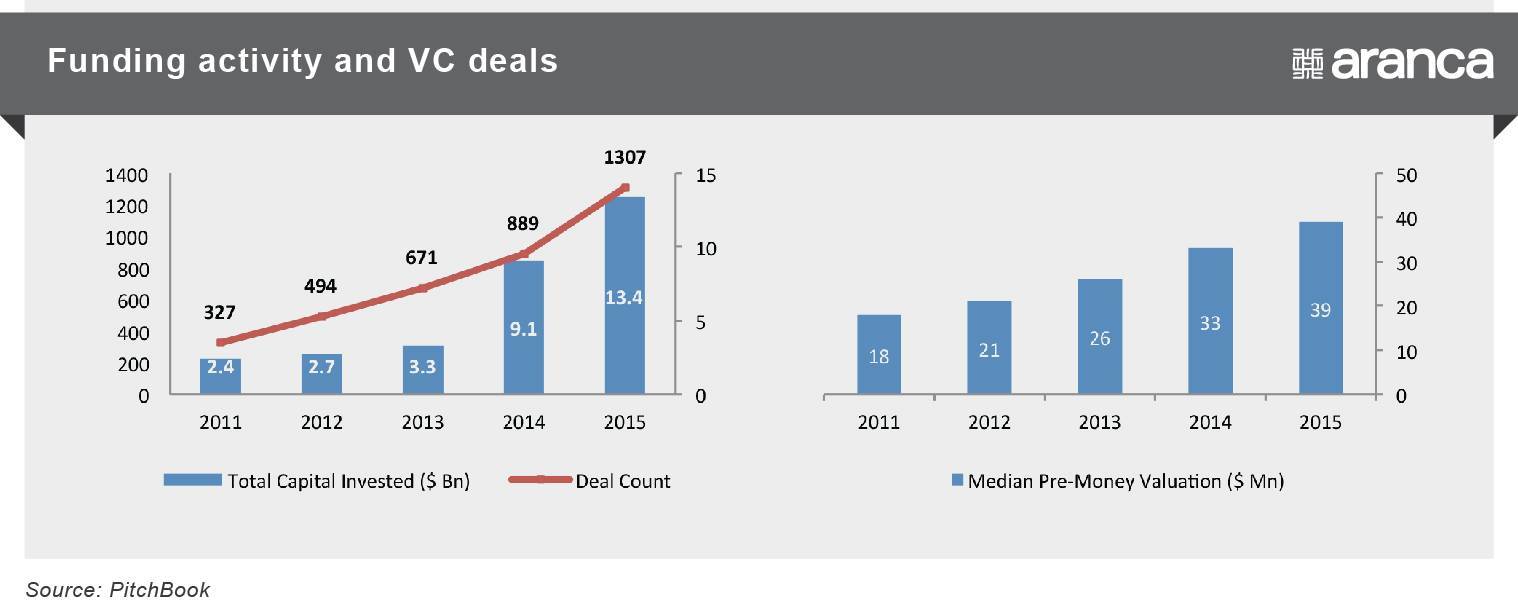 Then came February 2016, when Flipkart first fell.
2016 — The Year of Rationalization
2016 was a reality-check for the eccentric valuations of several startups.
Investors grew uneasy with the unrealistic valuations of tech startups.
The realization dawned that discount-led user-base/GMV based models – with no clear visibility of profits — are unviable.
Mushrooming new tech and service startups helped check the imbalance as well, and the congestion gradually curtailed the trend of lucrative valuation terms.
Consequently, founders were under pressure to build sustainable revenue models that could deliver real profits.
Heavily funded tech-startups like Flipkart and Zomato bore the brunt of investor ire, and were devalued.
These were the first of many tremors in the Indian startup ecosystem.
Snapdeal and Ola faced difficulties in raising funds at their preferred valuations.
Plenty of start-ups like Housing, Urbanspoon, Zipdia, TownRush, and SpoonJoy were sold off to stay afloat, while others like PepperTap, AskMe, TinyOwl, and Dazo simply shut shop.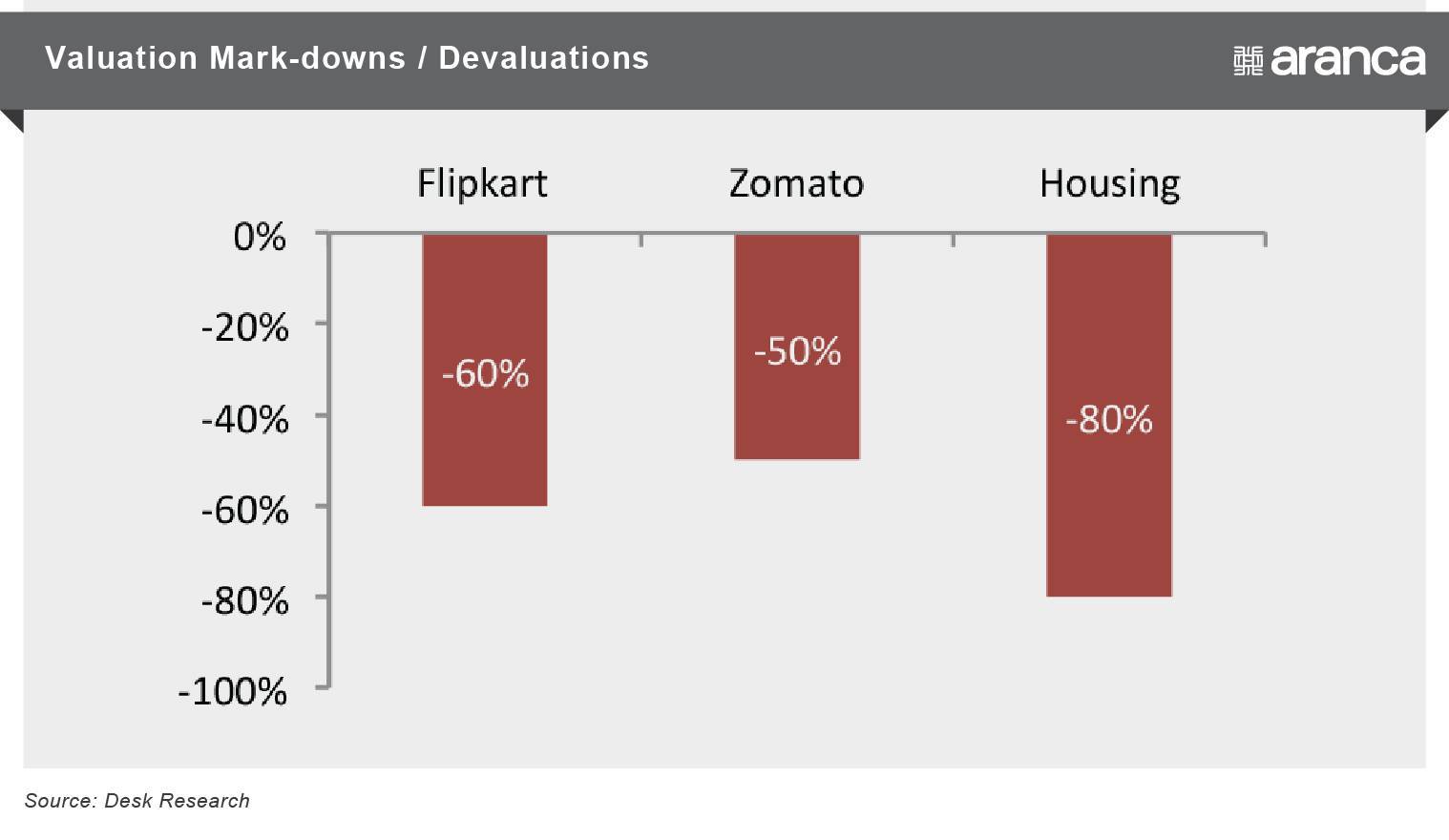 Things are turbulent over the fence too.

Devaluations and slowdowns have hit startups overseas as well, with unicorns like Snapchat, Dropbox, Zenefts, Coudera and Docusign weathering markdowns (in the range of 20-50%) from existing investors due to uncertainty over sound revenue models.
With investors turning cautious, the adverse impact on funding landscape was visible.
2016 saw a decline in funding activity, with lower pre-money valuations in India for VC stage deals.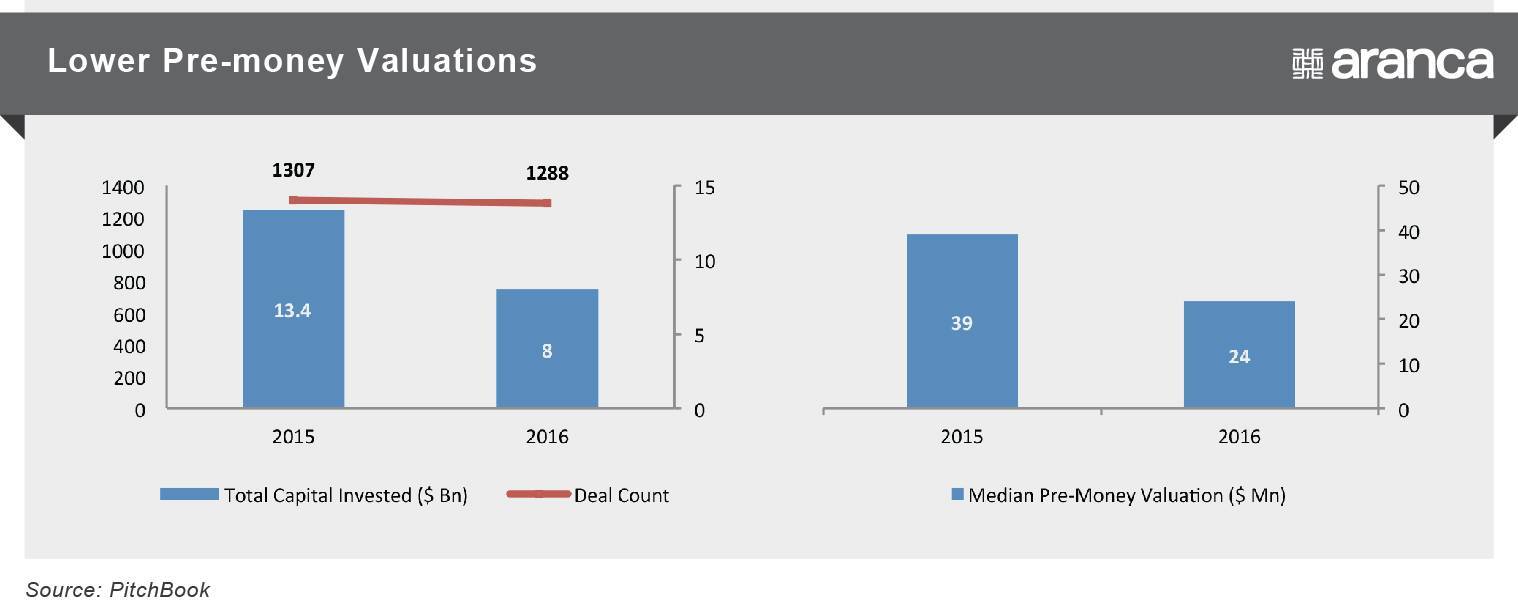 2017 — The Year of Reckoning
India's start-up ecosystem is in for an overhaul.
Devaluations and a funding crunch would force startup leadership to bridge gaps in their business models, explore sustainable revenue streams, and make strategic adjustments.
The recent Flipkart and Zomato devaluations may also have a domino effect on other tech startups, resulting in further market correction. Businesses that don't have sound business models would see sizable corrections in value.
The days of "me too" mimics may also be numbered.
With market confidence sliding and investors getting more finicky with every passing day about what they're sinking their money into, raising follow-on funding will become more difficult.
Competition is likely to intensify — especially from global players with deeper pockets — and may further stymy Indian players.
There's going to be a dire need for differentiation and innovation.
With an increasing shortage of funds, tech-startups will have to reorient themselves to profitable unit economics.
Discounts and freebies may soon become a thing of the past as well.
Snapdeal has already announced shift of focus from GMV to net revenues, and other businesses are expected to follow suit.
We may also see a steeper wave of consolidation in the tech startup space, where forces would combine to explore synergies, fight the tight market conditions, and improve survivability.
Consolidation, in fact, is already afoot aplenty.
In the recent past, PropTiger acquired Makaan & Housing.com, Snapdeal acquired Freecharge, Ola acquired TaxiForSure, Zomato acquired UrbanSpoon, and Grofers acquired Spoonjoy, Townrush, and My Green Box.
Not every sector is grappling with devaluation however.
Spurred by India's demonetization, fintech players such as Paytm, MobiKwik, FreeCharge, and EzeTap are growing at a rapid pace.
A few other sectors such as B2B, Artificial Intelligence, and SaaS are also expected to remain resilient as budding innovations and burgeoning market potential will support these businesses' future prospects.
There are also host of startups focused on solving social and community problems, using innovative technologies in health-care, education, social platforms, hyper local services and analytics, all areas with both a "feel-good" factor and the resilience to weather recessions that'll make investors more amicable while signing cheques.
All-in-all, the rationalization of valuations does not necessarily mean India's startup ecosystem is in a slump.
On the contrary, it's still steady on.
Nasscom numbers suggest that in 2014, India boasted the world's third-largest collection of established startups, with 3100 companies already running and more than 11,500 expected to become operational by 2020.
Established businesses are also maturing, and investors are optimistic about the market's pulse.
2017 will be a year when innovations are rewarded while the ("me-too") apes go extinct.
Businesses and investors alike are regaining their sensibilities.
The days of subsidized top-line growth are numbered.
The days of euphoric valuation are behind us.
Resilience and sustainability will prevail.
---

This post first appeared on ETtech.com.
---
Speak your Mind