The Cisco-BlackBerry Deal – 9 Months On, Who Gained More?
Published on 26 Apr, 2016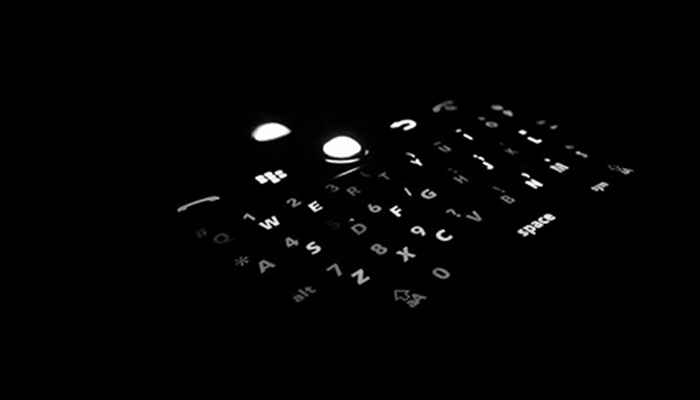 On June 23, the cross-licensing deal between Cisco and BlackBerry was announced. The agreement was a no-brainer when one considered the current market position of BlackBerry, and how the Canadian technology giant wanted to make full use of its assets. However, the deal did raise a few eyebrows when one considered that it was only Cisco who would pay a licensing fee to BlackBerry, and not the other way around.

With the deal now a quarter shy of being a year old, let's understand who stood to gain more from the deal – Cisco or BlackBerry?
Cisco, recently, has been struggling on many fronts. Declining revenues, losing market share in major product segments, inability to capture the emerging markets, and many other aspects have contributed to Cisco's woes. In July, 2015, Cisco had announced that it is selling off its customer-premises equipment business to Paris-based Technicolor. In 2Q15, Cisco's core switching business saw a 4% year-over year decline in sales, while its datacenter business dropped 3% year-over-year.
Naturally, Cisco began working long-term revival plans and hinged its growth on the newest fancy in town: Internet of Things. John Chambers, ex- CEO of Cisco, highlighted that the Internet-of-Things movement was going to be Cisco's trump card and key to revenue growth.
While considering such requirements for the implementation of IoT, John Chambers had said in 2014, "You're going to see a brutal, brutal consolidation of the IT industry."
To be a leader in the new world of technologies, the companies usually consider industry collaboration a key solution to market challenges. Such collaborations are more essential now because IoT as an ecosystem cannot operate as a single technology or innovation—from communication protocols, to data security, to resource management, to routing algorithms, to information retrieval and much more.
Cisco has also followed the same path. It is reflected in its recent acquisitions and business strategy. The multi-billion dollar acquisitions of Sourcefire (a network security company), Meraki (cloud-based enterprise company) OpenDNS (cloud-based security company), and more recently Jasper (cloud-based IoT platform provider) suggest how Cisco has been strongly focusing on developing a good IoT ecosystem around its products and services. Although Cisco had done many deals in the past, the company has to continue the streak of strategic alliance till they get to the roots of the IoT implementation.
Moving along the same path, the Cisco-BlackBerry deal comes to the fray.
The Deal Recap
In the early 2000s, the e-mail tagline "Sent via BlackBerry" was a status symbol. However, the company has been struggling now to be in the market. For affecting a turnaround, BlackBerry had been focusing on enterprise business solutions, multi-platform BBM messenger, and QNX software outside mobile space.
In 2013, BlackBerry had announced that the company was exploring some strategic options to bail it out of its current moribund financial state. The strategic options included joint ventures where possible, partnerships, and outright sale of the company.
On June 23, the cross-licensing deal between Cisco and BlackBerry was announced. As part of the deal, BlackBerry would receive a license fee from Cisco. This agreement came on the heels of a long period of speculation wherein news was rife that Cisco may acquire BlackBerry.
The agreement was a no-brainer when one considered the current market position of BlackBerry, and how the Canadian technology giant wanted to make full use of its assets. However, the deal did raise a few eyebrows when one considered that it was only Cisco who would pay a licensing fee to BlackBerry, and not the other way around. In fact, the very concept of a licensing fee in a cross-licensing deal seemed intriguing.
A Good Deal of Patents
In the quest to innovate in IoT, Cisco has created a new term – "Fog computing" that refers to extending cloud computing to the edge of an enterprise's network. Cisco had also hosted the world IoT forum, and further plans to invest $1 billion in the Cisco Cloud Services to create global inter-clouds using the OpenStack platform by forging alliances with service providers across the world.
Cisco had earlier announced its Digital Ceiling Framework for creating smart homes. It also partnered with Cree, a leading LED manufacturer, to implement this framework. Cisco has also teamed up with University of New South Wales (UNSW) for exploring implementation of IoT in agriculture. Further, Cisco has collaborated with SK Telecom to develop new IoT solutions.
Clearly, in similar run, Cisco would have gained a lot from BlackBerry's portfolio as it could leverage BlackBerry's technology expertise to forward its IoT plans.
In order to understand the synergic advantages for Cisco, we analyzed patent portfolios of both the companies with respect to specific IoT aspects:
Modulated data carrier systems including communication protocols (IPC class - H04 29)
Device security (IPC class - G06F 21)
Access restriction (IPC class - H04W 48)
Cisco defines security (both cyber and physical) as an integral part of IoT ecosystem. General security in IoT has two basic aspects - protocols related to message/data communication and security of devices, components, and sensors. For a company to establish a strong foot-hold in IoT security domain, it needs good expertise in both data communication protocols and device security technologies. Furthermore, patents disclosing communication protocols that complement device security technologies can be more advantageous.
Let us breakdown Cisco and BlackBerry's portfolios with respect to the earlier mentioned technologies.
Modulated Data Carrier Systems (IPC Class - H04 29)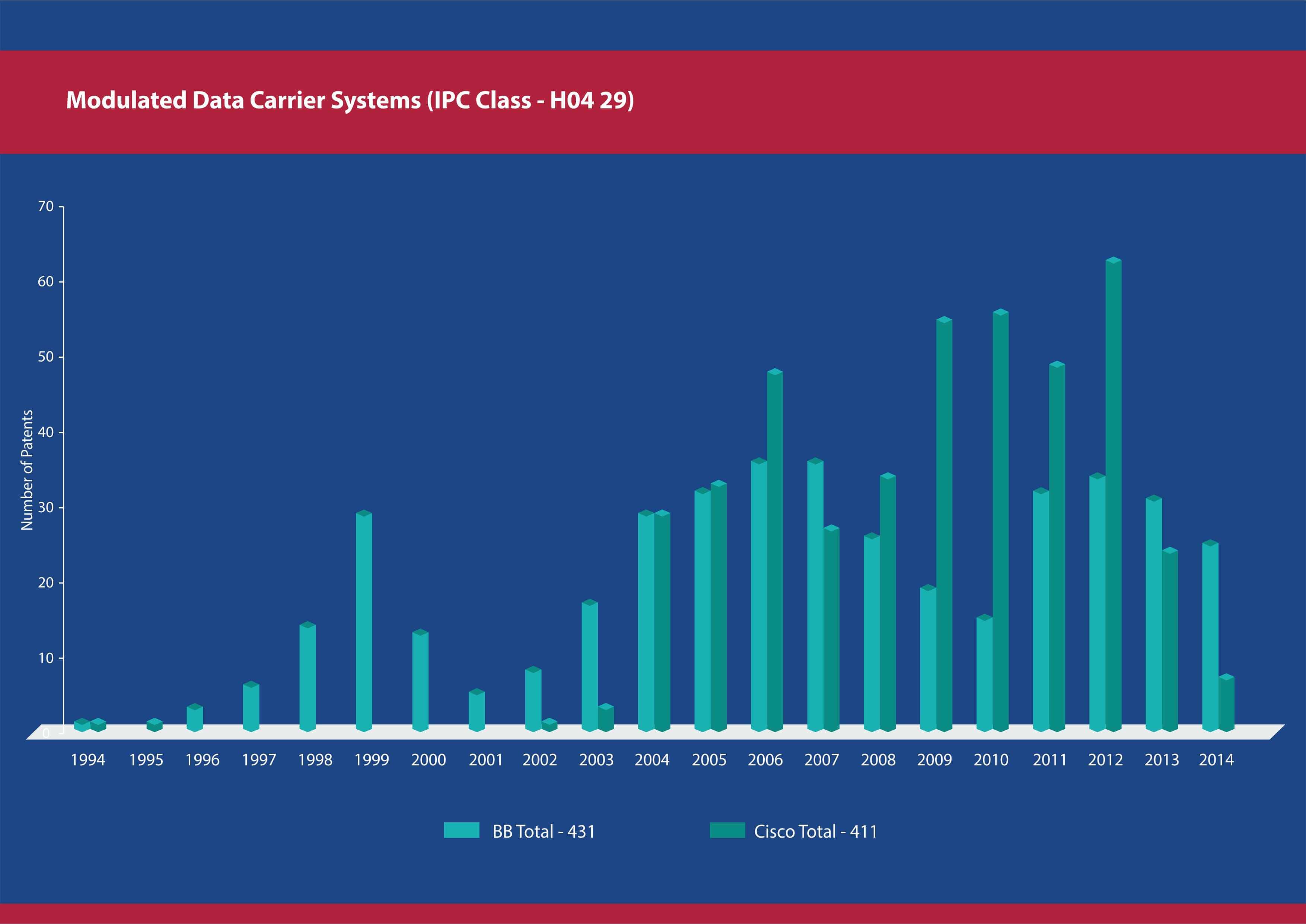 Both Cisco and BlackBerry have nearly same number of patents. Though Cisco started researching well-before BlackBerry, from 2006 onwards BlackBerry has filed greater number of patents than Cisco. Patent filing activity of BlackBerry has declined only recently which can be attributed to its poor financial conditions. In the period 2008-2012, BlackBerry has filed almost twice the number of patents filed by Cisco.
BlackBerry seems to have better patent portfolio (in terms of patents filed in last 7 years). Further, BlackBerry has strong research presence in Europe. Out of 431 patents, 221 patents of BlackBerry have originated in Europe. On the other hand, Cisco has only 13 patents out of Europe. Moreover, BlackBerry has 68 SEPs in this category, whereas Cisco has none.
Clearly, BlackBerry's portfolio in this technology can complement Cisco's future IoT plans pretty well.
Device Security (IPC Class - G06F 21)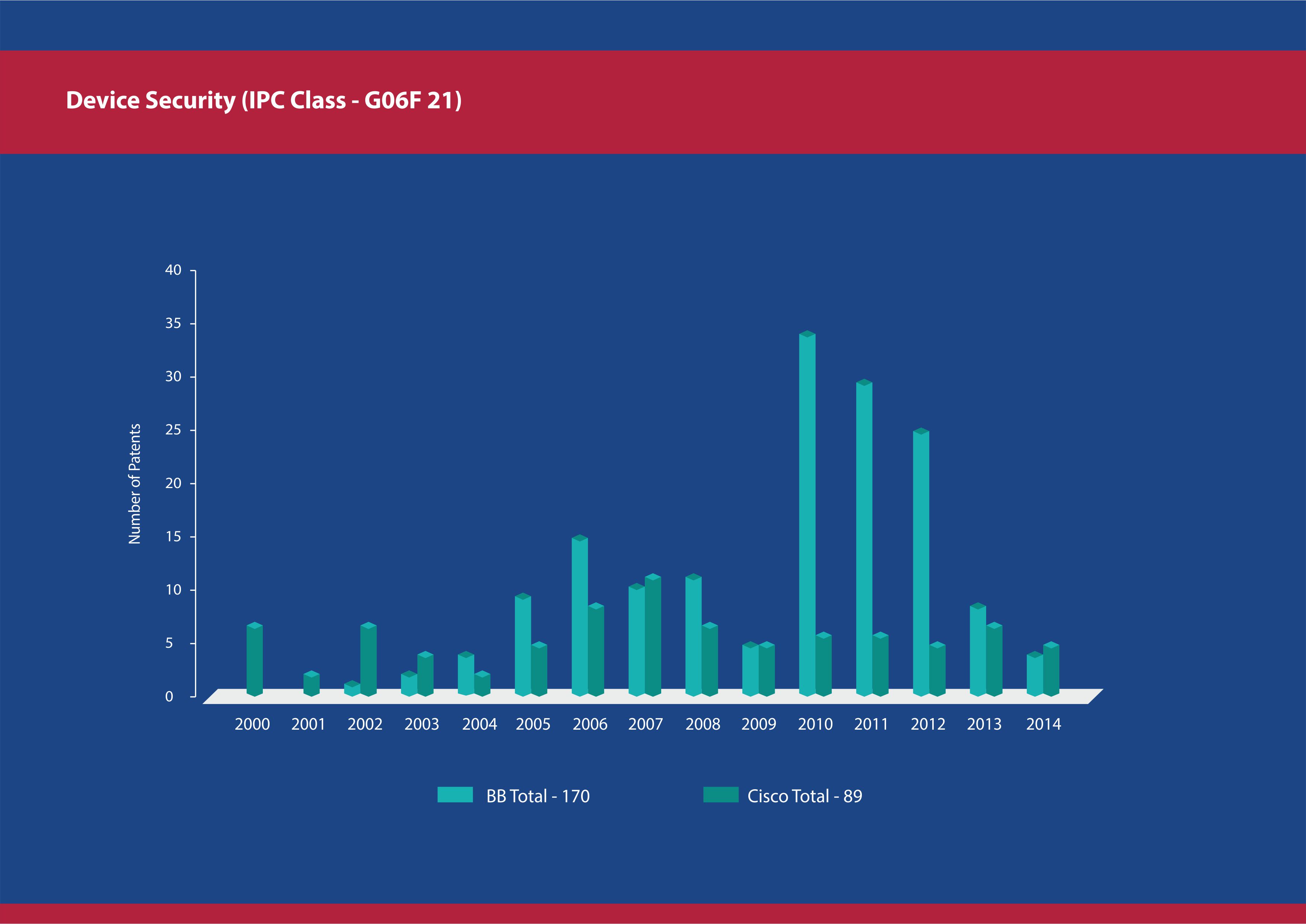 In case of device security mechanisms such as user identifier, device IDs, public keys and more, Cisco started researching much earlier than BlackBerry. Since 2004, however, BlackBerry has overtaken Cisco and currently holds almost double the number of Cisco patents. Cisco can definitely take advantage of BlackBerry's strong portfolio here. Also, like in the previous case, BlackBerry has 87 EP-originated patents, whereas Cisco has only 6. Further, BlackBerry has 1 SEP here, while Cisco has none.
It is evident that Cisco can gain significant benefits from BlackBerry in this technology.
Access Restriction (IPC Class - H04W 48)
Cisco stands nowhere in the comparison of the patent portfolios for this particular technology. BlackBerry has 285 patents with 96 SEPs, whereas Cisco has only 1 patent here.
Combination of 'Device security' (IPC class - G06F 21) and 'Modulated data carrier systems including communication protocols' (IPC class - H04 29)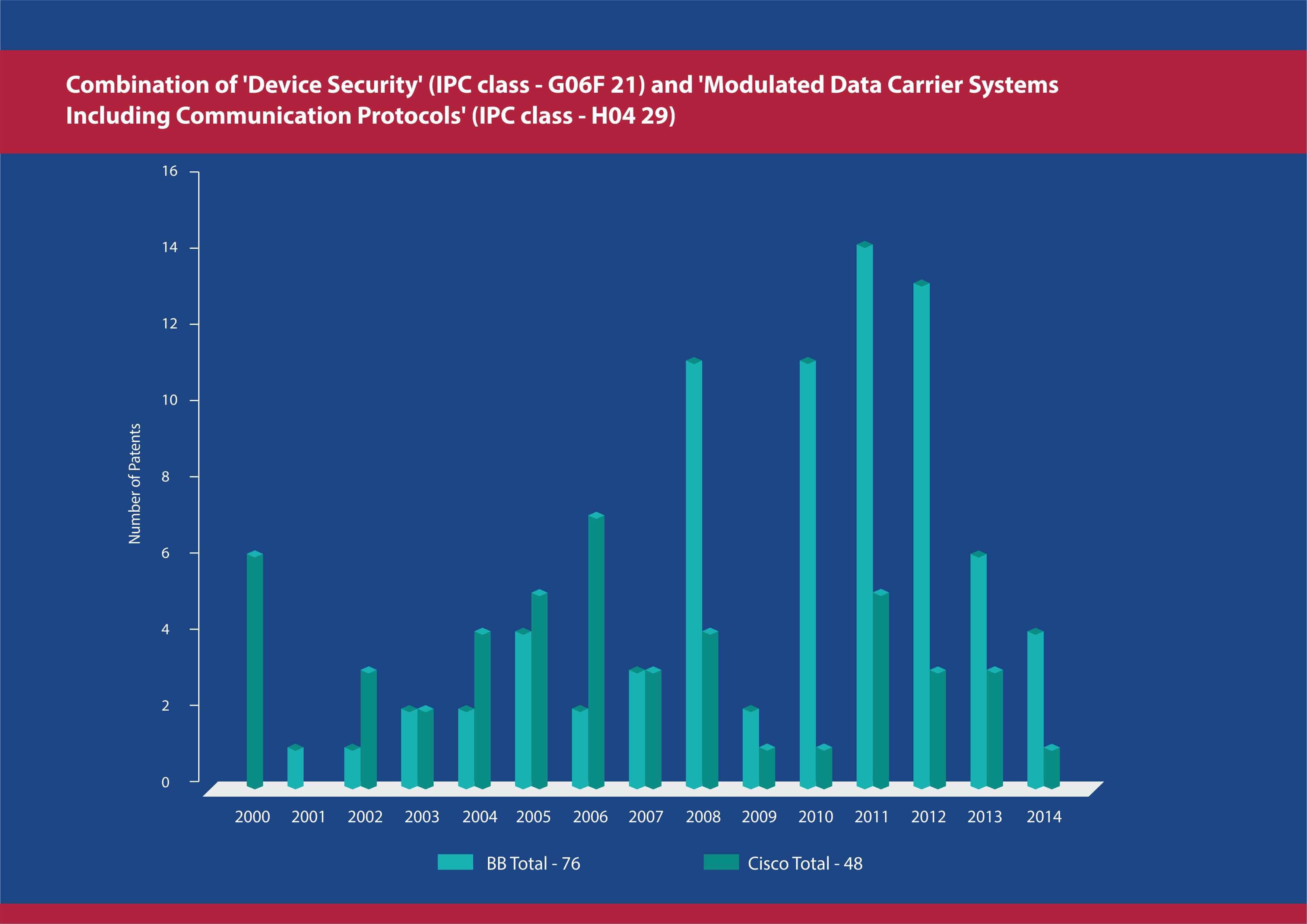 This is indeed an important aspect, as we are examining patents that overlap in both the categories. These sets of patents are crucial to implement network and device security in IoT or in general.
Here, BlackBerry leads Cisco by a good margin. In fact, BlackBerry has increased patent filing activity in the recent years. Also, BlackBerry has 32 EP-originated patents in comparison to Cisco's 1 patent.
If we look at the security aspect of IoT, it seems evident that BlackBerry's strong patent portfolio can be of great help to Cisco. In fact, Cisco knows the importance of the IoT security as it has earlier announced its plans to acquire a cloud-based security company, OpenDNS, for $635 million.
From the portfolio analysis with respect to specific technologies, it can be clearly inferred that Cisco has a lot to gain from BlackBerry's portfolio. It can use the portfolio to scale up its IoT and network security services and solutions.
In fact, reports suggest that in recent times Cisco has been able to upgrade its security segment. In the fiscal 2Q16 results, Cisco's security segment was the biggest contributor in increased product revenue of the company. Moreover, at the recent MWC 2016, Cisco unveiled its new network-functions virtualization (NFV) infrastructure solutions with improved security features.
Fast-tracking Cisco's Innovations
Much evidently, Cisco can use BlackBerry's broad patent portfolio to enhance its products and services to churn out new product-line in the enterprise technology space.
BlackBerry's telepresence technologies can be a boost to Cisco's enterprise and social video offerings. Further, Cisco can revamp its flip video camera unit through BlackBerry's flip digital camera technology. It is noteworthy that in 2011, Cisco had discontinued its flip video camera products.
Cisco can leverage BlackBerry's mobile voice system technology to enhance its voice-over-Wi-fi calling capability. In fact, Cisco has been trying to integrate its Unified Communications services to the mobile space, and it has added voice-over-Wi-Fi capabilities to its existing iPhone app.
Cisco can also make use of BlackBerry's desktop manager technology to create a new multimedia service.
Cisco can use BlackBerry's portfolio in enhancing its enterprise mobility offerings such as – Cisco Bring Your Own Device (BYOD).
Lesser Litigation Risk From SEPs
BlackBerry's patent portfolio includes about 2000 standard-essential patents (SEPs). With both companies working in similar domains off-late, it is of greater advantage to Cisco as it significantly reduces litigation risks from the SEPs. In fact, if one looks at the top patent filers in IoT domain, the emergence of NPEs like Interdigital and ETRI indicates high probability of licensing activities. With BlackBerry's SEP-rich portfolio by its side, Cisco can mitigate the licensing risks to a great extent.
Boosting Cisco's European Expansion Plan
In the recent times, Cisco has shown a significant interest in the European market. Currently, it is in the process of working on a $500m (£318m) partnership with the UK government, according to reports. Cisco plans to test new products, train technical staff and invest in start-ups in UK. A similar investment is being planned in Germany as well. Further, Cisco recently made a similar $100m investment in France through which it plans to work with the government to train 200,000 people in digital networks in the coming three years.
Going by these recent developments, evidently Cisco has set its targets for European market and soon we may see new products and services being launched in Europe. Now, to sustain the upcoming products and services, a good European (EP) patent is quintessential. Here, Cisco can leverage BlackBerry's patent portfolio. If we compare the patent research hubs (origin country of a patent) of both the portfolios, we can see that BlackBerry has much better European stronghold than Cisco.
Recently, Cisco acquired Portcullis Computer Security, a privately held UK-based consultancy that provides cyber-security services. This indicates that Cisco is planning to expand its services in Europe backed by strong EP patent portfolio.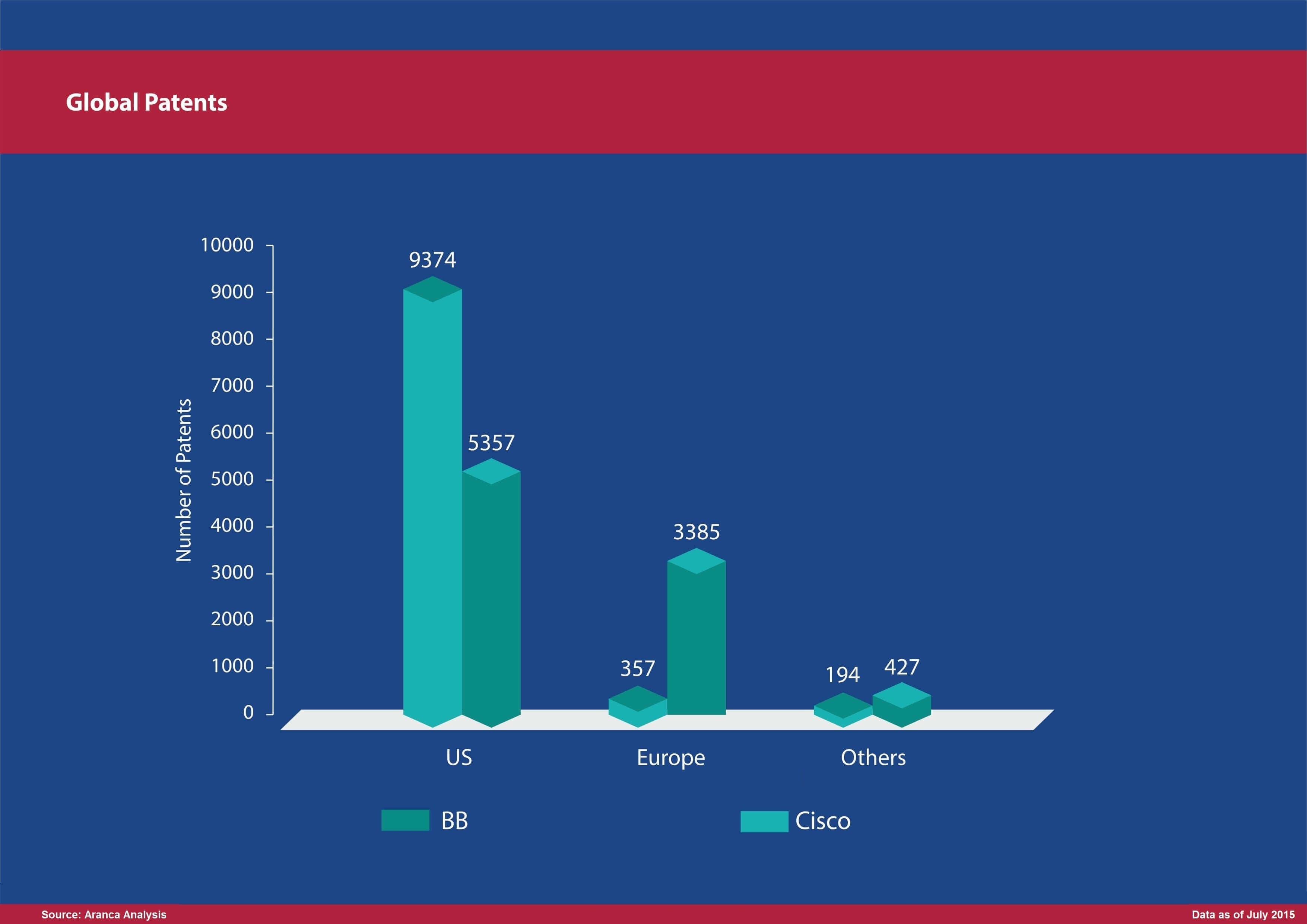 What's In It For BlackBerry?
As already stated, BlackBerry has decided not to compete with Apple and Samsung in the smartphone domain, but rather concentrate on the enterprise business solutions. Its CEO John Chen maintains, "You can be an iPhone or Android customer, and also a BlackBerry customer."
As BlackBerry ventures more into the mobile enterprise and security markets, Cisco's patent portfolio can be of help. Cisco, being a pioneer in networking and enterprise solutions, relatively has a good patent portfolio in the domain. BlackBerry can surely leverage the benefits and avoid litigation risks.
Conclusion
When one compares the synergic advantages that are to be gained by both Cisco and BlackBerry, it is evident that Cisco is the one who is to reap rich dividends off the deal. Although, the deal will also help in BlackBerry's recovery, implications for BlackBerry are difficult to comprehend. More so, with its vague future strategy roadmap.
There's a theory doing the rounds that BlackBerry might have intended to legally threaten Cisco's products, and therefore Cisco had to pay the required fees. But considering the current state of BlackBerry, it might not risk running into a high-level patent litigation with a big firm like Cisco.
In our opinion, for Cisco the deal is evidently a huge add-on to its IP resources, which can contribute significantly to its future plans, just as we have analyzed for IoT. Clearly Cisco had more to gain from the deal. Naturally, it ended up paying a licensing fee to BlackBerry.