Smart Clothing – Apparels That Can Sense, React & Adapt to Stimuli
Published on 11 Mar, 2014
The increasing trend of patent filing in smart clothing over the last five years is indicative of the extensive research undertaken in the design and fabrication of smart apparel.
The extensive research in smart clothing is ascribed to its widespread application areas, with research attention mainly directed towards its use in the healthcare and fitness domain.
The smart clothing domain is still at a nascent stage of development, with modest adoption in various end user market sectors, more specifically healthcare, fitness, medical monitoring, and defence.
The varied application areas, together with improved technology in design & fabrication of smart clothing, will play a vital role in fuelling its implementation worldwide.
Figure 1: Filing Trend

Source: (Aranca Analysis based on Thomson Innovation data)
Figure 2: Origin of Invention & Jurisdiction Spread


Source: (Aranca Analysis based on Thomson Innovation data)
Research for smart clothing mostly originates from China, the US, Japan, Korea, and Europe—the major research hubs in electronics space. Additionally, these countries are poised to be major markets for smart apparels due to better consumer awareness, which would result in early mass adoption of the same. Also, most of the research activity in smart clothing is focused on health and fitness application, which is of high priority in these countries and, hence, would drive its market.
Figure 3: Competitive Landscape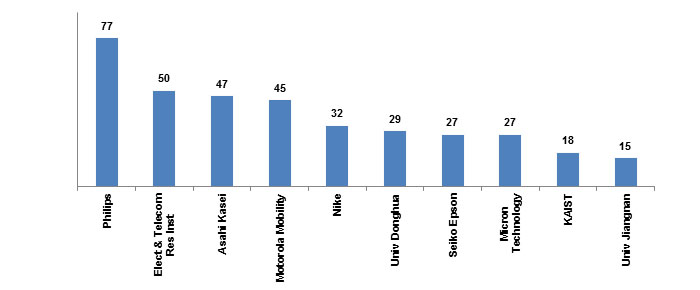 Source: (Aranca Analysis based on Thomson Innovation data)
Patents in the smart clothing domain are filed by the textile manufacturing and electronics companies as well as research organisations and universities. Philips, an electronics company, tops the list with most number of filings. Additionally, it has been observed that universities and research organisations undertake significant research in smart clothing. This is evident from the fact that four of the top 10 assignees are either universities or research organisations.
Most smart clothing developers research on improving aesthetics, compactness, durability, safety and user-friendliness, together with broadening the functionality of the apparel. These improvements are brought by modifying the arrangement of the conducting material (multiple layers) or modifying the chemical or electric properties of the clothing fabric.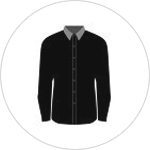 About Smart Clothing
Smart clothing is next generation clothing that integrates fabric technology with digital technology to design smart or intelligent apparels that can sense, react and adapt to stimuli. Smart clothing finds potential application across various sectors, including healthcare, sports, military, leisure wear and communication. Few examples of smart clothing are LED-integrated jackets that can ensure better visibility to bicyclists at night and heart rate monitoring sensors integrated with apparels. Although the research in smart clothing is underway since the 1980s in the US and Europe, its acceptance in mass market has been low. This can be ascribed to limited awareness, high cost and less attention on consumer needs in terms of design, aesthetics and comfort.