Potential Business Models with emergence of Autonomous Vehicles
Published on 11 Sep, 2018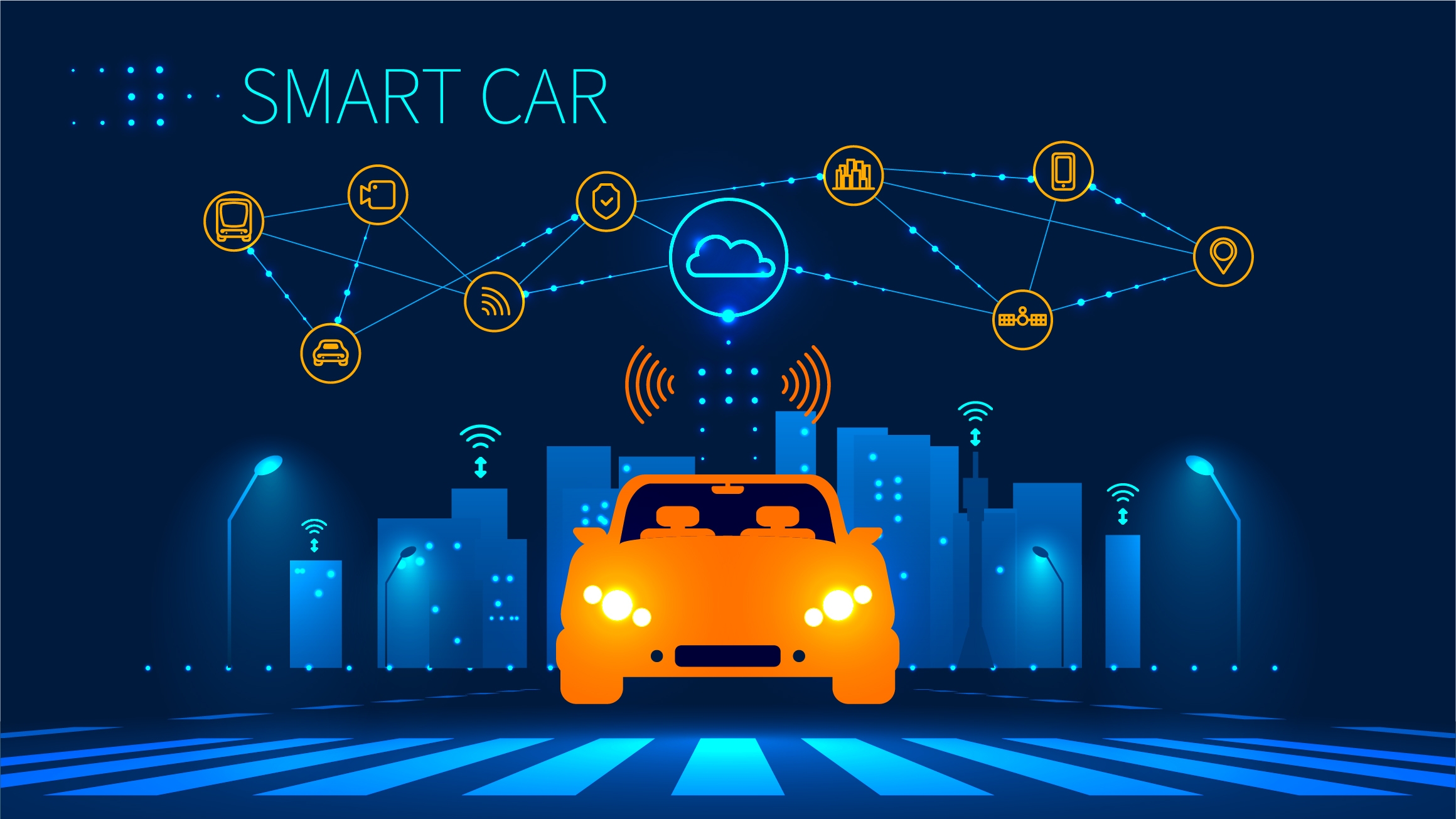 Players across industries and at all levels of the value chain are constantly monitoring R&D around vehicle autonomy in their bid to understand its contribution in the ecosystem. We believe the emergence of autonomous vehicles will boost the shared economy and attract new stakeholders and beneficiaries to the ecosystem. The question then arises: how would they make money from the products and services, and which factors would determine the overall mobility cost for end users. The article details end users' expectations from autonomous vehicles and attempts to answer the two questions.

Introduction
Players at all levels of the value chain and across industries are constantly monitoring research and developments around vehicle autonomy and attempting to understand its role in the ecosystem. With technology nearing a breakthrough, most industry leaders opine vehicles would achieve full autonomy (Level 5 status) by 2030–32.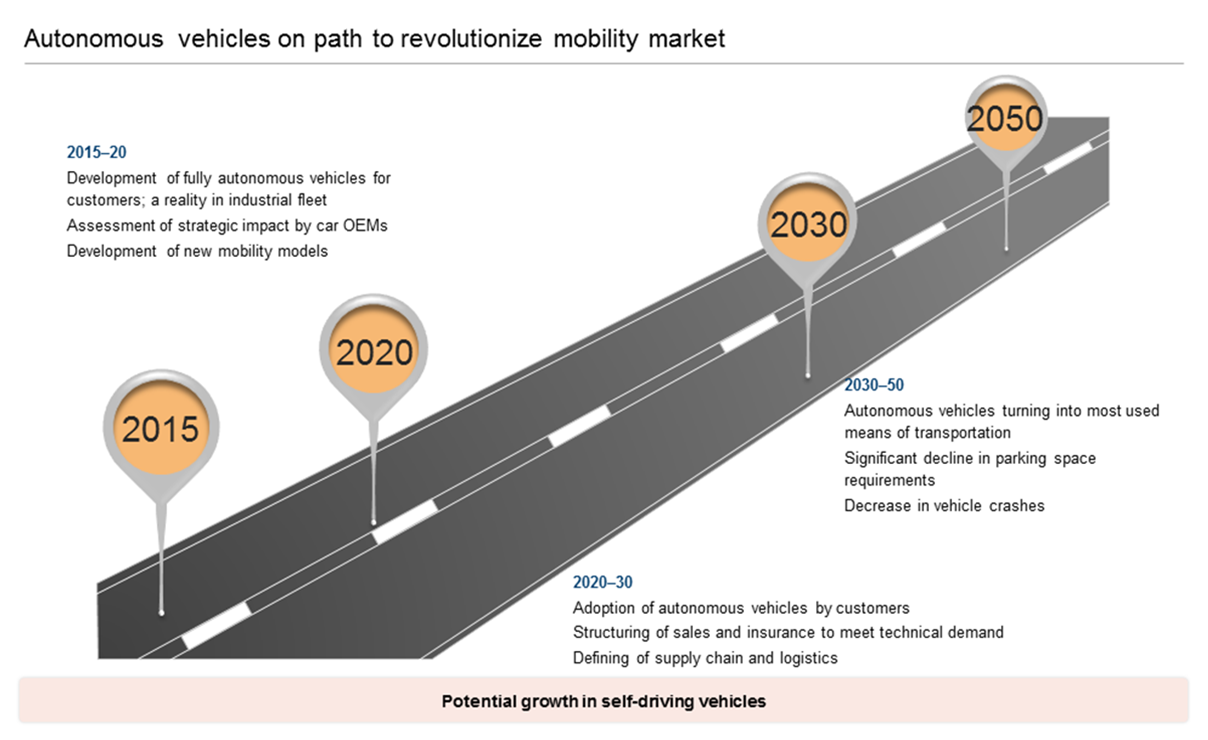 Impact of new technologies on value chain
The desire to achieve vehicle autonomy has affected the traditional value chain in the auto industry (that emerged following the second industrial revolution around 19th century) over the last eight years. Not only are traditional automotive players scouting for opportunities but new entrants, such as IT companies (for instance, Google), are also looking to explore avenues in a sector where they have no footprint as yet.
Involvement of new players in the autonomous vehicle ecosystem, such as telecom companies, data-center/storage providers, power grid owners, online advertising and marketing agencies, will lead to further improvement and advances in products and services offered by traffic management departments, road infrastructure companies, garage service providers and highway motel owners.
This article specifically discusses:
Stakeholders enabling vehicle autonomy, and other beneficiaries
Ways for stakeholders to make money through products and services
Factors governing overall mobility cost for end users
Chap 1: Expectations from successful autonomous vehicles
Autonomous vehicles are about to revolutionize the mobility market. Broadly, expectations from an ideal autonomous vehicle would be to:
Take travelers/occupants to the right destination
Ensure physical safety and security
Not compromise on privacy
Chap 2: Technologies used for enabling expectations: To achieve the objectives, a seamless interaction of three systems would be required:
On-board vehicle autonomous driving (AD)/autonomous driving assistance system (ADAS)
Road infrastructure and traffic management system
Means for communicating on-board AD/ ADAS system to road infrastructure
2a) On-board vehicle AD/ADAS: An on-board AD/ADAS would include various technologies for:
Sensing and processing: Sensing road dimensions, hurdles on the road and driver's state; processing heavy volume of data to ensure occupant, vehicle and road infrastructure safety; and providing value added services to occupants
Positioning: Positioning the vehicle over geographic coordinates using either technologies used in submarines such as GNSS, or inertial navigation, or a combination of both
On-road infra: A minimum infrastructure including dedicated/semi-dedicated lanes for autonomous vehicles, overtaking lanes, emergency spaces for bypass, navigation beacons, toll collection beacons, parking, backup front-haul telecom
Backend infra: Backend IT infrastructure support for traffic management and value added services
Typical technologies used in sensing system would include a combination of long range radar, LIDAR, ultrasound and image processing. LIDAR, image processing and radar systems will generate a high volume of data (3–4 gigabytes/second). To handle this huge data, a strong processing system is required. Qualcomm and Intel are ready with their processors and processing platforms such as Snapdragon, and Intel GOTM platform.
2b) Road infrastructure and traffic management system: This would include:

On-road infra: A minimum infrastructure including dedicated/semi-dedicated lanes for autonomous vehicles, overtaking lanes, emergency spaces for bypass, navigation beacons, toll collection beacons, parking, backup front-haul telecom
Backend infra: Backend IT infrastructure support for traffic management and value added services
2c) Cooperative systems – V2X communication: Vehicle autonomy requires seamless communication with other vehicles and road infrastructure at very high speed and amid complete security of data. Given the high speed data-transfer requirement, vehicle autonomy at a commercialized scale can be achieved only after successful implementation of 5G communication and data-processing and storage infrastructure, specifically capable of transferring, processing and storing data at the rate of 2–3 GBPS.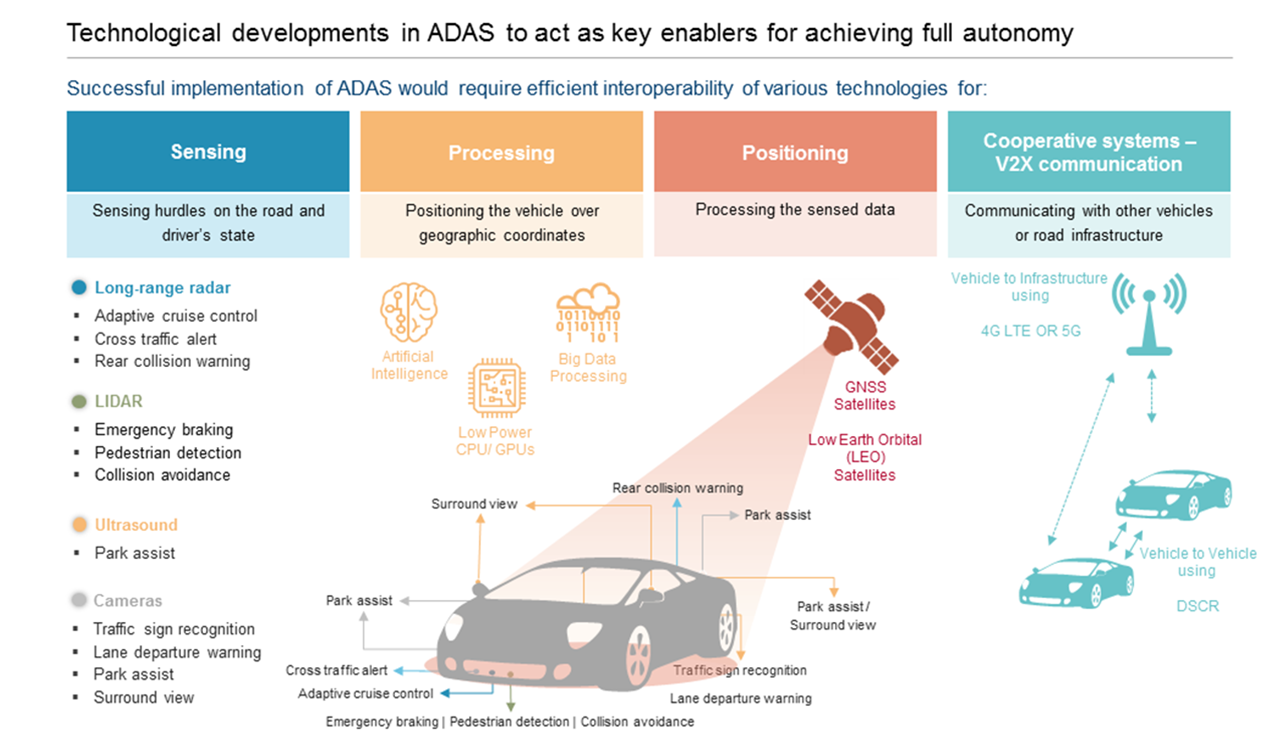 Chap 2: Pricing and potential models
Traditionally, owing a car, for non-commercial use and driven by self or chauffeur, has been considered a symbol of social dignity. For commercial use only, a taxi model was more popular, where car was rented for a shorter duration of few hours to few days.
The last few years saw the emergence of other shared business models such as car-pooling, longer duration hiring (few weeks or months) and taxi service aggregation. Key factors that contributed to their development are:
Technological advancements in smartphones leading to development of location-based vehicle aggregation/leasing apps (such as Uber, Zoom Car, among others)
Changes in economic status of urban population
Pricing transparency
Traffic issues
Creation of job for the low-educated section, especially in developing nations
Increase in maintenance and insurance cost of self-owned vehicles, including government taxes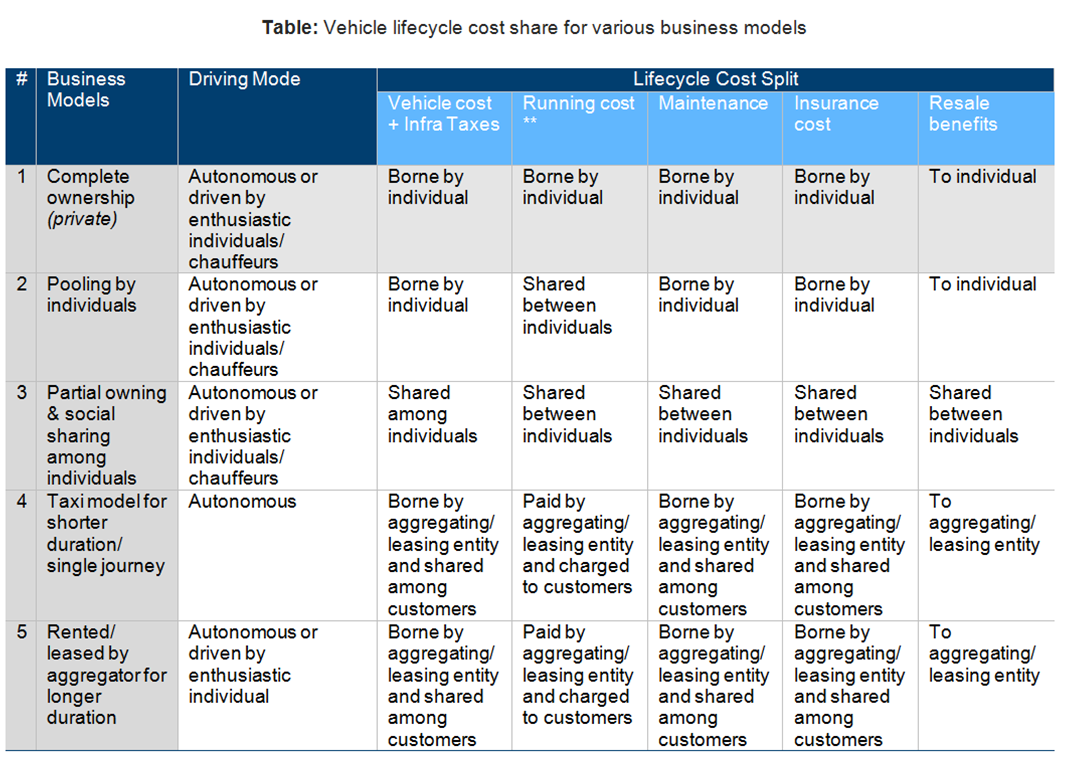 Chap 3: Stakeholders and beneficiaries
Technology Enablers – Direct beneficiaries: It is evident that OEMs and on-board vehicle AD/ ADAS suppliers would be the biggest and direct beneficiaries with the emergence of autonomous vehicle system. Other direct beneficiaries would be:
Cooperative systems – V2X communication enablers

Front-end telecom players (such as Vodafone, Verizon, and AT&T)
Front- and back-end network infrastructure developers (Alcatel Lucent, Nokia, Siemens)
Datacenters and cloud service providers (Amazon AWS, NTT Docomo)

In-road networking infrastructure developers and their component suppliers
Traffic management departments
Charge point station developers
Value added service providers – Indirect beneficiaries: Various new value added services and jobs will emerge with the introduction of autonomous vehicles. These service providers would be the indirect beneficiaries such as:
On-the-go providers of services for office, movie or games
Location-specific service providers for services such as weather reports, traffic updates, and garage in vicinity
Traveler preference-specific content marketing such as for shopping offers, food stalls, exhibitions
Car manufacturers, vehicle aggregators or garages providing real-time vehicle health-check services
Charging station owners for transferring power at lowest cost or providing better remuneration against Vehicle-To-Grid (V2G) power transfer
Along with this, existing jobs and roles would be replaced with new jobs with different responsibilities, such as:
Petrol/gas stations being transformed to charging stations for supplying (grid to vehicle) and receiving electric power (vehicle to grid)
Electricians, telecommunication and software engineers, IT networking and data-center managers to play a greater role in the ecosystem
Change in role of traffic police, who would regulate city traffic from state-of-the-art data-centers, instead of being on roads
Chap 4: Factors governing overall mobility cost burden to end user
In all business models, the maximum cost component to the end user (car owner or leaser) would remain the same as is the case with current models. However, along with fueling and charging cost, the running cost of autonomous vehicles would also include:
V2X communication and traffic management cost
Road telecom infrastructure utilization cost
VAS subscription cost
Cost associated with V2x communication, infrastructure utilization and traffic management would be further differentiated based on:
Driving in a town with heavy traffic requiring constant V2x communication and higher processing burden, which would be costlier compared to driving on traffic-free highways
Driving on a difficult terrain requiring constant V2X communication
Inter-state/ inter-country driving involving various operators, in case roaming charges are not waived off
Driving in emergency/priority conditions, where relatively high speed travel and congestion-free dedicated road infrastructure is required
Driving time, where driving or hiring a vehicle in rush hours would be costlier than driving in traffic-free hours
High speed lane/leisure driving
Availing of subscribed value added services
Thus, end users have to pay more if they choose to travel at a higher speed in dedicated congestion-free lanes, amid higher safety, security and privacy levels, where constant V2X communication, higher data transfer and storage and more processing is required.
Conclusion
We believe the emergence of autonomous vehicles will further boost the shared economy and shared business models. It will address issues associated vehicle ownership and driving (such as disobeying traffic signals, rash driving, accidents due to driver negligence). We also expect a new model, partial owning & social sharing among individuals, to emerge, where a single car would be owned, maintained and used by few friends/colleagues and stakeholders.
New stakeholders and beneficiaries (such as telecom companies and datacenters) would emerge in the ecosystem. The running cost of vehicles will include additional cost components such as V2X communication and telecom infrastructure cost; these would need to be factored in while calculating the total ownership or shared/leasing cost of vehicle. Differentiation in running cost would be further based on end user's desire for higher traveling speed; better safety, security and privacy; and value added services.
Although autonomous vehicles would minimize human error-related accidents and ensure better safety and comfort to travelers, mass commercialization will be feasible when the running cost of autonomous vehicles is less than that of hiring a chauffeur.