Will Credit Growth Revive the Saudi Banking Sector?
Published on 01 Aug, 2016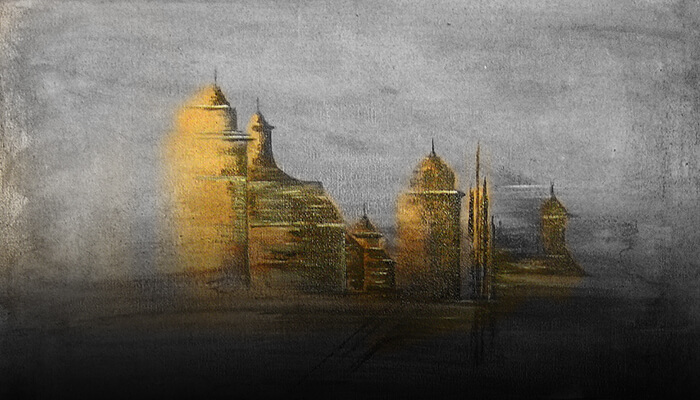 As Saudi Arabia begins diversifying its economy in earnest, the banking sector is looking forward to some favorable tailwinds amid government reforms and favorable demographics.
Saudi Arabia's banking sector saw credit growth peak at 36.2% in 2005 on the backs of high oil prices and a thriving economy.
2009 was another story however. Credit growth hit an all-time low of 5.2%, dragged down by major defaults by two giant Saudi groups (the Saad and Al Gosaibi) as well as the 2008 financial crisis.
Banking remained resilient though, owing to minimal international exposure, stringent banking regulations and strong capital buffers. A spur from the Arab Spring alongside growth in the private sector proved to be ample stimulus for the sluggish sector, with a double-digit rebound of 17.6% in 2012.
Saudi Arabia's banking sector looked like it was just about shaking off the effects of 2008.
Then 2013 happened.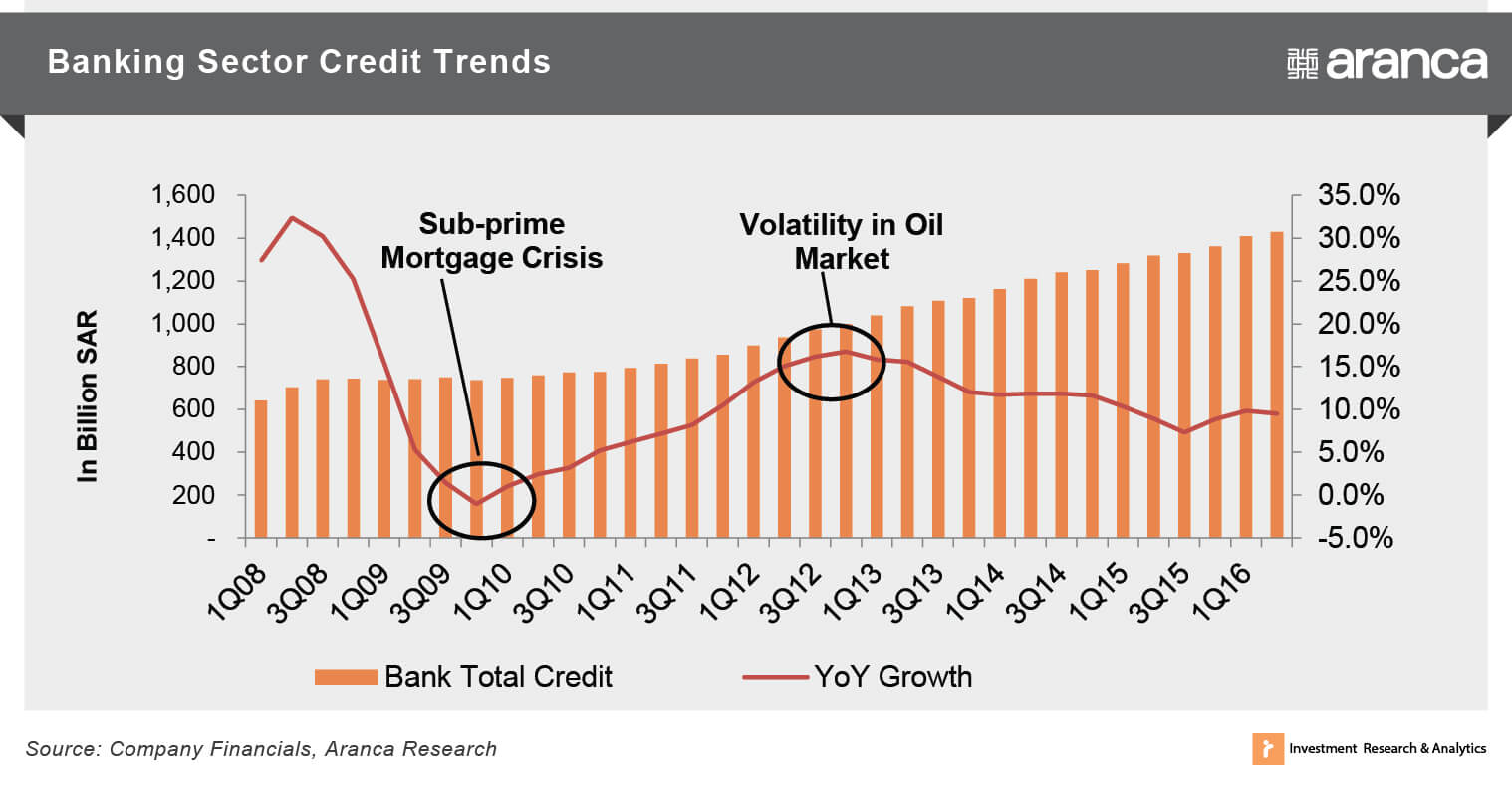 The oil sector took some serious hits in 2013 due to volatile oil prices and a drop in oil production. As a result, Saudi Arabia's real GDP growth declined, dropping from 5.8% to 3.8%. This not only dented credit growth, but also led to cautious lending practices by banks in the kingdom. The slowdown as well as a decline in deposits affected the banking sector's credit growth noticeably, with the sector clocking just 9.2% YoY growth in 2015, its lowest level since the financial crisis of 2008.
Retail Credit Will Grow Bigger Than Corporate Credit
Though commercial banking's loan portfolio is dominated by the corporate segment right now, consumer lending — having grown remarkably in the recent past — will likely overtake it.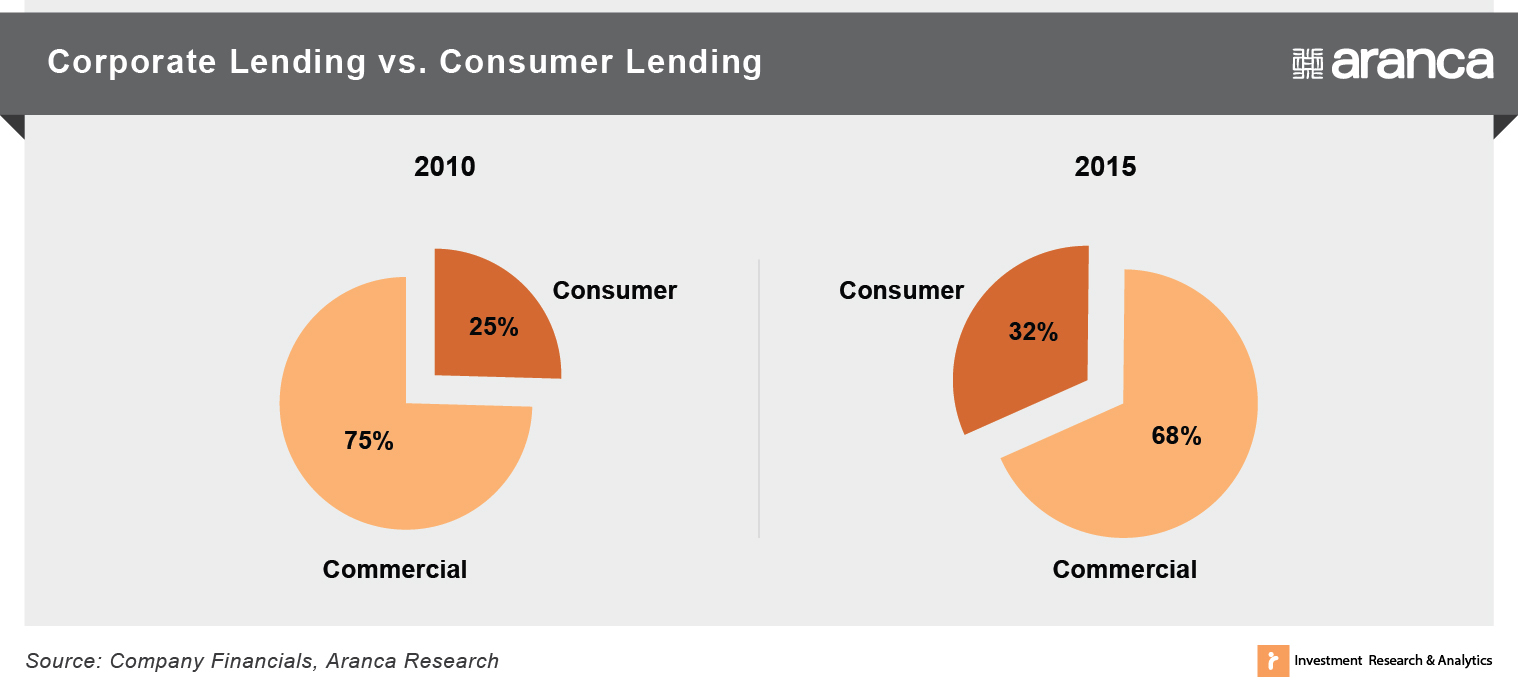 The retail segment made up 32% of all loans and advances in 2015, up from 25% in 2010. This strong growth has been driven by favorable demographics, increased consumption, improved lifestyles, and government initiatives such as Saudization.
Among commercial banks, the top three banks catering to the corporate segment are National Commercial Bank (NCB), Banque Saudi Fransi, and the SAMBA Financial Group. The consumer segment on the other hand, is completely dominated by AlRajhi Bank.
Bustling Private Sector is Supporting Credit Growth
Despite a decline in the oil sector, the non-oil sector has seen consistent growth, driven mainly by the Saudi government's fortitude.
In their 2015 budget, the government maintained expansionary spending and announced its highest ever budgeted spending of SR860bn (USD229bn; 0.6% YoY) for 2016. Key areas of investments included education, healthcare, transport, and water utilities.
Mining and quarrying as well as the building and construction sectors have seen the highest demand for loans and advances.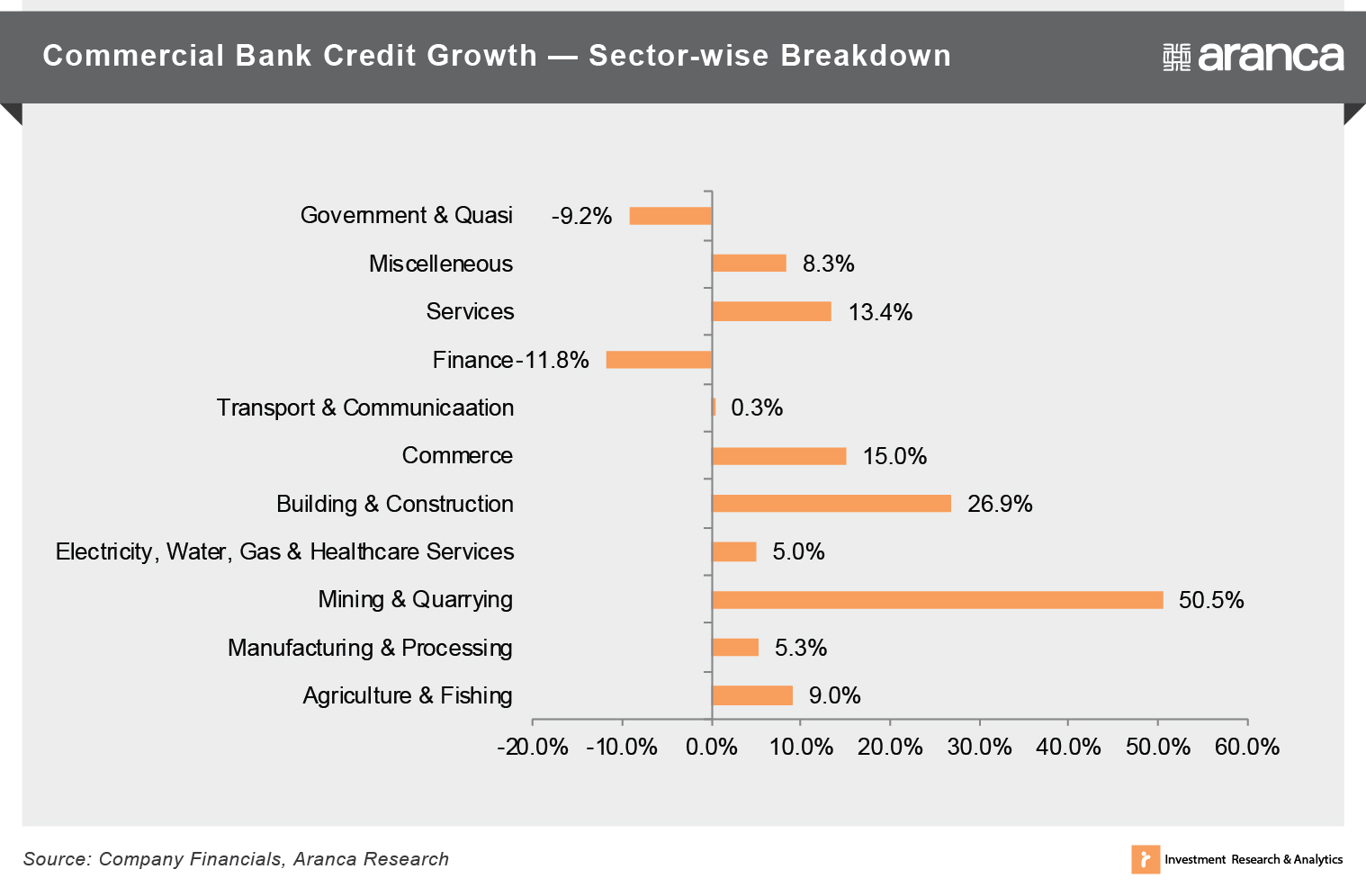 *Data as of 1Q16
Loans & Advances Fluctuate With Oil Revenue & Real GDP Growth
Lending growth in the kingdom's banking sector moves almost in line with its oil revenues and GDP growth.
A decline in oil prices significantly affects corporate profitability as well as government revenues. This in turn the banks liquidity, spurring cautious lending practices by banks.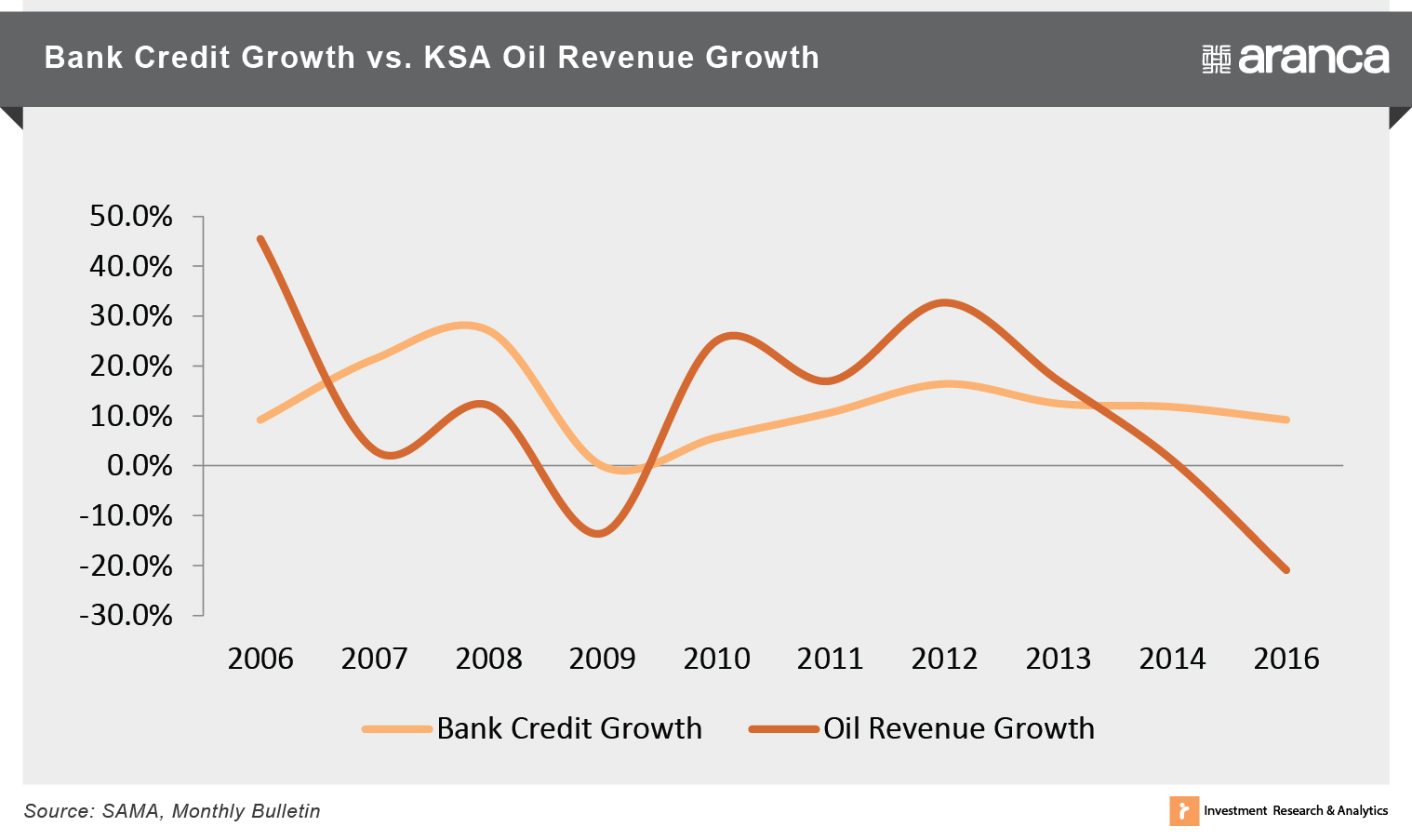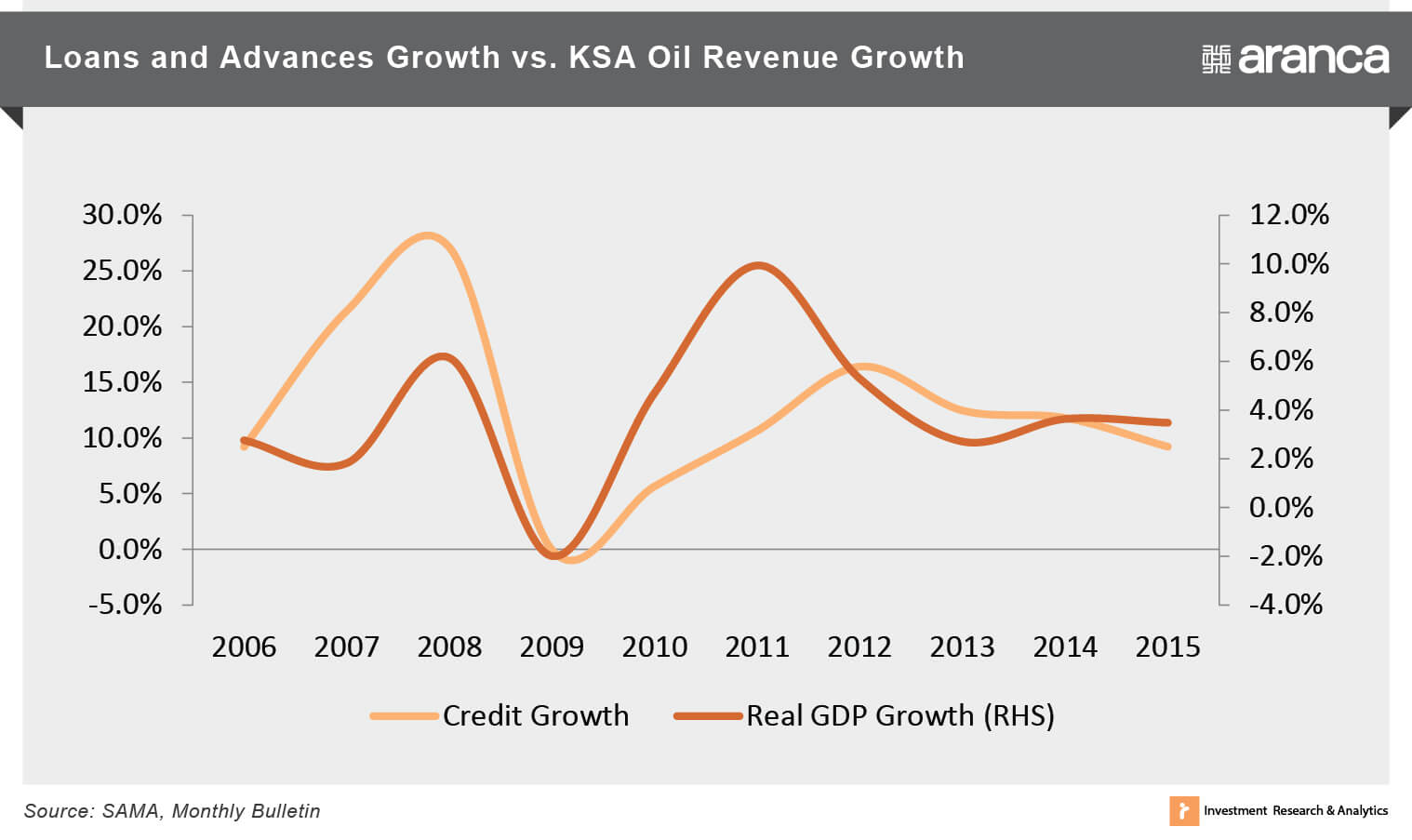 Credit Where Credit's Due — KSA's Banking Sector Will Stay Strong
Despite an overall decline in the Kingdom's deposits, bank credit is likely to grow moderately in the near to medium term. Credit growth is likely to surge, bolstered by the following factors:
Non-oil Sectors are Engines for Growth
Saudi Arabia's non-oil private sector will continue to stimulate growth in the economy, backed by high government spending, corporate lending, and solid domestic consumption. Construction and utilities are likely to be the fastest growing areas in the private sector, and they're certain to drive and maintain loan growth in the long run.
Loan to Deposit Ratio Eased to 90% from 85%
In light of declining deposits and a growing appetite for credit in the Kingdom, the Saudi Arabian Monetary Agency (SAMA) eased the banking sector's Asset to Deposit Ratio (ADR) threshold to 90%, up 5% in February 2016. This will go a long way toward boosting liquidity and stimulating credit in the market.
National Transformation Program 2020
To achieve the government's Saudi Vision 2030, the national transformation program 2020 has helmed the long-term prospective growth in the KSA banking sector. Primarily meant to transform and diversify the oil-reliant economy, the kingdom has undertaken numerous initiatives that could boost the region's non-oil revenue. This will likely accelerate demand for credit, spurring asset growth and profitability in the sector. Large banks like AlRajhi, NCB, and SAMBA could largely benefit due to high exposure in consumer and commercial lending.
Favorable Demographics
With almost 70% of the population between 25 to 35 years, the government's emphasis to improve employment levels for Saudis in the private sector could accelerate the overall loan growth in the long run.
While these factors will make banking credit profitable over the near to medium term, a prolonged economic slowdown amid other weakening financial conditions may be a serious impediment to banking liquidity. A positive outlook and serious reforms by the Saudi government to reform its economy should offset any detriments however, affording the banking sector ample liquidity, and profitability.

Saudi Arabia is well on its way to a diversified economy, and likely, won't break the bank.