Will active fund management strategy make a comeback in 2019-20?
Published on 20 Jun, 2019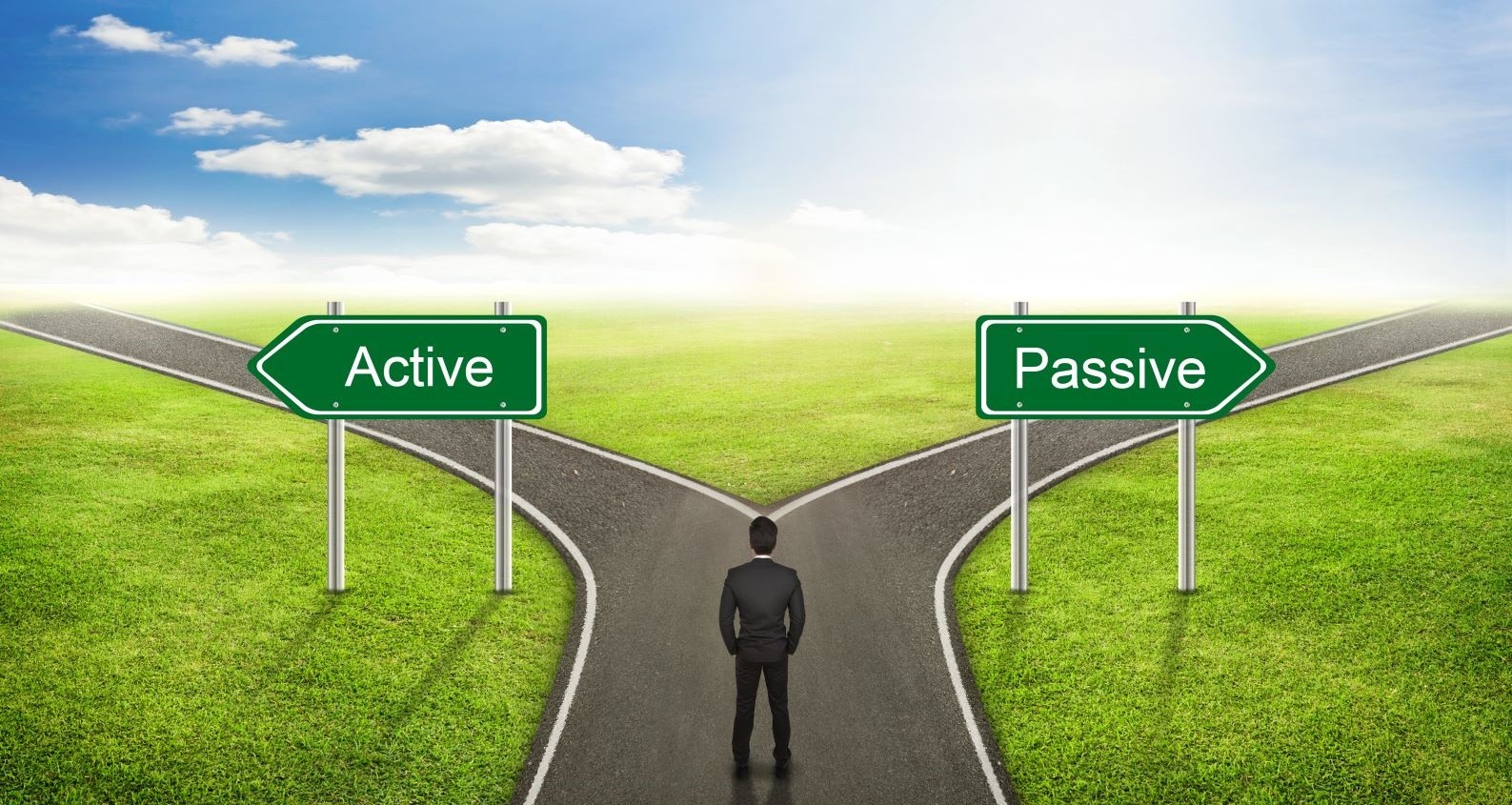 Since the financial crisis and international meltdown of 2008, passive management strategy has received higher fund flows when compared with active strategies. However, we believe the trend is expected to reverse in the near future led by uncertainty in the global financial market. As historical performances indicate, when volatility is on a rising trend, active funds perform better and hence should generate higher inflows in the near-term.
Active managers have underperformed vis-à-vis passive managers in 8 out of 10 years since the financial crisis. Following the poor returns generated by active managers and in the light of recommendations made by influential financiers such as Warren Buffett, passive funds have been flooded with cash since 2009. Passive investment strategy in USA started gaining prominence since 2007, with USD202 bn net inflow vis-à-vis USD88 bn inflow in 2006. Despite a marginal dip in 2015 and 2018, net inflows have been on the rise since 2011, with the highest so far recorded in 2017, at USD692 bn. On the other hand, post 2009 inflow, net flows to the active funds industry in USA have been on a declining trend with the latest years recording net outflow of USD877 bn (2015-18).
The aftermath of the 2008 global financial crisis saw the central banks of advanced economies adopt expansionary monetary policies, entailing deeper interest rate cuts and large asset purchases. The objective was to boost liquidity and promote businesses. This led to a healthy rise in equity market indices, high correlations between different asset classes and low volatility. It created a challenging environment for active managers to outperform the market, as the gains were widespread across multiple sectors, especially over a long timeframe and net of fees. Passive managers registered a CAGR of 7.4% from 2008 to 2018, while, during the same period, active managers generated a return of 1.5%.
An active manager selects securities based on fundamental research, whereas a passive manager tries to mimic the performance of an index.
The fund manager in actively managed funds relies on analytical research, forecasts, self-judgement and experience in making investment decisions pertaining to buying, holding or selling securities. Not relying on efficient market hypotheses, the manager develops strategies to identify mispriced securities.
A passively managed fund, on the other hand, tracks the returns of a particular market index or benchmark as closely as possible. The manager selects stocks and other securities listed on an index and applies the same weightage. The objective is to generate return in line with that of the index, not outperform it.
What leads investors to choose between active and passive strategies?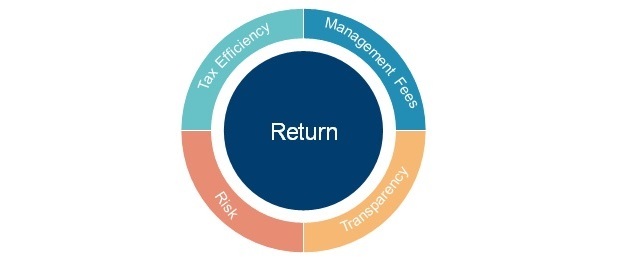 There's more to direction of flows than just returns
Traditionally, it was believed that higher the returns generated by a particular type of fund, greater the investor cash will flow into it. However, several other factors also come into play while making an investment decision. Management fees is the next most important element, as active managers charge roughly 10 times the amount charged by a passive manager. Moreover, higher fee component is a key reason why investors allocate funds to passive strategy. Lately, active fund managers, to stay competitive, have been slashing their fees. Ultimately, as investors compare returns net of tax and fees, many passive managers devise tax-efficient ETFs. Risk tolerance is a subjective factor, depending on the investor's risk appetite—passive funds are perceived as low risk investments vis-à-vis active funds, ceteris paribus.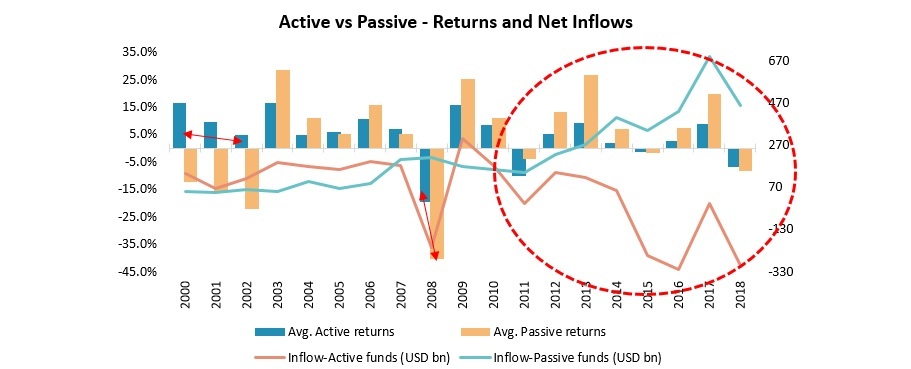 Trend suggests active performs better during bear period, while passive fares well in bull
To calculate active returns, we have taken the average of three global hedge fund indices, considering the hedge funds' active strategies to earn alpha; for passive returns, we have taken the average of MSCI World Index and S&P500.
It is amply clear from the above graph, that during bear periods, the average return of the three hedge fund indices was better than that of MSCI World Index and S&P500. However, barring a few years from the analysis period, every year passive indices have performed better than active hedge funds. Thus, consistency in returns, lower fees, and higher transparency are positives for passive funds.
These are the various reasons for the gradual shift in investor flows from active funds industry to the passive funds industry. In the last decade, roughly after the recession of 2008, investor preference for passive funds increased; with 2010 being the year giving way to the passive funds industry. This outcome is attributed to the general mindset of investors who believe that no one can consistently outperform the market over a long time period.
Performance amid uncertainty
With the US-China trade war escalating to new heights, Eurozone and Asia (particularly China) clocking poor growth, and the IMF slashing growth forecasts for 2019 from 3.5% to 3.3%, the world economy seems to be headed toward a slowdown in the near term. Also, uncertainty over Brexit and inversion of the US Treasury 10-year yield curve are potential indicators of recession. Therefore, we believe volatility will remain at higher levels, going forward; moreover, with the US presidential elections 2020 approaching, which type of fund attracts higher inflows needs to be watched.
As volatility gains ground, active managers lead the way
During the first bear period of 2000-02 (dotcom crash), when there was a trend of rising volatility, active fund returns were higher. As volatility transited into a declining trend, passive fund returns started rising. In 2008, when volatility was at its peak, active indices recorded lower losses than passive indices. On absolute basis, when Volatility Index (VIX) was more than 20, no clear winner emerged as the ratio was 50:50 in terms of the performance of active and passive funds.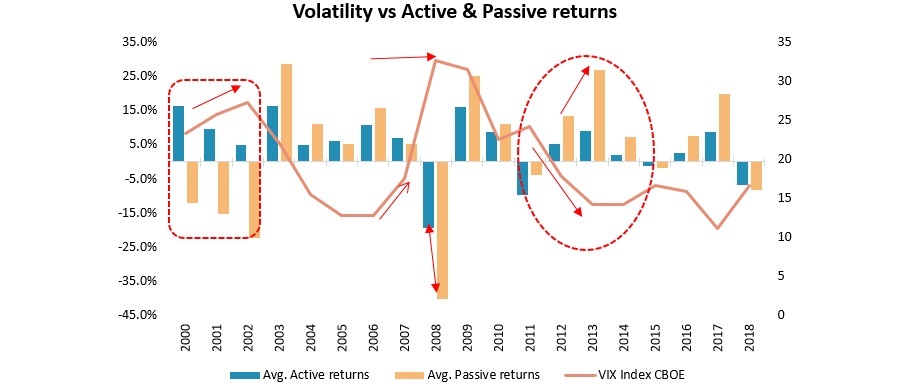 Road Ahead
Year-to-date, the daily average of VIX stands at 15.85, which we believe, is going to move upwards as the year progresses. Thus, based on the above analysis during this period of rising volatility, in our opinion, active funds would generate substantially higher returns, attracting increased inflows. In a possible scenario where the bull phase comes to a grinding halt, we believe active managers will fare better and investment will flow once these funds start generating higher returns.