Why Hope Isn't Lost For the Indian Markets?
Published on 28 Aug, 2015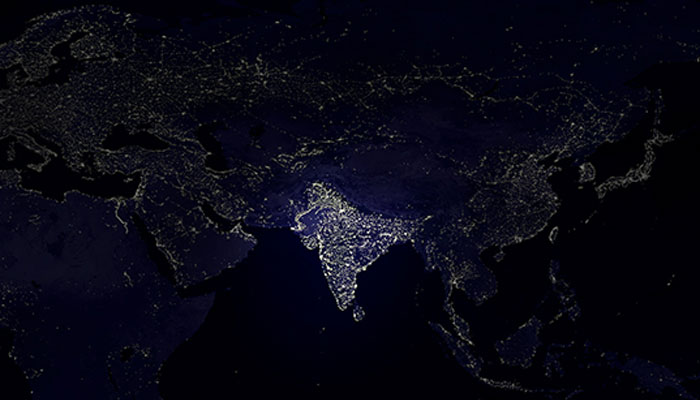 Image source:Wikimedia Commons | Craig Mayhew and Robert Simmon, NASA GSFC
India has been well marketed by the Prime Minister Narendra Modi with his "Make in India" campaign as a great investment destination over the past year. The days post the rise to power of a majority government saw euphoria of sorts gripping the Indian market. However, the situation on ground at present is not as cheerful as the bulls would have liked it to be.
Nevertheless, we argue that all is not lost and if we look beyond the Parliamentary affairs and the reforms hoopla, there are signs of improvement. We highlight that any rise is not linear and short term concerns usually dwarf the big picture, especially the slow changes that often get unnoticed. Let us try to take a stock of the situation and examine the road ahead.
Equity Markets Overheated?
Currently, the CNX Nifty is trading at a PE of 21.63 compared to the historical average of around 18-19x. Generally, a PE of 22x and above may signal that the market is overvalued, it was at 28.29 in March, 2000 and 27.62 in January, 2008. Looking at market cap-to-GDP ratio, it stands at around 76 now vs. 146.9 in 2007. The usual caveats like interest rates (high rates scenario witness lower Mcap to GDP), number of listed companies especially after recent IPOs etc. do apply while looking at such ratios.
In our opinion, the current earnings season has been weak and high valuations may warrant a correction. We believe India is yet to reach the overheated stage as earnings will improve albeit slower than expected. Our belief is backed by the improving inflation, and potential for lower rates and record low commodity prices. Evidently, the Indian market continues to fair better than its EM and Asian peers.
Monsoon Session Wash-Out
Everyone observed the Parliament's monsoon session being washed out. Even, the critical bills such GST and Land Reform couldn't see the light of the day. However, political pundits have been arguing how the government may call for a special session to pass the GST bill. It's yet to be seen how it may all unfold.
The Macro Picture
CNY devaluation led to a sell-off in the markets as fears of competitive Chinese exports increased. Movements in Yuan do have an impact (see our recent article) on the global markets.
The PBOC said in a press conference recently that there's no basis for depreciation to persist and policy makers will step in to control large fluctuations, Bloomberg reported. Moreover, India may not be as vulnerable to FX movements as it was a few quarters ago. The latest RBI data shows that the ratio of hedged positions for Indian corporates has gone up sharply, from 15% of all foreign exchange liabilities a few quarters ago to around 41% in the 1QFY16.
To add to it, July WPI inflation fell at a faster-than-expected (Reuters poll estimates at -2.8%) annual rate of 4.05%, its ninth straight decline and the lowest in at least a decade. Softening inflation and better hedging may protect to some extent against the impact of a weak Yuan. Soft inflation figures may prompt the RBI to go for a much awaited rate cut sooner than later.
Make In India - The States Are Taking It Ahead
Maharashtra recently secured a five year deal worth USD5bn from iPhone maker Foxconn. General Motors also announced its plan to invest USD1bn in India. Chinese phone maker Xiaomi, in partnership with Foxconn, launched a new plant in Andhra Pradesh. Ten states accounting for almost half of India's economy, and most of them led by Mr. Modi's party, have said they want to enact their own laws to ease land deals that boost infrastructure development, according to Reuters.
We conclude that current Indian situation appears to some as a disappointment due to the unreal expectations. The point worth noting here is that despite logjam in the parliament, there is considerable investment heading to India.
We feel that though broad-based reforms are needed to catapult India into higher growth trajectory, the current situation is being perceived to be bad largely due to unrealistic hope that such reforms can happen in a much shorter time frame. In fact, we see the ongoing correction as an entry opportunity for investors. For us, the glass is most definitely half-full!
---
Speak your Mind