What Will a Trump Presidency Mean for Global Markets? — A Short and Long-term Overview
Published on 15 Nov, 2016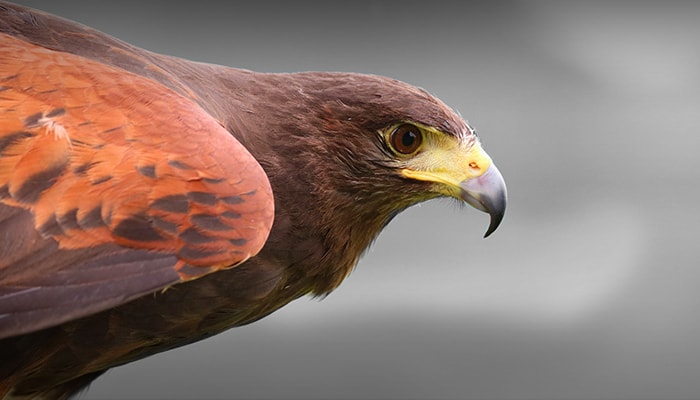 The world's waiting with baited breath to see how hawkish the Trump presidency will really be.
Markets dipped in surprise when it looked like Donald Trump was taking the lead, but then did a volte-face and recovered.
Sentiment may be subdued and cautious in the short-term though, predominantly due to uncertainties surrounding future policies after the Trump administration takes power.
Although Donald Trump contradicted some of his own policy statements (based on his election website) what's certain is that he will try to make good on his promises to negotiate hard on trade agreements. He'll push back against countries like China, stemming — possibly even reversing — the flow of manufacturing jobs from the USA.
While laudable, these policies could have a negative impact on global trade in the long-term.
The Fed rate hike in December— which seemed all but certain before the election —is no longer so, something that could lead to volatility in fixed income markets as well.
The Peso may remain weak as well, especially if Trump continues singling out Mexico for problems such as unemployment, crime, immigration, and so on. In his first interview after winning the election, Trump indicated he'd push for the deportation of up to 3 million illegal immigrants, a majority of who could be from Mexico.
On the plus side, the Republican Party now boasts the Presidency as well as a majority in both the Senate as well as the House of Representatives. This bodes well for fast-track legislative decisions over the next two years. It could mean speedy approval on necessary spending in areas like infrastructure, providing some much-needed fiscal stimulus to the US economy.
Will Global Trade Suffer Because of a Protectionist American Trade Policy?
Trump has asserted throughout his campaign that America suffers because of the concessions it provides to her trade partners; and he'd like to renegotiate hard for more favorable deals.
A hard stance against America's top two trade partners —China and Mexico —may hit both sides however, adversely impacting trade.
The US is the world's largest importer, with US$ 2. 3 trillion worth of goods imported in 2015.
Imports from China and Mexico to the US over 2010-2015 have grown at a CAGR of 5.8% and 5.2% respectively, greater than America's overall imports CAGR of 3.2%. China and Mexico accounted for 34.3% and 23.3% of US imports and exports respectively in 2015.
Similarly, exports to China and Mexico from the US over 2010-2015 have grown at 4.8% and 7.6% CAGR, also higher than their overall exports at 3.2% CAGR.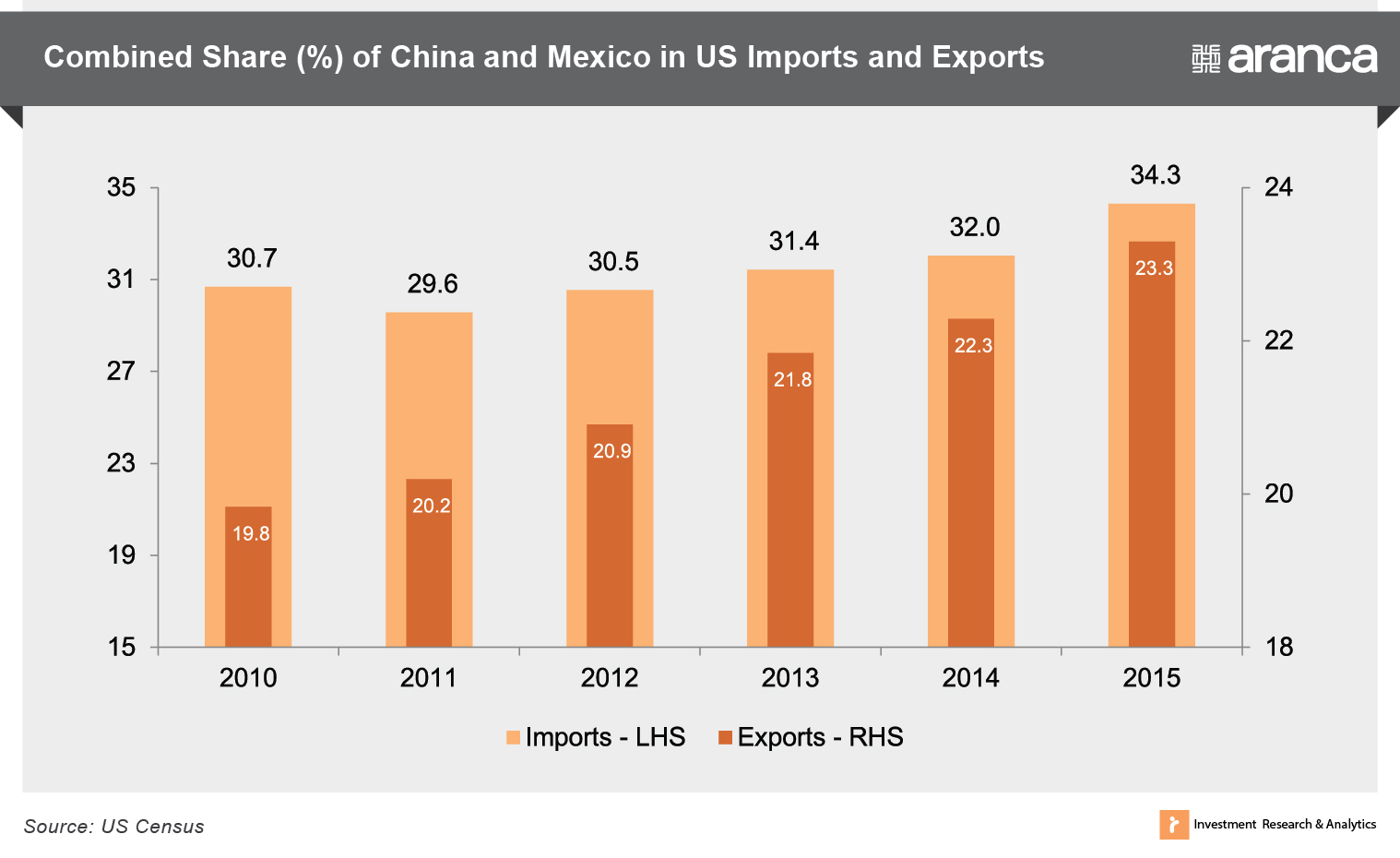 Any falling out with these two trading partners will affect US trade, and consequently, global trade as well.
It could cause disruptions among global trade channels, with major exporters to the US seeking out other markets and becoming more competitive. Other countries may also adopt a more aggressive currency depreciation route to support their exporters.
Will Existing Agreements like NAFTA be Scrapped?
What About the Transpacific Trade Pact that's Still in Discussion?
Undoubtedly, the United States under Trump will push hard for better deals in existing trade agreements.
Countries like Canada and Mexico, that are part of NAFTA, may have no choice but to (reluctantly) negotiate with the US rather than cancel their agreements. Indeed, both countries have expressed their willingness to talk.
The Transpacific Trade Pact will most likely be shelved in the face of opposition from both the Republicans and Democrats. The Transatlantic Trade and Investment Partnership (TTIP) between the US and EU also remains uncertain.
How Will Fixed Income Markets React?
Fixed income markets fell as the election results were rolling out.
The massive tax cuts that Donald Trump promised to reinvigorate the economy may not be offset by proportional spending cuts. There's a high probability that more debt will be issued in order to meet the likely deficit, and Republicans may approve , justifying them as necessary short-term measures until tax cuts help revive the economy.
It's not unprecedented either; there was a similar sequence of events during the Reagan administration, where initial tax cuts were followed up with debt issuance and eventual tax increments.
Fixed income markets will, in all likelihood, take their cues from realistic assessments of tax cuts. In the longer term, expansionist policies and increased spending could accelerate inflation expectations, hastening the pace of rate hikes by the US Fed.
How Will Currency Markets and Gold React?
The US Fed may lower (or delay) rate increases if they adopt a more cautious policy, even though unemployment and inflation thresholds —their predetermined triggers for rate hikes — have already been crossed.
Consequently, the USD may weaken (or fail to dominate) against weaker currencies.
If the Trump administration adopts an aggressively hawkish stance in global politics, it could spur a flight to safe havens such as the Japanese Yen and Swiss Franc, accompanied by a sell-off of weaker emerging market currencies.
Similarly, frequent risk-off trades would keep gold in play as a defensive bet, from time to time. Hedge funds and long-term investors may shift part of their holdings to gold as a relatively safer asset to reduce portfolio volatility.
How will a Trump Presidency Affect Trade Growth in Europe and Asia?
Europe appears relatively delinked from developments in the US.
Recovery in the EU has been slow, and fresh trouble seems to be brewing in Italy, especially in her banking sector. Barring Germany however, the EU does not appear to be very strongly linked to the US in terms of trade. In addition, the ECB has kept a watchful eye on economic growth, scaling up its efforts (in terms of stimulus) in the recent past.
Risk in the European Union appears to be more political in nature.
After a Brexit, the referendum in Italy may cost Prime Minister Renzi dearly, likely creating uncertainty that'll be another step toward the EU fragmenting.
China is still in the midst of re-balancing its economy, shifting from export-driven manufacturing to domestic consumption-led growth. Losing the US market may be a hurdle in its endeavor, but it's unlikely to hamper momentum in the medium to long-term.
Japan's problems have been chronic and more domestic. As long as Trump doesn't add Japan his list of target countries (Japan is 4th largest source of US imports) the country's current momentum (or lack thereof) will be unabated.
Will This Have Any Impact on Brexit?
Brexit appears to be charting its own course now.
The speed of severing ties between the UK and the EU will vary, but Trump winning does not appear to have any implications on Brexit.
Trump's win has encouraged various nativist right-wing political parties across EU however, proponents who will become more aggressive in their advocacy of an exit from the EU.
Are There Specific Investments to Target, or Avoid?
Investors may increase their exposure to US equities initially, anticipating tax cuts and a corresponding re-rating of stocks to catch up with the bump up in profits.
In the long-term, investors are expected to shore up safe haven assets like gold in their portfolio.
Selective exposure to US infrastructure companies may also be a viable option.
US domestic consumption-linked stocks may be favorable as well, as decreasing unemployment, a recent 2%+ growth in wages, as well as a boost from tax cuts will be conducive to consumer spending.
Investors are expected to re-examine their investments in US companies with export/import ties to China and Mexico, or companies that are exposed to the possible renegotiation of trade agreements, at least till the Trump administration's course of action becomes clearer.